Recently, my book club elected to read Mary Ann Shaffer and Annie Barrow's The Guernsey Literary and Potato Peel Pie Society, a charming piece of historical fiction about life on the British Channel Islands during and after WWII. It is a bit of a book about books, but more than that it's about how literature can bring people together, unexpectedly, even in the worst of times.
In 1946 London, a mysterious man writes to Juliet Ashton because he somehow came to be in possession of one of her books and is looking for more by the same author, who he's come to adore. Of course, as a reader, Juliet steps in to help him get the books he needs, and with that, she launches a friendly correspondence with him - and his fellow islanders. All of them belonged to an impromptu book club during the German wartime occupation of their home on Guernsey, and Juliet is beside herself to learn more about them.
While I was expecting a potentially difficult read, as many WWII novels tend to be (including The Nightingale and Lilac Girls), I was pleasantly surprised. There are some brief descriptions of time in the concentration camps, but it mostly serves as a way to provide the characters - who've survived the war at that point - with some closure. Book narratives that take place solely through letters can sometimes fall flat, but in this case, my whole book club enjoyed the choice. I thought it added to the charm.
Though the Guernsey Literary Society also boasts the name of a disgusting-sounding dish, the potato peel pie is mentioned only briefly in the novel. It is described as a pie made out of potato peels and something to do with beets. As I read, I was slightly horrified to think about making such a pie for this post. Luckily, I remembered my Book Club Cookbook and thought I recalled seeing this book listed in the index.
Sure enough! It listed a recipe for an "occupied" version, using just beets, potatoes (including the peels) and a bit of milk, but it also included a "non-occupied" version, which sounded delicious. I decided to make it for our book club meeting. 
Since we were meeting during the week and I don't have a lot of time after work before everyone arrives, I got started the night before. Since the non-occupied version still includes potato peels, I made sure to scrub them thoroughly before peeling. Here is the after photo: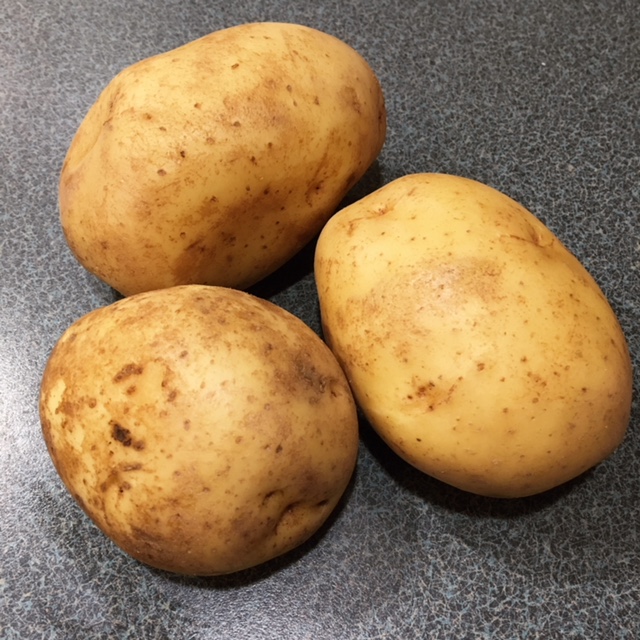 I peeled them as carefully as I could and layered them into the pie dish, making sure to completely cover the bottom.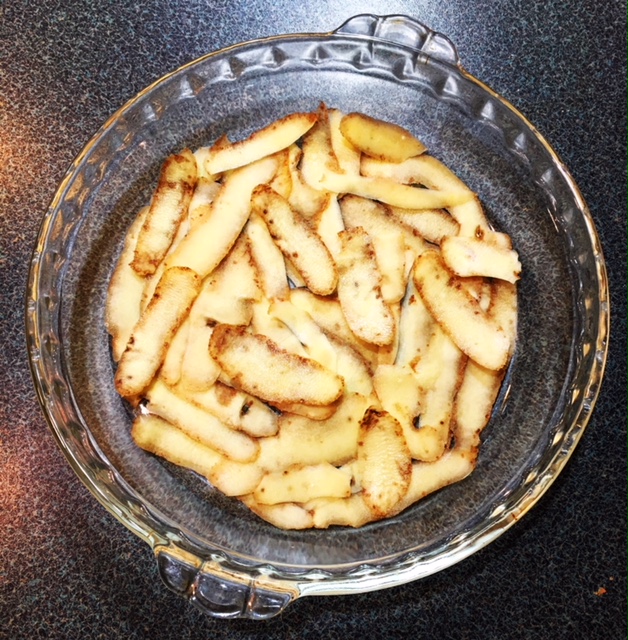 While they baked in the oven, I cut the potatoes into large chunks and got them going in a pot of salted, boiling water on the stove.
After about 20 minutes in the oven, the potato peels were looking slightly crispy, so I pulled them out before they burned. I was surprised, however, to see that they'd all curled up and no longer completely covered the bottom of the pan - a bit of a disappointing crust in look only, as it still tasted delicious later.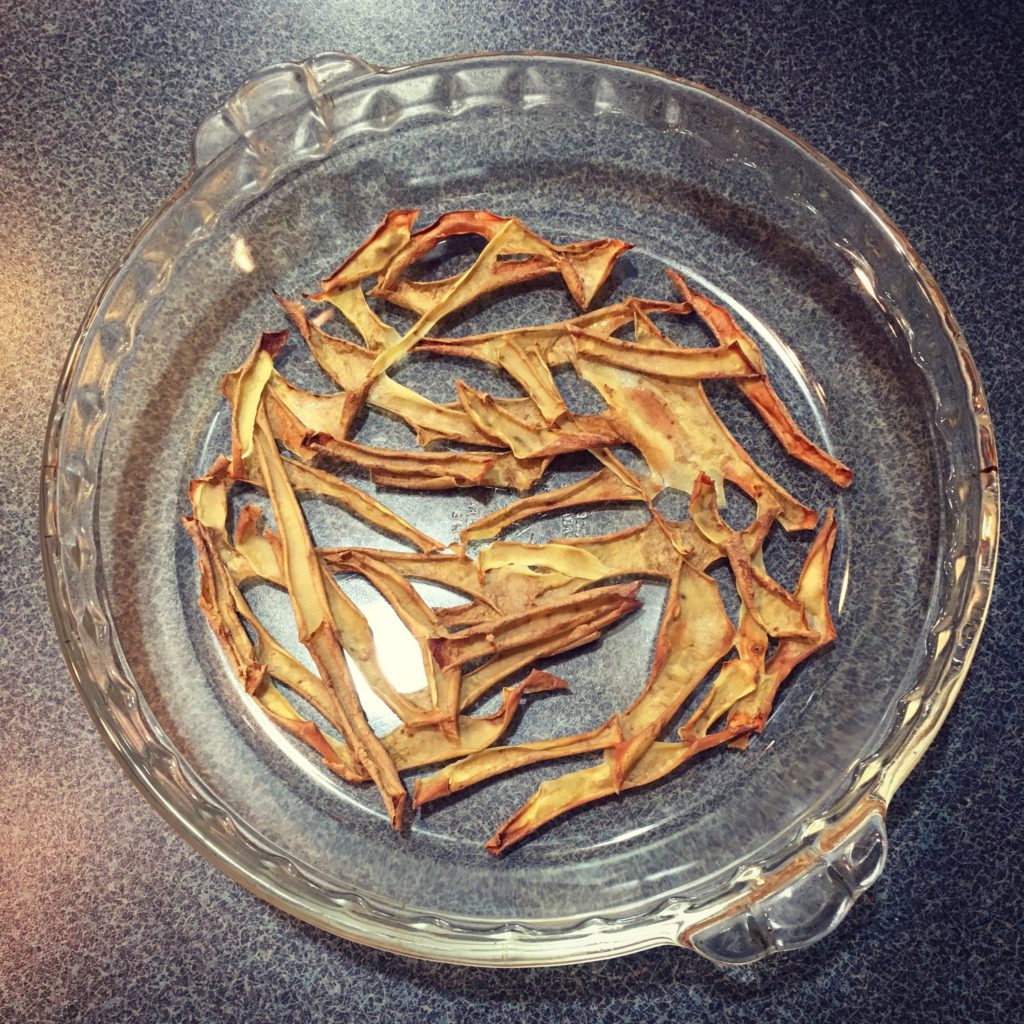 Once the potatoes were fully cooked, I drained them and transferred them to a large bowl with some butter to mash them up with a hand mixer (my typical method, since I don't actually own a manual masher). Then, I stirred in the milk, and once that was absorbed, added the cheddar cheese and sour cream as well.
Finally, I spread the whole mixture in the pie dish on top of the potato skins.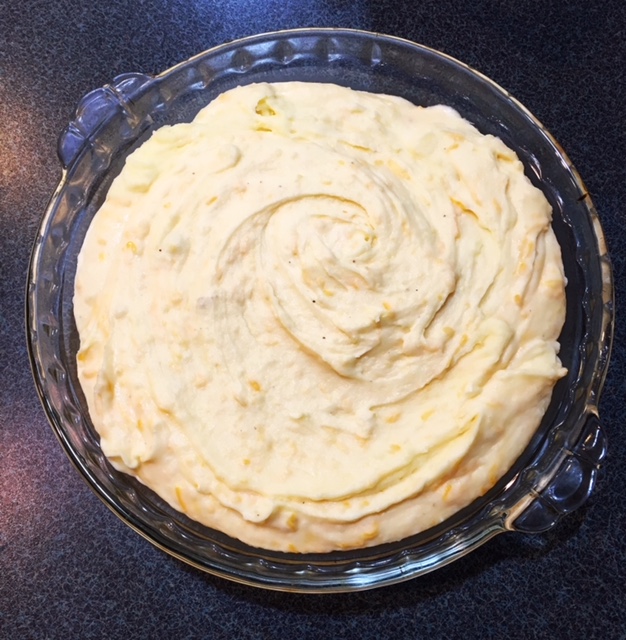 Because I wasn't serving it until the next day, I covered it with plastic wrap and stored it in the fridge overnight. Then, prior to book club, I baked it for the first time. It was still cold from the fridge (not room temperature, or slightly warm as if I'd baked it immediately), so I cooked it for longer - closer to an hour.
Once it was melty, slightly bubbly on the edges with just a touch of brown on top, I removed it from the oven. My entire book club could smell it, and we were starving, so we didn't wait the recommended 15 minutes before serving. It ended up being more like cheesy mashed potatoes - probably the best mashed potatoes I've ever had, honestly - than potato "pie" but everyone enjoyed it just the same. The crispy skins throughout added a pleasing texture.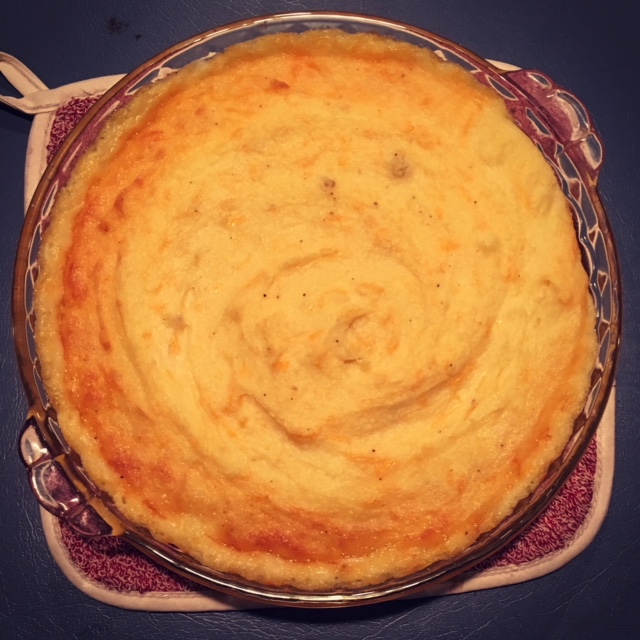 From our book club to yours, we recommend checking out this charming novel before the movie comes to theaters in April. I, for one, always look forward to the opportunity to have a lively discussion about whether the book or movie is better (even though we all know the answer going in) - and who better to do that with than your favorite book-loving friends?
Annie Barrow's Non-Occupied Potato Peel Pie
Make the potato peel pie from The Guernsey Literary and Potato Peel Pie Society.
Ingredients
1½ - 2

pounds

Yukon gold potatoes

about 4 medium or 6 small potatoes

No beets

½

cup

milk

1

stick

butter, cut into pieces

1¼

cups

shredded cheddar cheese

and maybe some sour cream too, (about ¼ cup)
Instructions
Preheat oven to 400 degrees F.

Go ahead and use the peelings as the crust, but cook them first: Scrub potatoes and pat dry. Peel potato and lay peelings evenly in the bottom of a 9-inch pie pan. Place in oven and cook for about 15-20 minutes, because it would be nice if they were a little crispy. When they're done, reduce oven heat to 350 degrees F.

In the meantime, place potatoes in a large pot, cover with salted water, and boil until they're soft, however long that takes (about 30-40 minutes). Then, drain the potatoes and mash them up with the butter until they're nice and fluffy. Add milk slowly and stir until milk is absorbed. Stir in that delicious cheese and the sour cream, too, if you want it (and who wouldn't?).

Pour the potato mixture on top of the crispy skins. Then, put the pie in the oven for about 30 minutes until it's all melty and glorious (and lightly browned). Allow to cool for about 15 minutes, until it sets. Serve warm. To reheat: Cover with foil and heat for 15-20 minutes in an oven preheated to 300 degrees F.
Notes
From: The Book Club Cookbook, pages 162-163
If, for whatever reason (say, book club), you need to make this the night before. I recommend stopping before you put the potato peel pie in the oven. Fill pan with the mashed potato mixture, cover with plastic wrap and refrigerate. Remove from the fridge while you preheat the oven to 350 degrees F. Bake for about 45 minutes to an hour (checking as you go) to ensure it's heated through and then allow to cool before serving, per the above directions.
This post contains affiliate links. Full disclosure here.