Anita Diamant's The Red Tent has been on my radar since I read The Boston Girl earlier this year. Several people recommended it to me, so I bought it at my library's used book sale in the spring. I finally got around to reading it, and though I was expecting a bit of a grueling read - it's set in biblical times - I was pleasantly surprised.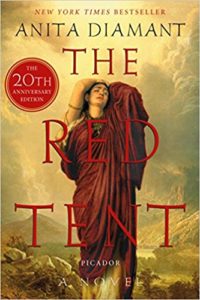 In this piece of historical fiction, Diamant explores the life of Dinah, who is briefly mentioned in the Bible as the only daughter of Jacob (father of a dozen sons). The Red Tent starts with the story of Dinah's mothers, the four wives of Jacob - Leah, Rachel, Zilpah, and Bilhah - and continues into her life as she grows up and leaves the land of her father.
For the most part, the lives of women are glossed over in the Bible, and this novel takes an interesting look at what life might've been like for a woman of that time. It gives several strong female characters a voice when the book in which Dinah first appears did not and thoughtfully portrays the unique relationships that women have with one another. It also offers a different, and dare-I-say feminist, perspective on a Christian narrative in which things may not have been exactly as depicted.
In Jacob's camp - which is how I thought of it, as it was rambling and full of tents and animals - the family usually ate quite well. In an interview Diamant said, "There's a lot of food in The Red Tent...To not write about food...is to not talk about women's experience." They depend on the land for food, and the selection seemed quite abundant. There is mention of olives, lamb, figs, pomegranates, barley, mint, and of course, honeyed cake.
Honeyed cake, in fact, was mentioned a few times, and though it was given little description, I was intrigued. I wanted to make it try it myself. After a Google search, I finally settled on a recipe from Genius Kitchen for a recipe that seemingly dripped with honey. (And drip with honey, it did!)
To start, I combined the dry ingredients - flour, baking powder, salt, cinnamon and some orange zest. The orange zest smelled absolutely amazing while I prepared the rest of the ingredients.
In a different bowl, I creamed the butter with the sugar and then added in the four eggs, one at a time. To these ingredients, I added the dry mix, mixing just until incorporated. Then, I added the chopped walnuts.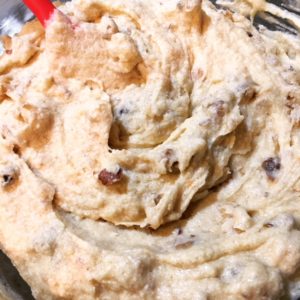 I poured the batter into a prepared square pan and set it to bake for 40 minutes in a 350-degree oven.
Meanwhile, I began making the honey sauce. This recipe uses quite a bit of honey, which can be expensive, but otherwise the ingredients are pretty run-of-the-mill baking ingredients. Still, we used almost half of this little honey bear.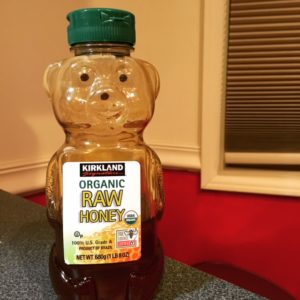 In a saucepan, I combined 1 cup of honey, 1 cup of white sugar and ¾ cup of water. I let it simmer for about 5 minutes before adding the lemon juice and bringing it to a boil. Please use a medium-sized saucepan. When it gets boiling, it can boil over easily and quickly - it's not as easy to tame as boiling water. And it's possible you'll get a sticky mess all over your stove, like I happened to do. Anyway, once it was finished cooking for 2 minutes, I removed it from the heat, where it say until the cake was ready.
After the cake finished baking, I removed it from the oven and allowed it to cool for 15 minutes.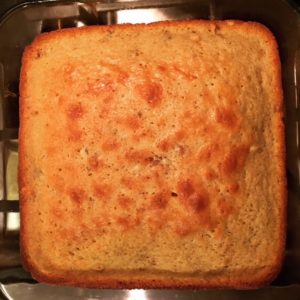 I then cut it into triangles. The original recipe recommends diamonds, but I'll admit I wasn't sure how to accomplish that. I'm not sure shape matters that much, though the more cuts, the more honey will soak through the cake. Regardless, after cutting the cake, I covered it with honey sauce. I used about a third at a time and did my best to allow it to soak in before covering it with the next third. (This requires some patience.)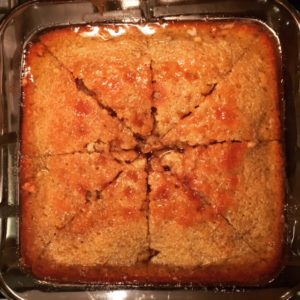 I found the cake to taste a bit like Fruit Loops (probably from the orange zest). Overall, it was quite good but very sticky.
Greek Honey Cake
Ingredients
1 cup all-purpose flour
1½ teaspoons baking powder
¼ teaspoon salt
½ teaspoon ground cinnamon
1 teaspoon orange zest
¾ cup butter
¾ cup white sugar
3 eggs
¼ cup milk
1 cup chopped walnuts
1 cup white sugar
1 cup honey
¾ cup water
1 teaspoon lemon juice
Directions
Preheat oven to 350 degrees F. Grease and flour a 9 inch square pan. Combine the flour, baking powder, salt, cinnamon and orange rind. Set aside.
In a large bowl, cream together the butter and 3/4 cup sugar until light and fluffy. Beat in the eggs one at a time. Beat in the flour mixture alternately with the milk, mixing just until incorporated. Stir in the walnuts.
Pour batter into prepared pan. Bake in the preheated oven for 40 minutes, or until a toothpick inserted into the center of the cake comes out clean. Allow to cool for 15 minutes, then cut into diamond shapes. Pour honey syrup over the cake.
For the Honey Syrup: In a saucepan, combine honey, 1 cup sugar and water. Bring to a simmer and cook 5 minutes. Stir in lemon juice, bring to a boil and cook for 2 minutes.
This post contains affiliate links. Full disclosure here.