"It all began at a barbecue." And so Liane Moriarty's latest novel begins. It seemed innocent enough, but with a title like Truly Madly Guilty, I knew it wouldn't stay that way for long. I have been a fan of Moriarty's ever since I read her best-seller Big Little Lies in 2015. With the HBO series adaptation recently wrapping up, I was excited for more when my hold finally came through at the library.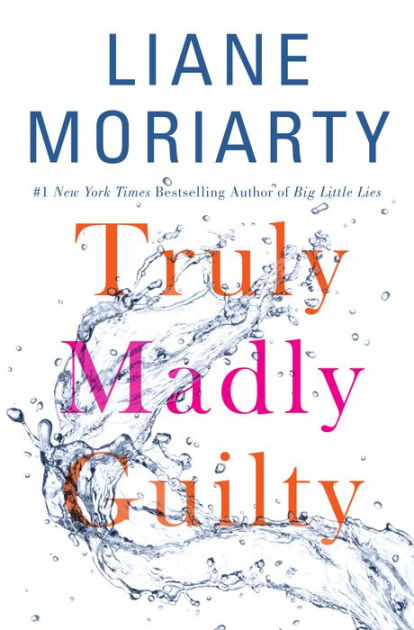 For those of you who have seen or read Big Little Lies, the setup is similar. It becomes quickly apparent that something bad has happened, but it's less clear who it happened to and what exactly it is. Over the course of a slow, every-other-chapter build, the consequences of a normal, spur-of-the-moment backyard barbeque become all too real.
I would consider some of Moriarty's other novels to be quick-paced beach reads, despite her ability to sneak tough, sometimes dark subjects into an otherwise light, reality TV-style wrapper. Though the title Truly Madly Guilty definitely screams "get out your sunnies!" I didn't get the same vibe this time.
The plot moved too slowly for me, and it's real strength was in its character building. The relationships were messy and complicated in a way that felt authentic because it wasn't over-the-top. By the end of the novel, I definitely appreciated its subtlety though it wasn't what I expected going in.
But, since it all started with a barbecue, I used that as my recipe inspiration. And, since it took place in Australia, I couldn't resist making (get your Aussie accent ready!) shrimp on the barbie. I was also mostly just excited to have an excuse to use our new grill on the deck.
I found a simple recipe for Lemon Garlic Shrimp Kabobs from one of my faves Damn Delicious, and even though she bakes hers in the oven, I was easily able to adapt it to a grill. Alongside Grilled "Crack Corn," this could easily impress at your next outdoor get-together! The best part about both of these recipes is that they don't require a lot prep and they grill up in under 15 minutes.
To start, I shucked my corn and speared my shrimp and lemons onto the skewers. (I used metal, but if you're using bamboo or wooden skewers, make sure you soak them first.) I chose to do a lemon slice on each end and 4-5 shrimp in the middle, but you can mix it up however you think it works best.
Then, Scott put the corn on the grill, since it took slightly longer than the shrimp, while I made the sauce for the corn and the shrimp.
To make sauce for the corn, I simply combined already melted butter with brown sugar, cayenne pepper, salt and black pepper. I whisked it up really well and brought it outside to the grill. Scott began basting the corn and put the shrimp on.
Back in the kitchen, I made the sauce/glaze for the shrimp skewers. In a small saucepan, I melted some butter. To that, I added lemon juice, minced garlic and dried basil, oregano and thyme. I also seasoned it with salt and pepper - I used a generous pinch and a turn or two of freshly ground black pepper. After a couple of minutes, it was fragrant and ready.
We allowed the corn to cook while the shrimp finished up, even though it was basically finished - a little extra color never hurt anyone. Be sure your shrimp is fully cooked through, but be careful not to overcook it as it can be tough and chewy. The shrimp should be a nice pink color.
Both recipes were really delicious and really easy. Perfect for entertaining a small group, or a relaxing summer evening outside. I hope everyone has a safe, sunny Memorial Day weekend! See you next week!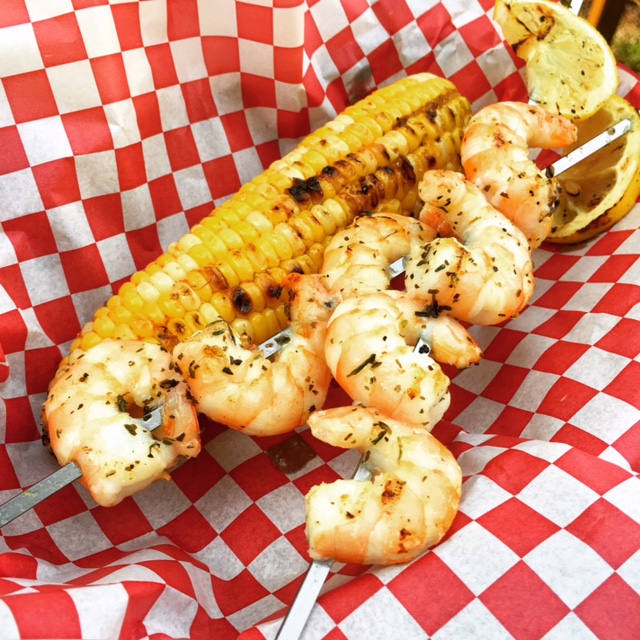 Lemon Garlic Shrimp Kabobs
Ingredients
1½ pounds medium shrimp, peeled and deveined
2-4 lemons, thinly sliced and halved
kosher salt and freshly ground black pepper, to taste
¼ cup unsalted butter, melted
¼ cup freshly squeezed lemon juice
4 cloves garlic, minced
½ tsp dried oregano
½ tsp dried thyme
½ tsp dried basil
2 TBS chopped fresh parsley leaves
Directions
Thread shrimp and lemon halves onto skewers. In a medium saucepan, over medium high heat, melt butter. Stir in lemon juice, garlic, oregano, thyme and basil until fragrant, about 2 minutes; season with salt and pepper, to taste. (If you have a side burner on your grill, you can do this while the shrimp cooks.)
Preheat grill to medium-high heat. Oil grates and add shrimp.
Grill each side for about 3-4 minutes on each side, until cooked through.
Serve shrimp skewers immediately, brushed with butter mixture and garnished with parsley, if desired.
From:
Damn Delicious
Crack Corn
Ingredients
6 ears corn, husked
3 TBS brown sugar
1 tsp cayenne pepper
salt
freshly ground black pepper
¼ cup melted butter
lime wedges, for squeezing
Directions
Heat grill to high. Oil grates and add corn. Grill for 5 minutes, turning occasionally.
Meanwhile, in a small bowl, add brown sugar, cayenne pepper, salt, pepper and melted butter. Whisk together until combined.
Baste corn, while grilling, until totally slathered in crack sauce. Grill until charred and tender, approximately 5 minutes more.
Squeeze with lime and serve.