They say bad things come in threes, and maybe I'm being a bit dramatic, but I'm really hoping this latest read is the end of my little streak of three books in a row I didn't like. One of my book clubs recently met to discuss Milan Kundera's best-known work The Unbearable Lightness of Being, which I'm sorry to say I suggested. At least I only had myself to blame.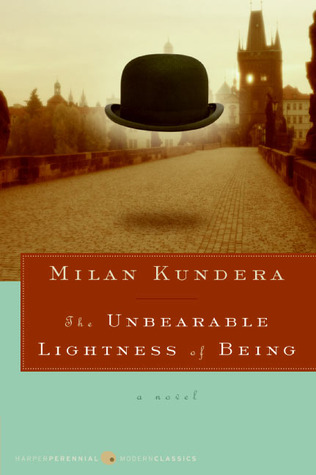 To simplify it, Kundera's novel is about two couples (in a loose sense of the word) in Prague in the sixties and seventies. Tomas is a surgeon who leaves his wife for a young woman named Tereza, even though he continues to sleep around. He literally cannot help himself. One of the women he sleeps with is Sabina, whom the story also follows, documenting her bohemian life and her sort-of relationship with a professor named Franz. My favorite character in the whole book was Tomas and Tereza's dog Karenin, who was named after the male character in Anna Karenina, even though she's a girl.
I suppose the simple description of the book makes it sound more juicy and interesting than it is. Don't be fooled. To keep you away from the main plot points, Kundera tosses in several chapters on kitsch, his thoughts on politics, and his philosophies on life. He makes for an interesting narrator, repeatedly pointing out that his characters aren't real, which as a reader really pulls you out of the story (if the random bits of philosophy and politics didn't do that already).
People seem to love this book - it has over 4 stars on Goodreads and is considered by many to be a classic - but for me, and most of my book club, it was truly unbearable. On the "lighter" side of things, however, it led to some delicious raspberry mousse.
The novel didn't have many mentions of food, so I decided to play off the theme of lightness and create what is traditionally a light, airy dessert. I found a recipe from Fearless Dining for Easy Fresh Raspberry Mousse that seemed to easy to make and looked delicious. (If you look at her page, she has many, many mousse varieties to try out.)
First, I began boiling my half cup of water in tiny saucepan. Meanwhile, in a slightly larger saucepan, I added 2 teaspoons of gelatin (about 1 envelope, but measure just in case) to the quarter cup of cold water and allowed that to sit.
I washed my raspberries, extracted my vanilla seeds and combined the rest of the ingredients while the gelatin/water combination was becoming more jelly-like and the water boiled. Once that was all ready, I combined everything into my larger saucepan (with the gelatin mixture) and brought it all to a boil for 5 minutes.
I transferred the mixture to my food processor and blended everything together, though I would recommend a blender if you have one. It will likely breakdown the raspberry seeds better than my food processor did.
Allow that mixture to cool for 10 minutes (or longer). I let mine sit for about 15 minutes while I made the whipped cream. To do so, add the 2 cups of heavy / whipping cream to a large bowl and use a hand mixer, mixing until stiff peaks form.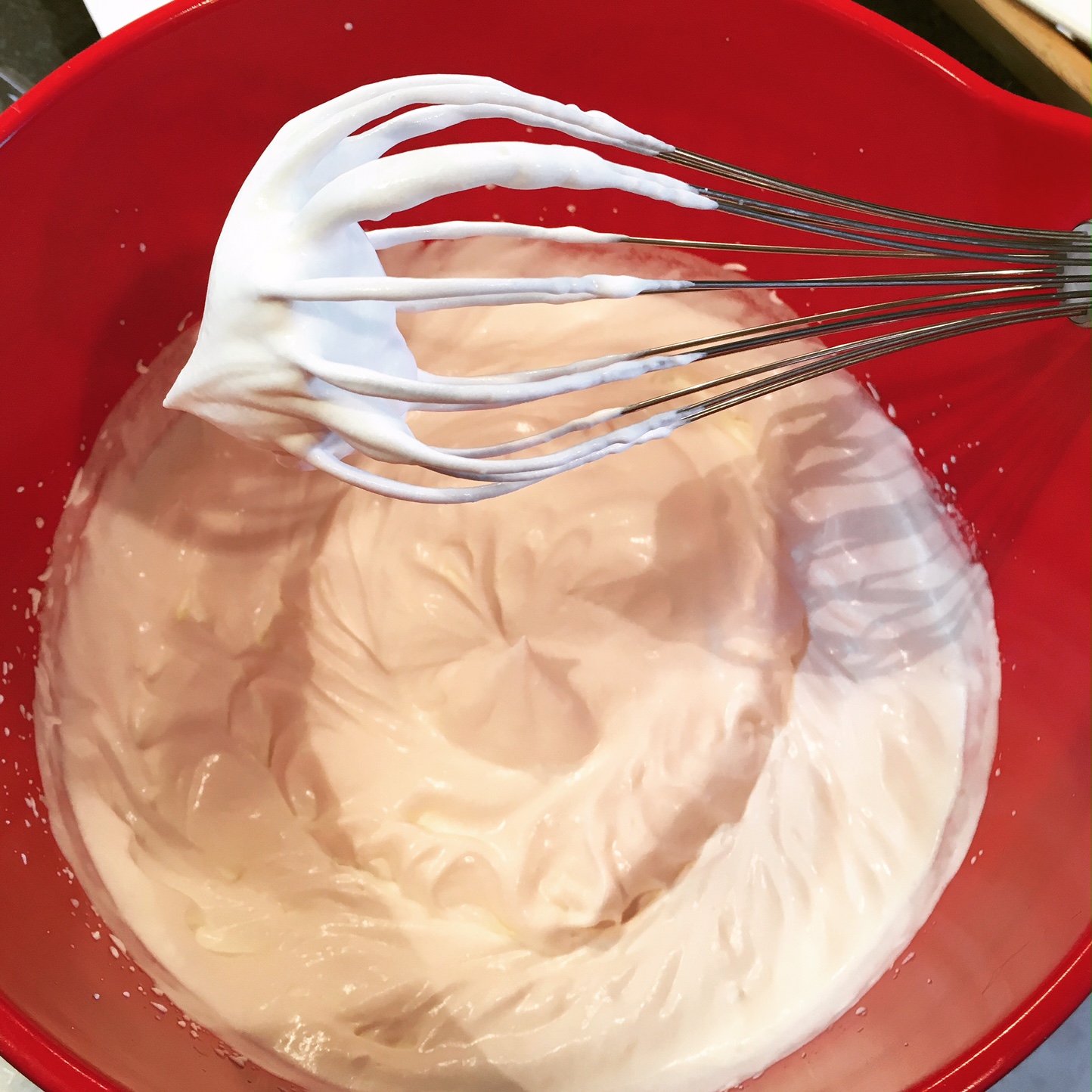 Once the raspberry mixture is cooled enough, gently fold that into the whipped cream a little bit at a time. (Despite what the original recipe said, I tried folding the cream into the raspberry mixture, since typically technique says you should add the whipped cream into the denser/wetter mixture to avoid losing air. However, because the raspberry mixture was so soup-y, it mostly remained at the bottom and proved hard to combine.)
Once the cream and the raspberry mixture were well-combined - the entire mixture was a light pink - I placed the bowl in the fridge to set/cool. After almost 2 hours, it was mostly set, but I think could've stood to hang out in there a little longer. The consistency was perfect they next day when we finished it up. Two hours was perfectly fine, but if you have the time, I would recommend allowing it to remain in the fridge a bit longer.
We served it in my grandmother's crystal cut dessert dishes, which I hadn't used before, and garnished with the remainder of the fresh raspberries.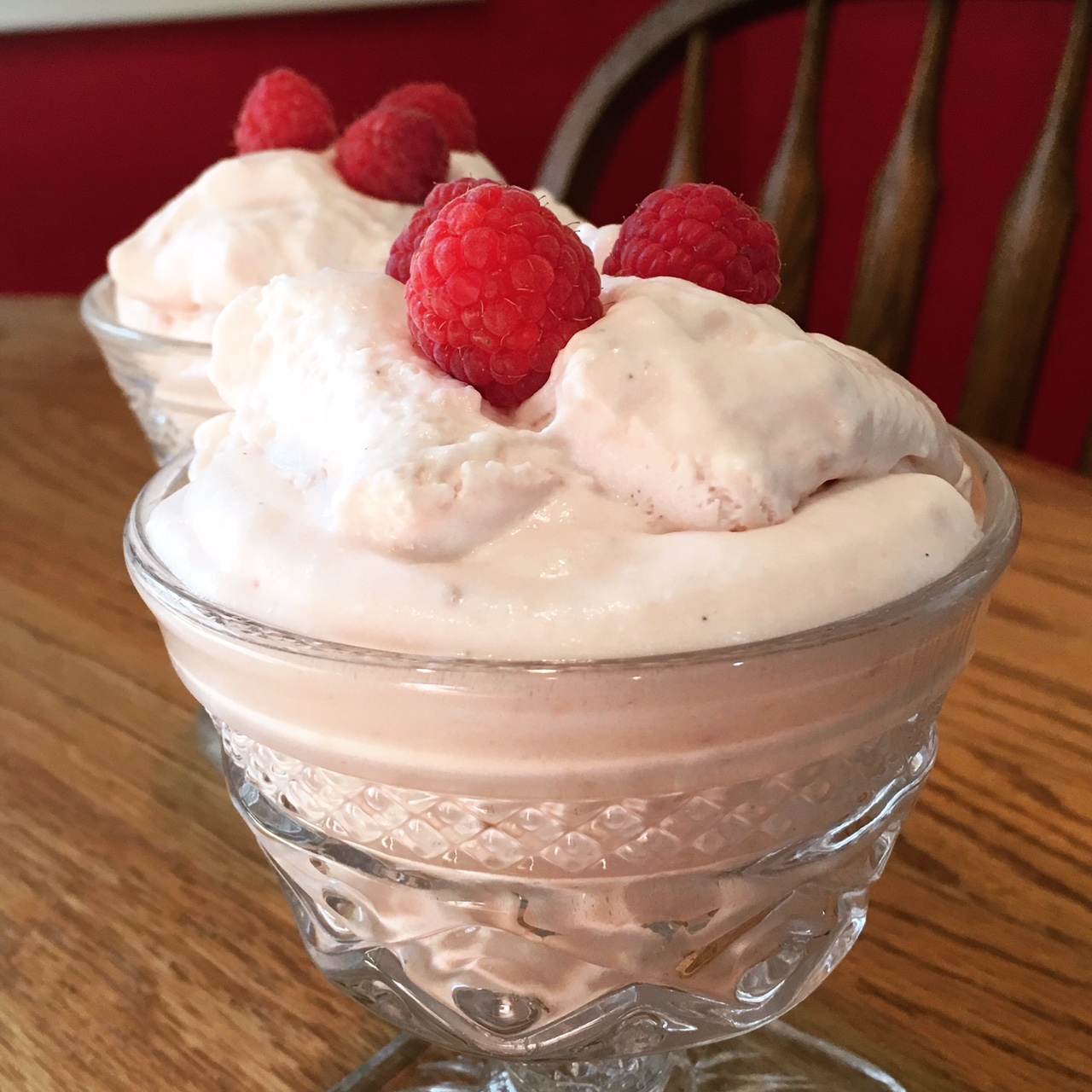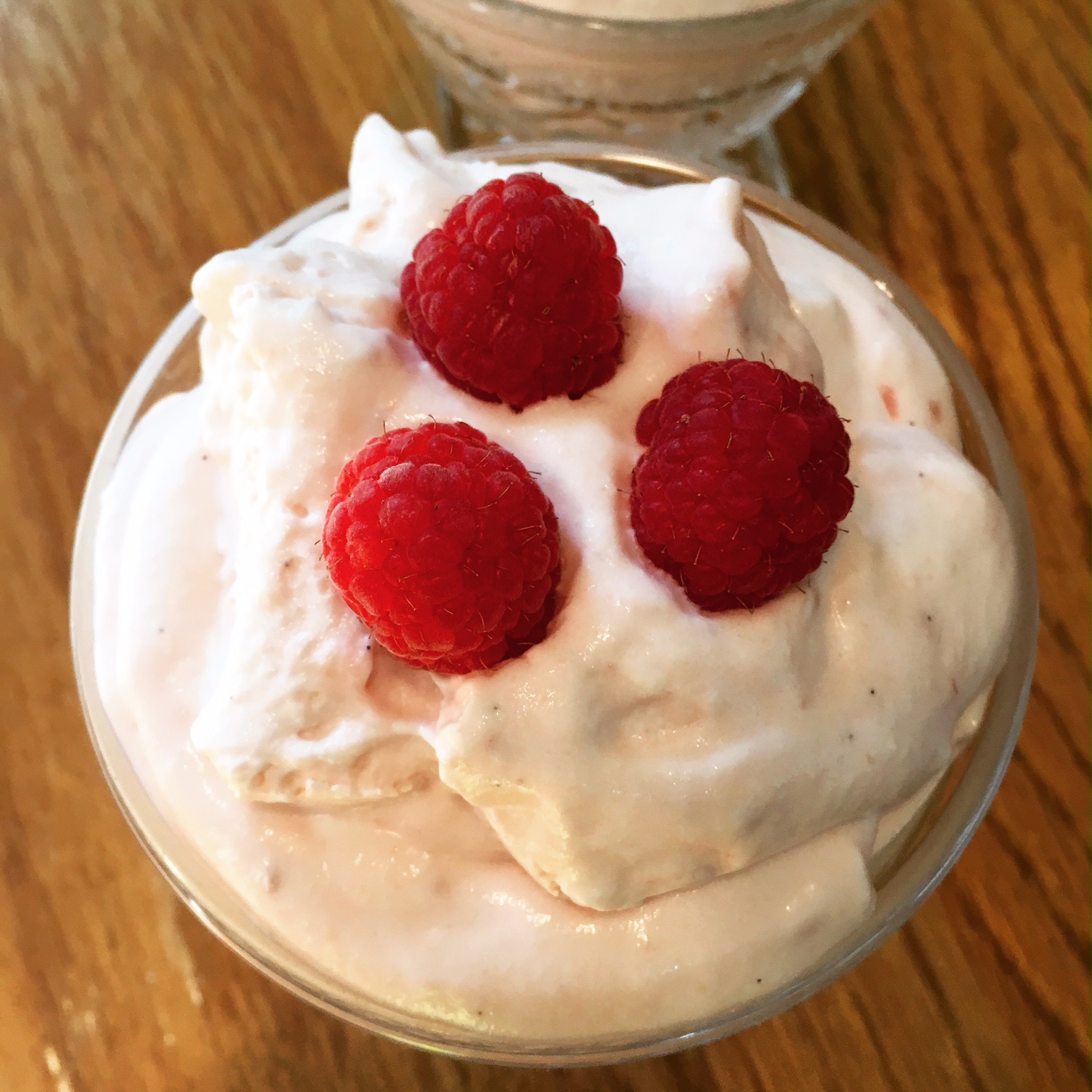 Unbelievably Light Raspberry Mousse
Ingredients
¼ cup cold water
½ cup boiling water
2 teaspoons gelatin
1 Tablespoon lemon juice
¼ cup granulated sugar
1 cup fresh raspberries (a 6oz package should be plenty, including garnish)
2 cups heavy cream
seeds of 1 vanilla bean (or 3 teaspoons vanilla extract)
Directions
In a small saucepan, add cold water.
Mix in gelatin and allow to sit for 5 minutes.
Stir in boiling water, vanilla bean, sugar, lemon juice, and raspberries.
Bring to boil on medium heat then turn down to low and boil for 5 minutes.
Pour mixture into a blender or food processor and blend until smooth. (This reduces the raspberry seeds.)
Allow this mixture to cool for at least 10 minutes.
Meanwhile, in a large bowl, add whipping cream and beat with an electric mixer until stiff peaks form.
Gently fold the raspberry mixture into the cream until well-combined.
Allow the finished mousse to cool in the refrigerator for a minimum of 1 hour.
Serve garnished with fresh strawberries, if desired.
From: Fearless Dining
A blender may provide better results than a food processor as far as reducing seeds. I would recommend allowing to cool for 2-4 hours if you have the time - ours was also delicious when we finished it the next day.
Number of servings will depend on size. This recipe yields 4 generous helpings.