I have never read Ann Patchett before, even though Bel Canto has long been on my to-read list. I had requested her latest novel Commonwealth from my library shortly after it was published last summer and it only just arrived. From the first chapter, I found it slowly engrossing. That is to say, it's not an action-packed page turner, but I became so absorbed in the characters that I happily followed their stories over the decades the novel covers.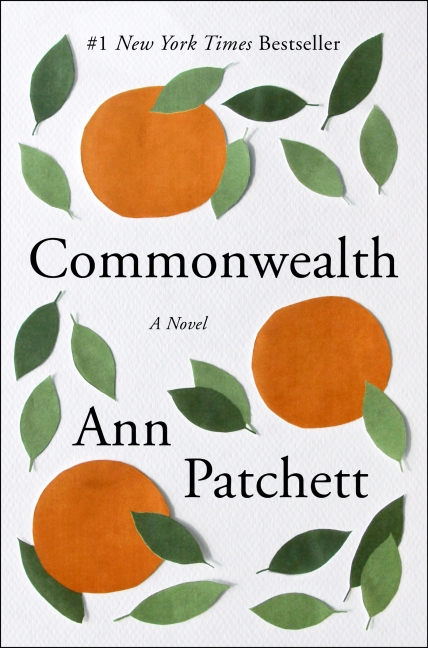 The story of two families - four parents, six children - begins at Franny's christening celebration, which is transformed by an unsuitable gift of liquor and a backyard full of orange trees. So, too, are their lives forever changed. We follow both families, which is a muddled mix of estranged spouses, sort of step-siblings and a black sheep or two, through the next 50 years of their lives.
A lot of the drama seems to happen in memories or flashbacks, but as with all families, nothing can be buried too deep and has lasting effects on each of them, even if they deal with it in their own ways. Once grown up, Franny becomes an avid reader and a cocktail waitress, giving her the unique opportunity to end up dating a successful novelist. This, too, has an effect on the family - one I'll admit I didn't expect.
It's hard to say too much without spoiling Commonwealth's bigger plot points, so I'll get right to the recipe - this time, a cocktail. I didn't use gin, which even those at Franny's party thought an odd pairing with orange juice, but instead went with a more traditional vodka-based drink, the Orange Drop.
First, I made a simple syrup - equal parts granulated sugar and water - and allowed it to fully cool before mixing the rest of the drink.
Then, I measured it out before adding a citrus-flavored vodka and orange juice. With a quick stir, I poured the cocktail into two rocks glasses, more akin with the glasses used spur-of-the-moment at the party. Again, not to be too fussy, I garnished them simply with half an orange slice each, and served with ice.
Orange Drop
Ingredients
2 oz citrus-flavored vodka
2 ½ oz pulp-free orange juice
¼ oz simple syrup
1 orange, cut into half slices
ice
Directions
If you need to make simple syrup, add equal parts granulated sugar and water to a small saucepan. Bring to a boil and simmer until the sugar is dissolved. Cool completely before using in drink mixture.
In a measuring container with a spout, add the vodka, orange juice and simple syrup. Stir with a spoon. Pour into glass of your choice.
Add ice according to preference. Garnish with an orange slice, if desired. (Add an additional splash of orange juice, if you prefer a slightly less stronger drink.)
This post contains affiliate links. Full disclosure here.