The magical Land of Love and Drowning by Tiphanie Yanique is set in the newly transferred United States Virgin Islands. The sparsely populated island of Anegada, formed from coral, has more lobsters than people. It is surrounded for eight miles by a submerged reef; it is also surrounded by shipwrecks.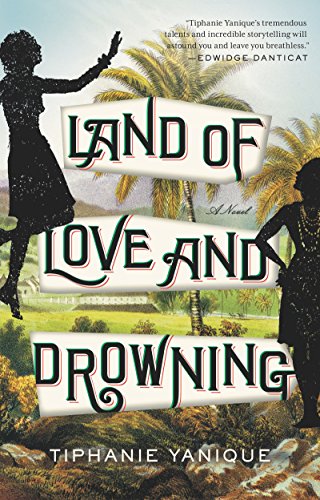 Though Antoinette Stemme is of Anegada, when she marries Owen Arthur, he whisks her away to St. Thomas. Their two daughters, Eeona and Anette, are born and raised there, never setting foot on their mother's homeland. The young red-headed Anette is like her mother in many ways and a bit rough around the edges, like Anegada. Beautiful Eeona is very much her wealthy father's daughter, always concerned with the proper way of doing things and sharing an unusual bond with him from a young age.
It is surprising then, that on a later-life trip to Anegada, Eeona is able to ultimately find herself and begin to accept who she truly is. When she first arrives, a local woman gifts her a lobster. Eeona is startled and almost drops it, having never touched or eaten one before. The woman tells her that on Anegada, they "eat lobster for breakfast and lunch and dinner."
Unlike Eeona, I have eaten lobster before. I hadn't cooked it before - until I made LoLo's Caribbean Lobster Rolls for lunch this weekend. It felt a little extravagant to make lobster for lunch, but considering the circumstances, it seemed right.
I began by prepping the johnnycakes, since the dough had to rest for an hour. I mixed them by hand, as directed, resulting in some messy dough-covered fingers. I had to add a touch more water (about a tablespoon) to get all of the dry ingredients to really come together, but then I was easily able to form the dough into a large ball (and then four smaller ones).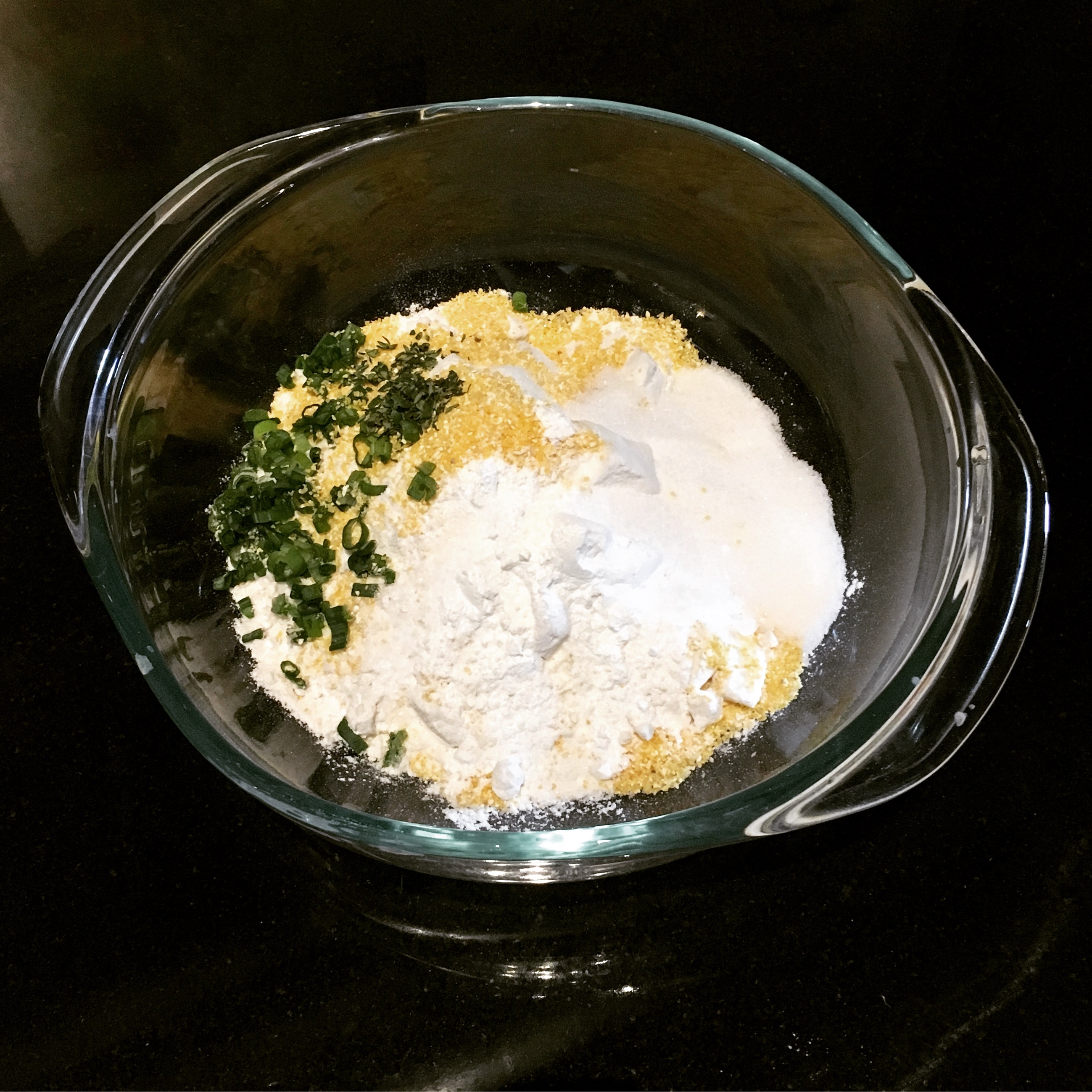 Towards the end of the hour, I put on the water to boil for the lobster tail. I also combined the mayo, mustard, pickles (I used about 1 spear, once diced), lemon juice, zest and salt to make the remoulade.
In lieu of a tortilla press, I used my cast iron skillet and some parchment paper to form the johnnycake dough balls into thinner patties. I fried them in the same skillet, using vegetable oil.
I was both excited and nervous to cook a live lobster, but in the end, finding one locally proved to be a little difficult. At the seafood market, they had both Maine lobster tails and rock lobster tails. Because of the Caribbean connection, I bought an 8-ounce rock lobster tail. (They are also known as spiny lobsters and live in warmer waters than Maine lobster. They are commonly found the Caribbean.)
Here it is after cooking and its ice bath - notice the little spines along the side: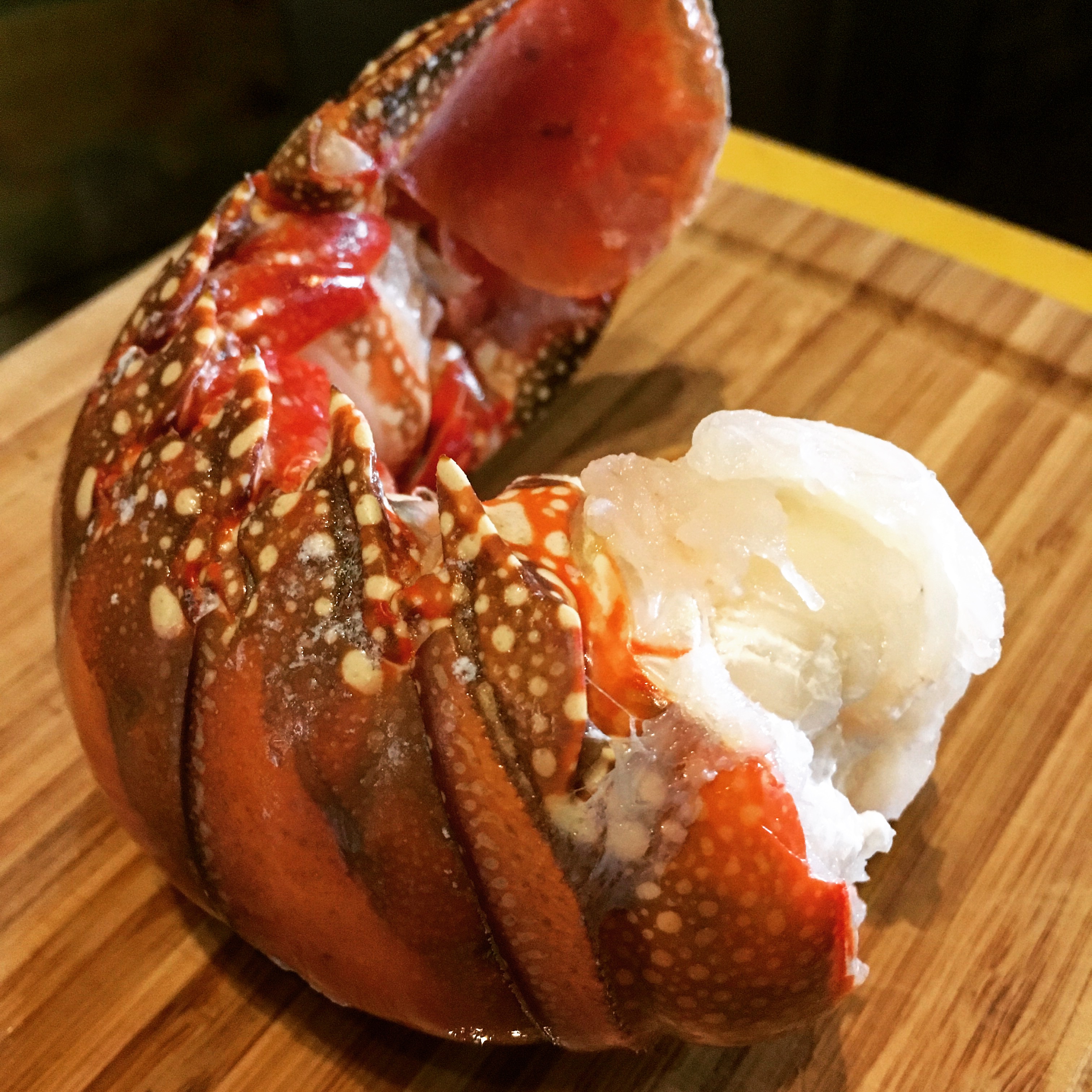 I rescued the lobster meat from it's slightly-dangerous shell and chopped it into bite-size pieces. I tossed it with a generous amount of remoulade (probably closer to two tablespoons). I sliced the johnnycakes, slathered on a bit more sauce and added the lobster meat for a tasty Anegada-style lunch.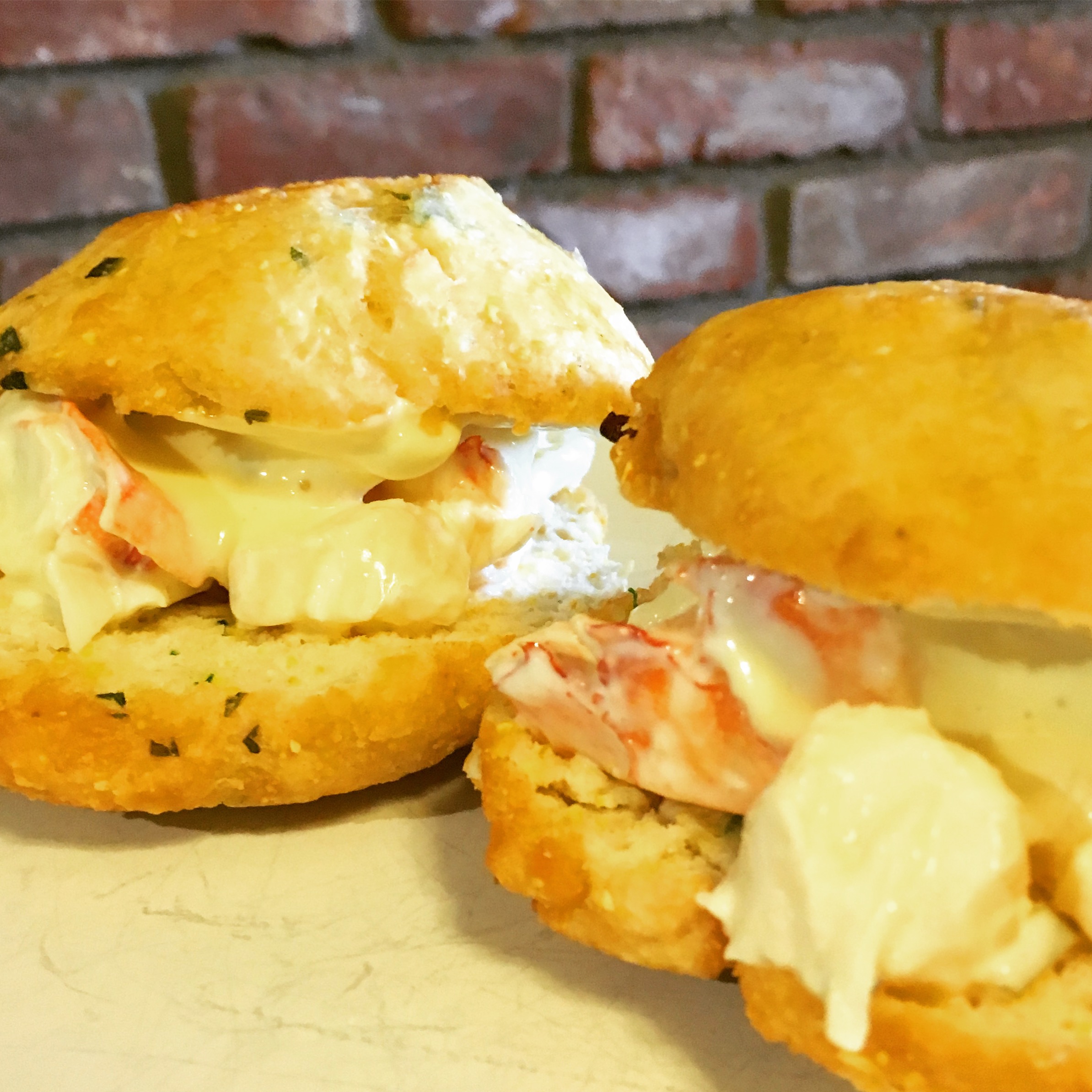 Caribbean Lobster Rolls
Remoulade Ingredients
1 cup mayonnaise
1 tablespoon mustard
2 tablespoons pickles, finely chopped
juice of 1 lemon
zest of 1 lemon
1 teaspoon salt
Johnnycake Ingredients
1 ½ cups flour
¼ cup cornmeal
1 tablespoon baking powder
1 ½ tablespoons sugar
¼ teaspoon salt
1 tablespoon scallions, chopped
½ teaspoon fresh thyme, chopped
oil, for frying
Directions
Place all dry ingredients for the johnnycakes in a mixing bowl and mix together by hand.
Add 1/2 cup of water and knead the dough until it forms into a ball, then portion the dough into 4 balls of equal size.
Place the balls of dough on a pan and cover with plastic. Allow to rest for 1 hour at room temperature.
While the dough rests, place all remoulade ingredients in a mixing bowl and mix well. Set aside.
Poach the lobster in boiling water for 6 minutes. Remove the lobster from the boiling water and soak in an ice bath to halt the cooking process.
De-shell the lobster and cut it into bite-size pieces tossed in 1-2 tablespoons of the remoulade sauce. Set aside.
Flatten each ball of dough in a tortilla press. Heat the oil in large, heavy pot to 350°F and fry each for 3 to 4 minutes, flipping intermittently, until the cakes are golden brown.
Remove the cakes from the oil and let them rest and drain.
Once cooled, slice and fill each johnnycake with the lobster and remoulade filling mixture and serve.