I can't remember when I first heard of The Invisible Life of Addie LaRue by V.E. Schwab, but no sooner than I did, it was suddenly everywhere. People couldn't stop talking about it, and with the description, I could see why. Still, I was a little hesitant to pick it up because we all know how I feel about high expectations — they can ruin many a reading experience.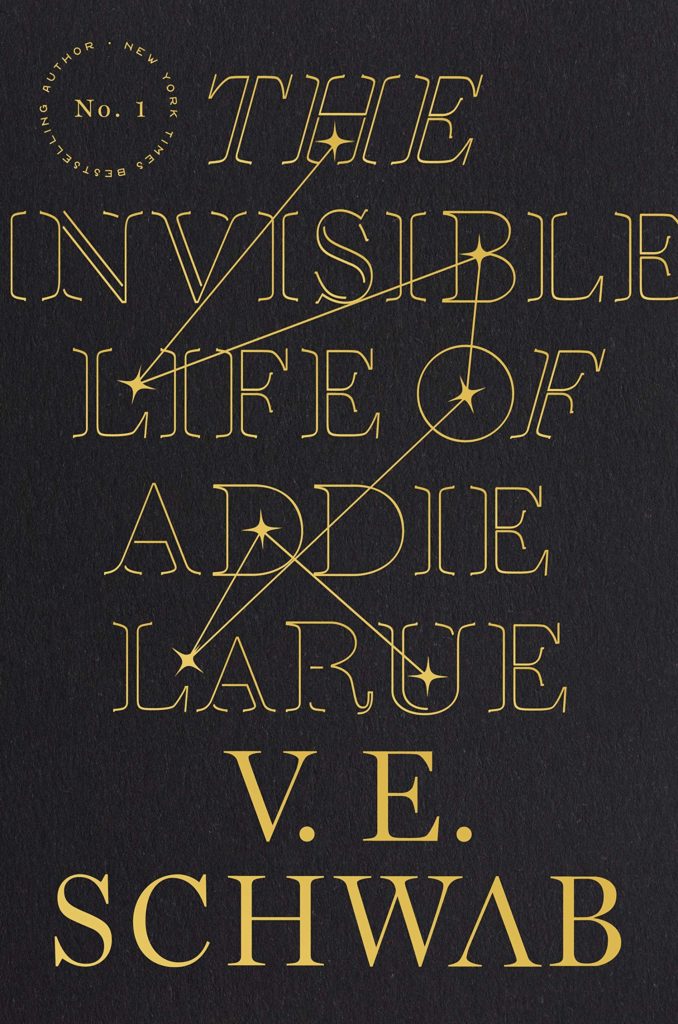 Addie LaRue is about a young woman in 18th century France who makes a bargain with the devil to live forever — and in that bargain she is doomed to never be remembered by anyone she meets. Until someone does remember her.
The story goes back and forth between the 1700s (mostly) and modern day, when Adeline should be over 300 years old but still looks like the 23-year-old she was when she made the deal. She does her best to get by. Not being remembered has its advantages and disadvantages here — she can steal whatever she likes and go wherever she wants to, but she's unable to get a job or be in any sort of relationship or, in fact, put down any roots at all.
I loved the questions Schwab raises around leaving a mark on those around you and the importance of being seen for who you are. Time and memory are also at the forefront — topics that always draw me in. Though the story moved a bit slow in the beginning, I thought the story was beautiful, nuanced, and wonderfully written. You can tell Schwab put a lot into this one, which from what I gather she'd been working on for more than 10 years when it was finally published.
My chosen recipe today — sweet and savory madeleines — came together around a couple of moments in the book. In one scene, when Addie is asked her name, she replies that it's "Madeline," which is the closest she can get due to the bargain's cruel stipulations. The woman she's talking to remarks that it's "like the cookie." In the other scene, Addie is discussing with someone the foods they would eat if they could only eat one food forever. Addie answers that she would choose cheese and he answers with chocolate. (I have to say, I'm with Addie on this one.)
And so I'm making chocolate madeleines and cheese madeleines (parmesan and herb to be exact). I'd never made madeleines before and their reputation is that they're quite tricky, so I was intimidated. You have to make sure to get the ridges — produced by a special pan — and a hump on the back. My madeleines had only very slight ridges (I'm blaming the pan) and a sort of hump. They were still very delicious!
Both recipes had very distinct directions, and I'm not sure if it's because of the differences in ingredients or just that there are multiple methods for madeleines. With it being such a fussy cookie, I guess I expected more similarities in the recipes.
I made the chocolate first, since they require that the batter be refrigerated before baking. I buttered my pan using melted butter, even though it was nonstick (as instructed). Then I melted the butter and chocolate together; I cheated and did this in the microwave, which is quicker than using a double boiler but much trickier to make sure it doesn't burn. You have to do it in short bursts and stir often!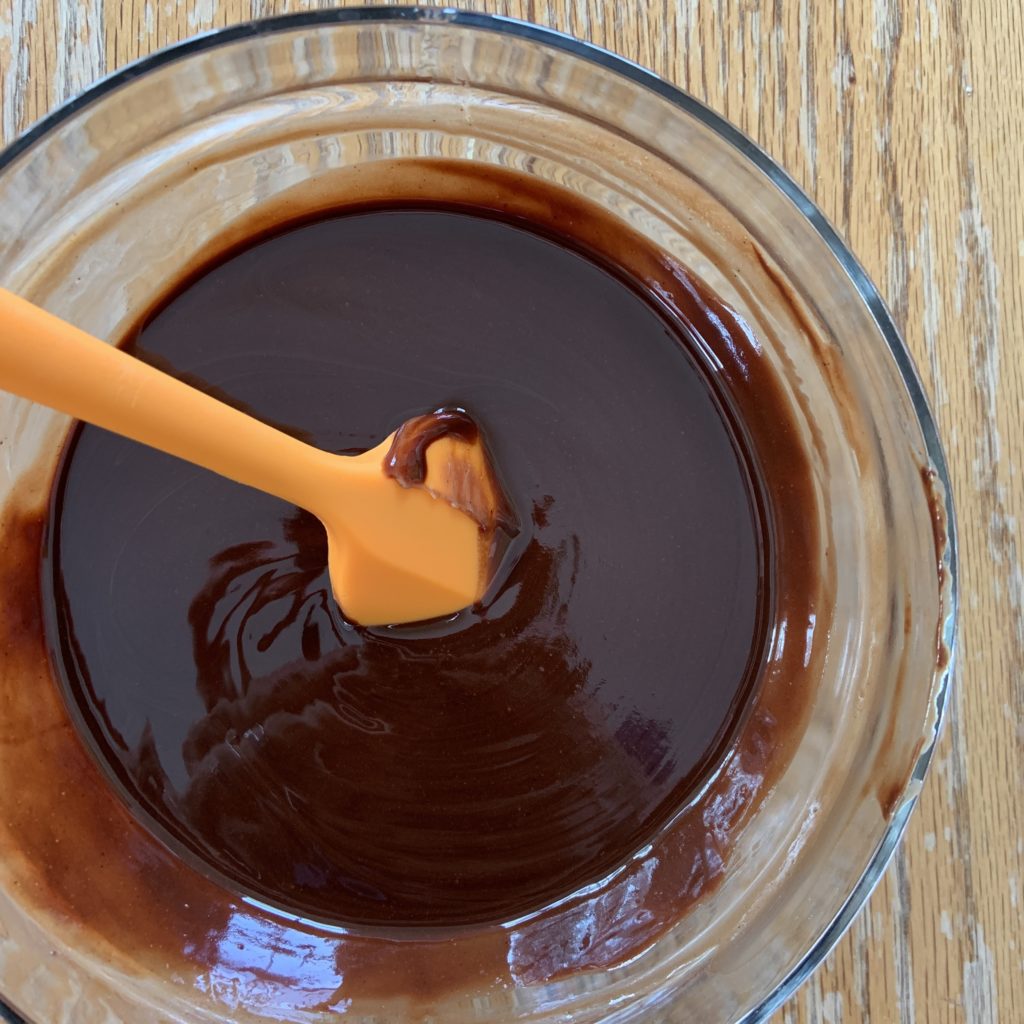 Then, I sifted my dry ingredients together in a bowl. In a separate bowl, I beat my egg whites until frothy.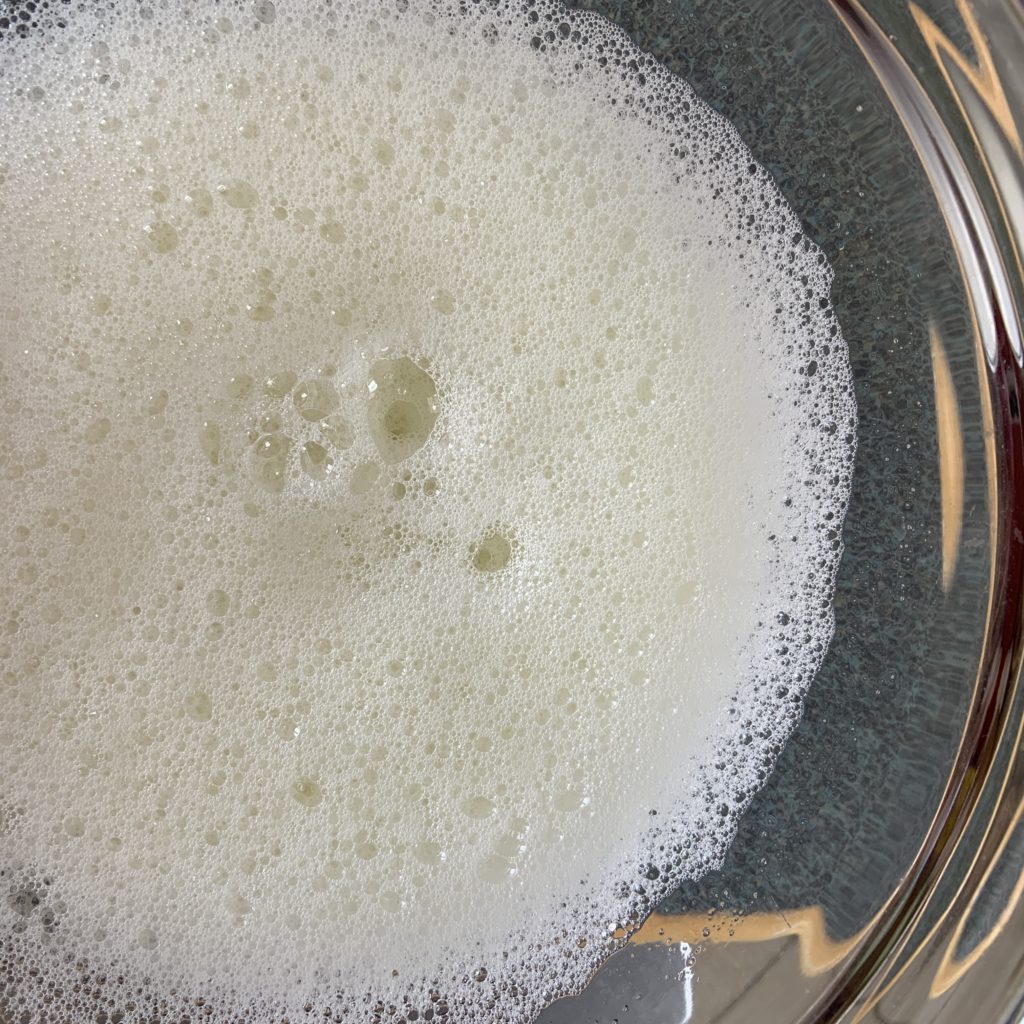 To that, I added the flour mixture and then the chocolate, stirring each until well combined.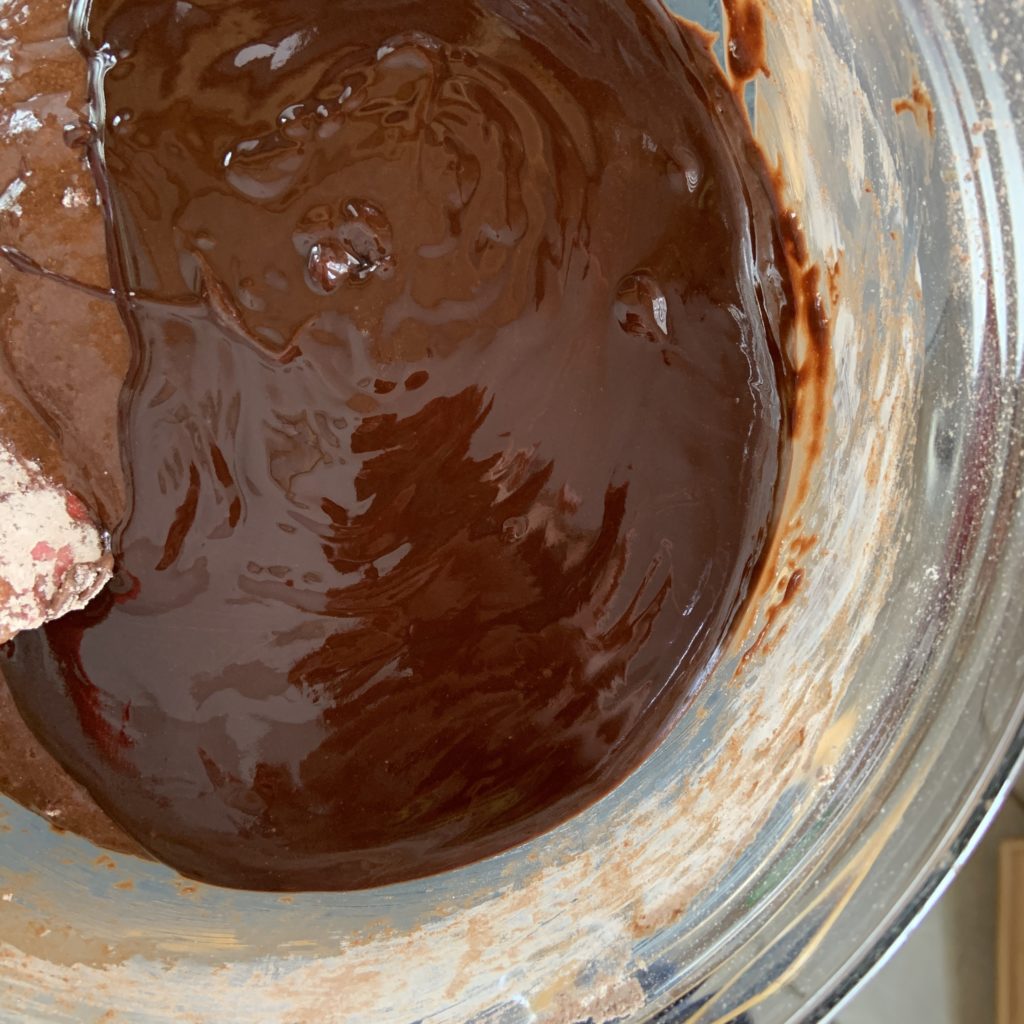 I filled each madeleine mold with a "heaping" tablespoon of batter and put the pan in the fridge to chill for an hour. (I forgot to take a before photo.) Then, I baked them for about 13 minutes at 375 degrees, until they were springy to the touch. I let them cool in the pan for 1 minute.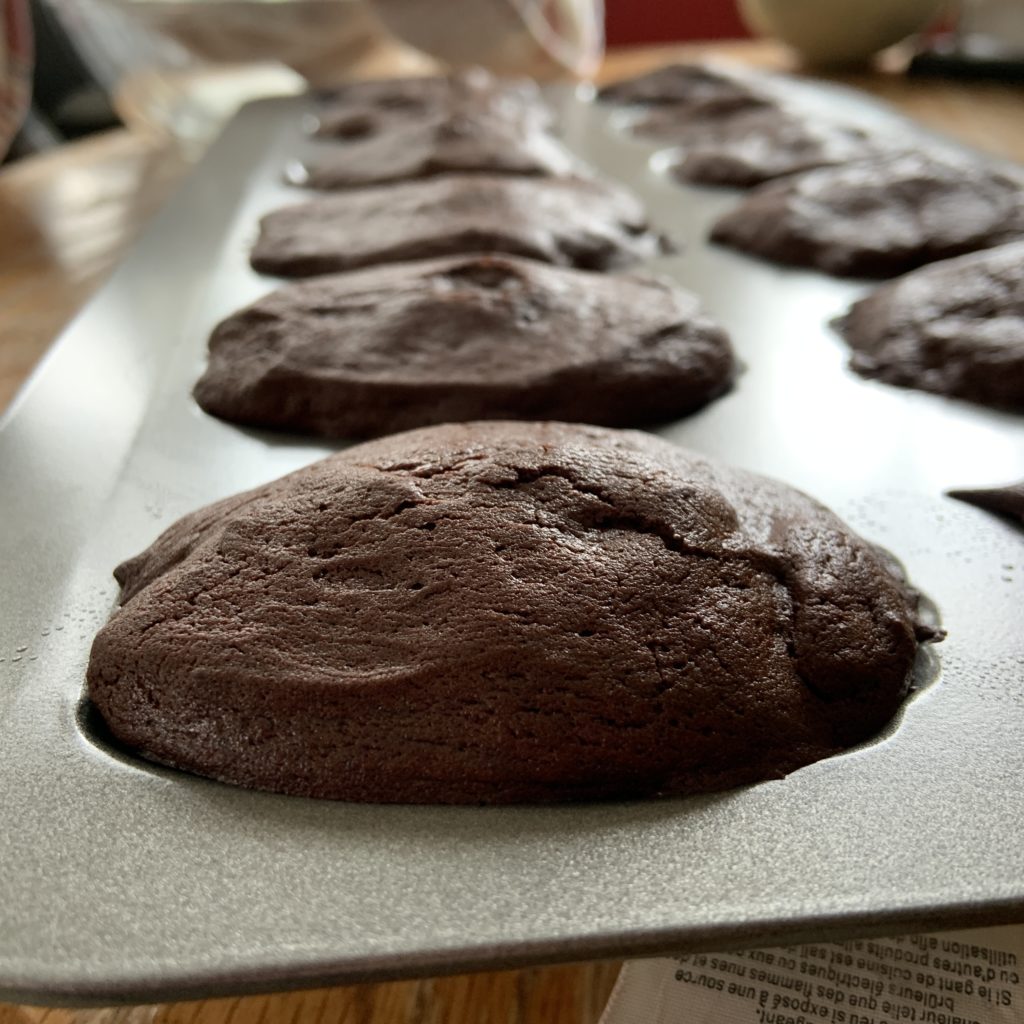 Then I removed them to a wire rack. I had absolutely no problem getting them out of the pan — they practically flew out on their own. So, as I mentioned before, I really didn't have any ridges on these.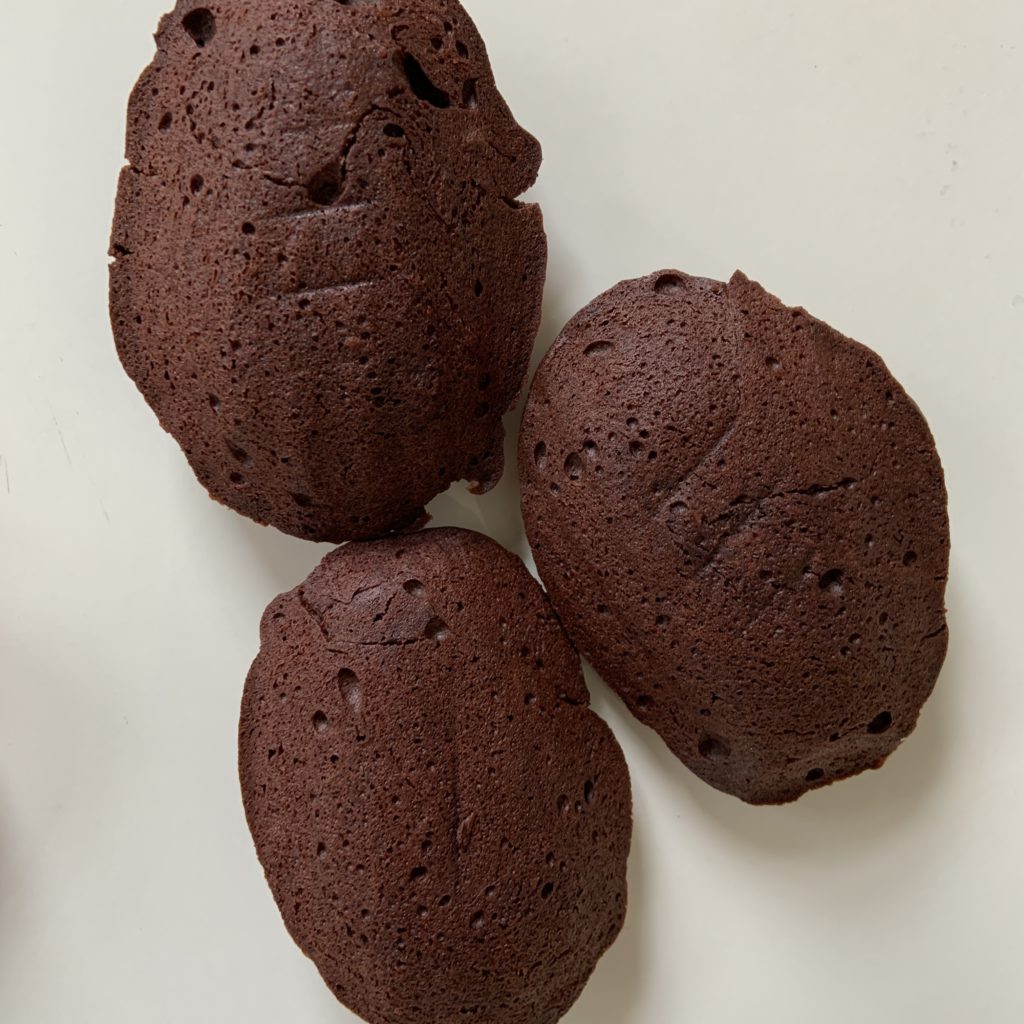 The parmesan herb madeleines were much easier to get together: I simply combined the ingredients in a food processor.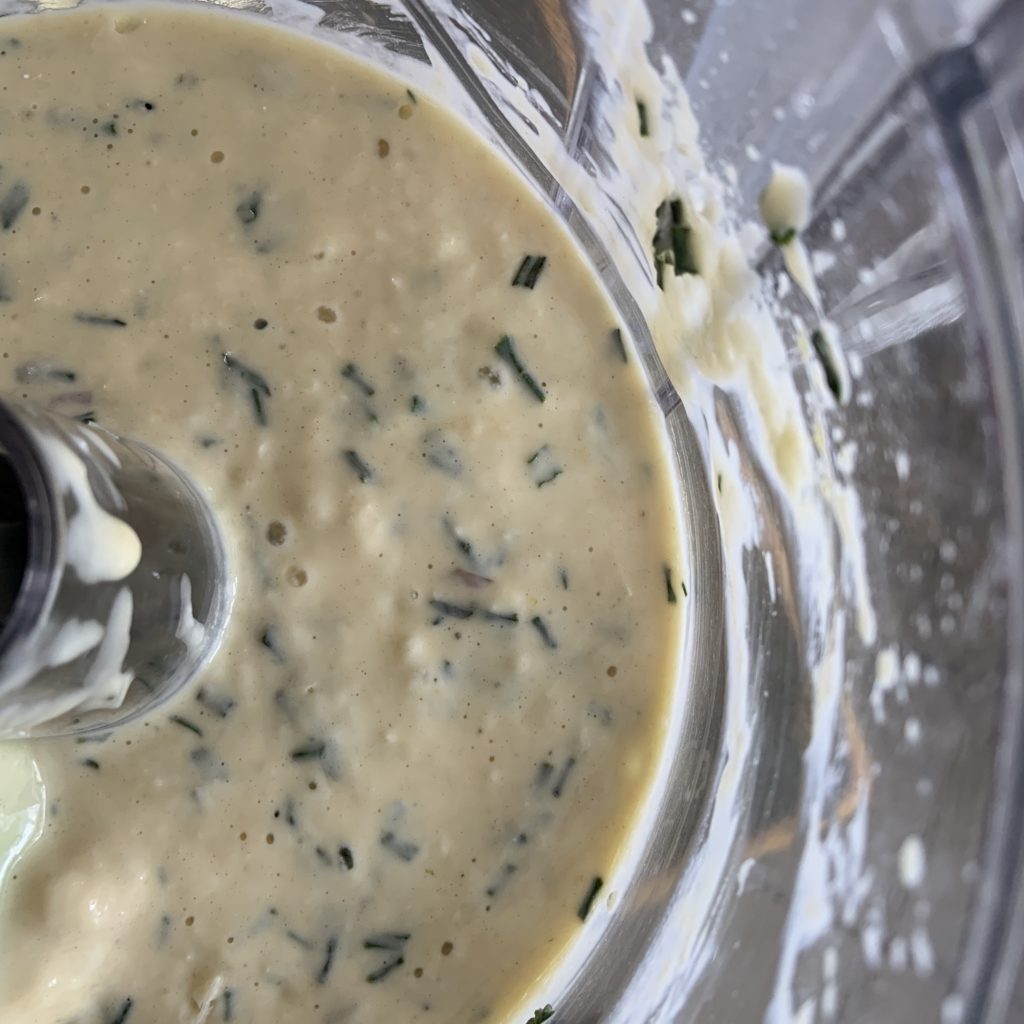 Then, I poured the mixture into the molds and popped them in the oven for about 10 minutes at 425 degrees. These had a bit more of a hump on the back. However, they also flew out of the pan and had barely any ridges on the other side.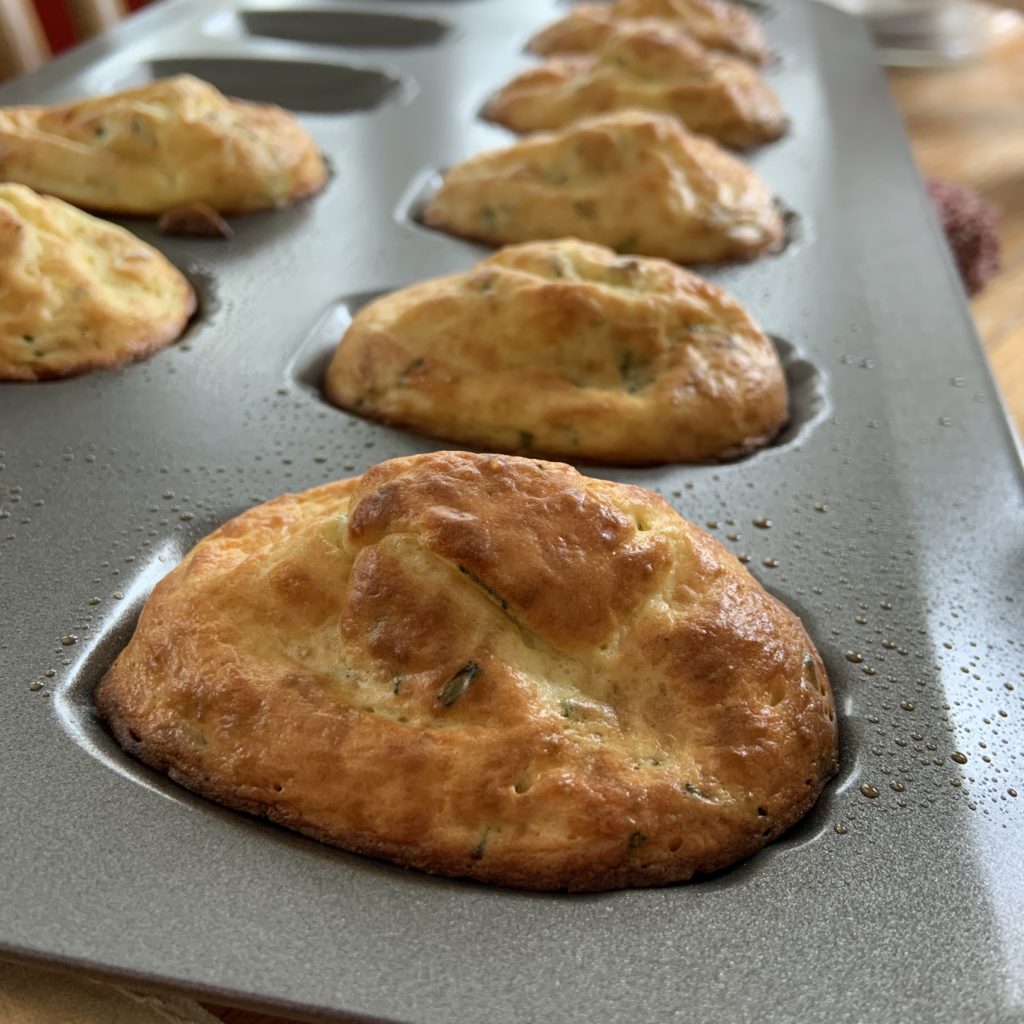 Though they had very different textures, both flavors were very good. The chocolate ones were more what I was expecting (sort of cake-like in their consistency) while the savory madeleines were fluffier. Either way, I would absolutely make them again. Maybe with a new pan that provides them with a more classic shape.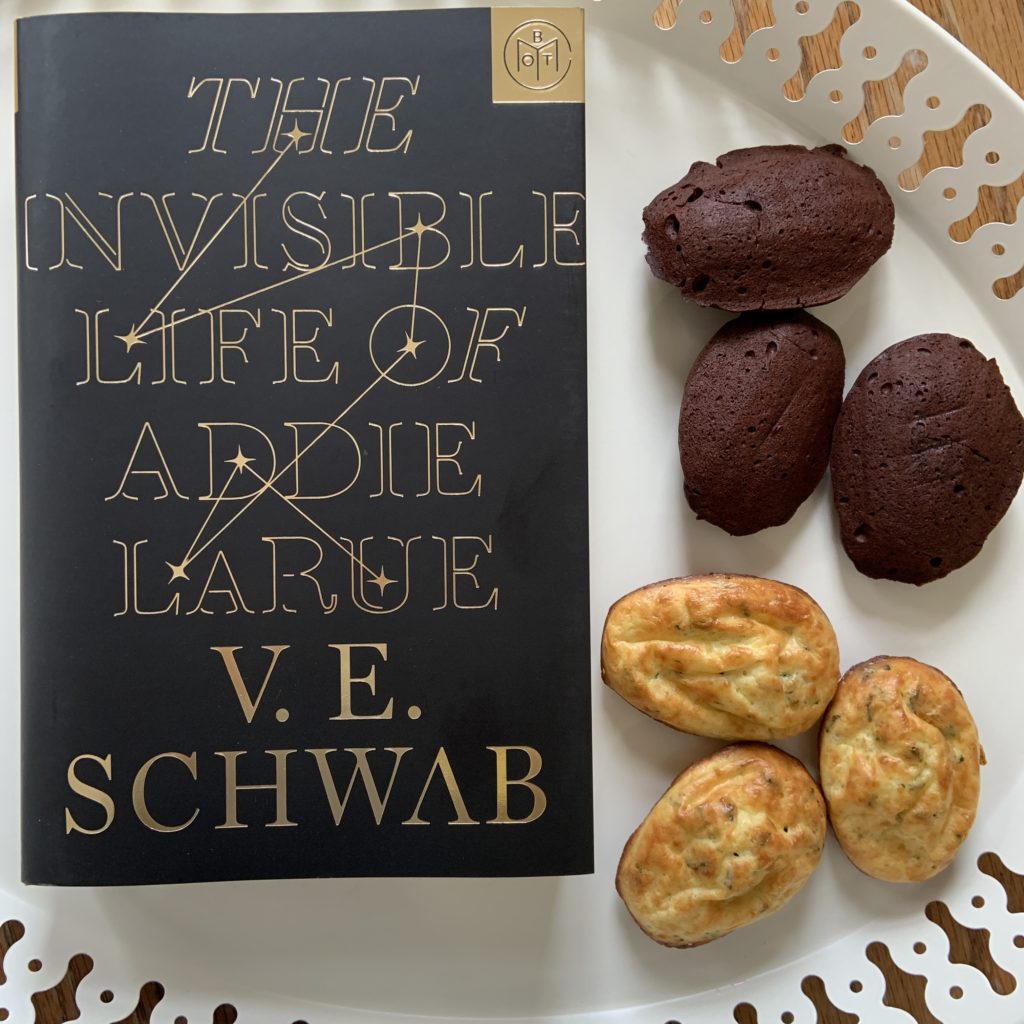 They were a beautiful complement to Addie LaRue.
French Chocolate Madeleines
Ingredients
1

tablespoon

melted butter

10

tablespoons

unsalted butter

6

ounces

dark or bittersweet chocolate, chopped

1 ½

cups

powdered sugar

½

cup

all-purpose flour

½

cup

unsweetened cocoa powder

½

teaspoon

salt

6

large egg whites
Instructions
Brush a madeleine baking pan with the melted butter.

Put remaining butter and the chocolate in the top of a double boiler or in a heatproof bowl set over a pan of simmering water (be sure the water doesn't touch the bowl). Heat until chocolate and butter are almost melted, 3-5 minutes. Remove from heat and stir together until smooth.

Sift powdered sugar, flour, cocoa and salt into a bowl using a mesh strainer.

Beat egg whites in a large bowl with an electric mixer or by hand until very frothy, about 2 minutes. Stir in flour mixture until combined. Add chocolate mixture and mix with a spatula until well blended.

Portion batter into the pan, filllig each cup with about 1 heaping tablespoon of batter. Chill in the refrigerator one hour. If your pan makes only 12 at a time, chill remaining batter in a bowl and bake in batches.

Preheat oven to 375 degrees.

Bake about 12 minutes, or until madeleines are springy to touch. Cool in pan 1 minute, then unmold madeleines onto a rack. Serve warm or at room temperature.
Parmesan Herb Madeleines
Ingredients
1/3

cup

all-purpose flour

1

teaspoon

baking powder

1/4

teaspoon

sea salt

1

large egg, lightly beaten

1/3

cup

nonfat plain yogurt

1/4

cup

freshly grated Parmesan

1

tablespoon

finely minced chives
Instructions
Preheat your oven to 425℉. I recommend spraying your madeleine pan with nonstick spray even if it's already labeled as nonstick.

Using a food processor, combine the ingredients from the flour to the yogurt and blend well. Add the cheese and chives and process until combined.

Spoon the batter onto the madeleine molds and bake in the center rack of your oven for about 10 minutes or until firm and golden. Cool the madeleines for a few minutes before serving. Serve warm or at room temperature (I prefer them warm).
---
This post contains affiliate links. This does not increase the price you pay, but I may receive a small commission for any products you choose to buy. Purchases made through affiliate links help to cover my blogging costs. Thank you for helping to support The Hungry Bookworm! Full disclosure here.