The Bean Trees is a book I've been wanting to read for a while. I picked up a copy years ago at a used book sale. It sat on my shelf untouched. In early 2020, I received another copy in the mail from a friend, and though that should've been the catalyst I needed, it wasn't. So, in pursuit of my "read my shelves" goal this year, I chose it as my book club's latest read — and finally, mission accomplished!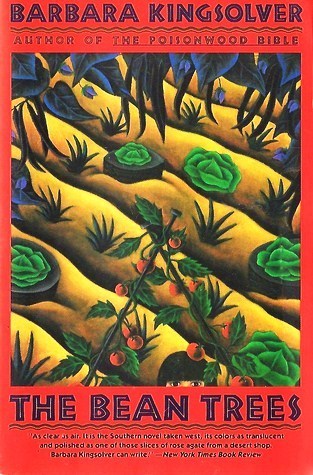 Barbara Kingsolver's novel follows Taylor Greer, who grew up in Kentucky with a focus on avoiding pregnancy and getting out of town in the future. She heads west in a beat-up car and finds herself caring for an abandoned child, an American Indian girl she calls Turtle. The story is about their life together as they settle in Arizona with a group of friends who becomes family. It's a short book, but one that I thought was perfect for a book club discussion.
Though it was written in 1988, much of it felt relevant to today. Parenthood and female friendship are at the forefront of the story Kingsolver tells but so to are issues of immigration, adoption, and an imperfect judicial system. Still, the reading was pretty light and the novel overall was quite heartwarming, even funny at parts.
One of the elements I loved the most was the message that family can be who you make it — in Taylor's case, she finds kinship with the woman who employs her, a couple of older women who sometimes care for Turtle, and Lou Ann, who she lives with. Lou Ann works for the Red Hot Mama's salsa factory making tomatillo salsa. Where at one point, Taylor had "never heard of salsa," she quickly goes to "eating it on everything from avocados to pot roast." For a bit of the novel, salsa becomes quite a fixture. 
I love tomatillo salsa and used to make it all the time, when we lived closer to a Mexican grocery store where the ingredients were plentiful and inexpensive. But, I haven't made it in a few years and realized now was a great excuse to make another batch! I couldn't find the recipe I used to use (never wrote it down, I guess), so I found one that seemed like a good foundation and made some tweaks. 
First, I preheated the oven and prepped the vegetables and garlic — I used two pounds of tomatillos, 4 jalapeno peppers and two medium onions because I was making enough to share with my book club. If you're having a party, this is probably the perfect amount. If you're making it just for you, you might want to half the recipe.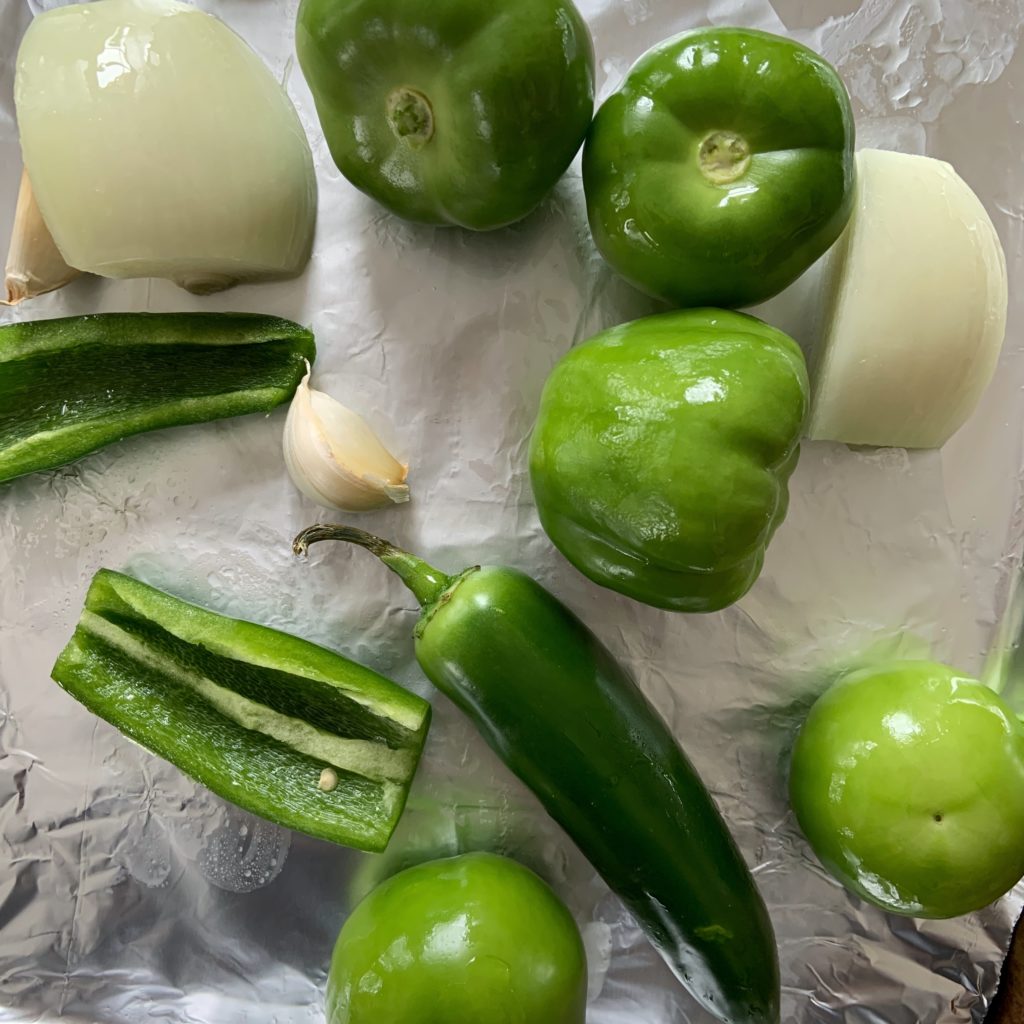 I placed them in the oven and roasted them until they were starting to char, then I let them cool somewhat (about 15-20 minutes).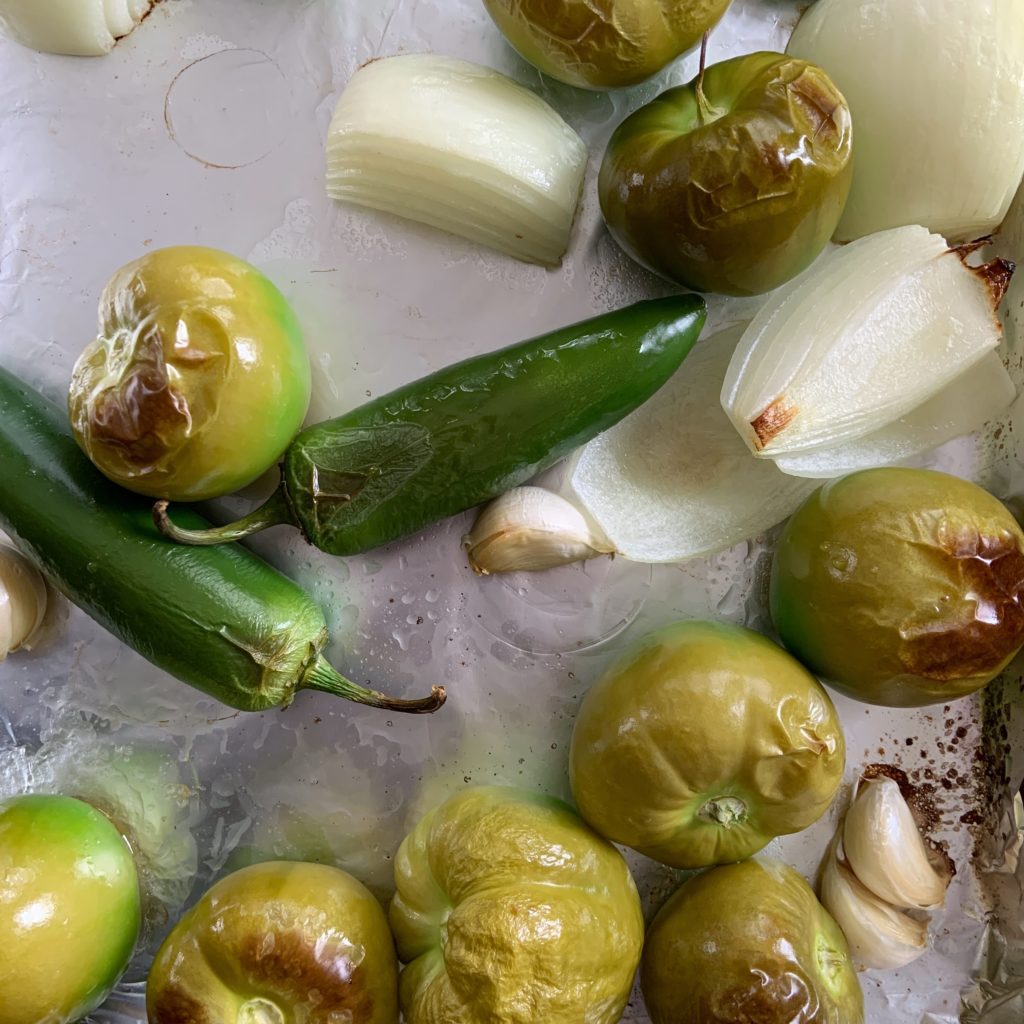 I dropped the tomatillos, jalapenos (stems removed, if you left them on for roasting), onions and peeled garlic into the blender. I blended it a bit so there was some more room and then added the cilantro, lime juice, salt and cumin. I continued to blend until it was smooth. That's it!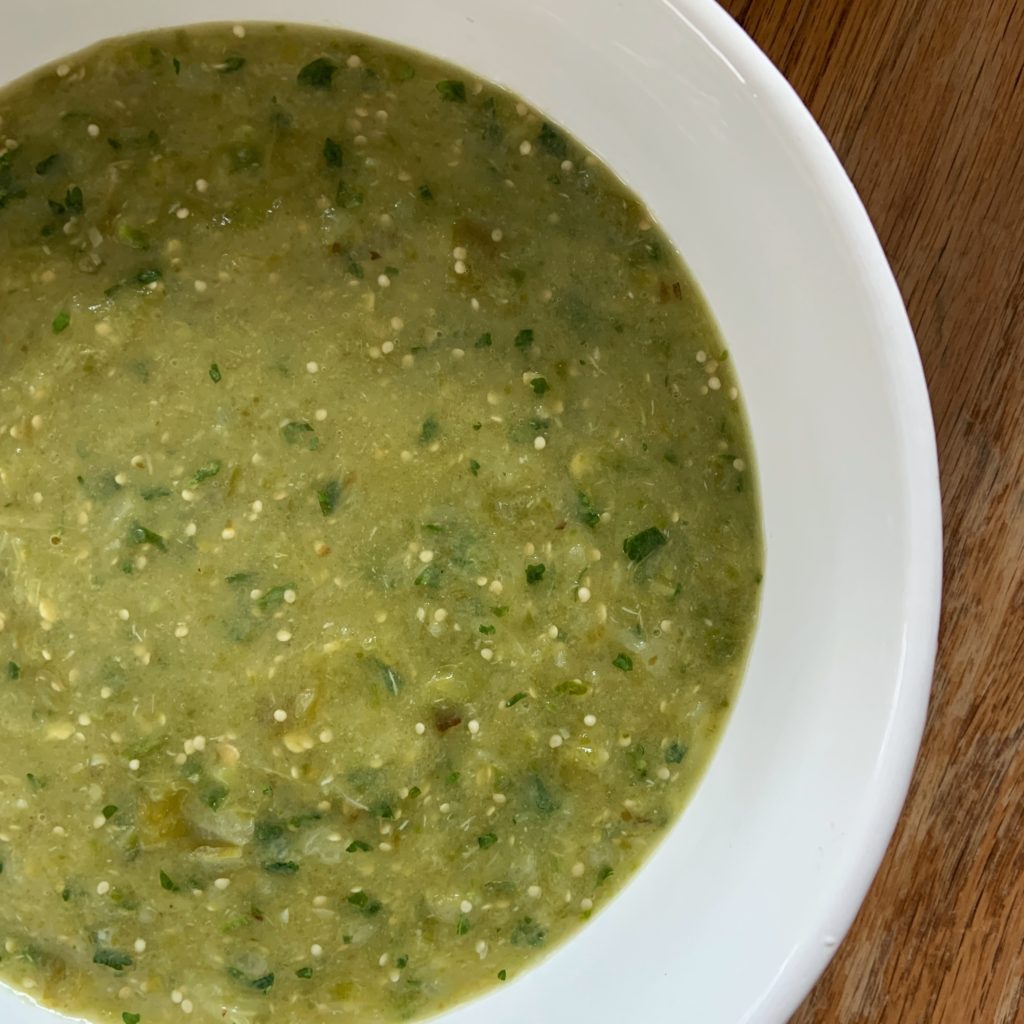 I really wanted to share this with my book club, and thankfully, they're all close by. I made little care packages — bags of chips and about a half cup of salsa each — and dropped them off at everyone's doorstep the afternoon of our meeting.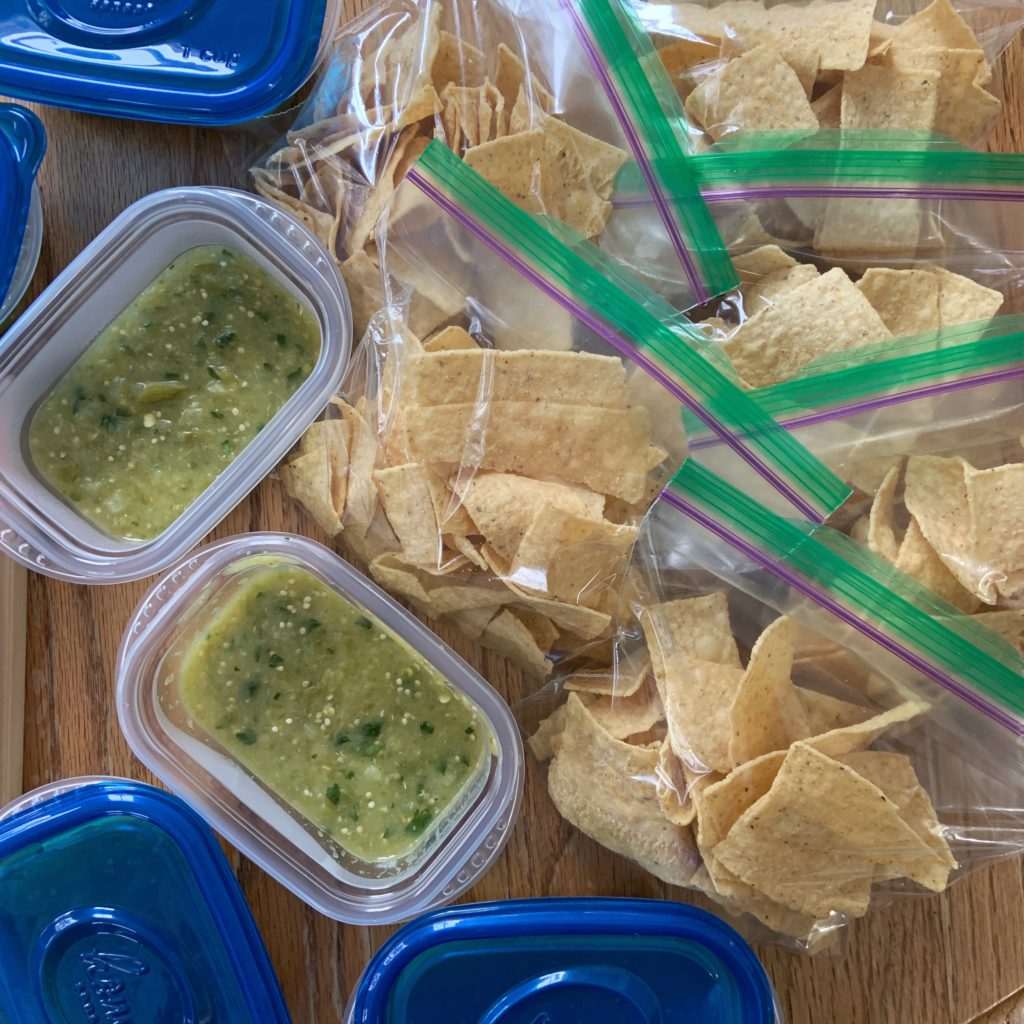 Then, that evening, we were all able to enjoy them together while we met virtually! (I didn't think about how loud chips crunch into video calls, but it didn't deter us one bit.) My husband and I also indulged in the leftovers… and I have a feeling I will be making this recipe again very soon. At least now I have it all written down 🙂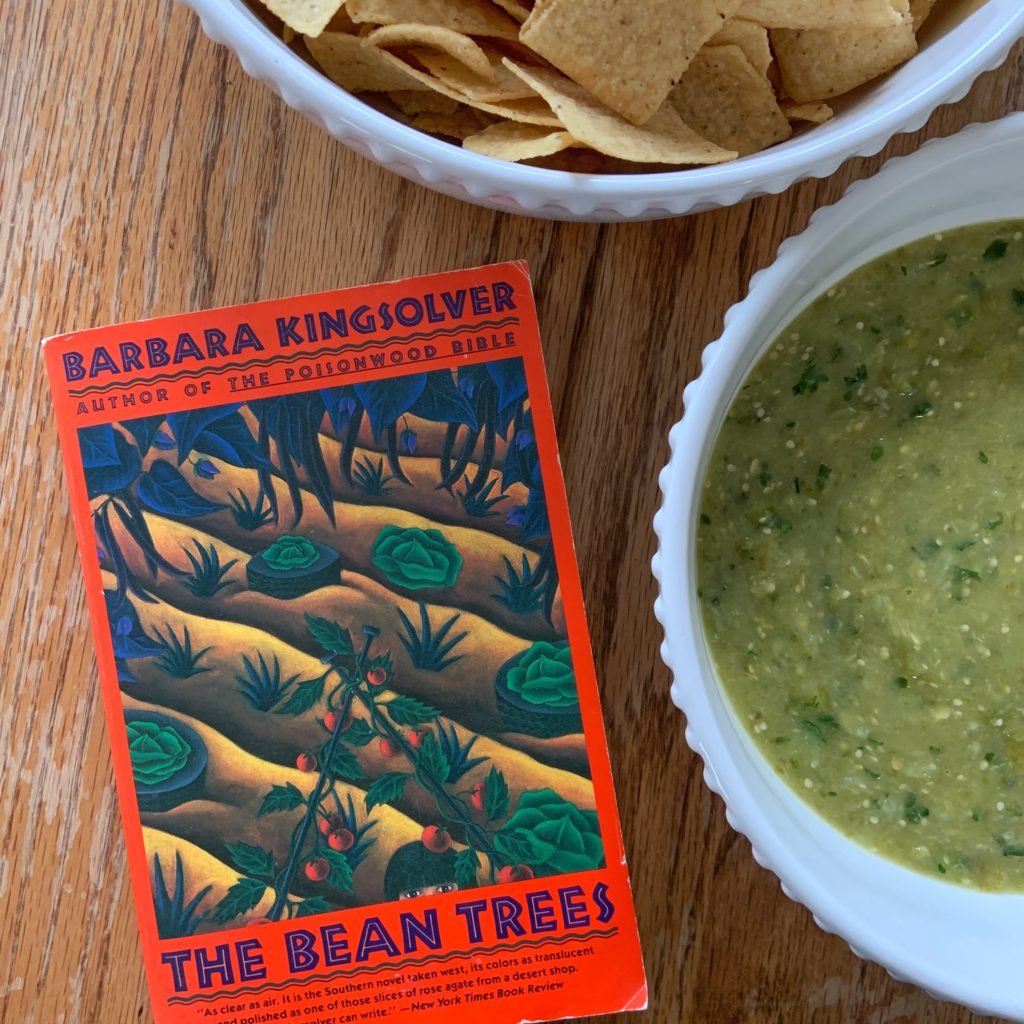 Roasted Tomatillo Salsa
Ingredients
2

lb

fresh tomatillos

husks removed and rinsed

4

jalapenos

4-6

cloves

garlic

unpeeled

½

bunch fresh cilantro leaves

more or less to taste

2

medium yellow onions

or 1 large

Juice of 1 lime

1

tsp

Kosher salt

or more to taste

½

tsp

ground cumin

Olive oil

sparingly for roasting
Instructions
Preheat oven to 500 degrees F. Cover a baking sheet (or two) with foil for easy cleanup.

Rinse and dry tomatillos and jalapenos. For a mild salsa, cut jalapenos in half, removing seeds and membranes. For a medium salsa, do that for just two of the jalapenos, leaving the other two whole. For a hotter salsa, leave all jalapenos whole. Spread peppers and tomatillos on baking sheet(s).

Peel onion and cut into large chunks (4-6 pieces, depending on size). Add onions and unpeeled garlic to the baking sheet(s).

Drizzle with olive oil, enough to lightly and evenly coat the tomatillos, peppers and onions. Toss if needed.

Bake for 15-20 minutes until tomatillos, peppers and onions are a little bit charred. Remove from the heat and allow to cool.

If you left any peppers whole, chop off the stem. Carefully squeeze the roasted garlic out of its skin.

Add all roasted vegetables to a blender, reserving anything that doesn't fit and adding once it's a bit blended. Be careful — sometimes warm liquids can expand when blended.

Once the vegetables are mostly blended, add cilantro, lime juice, salt and cumin. Continue to blend until your preferred consistency is reached (it should be mostly smooth). Taste and add more cilantro, salt or lime juice if needed.

Serve immediately or refrigerate in a sealed container for up to 5 days.
---
This post contains affiliate links. This does not increase the price you pay, but I may receive a small commission for any products you choose to buy. Purchases made through affiliate links help to cover my blogging costs. Thank you for helping to support The Hungry Bookworm! Full disclosure here.