Emma Donoghue's latest novel, The Pull of the Stars, includes a couple of elements that would normally turn me off of a novel — and, in many cases, DNF one: no quotation marks and extremely long chapters. Luckily, it also is made of things I often look for in a new read: a female-centric story, a strong sense of place, and an utterly gripping storyline. In the end, the good far outweighed the bad. I loved it.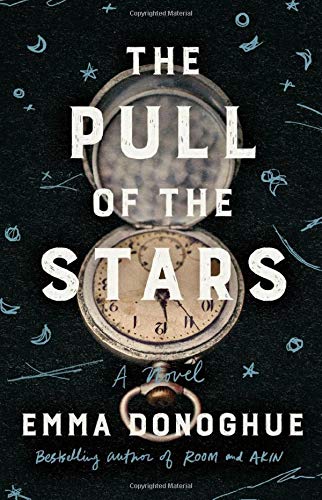 The story takes place over just a few days in an Irish maternity/flu ward during the Spanish Flu Pandemic of 1918. Nurse Julia Power is tasked with taking care of flu-ridden laboring mothers and their babies until they're able to go home. The ward is really nothing more than a room, three beds cramped together without much support aside from Nurse Julia and an inexperienced volunteer. As you would expect with early 20th century childbirth on top of a devastating pandemic, the story is emotional. In it, Donoghue touches on such timely (or, in some ways, timeless) themes as healthcare, pregnancy/motherhood, societal expectations and abuses of power.  
Oddly, the lack of quotation marks didn't end up bothering me beyond the first few pages. Donoghue's writing is so vivid that I never wondered whether a thought was spoken aloud or vice versa, or which character was speaking to whom. The long chapters didn't end up deterring me either — the story moved so quickly, and I was so enthralled, I couldn't put the book down.
It's a particular choice to read this novel during our own pandemic, but if you think you can handle it, I cannot recommend this book enough. It illustrates how far we've come and yet how far we have to go.
Not much attention is paid to food as clearly there are more important things going on over the course of the novel, but there is a meaningful mention/scene that includes barmbrack. Sometimes referred to as "brack," it's a moist fruit bread popular in Ireland around Halloween (though eaten year round), and in fact, served on Halloween in the story. Julia describes it:
I set out thick slices on Tim's plate and on mine, dried fruits pebbling the pale bread. So fresh it didn't need toasting or buttering...White wheat flour, not eked out with anything. The tang of fresh tea plumping each sultana.
I used a recipe from Daring Gourmet and tweaked it a bit based on another couple of recipes I found during my research. She explains that traditionally there were items hidden inside the loaves: a ring meant you were destined to marry within a year; a pea meant you'd remain single; a stick meant you were doomed to an unhappy marriage; cloth meant poverty lied on the horizon; the coin prophesied good fortune or riches; and a medallion meant you'd become a monk or a nun. 
It's a yeasted bread, so there is a bit of a process to make it, including rise time, of course. But it was absolutely delicious and well worth it.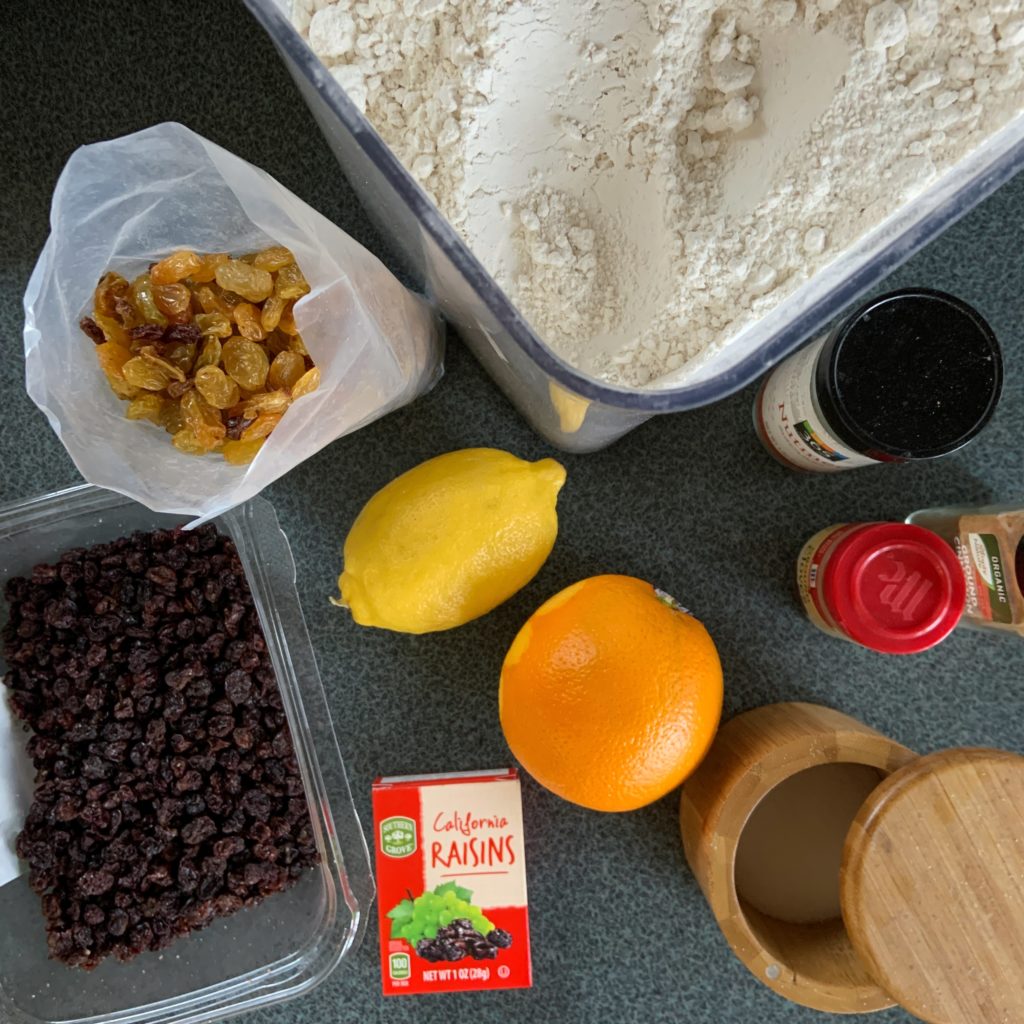 First, I brewed a couple of strong cups of tea — one for me and one for the raisins. I used a combination of raisins, golden raisins and dried currants (thankfully leftover from my cookie recipe). I let the dried fruits soak in the tea for a little over four hours, or you can also soak them overnight. 
When it was time to get going, I stirred some dry active yeast and a teaspoon of sugar into some lukewarm milk (about 100 degrees F is excellent for yeast). I let it sit for 10 minutes to get nice and frothy while I worked on the beginnings of the dough.
In my stand mixer, I added flour, sugar, several spices including cinnamon, nutmeg, cloves and ginger, and salt. I made a well and added melted butter, egg, lemon and orange zest and the frothy yeast mixture.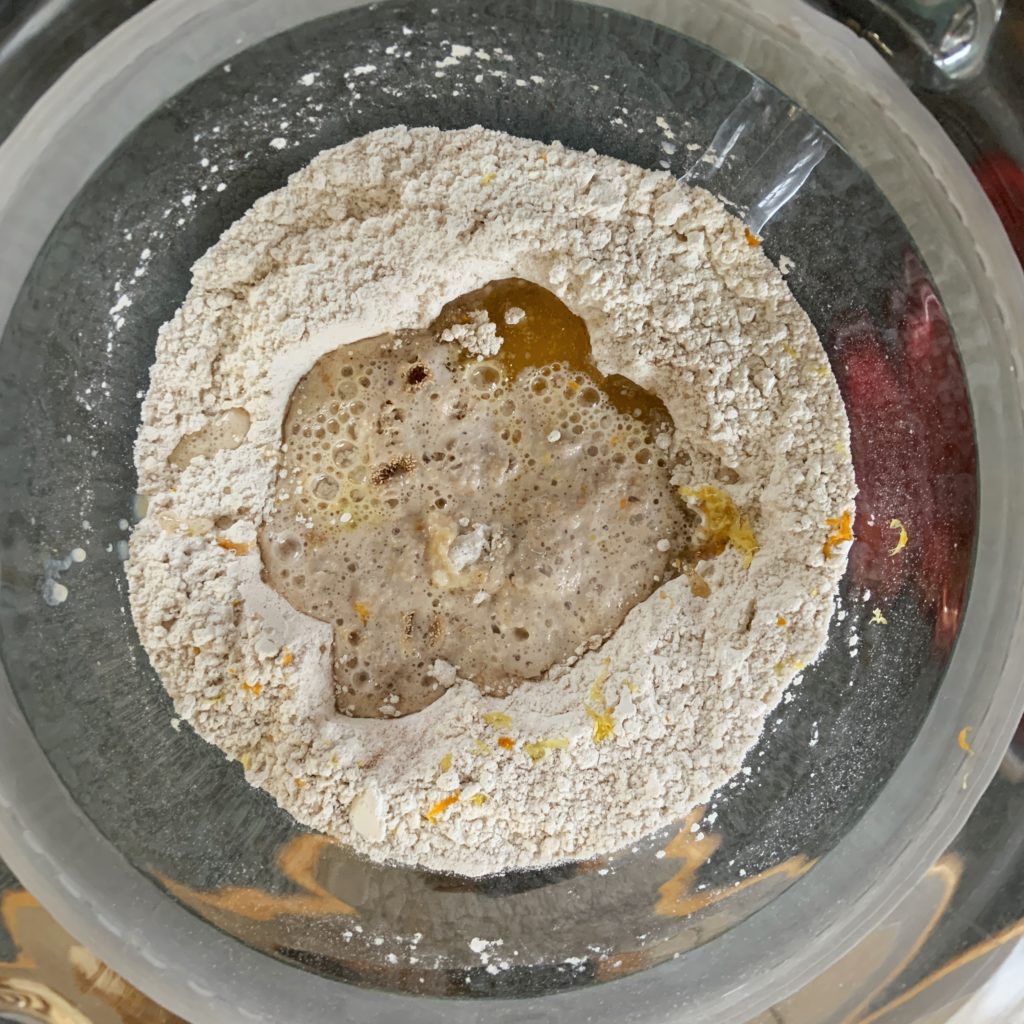 I used the dough hook to knead it until just combined.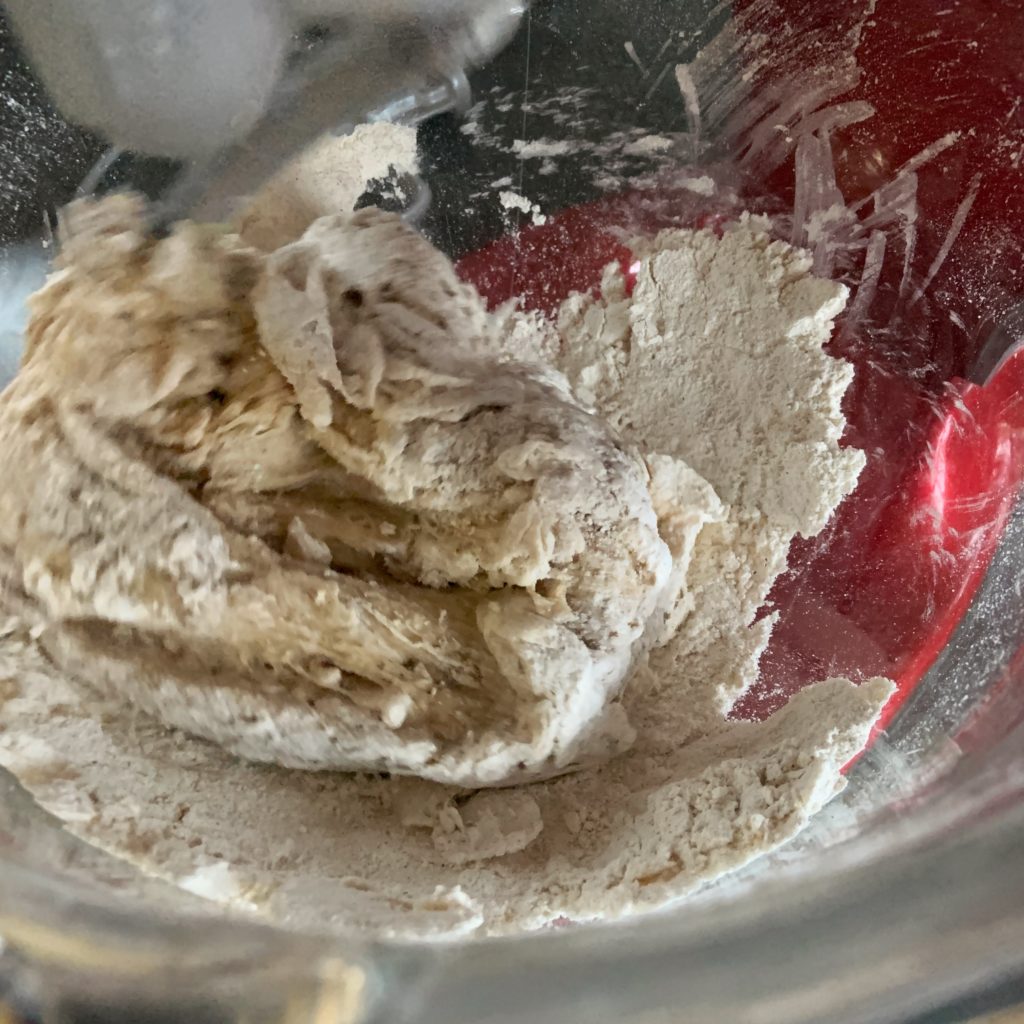 Then, I added the currants and raisins (which I drained, reserving the liquid) and continued kneading it until a soft dough formed.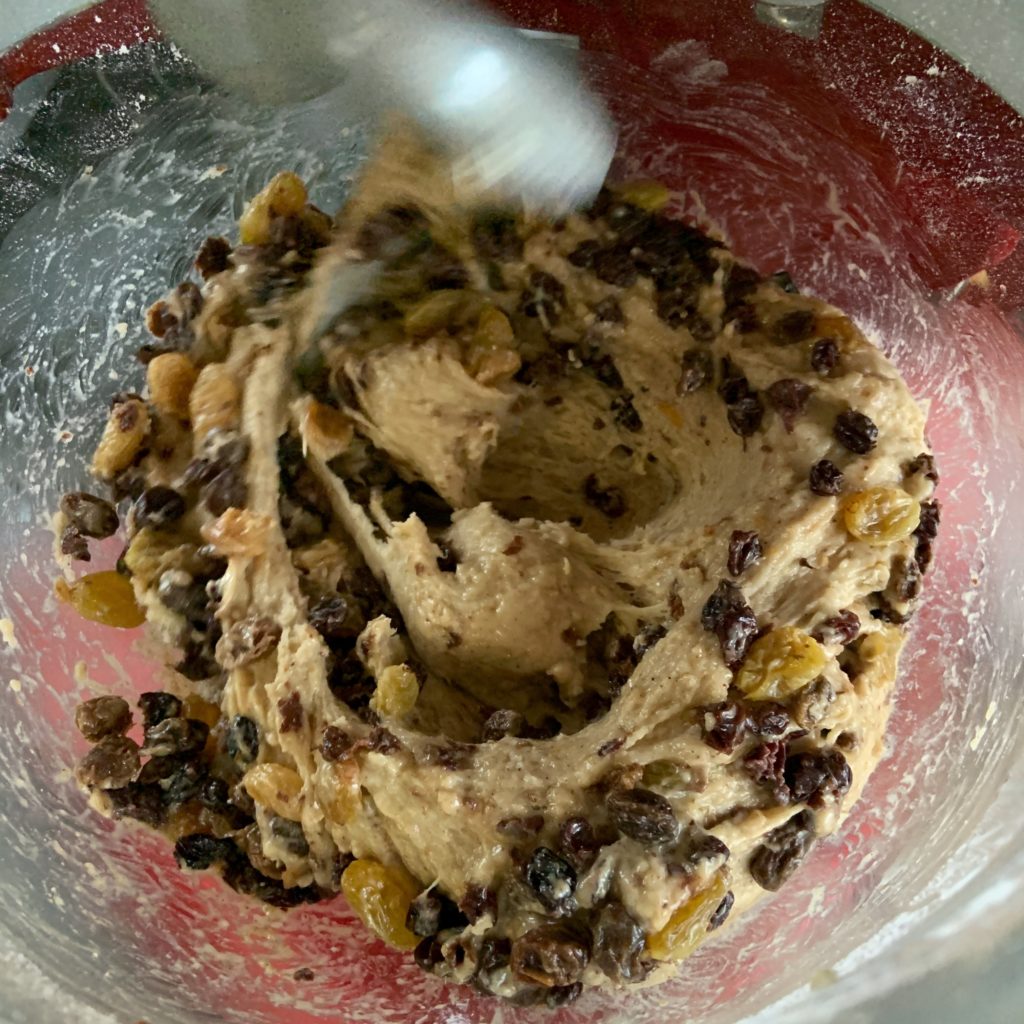 I removed the bowl from the mixer, covered it with plastic wrap and set it in my oven (on the proofing setting) to rise until doubled in size.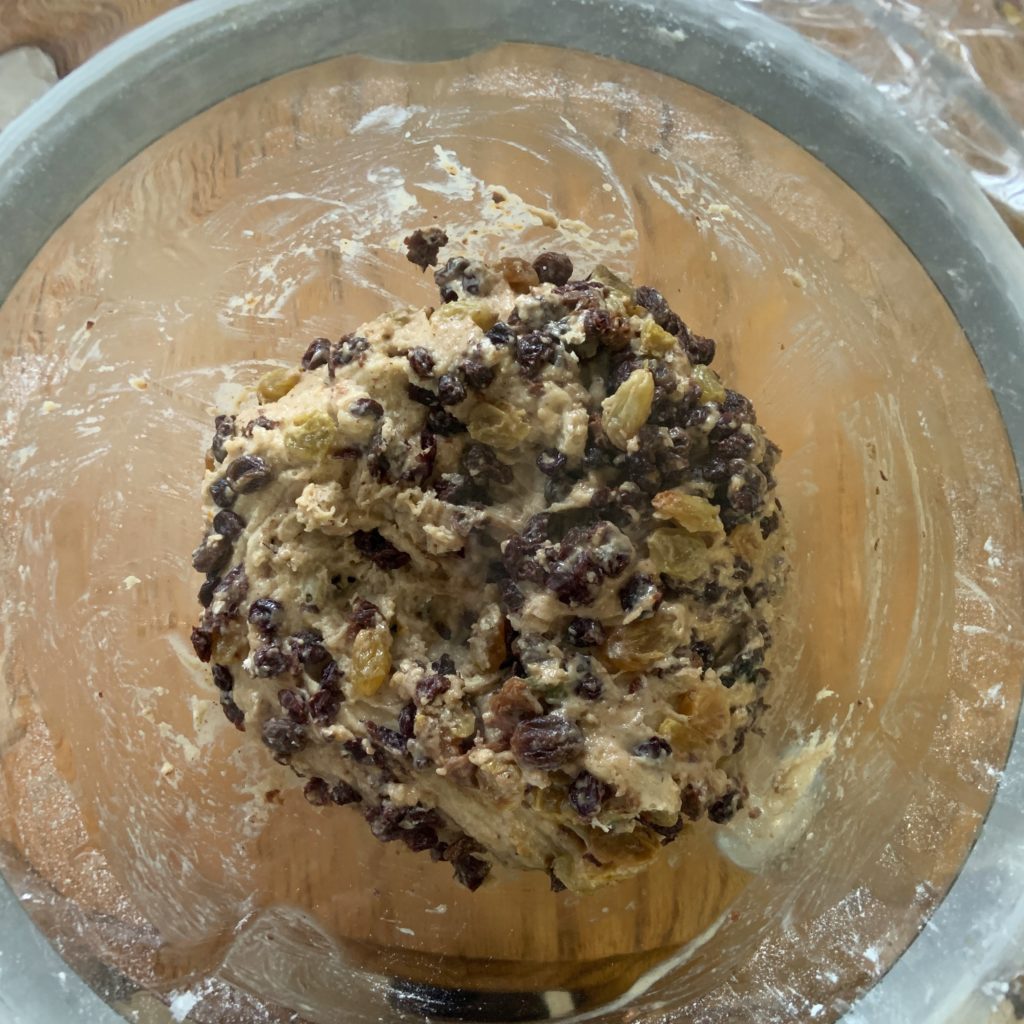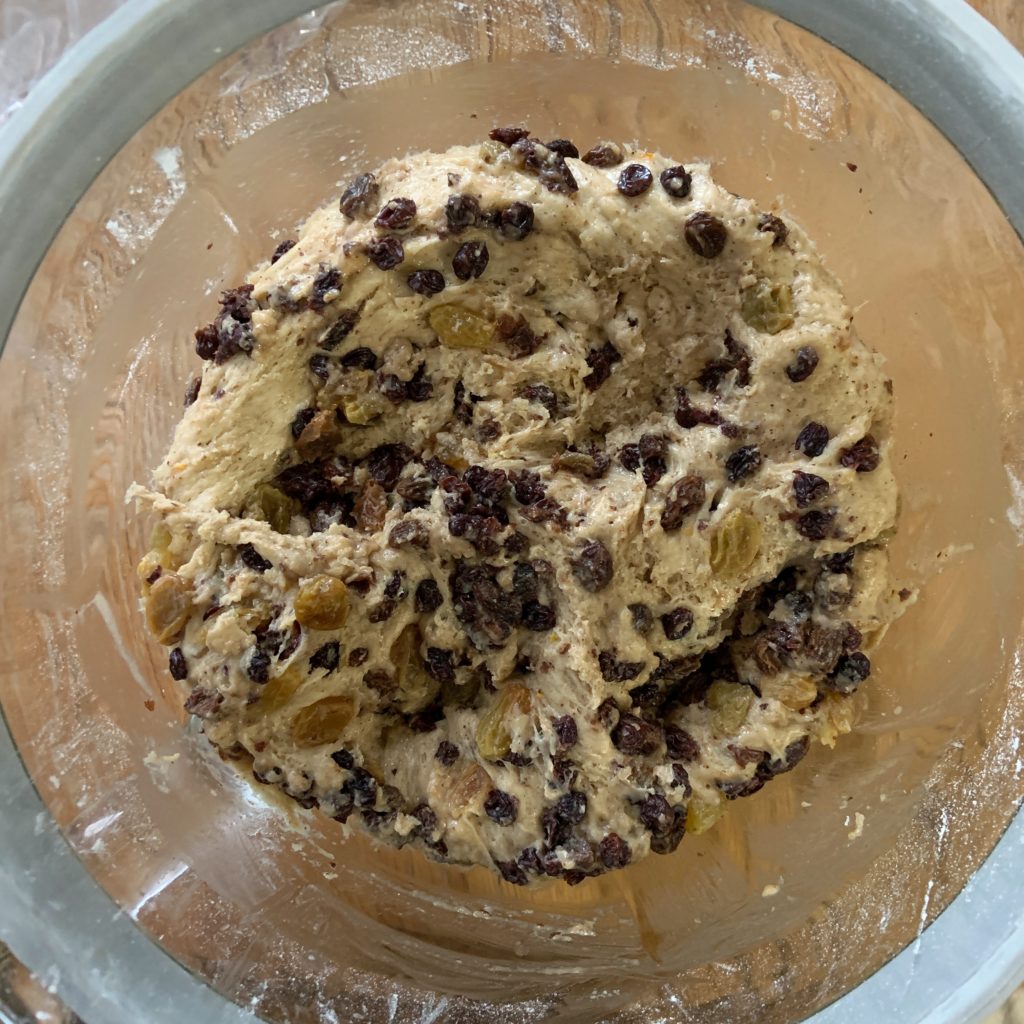 Then, I punched down the dough and placed it into a greased bread pan. I covered the pan with plastic wrap and let it rise until it was almost doubled again.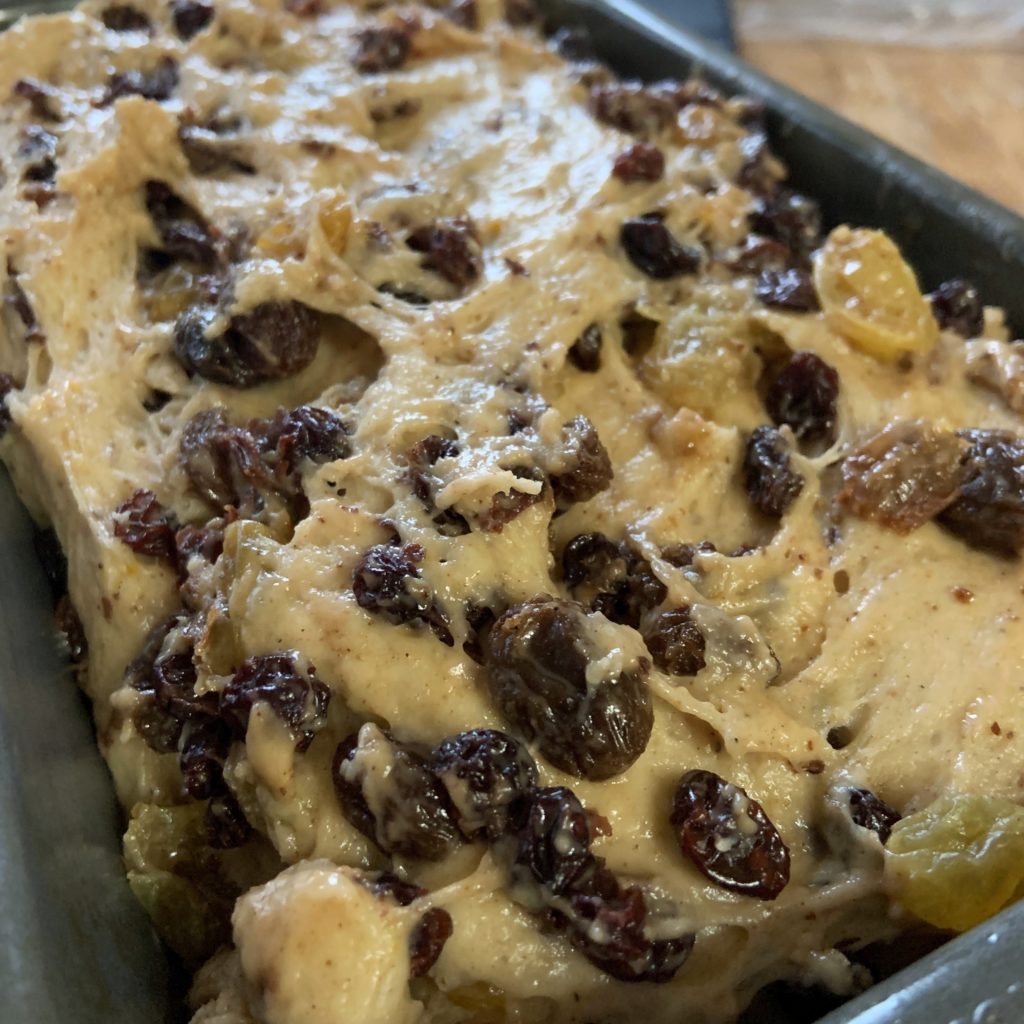 Once nearly doubled, I baked it in a 350 degree F oven for about an hour, until the skewer came out clean. While it was still warm, I brushed it with the reserved raisin/tea liquid to add more flavor and a lovely sheen.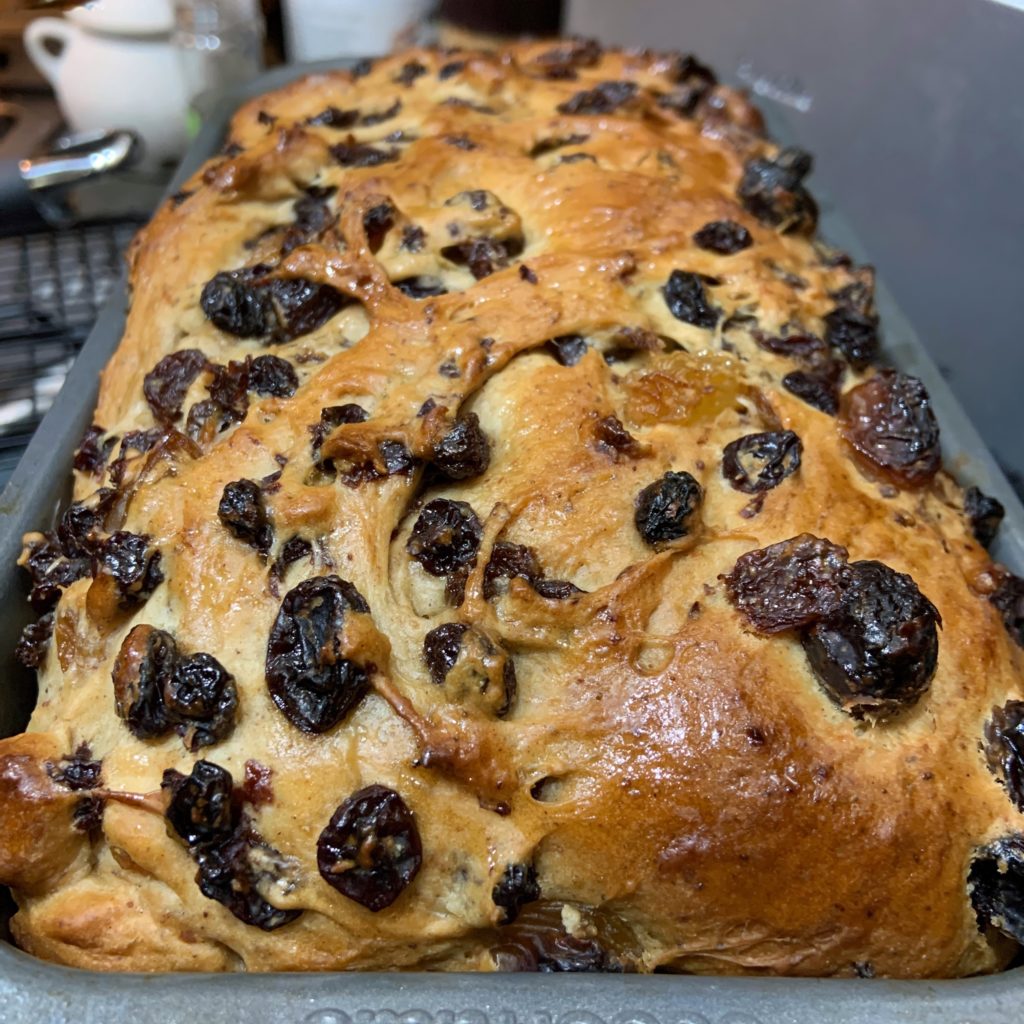 It was flavorful and was, as recommended, almost heavenly when toasted and buttered.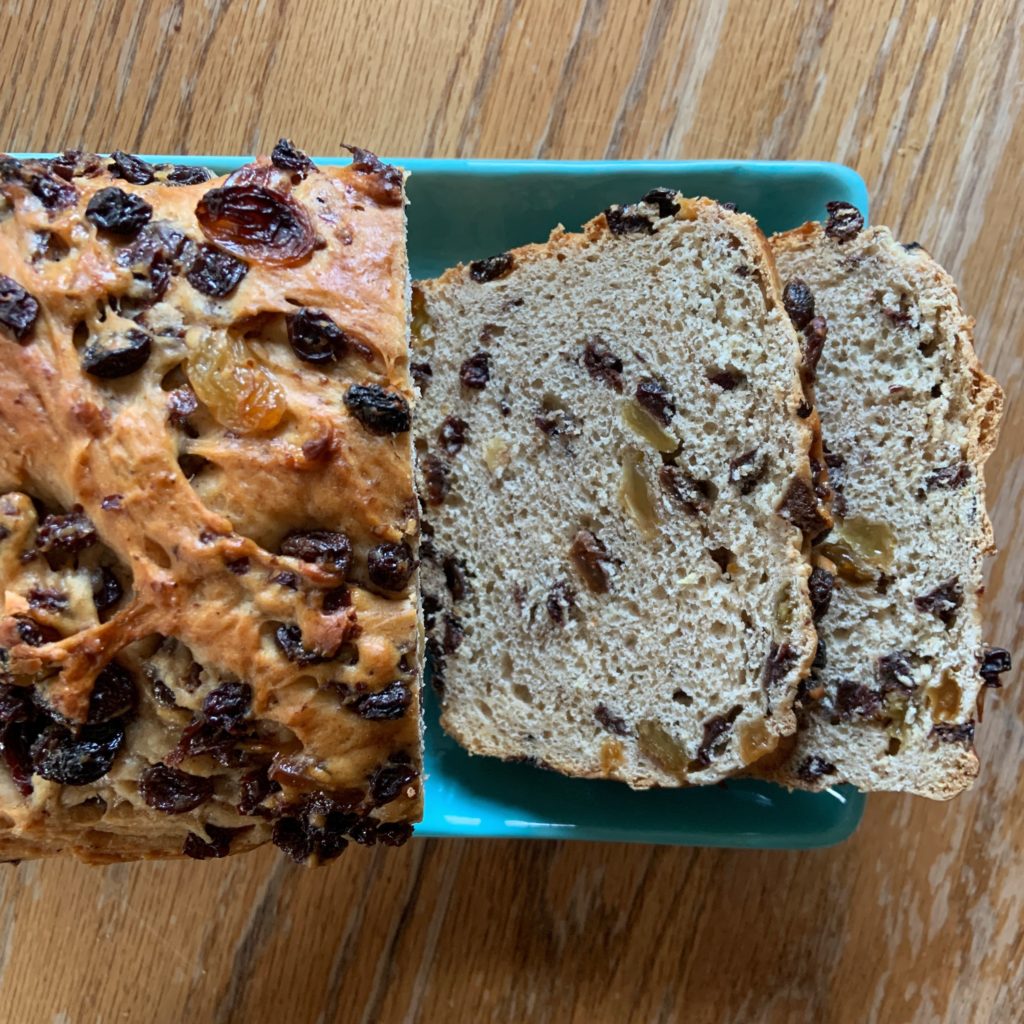 Irish Barmbrack
Ingredients
2/3

cup

dried currants

2/3

cup

raisins or sultanas

2/3

cup

golden raisins

1

cup

strong black tea

cold

1

packet (7g) active dried yeast

1

teaspoon

sugar

3/4

cup

lukewarm milk

3 1/2

cups

(450g) all-purpose flour

1/3

cup

(75g) granulated sugar

1/2

teaspoon

ground cloves

1/2

teaspoon

ground ginger

1

teaspoon

ground cinnamon

1/2

teaspoon

freshly ground nutmeg

1/2

teaspoon

salt

4

tablespoons

unsalted butter

melted and cooled

1

large egg

slightly beaten

1

tsp

lemon zest

1

tsp

orange zest
Instructions
Place the currants and raisins in a bowl and pour the cold tea (or water) over top. Let soak for at least 4 hours or overnight. Drain and reserve the liquid for later.

Stir the yeast and teaspoon of sugar in the lukewarm milk. Let it sit for 10 minutes until nice and frothy.

In a stand mixer place the flour, sugar, spices and salt and stir to combine. Make a well and add the melted butter, egg, zests and yeast mixture. Use the dough hook to knead until just combined. The dough will be very thick (do not add more liquid at this point because the wet currants/raisins will be added).

Add drained currants and raisins and candied lemon peel. Knead until combined, adding some of the reserved currant/raisin juice until a soft dough forms. Scrape down the dough from the sides of the bowl. Cover the bowl loosely with plastic wrap and let it rise in a warm place for 90-120 minutes or until doubled in size.

Punch down the dough. If making two smaller loaves, divide the dough in half and shape into rounds. If making one large loaf (as pictured), place the dough in a greased 9x5 inch loaf pan.

Loosely cover with plastic wrap and let rise in a warm place for another hour or longer until nearly doubled in size.

Preheat the oven to 350 degrees F.

Bake the barmbrack on the middle rack for 50-60 minutes (less if making two smaller loaves) or until a skewer inserted into the middle of the loaf comes out clean.

Remove from oven and while hot brush the loaf with the reserved currant/raisins juice for more flavor, moistness and a nice sheen and let cool.

Slice and serve. Barmbrack is especially good toasted and spread with butter.
---
This post contains affiliate links. This does not increase the price you pay, but I may receive a small commission for any products you choose to buy. Purchases made through affiliate links help to cover my blogging costs. Thank you for helping to support The Hungry Bookworm! Full disclosure here.