I first heard about Maggie O'Farrell's Hamnet on my favorite book recommendation podcast, All the Books, when Liberty Hardy raved about it. The concept sounded intriguing, but I didn't add it to my TBR. I started seeing it more and more on bookstagram and decided to request a copy from the library, but by then the waitlist was quite long. Then, it won the Women's Prize for Fiction. Someone I'd been following closely on Instagram had read it and was beyond excited that it won. This someone also happened to live less than a mile from my house. I knew I needed to read it.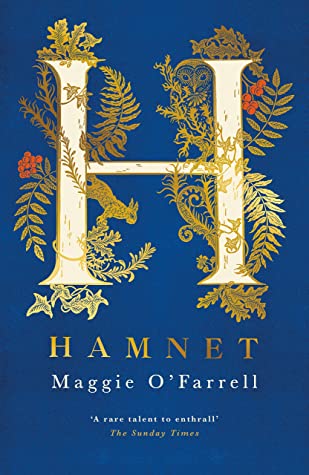 So I reached out, asked if I could borrow her copy, and she generously said yes! I dropped by and picked it up off her porch, we chatted out the window for a few minutes, and off I went. If it weren't for her, I may still be waiting on the library waitlist.
Anyway, I'm very glad for her because I was able to discover what will probably end up being one of my favorite books of the year. Hamnet is about William Shakespeare's son Hamnet (for whom, it is believed, the play Hamlet is named). It is also very much about Shakespeare's wife Agnes (known more widely as Anne Hathaway) and their marriage. Though Shakespeare is arguably the most famous person in the novel, he is the least mentioned, and he is never mentioned by name. I loved this choice by O'Farrell.
In real life, Hamnet is believed to have died from the Black Plague, and it is so in the novel. In fact, one of the eeriest parts in the novel is a 10-page description of how the infection spread from rats on a ship to the Shakespeare household, particularly as we live through a pandemic ourselves. For a novel taking place in the 16th century, it felt very modern in its viewpoints, owed mostly to Agnes, who was a woman ahead of her time. She was surprisingly relatable. I adored her.
This novel obviously includes some tough topics, including child loss, but it's dealt with thoughtfully. The writing is beautiful — realistic and descriptive. I would've liked a stronger ending, but otherwise have no complaints. It would make a wonderful book club read. I will definitely be seeking out more Maggie O'Farrell in the future. 
Apples are featured in a few key scenes, and so, I decided to make a British-style apple pie. I actually spent a lot of time researching apple tarts from the 1500s and ended up here. In true American style, I didn't realize that the British had their own version of the apple pie… or that it would be different from ours. The saying is "As American as apple pie," so I sort of expected they started here. Glad I'm learning!
The key difference between British and American apple pies are the seasonings, or lack thereof (in the British version). We rely heavily on spices like cinnamon and nutmeg. In this pie, there are no spices. I was a little hesitant, but I have to say, I didn't miss them in this recipe.
First, I cut my apples — Granny Smith — and set them to cook for the filling.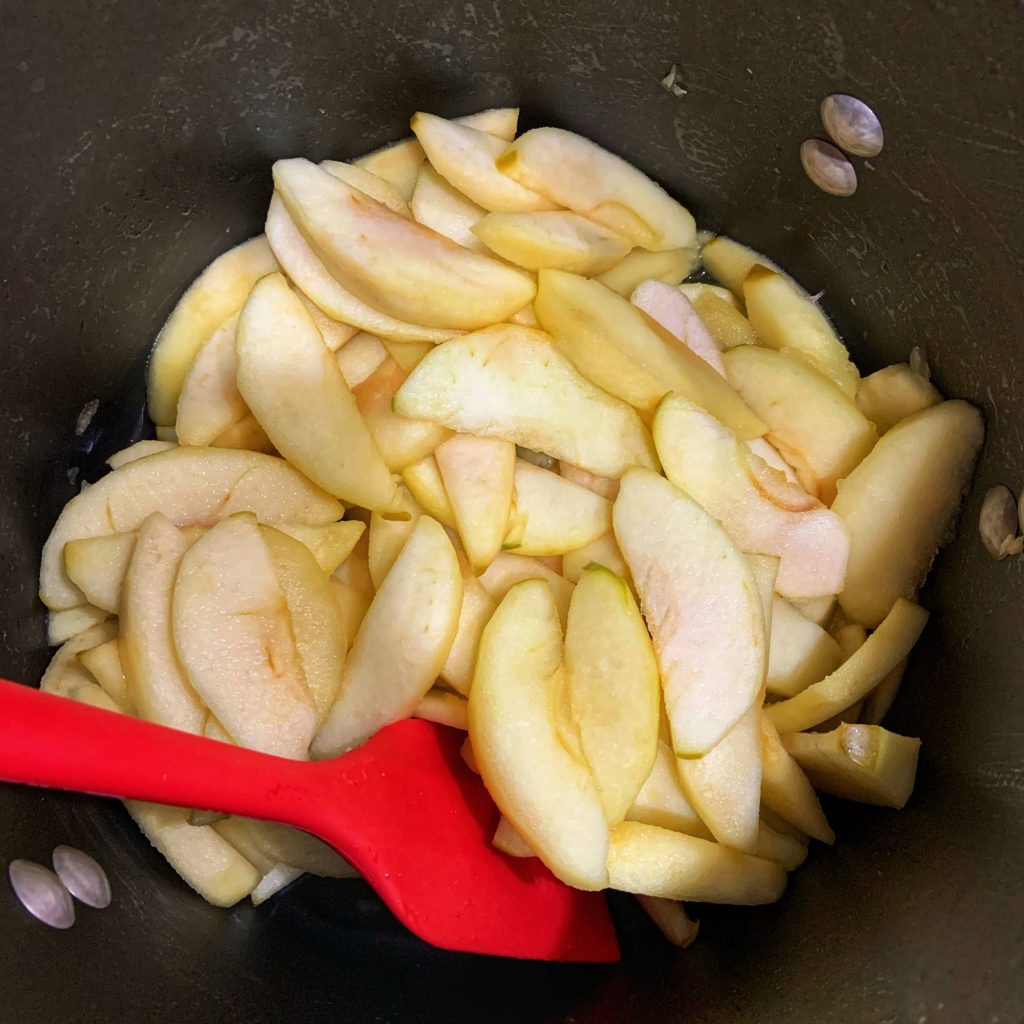 Meanwhile, I made the crust. It took no time at all, and barely any work, using the food processor. I rolled it out and placed it in a 9-inch pie dish to await the filling.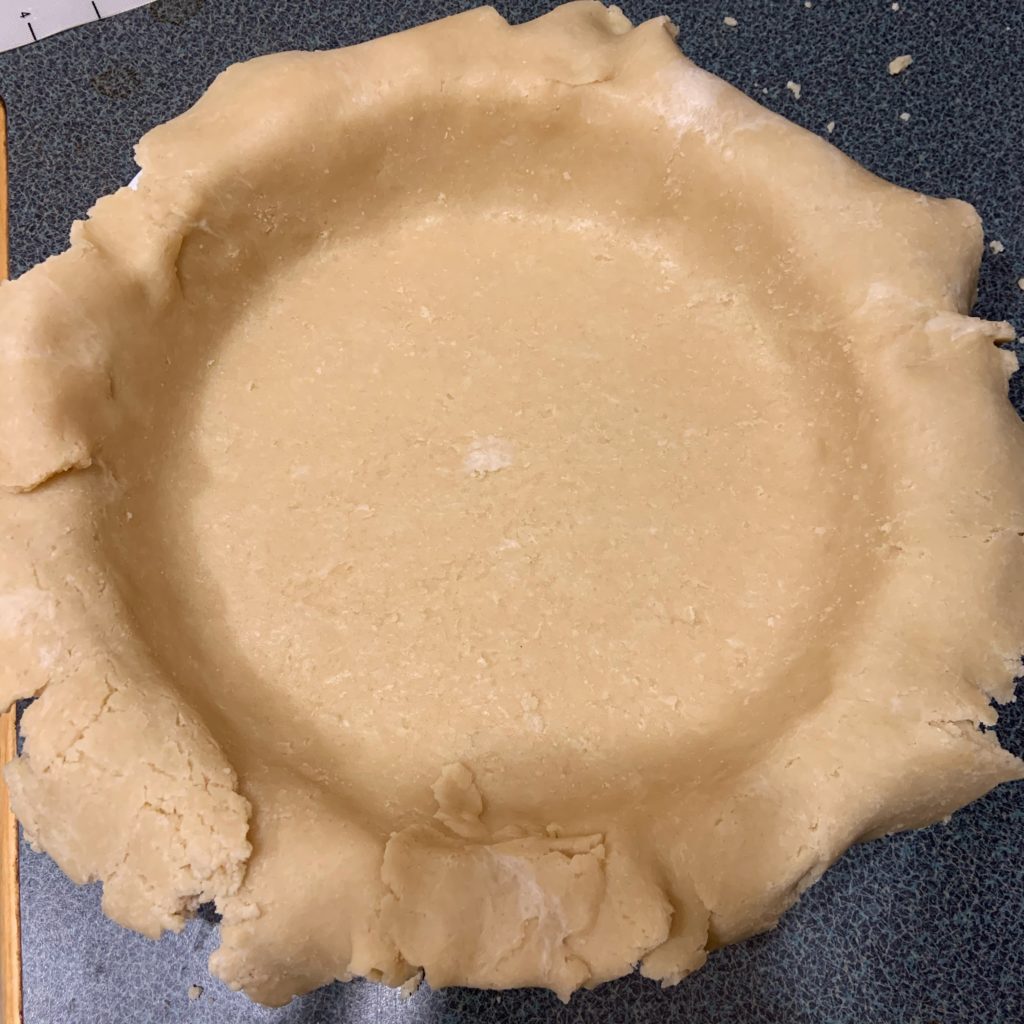 I brushed the bottom crust with egg white (something I'd learned in my favorite apple pie recipe ever) to prevent it from getting soggy, and poured in the filling. I covered the apples with a top crust and added a little leaf decor. Last, I brushed the top of the pie with egg whites as well.
The pie baked in a 400 degree oven for about 35 minutes and came out golden brown.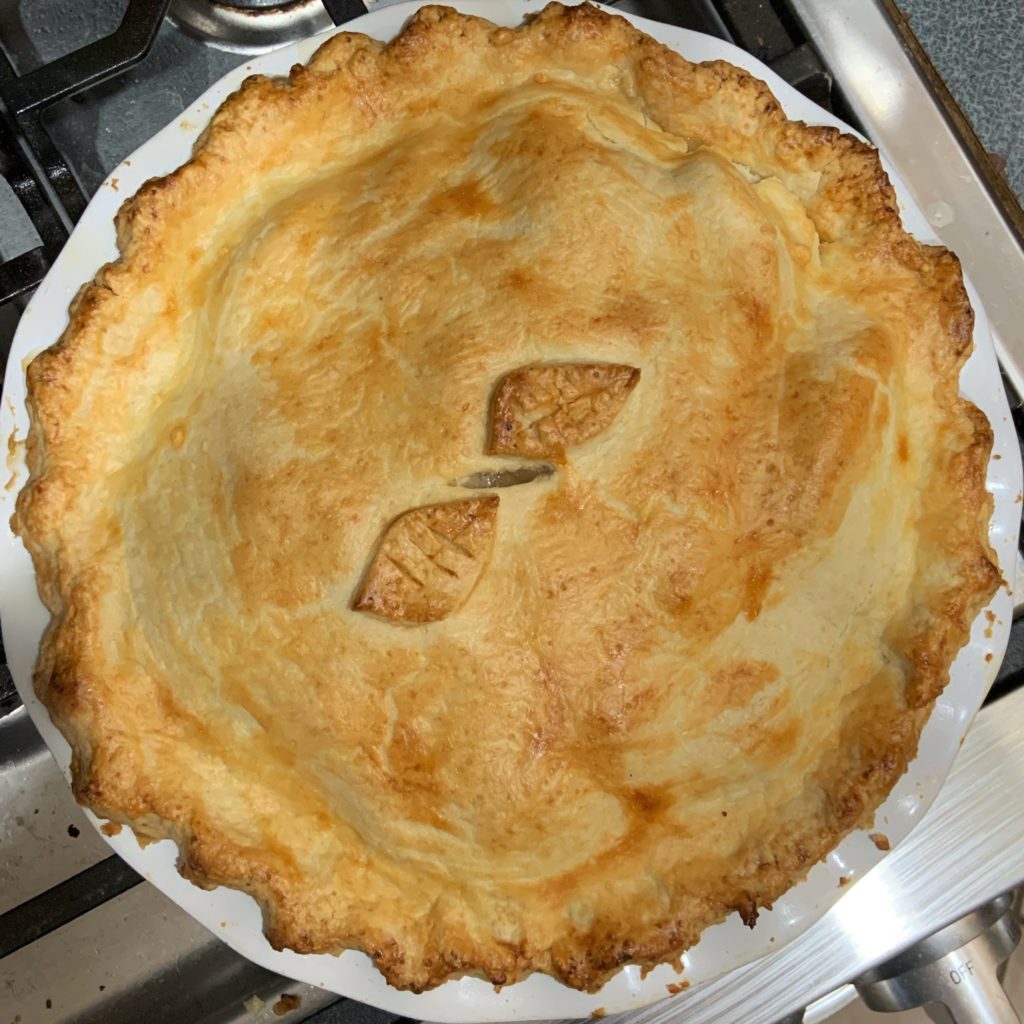 I let it cool before trying a piece, which ended up being really delicious. The filling tasted more like a homemade applesauce than what you would typically expect from a traditional American apple pie, but it allowed you to truly enjoy the flavor of the apple.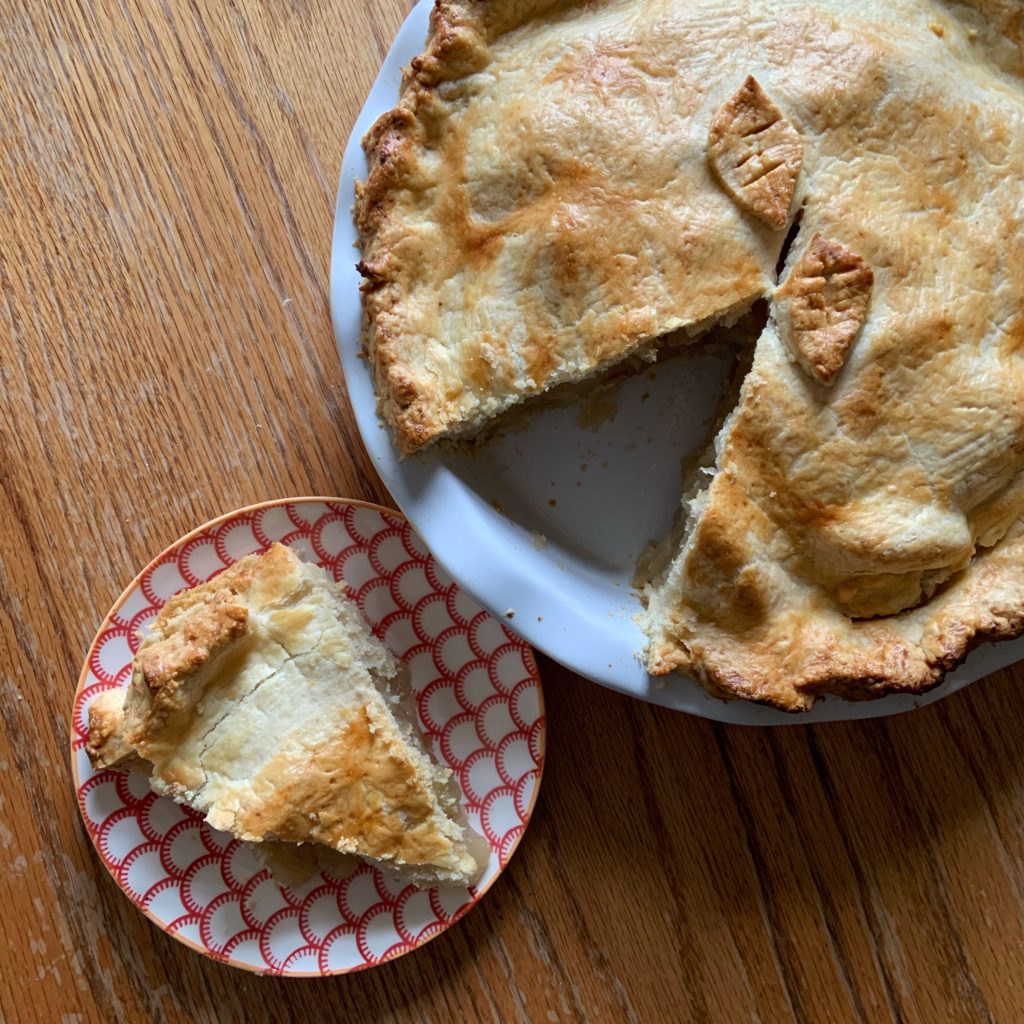 British Apple Pie
Ingredients
For the Crust
1/2

tsp

salt

8

oz

2 sticks cold, unsalted butter

1

tbsp

sugar

a little ice water

3.5 to 4

cups

(1 lb) flour
For the Filling
5 to 6

large Granny Smith apples, peeled, cored and sliced into about 12 pieces each

juice of half a fresh lemon

3 to 4

tbsp

sugar

more or less to taste
For Baking
1

egg white

slightly beaten with a tsp of water, to brush the pie crust
For Topping (optional)
Extra-fine sugar

Cream or custard
Instructions
Preheat oven to 400º F (200º C)

Place all the ingredients for the filling in a pot over medium-low heat. Cook gently, turning the apples by tossing them in the pot every few minutes. Cook until the apples are just starting to become softened, but are still firm and hold their shape. Remove from heat and set aside.

Put the flour, salt and butter in a food processor and pulse a few times. Add a little ice water and pulse again until the mixture starts to come together (start with 2-3 Tablespoons and go from there). When the pastry is ready, roll into a ball and cover with cling wrap. Chill for 30 minutes.

Then, cut off a third of the pastry. Roll the two-thirds for your bottom crust. Place into your pie dish.

With a knife, trim the pastry all along the pie dish, using the edge as a guide. Brush the inside of the crust with egg white, coating both the bottom and sides well, then fill it with the apples.

Roll out the remaining piece of pastry; wet the edge with your finger dipped in a bowl of water, until the entire perimeter is wet, then place the pastry on top of the pie. Trim the pastry, using the dish as a guide.

Crimp the edges any way you like and then cut a hole in the center of the pie, about 1″ long.

Brush the entire crust with the beaten egg white, which will ensure a lovely golden color.

Bake in 400º F (200º C) oven for about 30 to 40 minutes or until the crust is a golden brown color. Ovens vary significantly, but I place my pies on the lower rack for about 20 minutes, then move it to the center rack so that the bottom crust cooks well, however adjust your placement and baking time according to your own oven.

When ready, remove from the oven. If desired, immediately dust with Baker's (extra fine) sugar (caster sugar in the UK) and let cool slightly before serving.
What surprised me most about this book is that I don't like Shakespeare, and that didn't affect my enjoyment of the book at all. Do you like Shakespeare? If so, what's your favorite play?
What's your favorite kind of pie?
---
This post contains affiliate links. This does not increase the price you pay, but I may receive a small commission for any products you choose to buy. Purchases made through affiliate links help to cover my blogging costs. Thank you for helping to support The Hungry Bookworm! Full disclosure here.