Brit Bennett's The Vanishing Half was one of the most highly anticipated novels of 2020 — and not just by me, though I was certainly looking forward to it after reading her debut novel The Mothers a couple of years ago. Sometimes, when I'm really anticipating a book, I'm almost hesitant to actually pick it up. I'm afraid reality won't meet my expectations (as with The Book of Longings). I am pleased to report The Vanishing Half more than lived up to expectations. In fact, it was almost a 5-star read for me… more on that later. 
In Bennett's second novel, her writing once again shines. She creates complex, interesting characters and vividly draws the world they live in. It's the story of the Vignes sisters — identical twins — who grow up in a town called Mallard, a community made up entirely of light-skinned Black people. These sisters are so light they could pass for white. And one of them, Stella, decides to do just that. She leaves her twin sister Desiree behind and their lives diverge from there. Stella marries a white man who never knows her family; together they have a daughter named Kennedy. Desiree marries a dark-skinned Black man and gives birth to a daughter, Jude, who is the spitting image of her father. Stella's decision is complicated and its effects are profound.
The Vanishing Half is at once engrossing and readable while still being thought-provoking. It tackles the issues of race, unconscious bias and identity. It features authentic storylines around Alzheimers as well as a trans character. Despite it taking place primarily in the past, it feels timely and relevant in today's world. This would be an excellent book to discuss in a book club, and I wouldn't be surprised if it was taught in schools one day. I loved everything about it, except that the ending felt a little ho-hum to me. Not really what I was expecting, nor what I would call satisfying, though certainly not "bad." Still, it is absolutely worth the read, so I urge you to find yourself a copy.
This recipe pairing comes from a scene in which Stella bakes a lemon cake, covers it with vanilla frosting, and even though it's "slumping," takes it over to her new neighbor's house "as a housewarming gift." Because I'm not a fan of spoilers, the real reason why is something I can't go into, nor will I divulge what results from the cake offering. It was both a key scene and one of the few notable mentions of food, so it makes a great fit. (As a bonus, lemon cake is also a welcome addition to any book club meeting.)
First, I prepared the cake tins and then made the cake batter. Apparently I only own two 9-inch cake pans, despite having made a multi-layered cake before, so I ended up using two round and one 9x9 square that I then trimmed into a circle. It worked out really well, and the cakes were still nearly equal in thickness.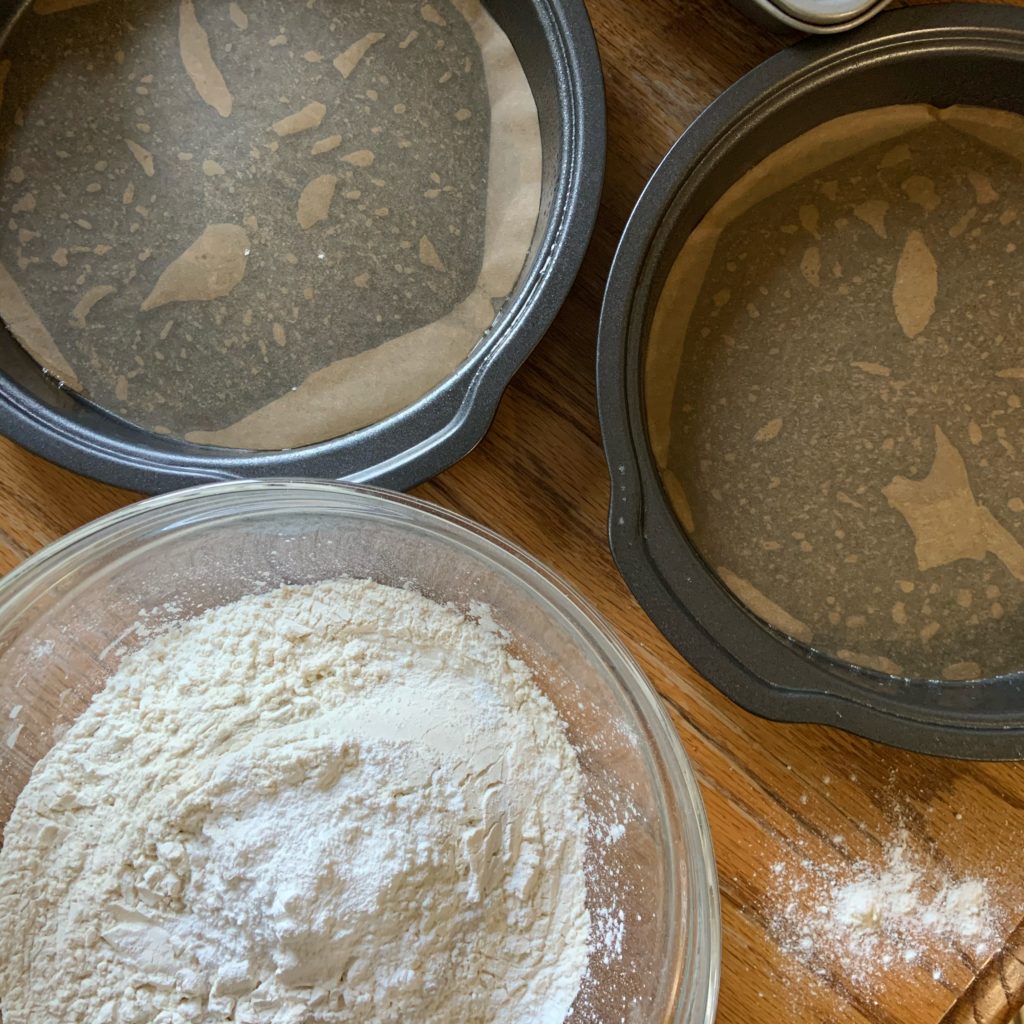 To make the batter, I used my stand mixer. I added the sugar and butter, beating them together for 3 minutes. Then, I added the eggs and vanilla extract. I scraped down the bowl and added the dry ingredients — previously combined flour, baking powder, baking soda and salt.
Then, I added buttermilk and the lemon zest and juice, mixing until just combined.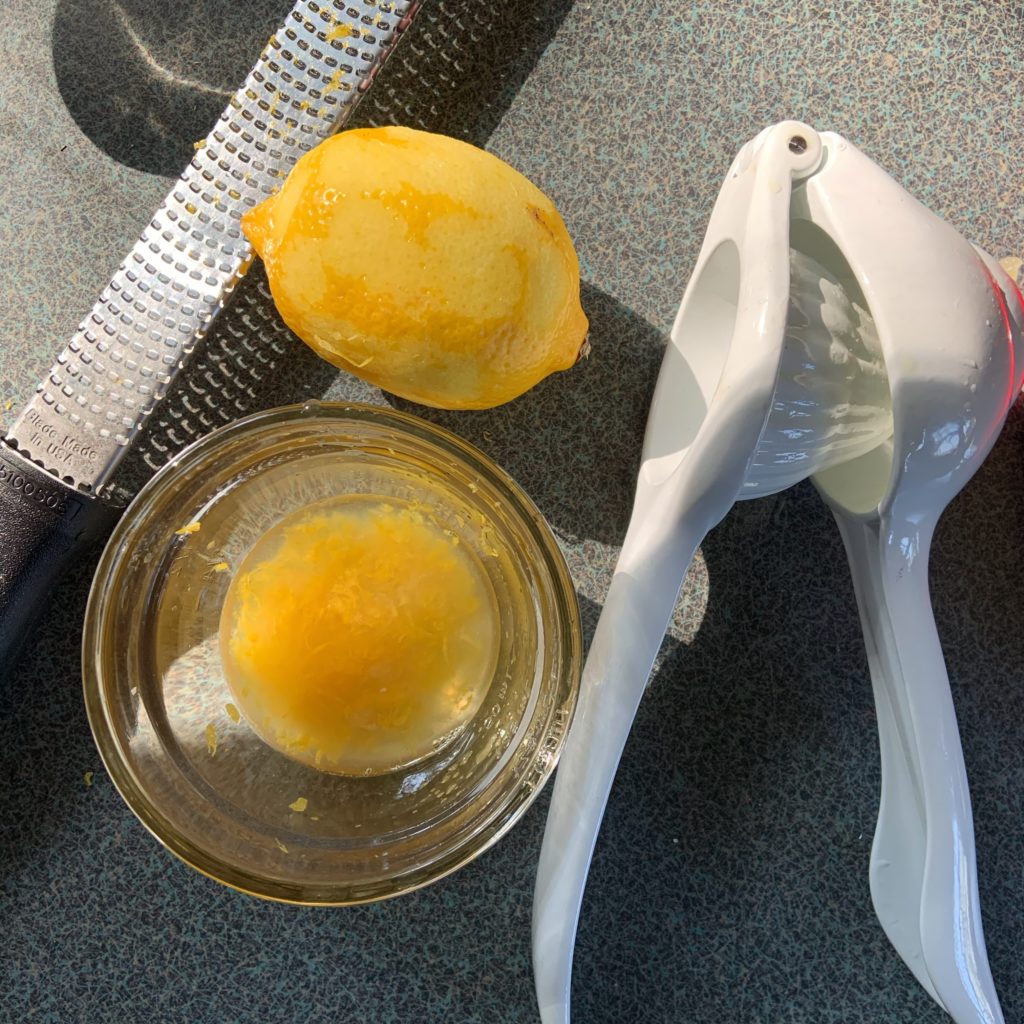 I used a scale to make sure I was dividing the batter evenly between pans. It was quite thick, and I was worried with the odd square pan, it may be hard to tell for sure they were equal. As a note, it came out to 1lb of cake better each.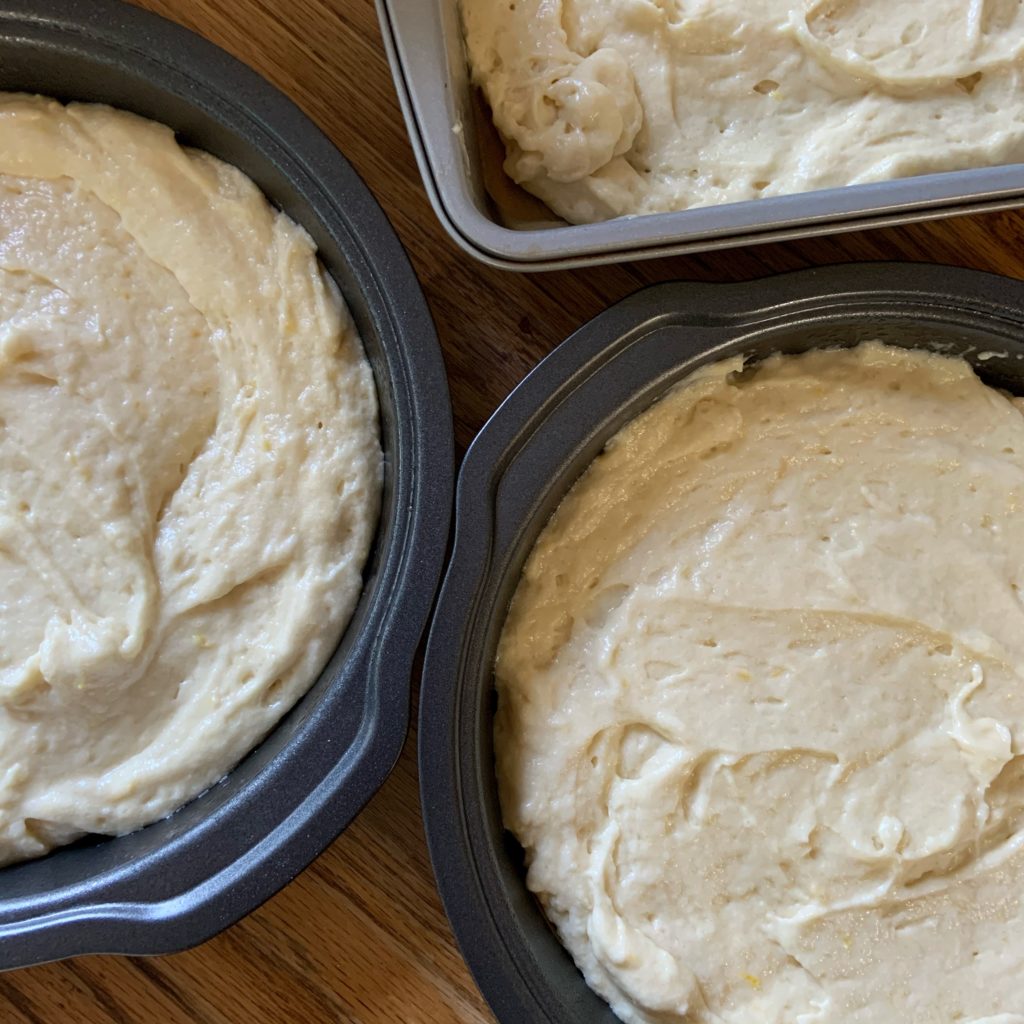 I baked them in a 350 degree oven for 21 minutes, when my toothpicks came out cleanly. I set them on wire racks to cool.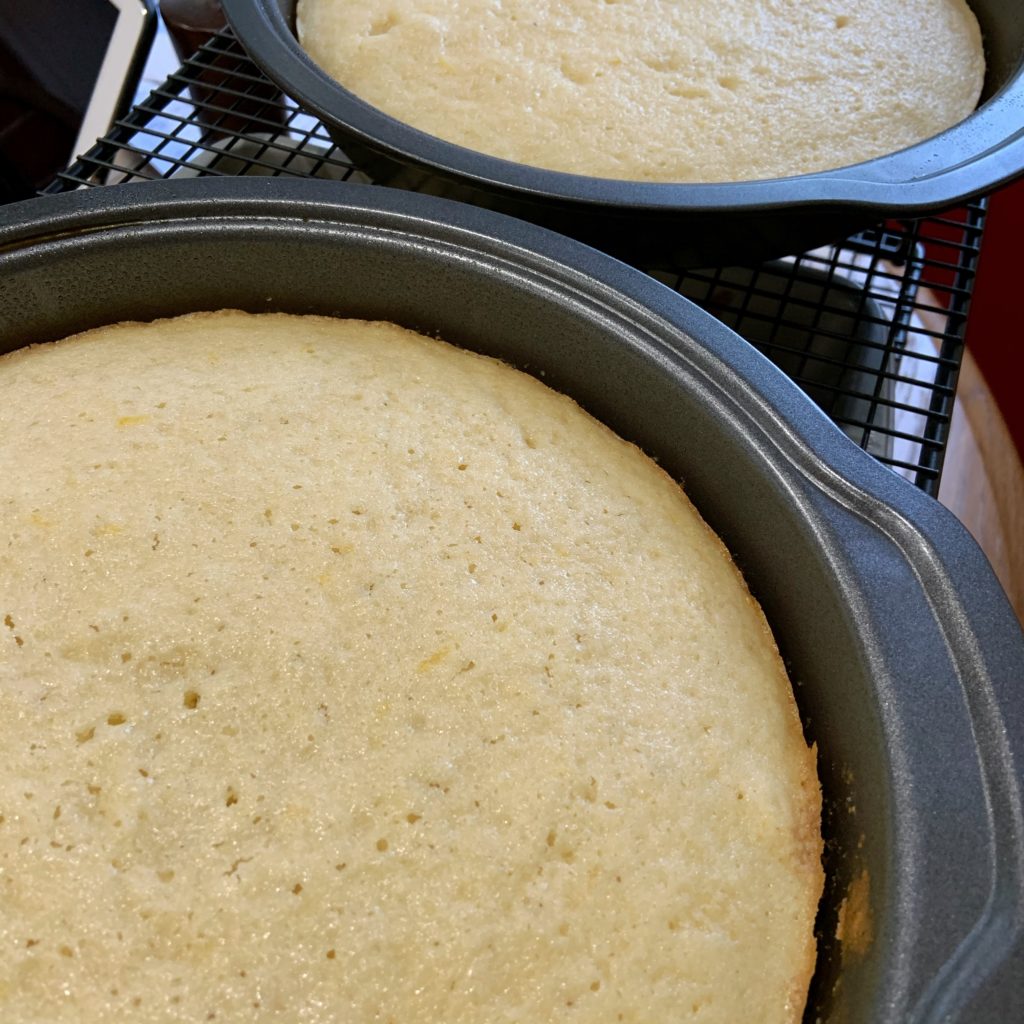 While the cake cooled, I made the buttercream frosting, also in my stand mixer — this time with a whisk attachment. I beat butter for about 2 minutes, then added powdered sugar, cream, vanilla and a bit of salt. I beat on high for 3 minutes, and it was perfect, no tweaking needed.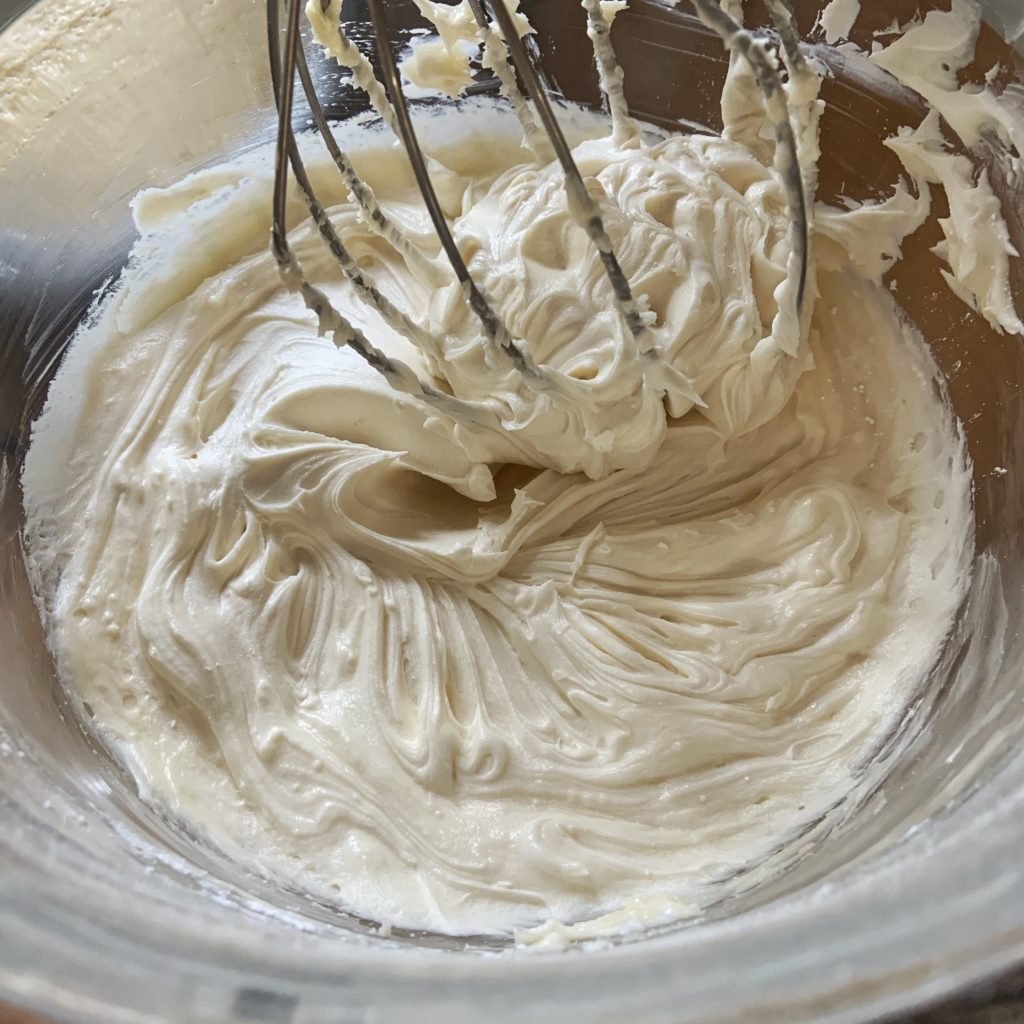 To frost the cake, I first put one layer on a cake round, with a little bit of frosting smeared in it to keep the cake in place.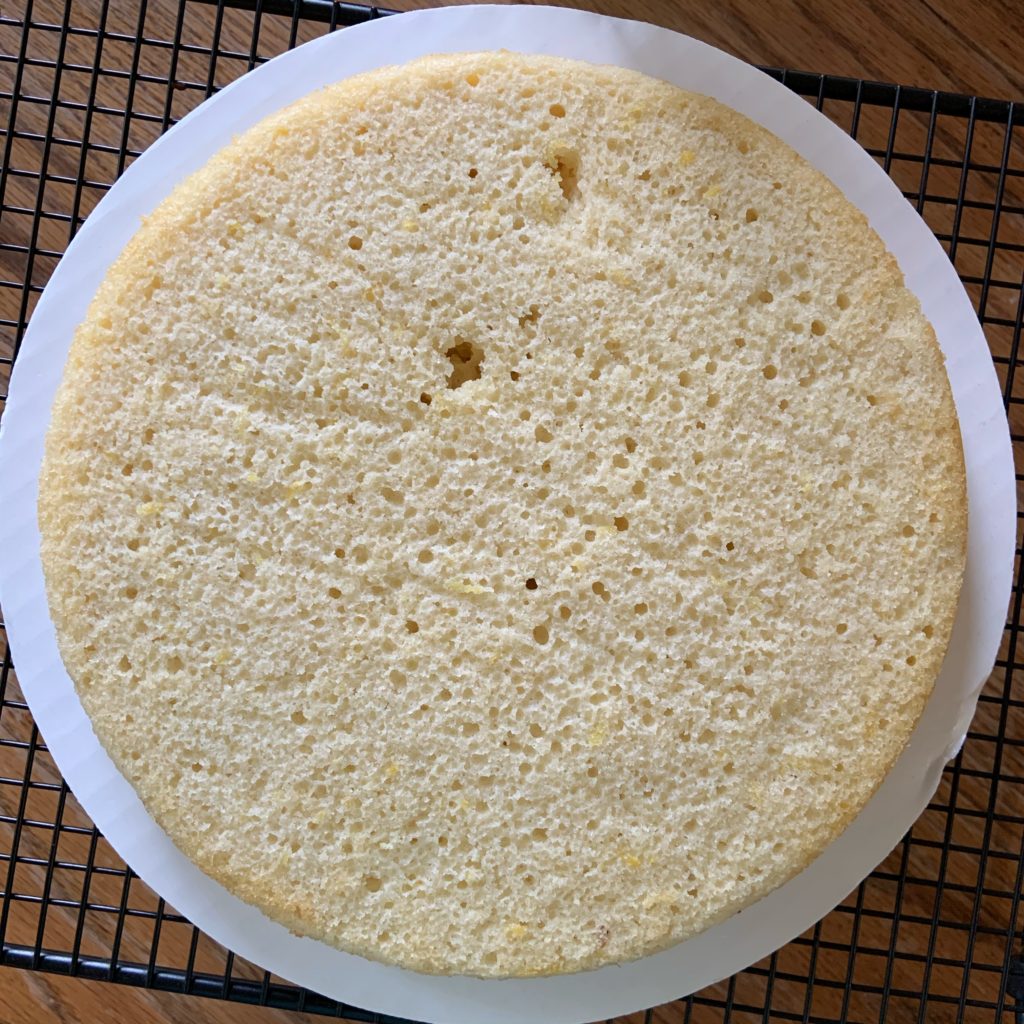 I smoothed frosting over the top. Then, I added the layer I'd baked in the square pan (I trimmed the corners to make it round) and added frosting on top of that. I added the final layer, smoothed frosting on top and then around the edges of the entire cake.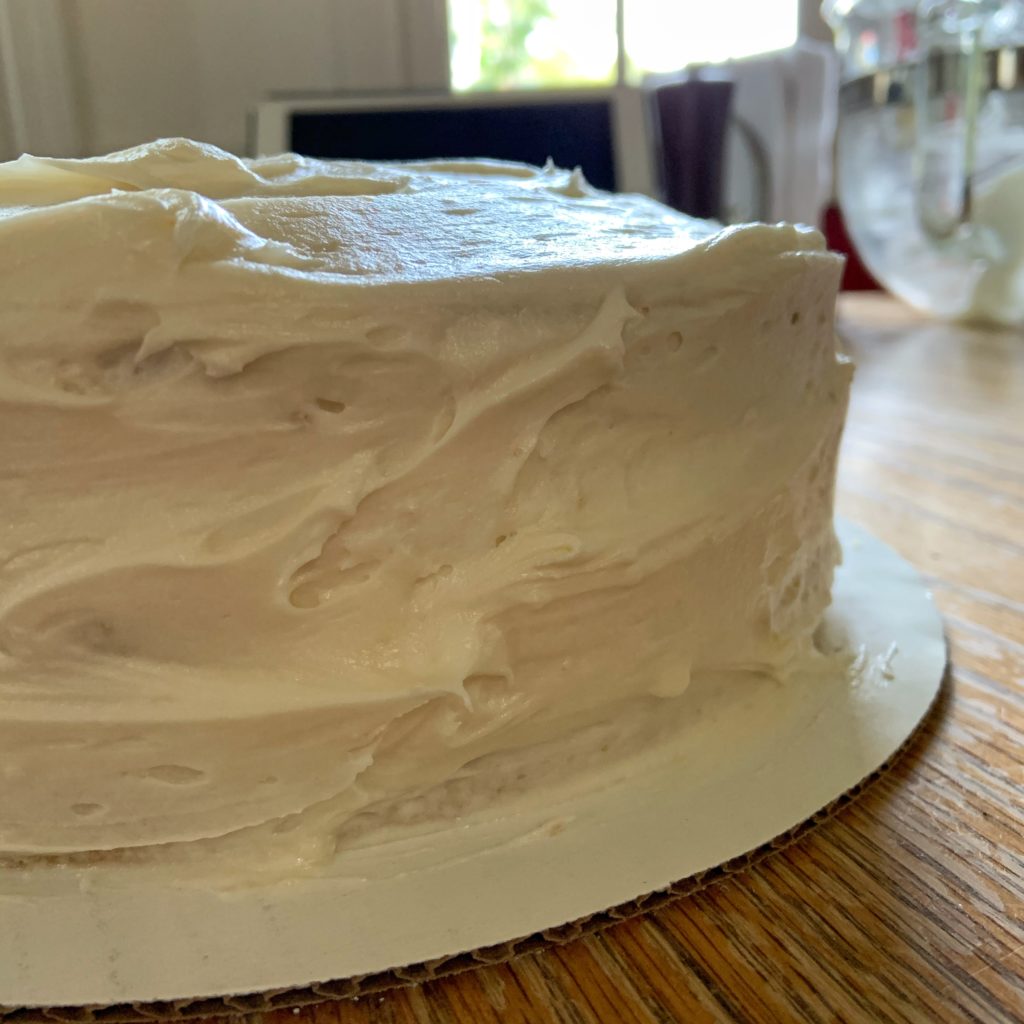 It was ready to serve! It was delicious — a lovely lemon flavor that wasn't overpowered by the frosting, and nice and fluffy.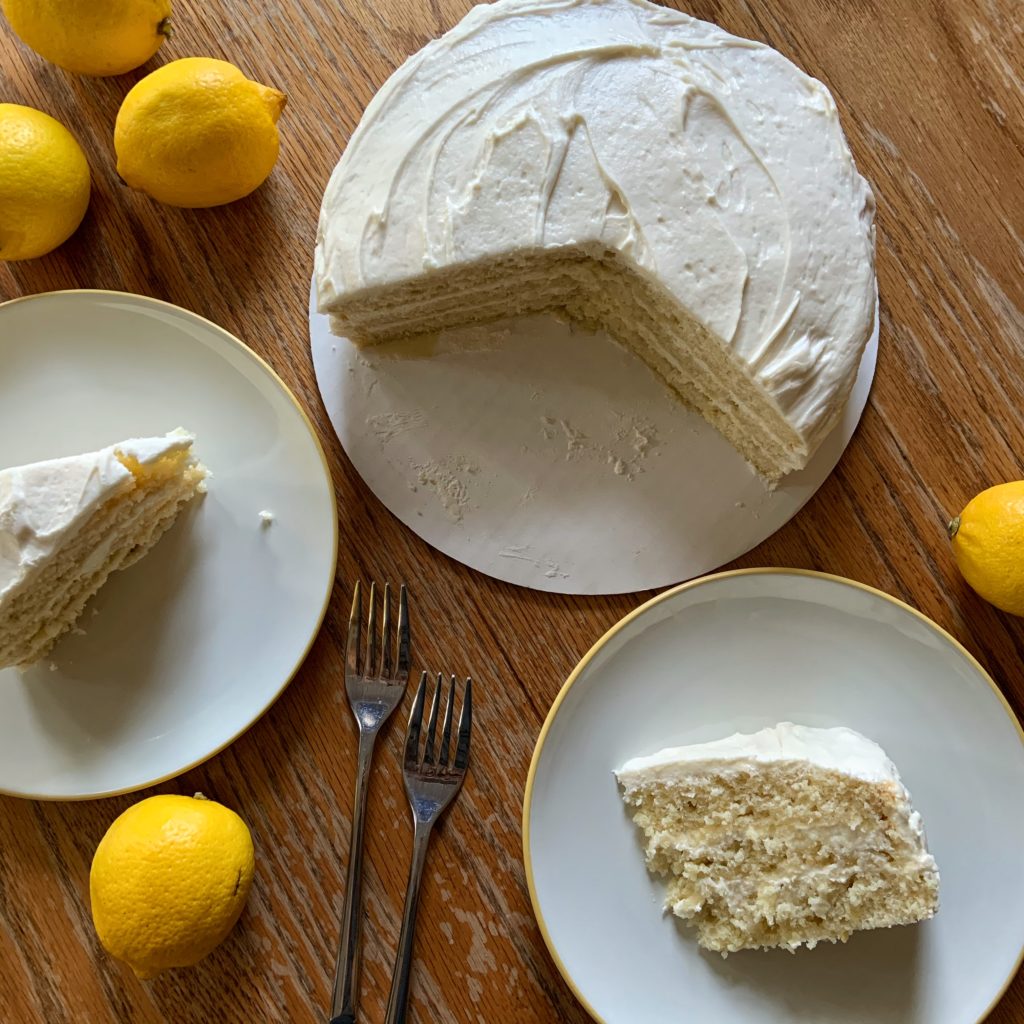 Lemon Cake with Vanilla Buttercream Frosting
Ingredients
For the cake:
3

cups

345g sifted all-purpose flour (spoon & leveled)

2 1/2

teaspoons

baking powder

1/2

teaspoon

baking soda

1/2

teaspoon

salt

1

cup

unsalted butter

softened to room temperature

1 3/4

cups

granulated sugar

3

large eggs

at room temperature

2

teaspoons

pure vanilla extract

1

cup

buttermilk

at room temperature

1

heaping TBSP

lemon zest

about 2 lemons

1/3

cup

fresh lemon juice

about 2 lemons
For the buttercream:
1 1/2

cups

unsalted butter

softened to room temperature

6

cups

sifted confectioners' sugar

1/3

cup

heavy cream

3

teaspoons

pure vanilla extract

1/8

teaspoon

salt
Instructions
For the cake:
Preheat oven to 350°F (177°C). Grease three 9-inch cake pans, line with parchment paper, then grease the parchment paper. Parchment paper helps the cakes seamlessly release from the pans.

Whisk the flour, baking powder, baking soda, and salt together. Set aside.

Using a handheld or stand mixer fitted with a paddle or whisk attachment, beat the butter and sugar together on high speed until smooth and creamy, about 3 minutes. Scrape down the sides and up the bottom of the bowl with a rubber spatula as needed. Beat in the eggs and vanilla extract on high speed until combined, about 2 minutes. Scrape down the sides and up the bottom of the bowl as needed. With the mixer on low speed, add the dry ingredients just until combined. With the mixer still running on low, add the buttermilk, lemon zest, and lemon juice and mix just until combined. You may need to whisk it all by hand to make sure there are no lumps at the bottom of the bowl. The batter will be a little thick.

Pour batter evenly into cake pans. Bake for around 21-26 minutes or until the cakes are baked through. To test for doneness, insert a toothpick into the center of the cake. If it comes out clean, it's done. Allow cakes to cool completely in the pans set on a wire rack. The cakes must be completely cool before frosting and assembling. The baked cakes are fluffy, but they are not thick– about 1 – 1.5 inches.
Make the frosting:
In a large bowl using a hand-held mixer or stand mixer fitted with a whisk or paddle attachment, beat the butter on medium speed until creamy – about 2 minutes. Add confectioners' sugar, cream, vanilla extract, and salt with the mixer running on low. Increase to high speed and beat for 3 full minutes. Add more confectioners' sugar if frosting is too thin, more cream if frosting is too thick, or a pinch more of salt if frosting is way too sweet.
Assembly:
Assemble and frost: First, using a large serrated knife, slice a thin layer off the tops of the cakes to create a flat surface. Discard (or crumble over ice cream!). Place 1 cake layer on your cake stand or serving plate. Evenly cover the top with frosting. Top with 2nd layer and evenly cover the top with frosting. Finish with the third cake layer and spread the remaining frosting all over the top and sides.

Refrigerate for at least 30-45 minutes before slicing. This helps the cake hold its shape when cutting.

Cover leftover cake tightly and store in the refrigerator for 5 days.
---
This post contains affiliate links. This does not increase the price you pay, but I may receive a small commission for any products you choose to buy. Purchases made through affiliate links help to cover my blogging costs. Thank you for helping to support The Hungry Bookworm! Full disclosure here.