I recently read and adored The House in the Cerulean Sea by TJ Klune. I haven't been this excited to talk about a book in a very long time.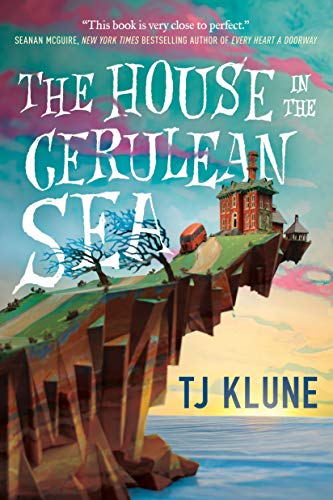 TJ Klune's novel is a fantasy about a group of magical beings on a secluded island. For those of you who may be skeptical about fantasy, I want to clarify that on the whole, it's quite realistic — apart from the magical beings. Our main character, Linus, works for a government agency providing recommendations as to whether or not orphanages should remain open or be shut down. The orphanages happen to be home to children with special abilities.
Early on, Linus is sent on a classified trip to Marsyas Island Orphanage where six unique children live: a gnome, a sprite, an unidentifiable green blob, a were-Pomeranian (like a werewolf but… a tiny dog), and the Antichrist. They are cared for by a charming man named Arthur, who guards them as if they were his own, along with a few other secrets. As Linus spends time on the island, growing closer to the children and Arthur, he must make a decision unlike any he has ever made before.
Klune did a wonderful job creating several unique multi-dimensional characters. I found myself enthralled with the children, who despite their natures, were really just children wanting a place to belong. It was a joy getting to know them — and their caretaker Arthur — along with Linus. I honestly felt a whole range of emotions and loved that Klune made me laugh out loud several times. His message is one of acceptance and love, and I am 100% here for it.
Now, as for the recipe pairing, I am not going to lie: it did not go as I had hoped. I originally planned to make cherry ice cream, for which I was very excited — cherries only being in season a short while here in Michigan AND it being prime cherry season. Plus, it was a lovely tie-in. A pivotal scene takes place at an ice cream shop, and there is cherry ice cream that's described as tasting like childhood, and I just loved it. 
Well, I bought the cherries (a huge thank you to the grocery store worker who went in the back to find the last box for me), and I excitedly came home to make the ice cream. For some reason, I repeatedly read "2 pounds" of cherries, instead of "2 cups" and went through the entire recipe using about 5x the amount of cherries the recipe called for. 
It wasn't until I was stirring in the cherries at the end that I thought "wow, this looks nothing like the picture — there are so many cherries!" But I still scooped it out and put it in the freezer to set and went about my day. I sat down to type up the recipe, and when I finally got to "2 cups," it hit me! I had used WAY too many cherries. The ice cream, honestly, looked like 2 pounds of cherries stuck together with a little bit of ice cream — a mess of frozen fruit basically. 
I got extremely upset, chastising myself for my stupid mistake, but decided to just try to make it again. I ran to the store in an attempt to get more cherries before they closed, and they didn't have any more. I was told they usually run out right away because everyone loves them so much. I was devastated. Perhaps more than I should've been, looking back. (I almost cried in the grocery store…)
But, I took a step back to assess, looked around the produce section, and grabbed some blackberries instead. It's not what I had planned, but sometimes, as Linus learns in the novel, you just need to go with what's in front of you; you may be pleasantly surprised.
Though I would like to re-try the cherry ice cream another time in the future, the blackberry ice cream was actually easier to make and still super tasty. Here's how I did it:
First, I made the blackberry puree by combining sugar and the berries in a saucepan and cooking until the berries were soft and their liquid reduced.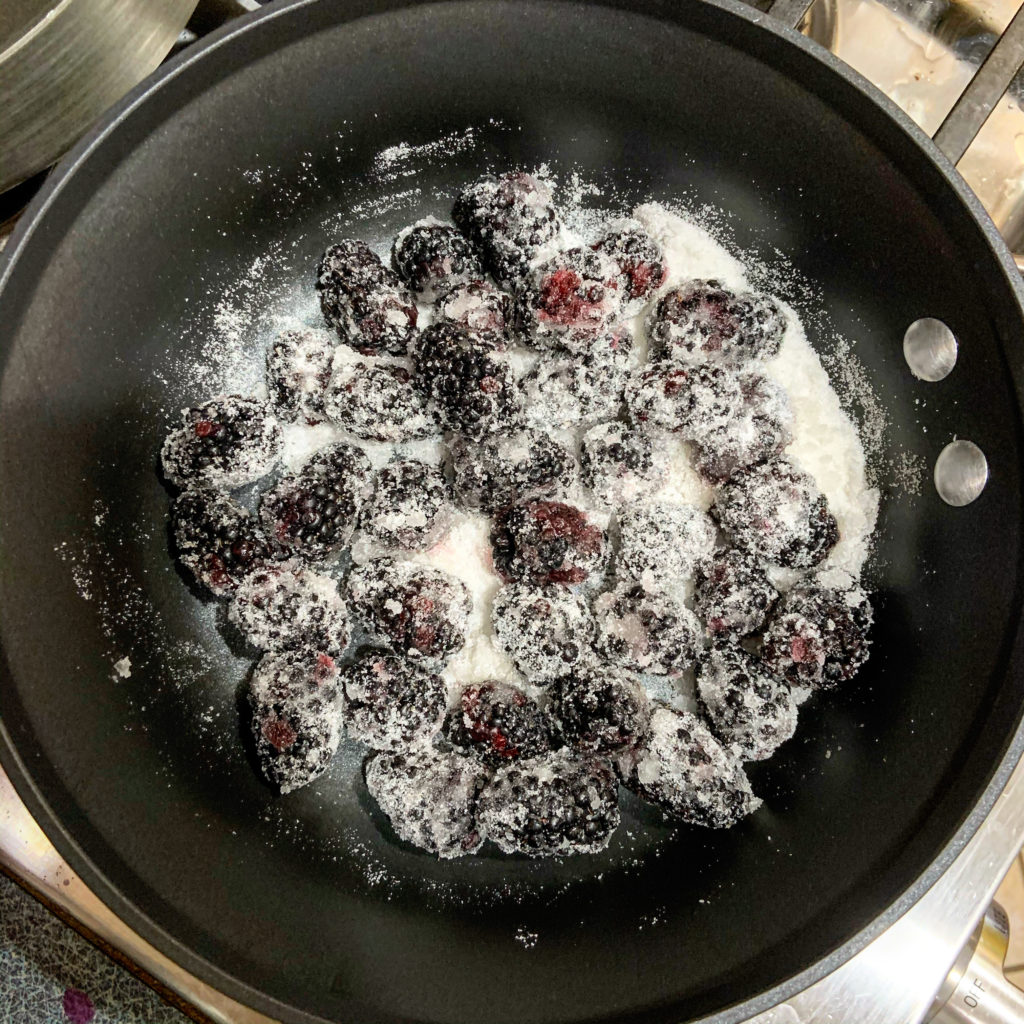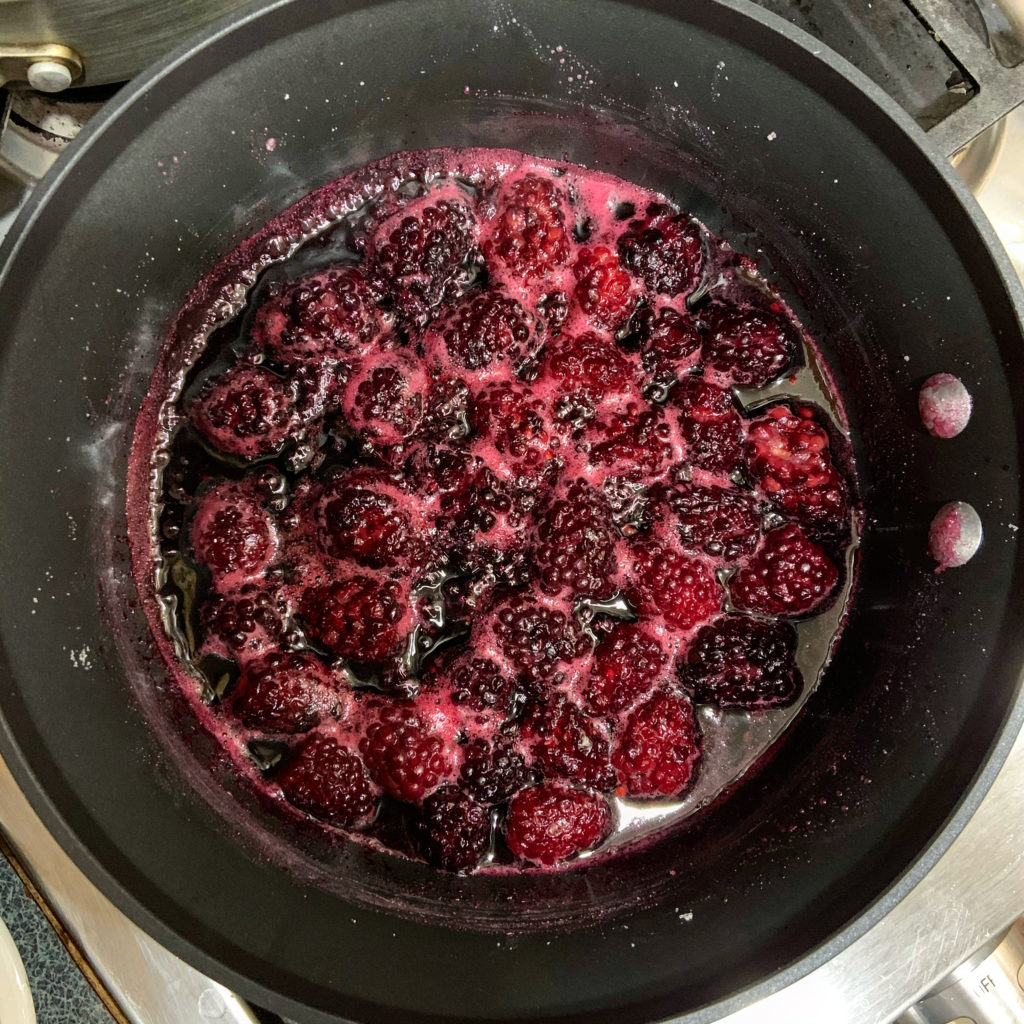 Then, when it cooled slightly, I pureed it in the blender and removed about half of the seeds/solids using a fine mesh strainer.
Then, I combined egg yolks and sugar in a medium bowl.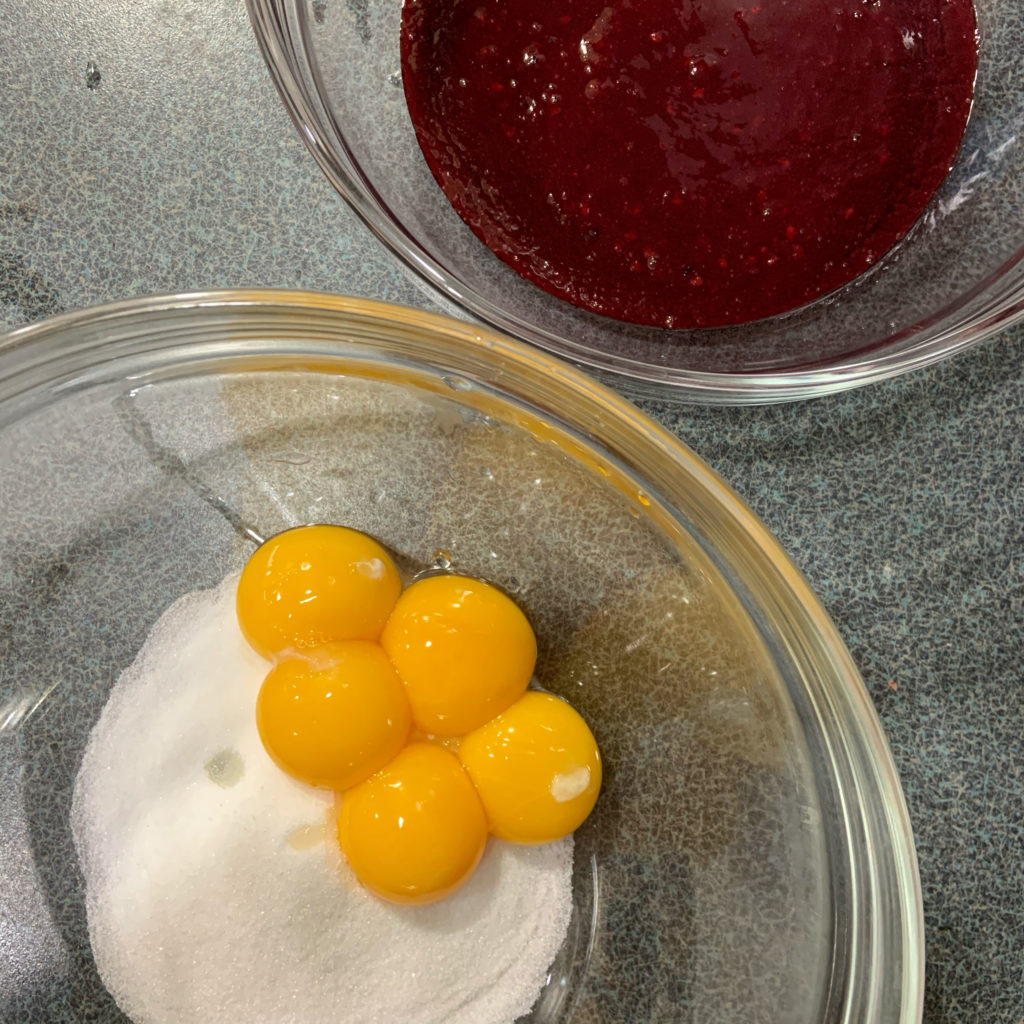 On the stove, in a saucepan, I combined cream, milk, salt and some sugar, bringing it to a bare simmer. Using a ladle, I poured about a half cup of that mixture into the yolks, whisking constantly, and repeated it with another half cup, to temper the eggs. Then, I poured that mixture into the saucepan, stirring constantly until it thickened to form the custard base.
I strained the base and then cooled it over an ice bath before covering it and allowing it to sit overnight in the fridge.
The next day, I whisked the puree into the base and poured it into my ice cream machine, where it churned until ready.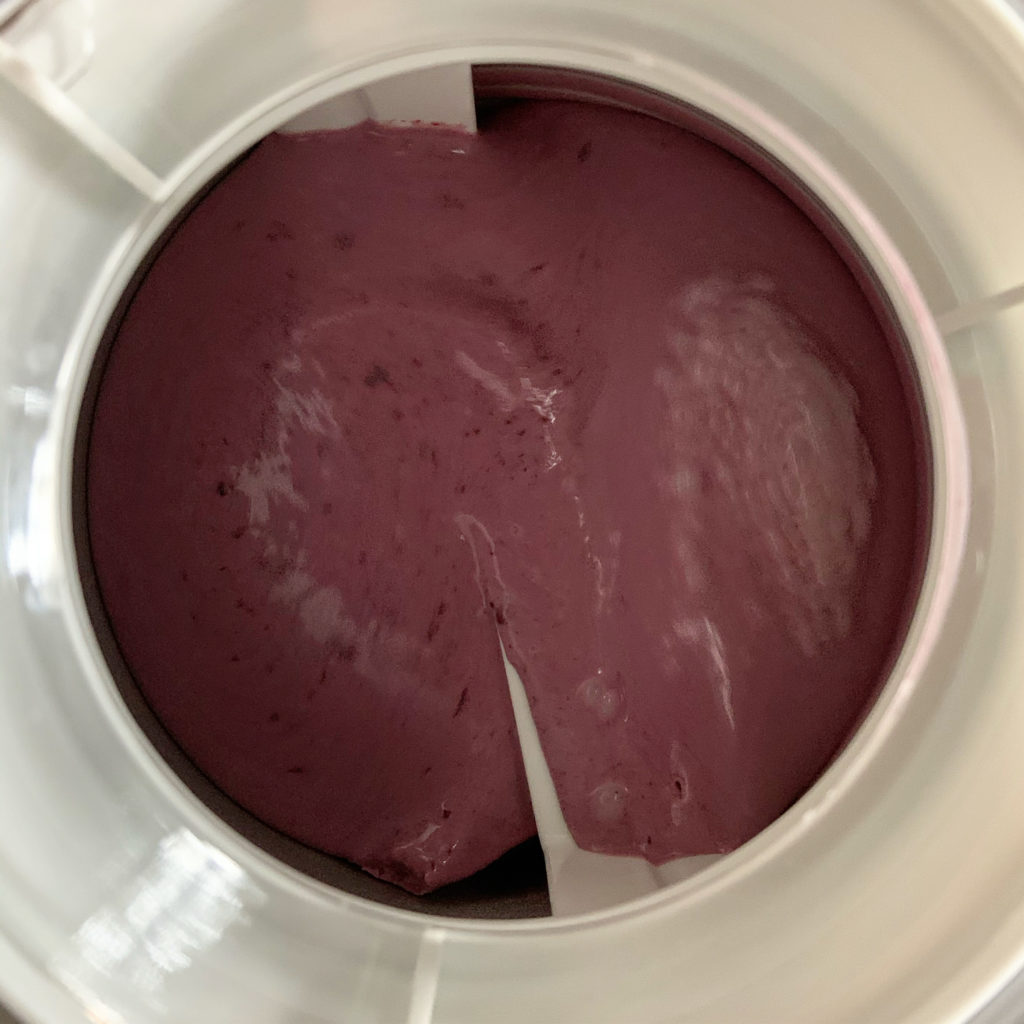 Then, I transferred the ice cream into a reusable ice cream container and let it sit in the fridge overnight to fully set. I couldn't wait to dive in!
Though this ice cream may have been better with sugar cones, I had already bought traditional wafer cones to go with the cherry ice cream. Plus, they are the cones of childhood, and so they still seemed appropriate — even if the ice cream was a bit more mature.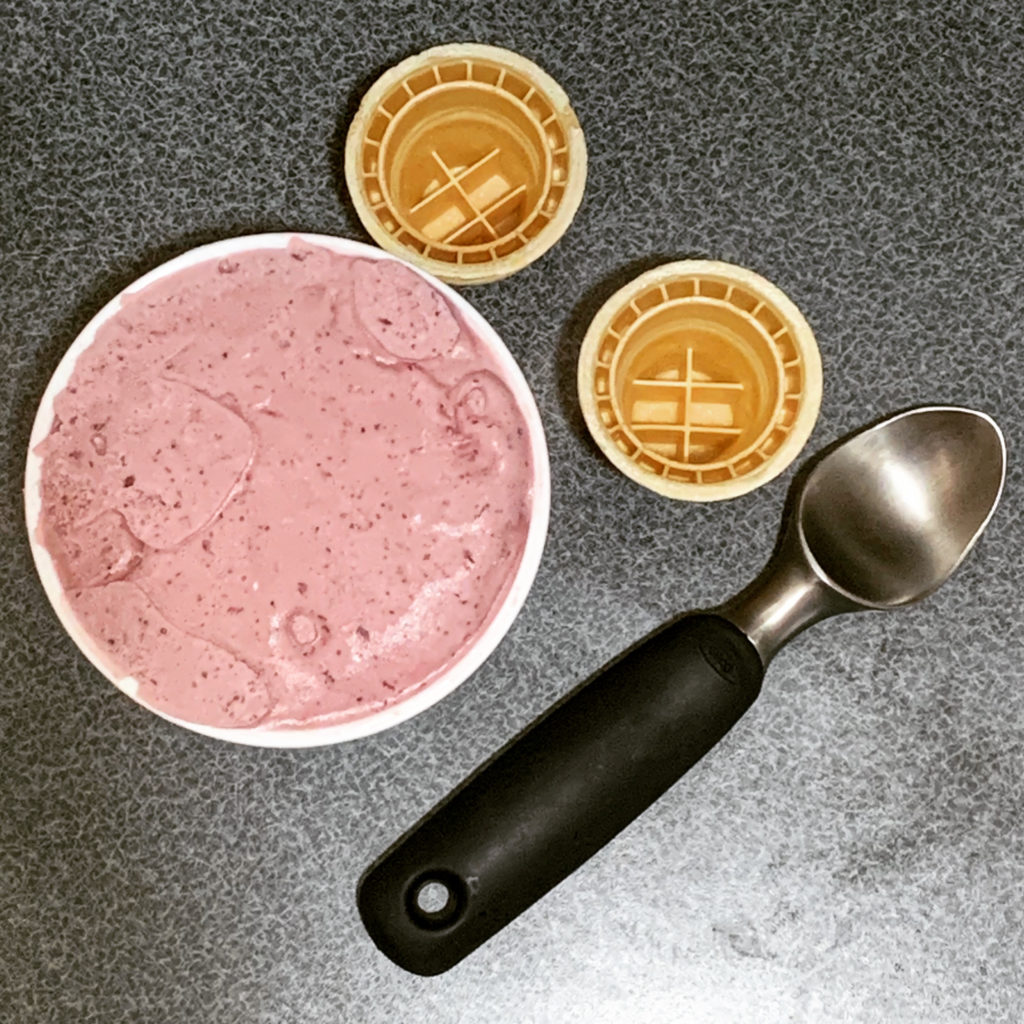 In the end, the blackberry ice cream was, of course, delicious. It was creamy with a little bit of texture from the berries themselves. It was sweet and fruity. It took everything in me to not lick it while I was taking pictures.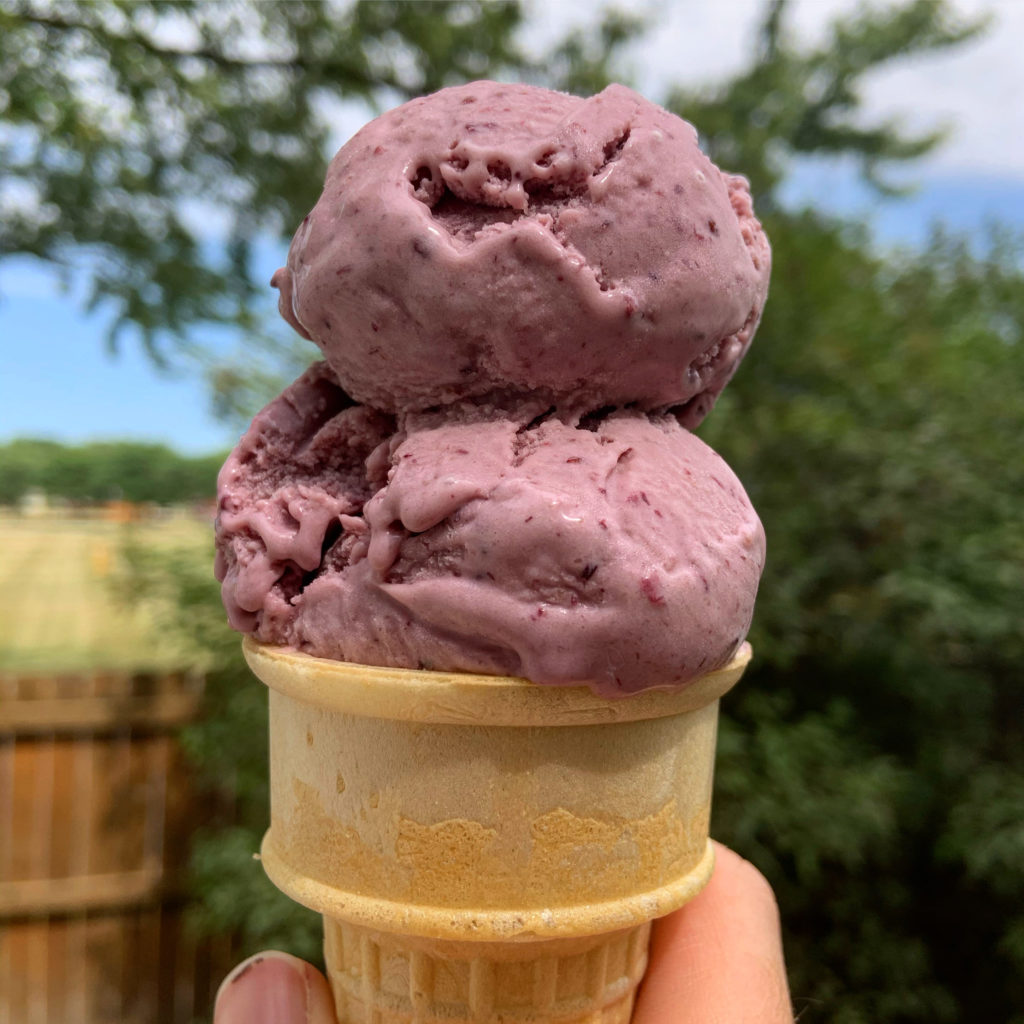 I do think it made for a lovely recipe pairing, though if you're so inclined to make cherry ice cream, I'd recommend this recipe (with 2 cups instead of 2 pounds of cherries).
Even if you don't make the ice cream, please find yourself a copy of this book and give it a read. I can't recommend it enough.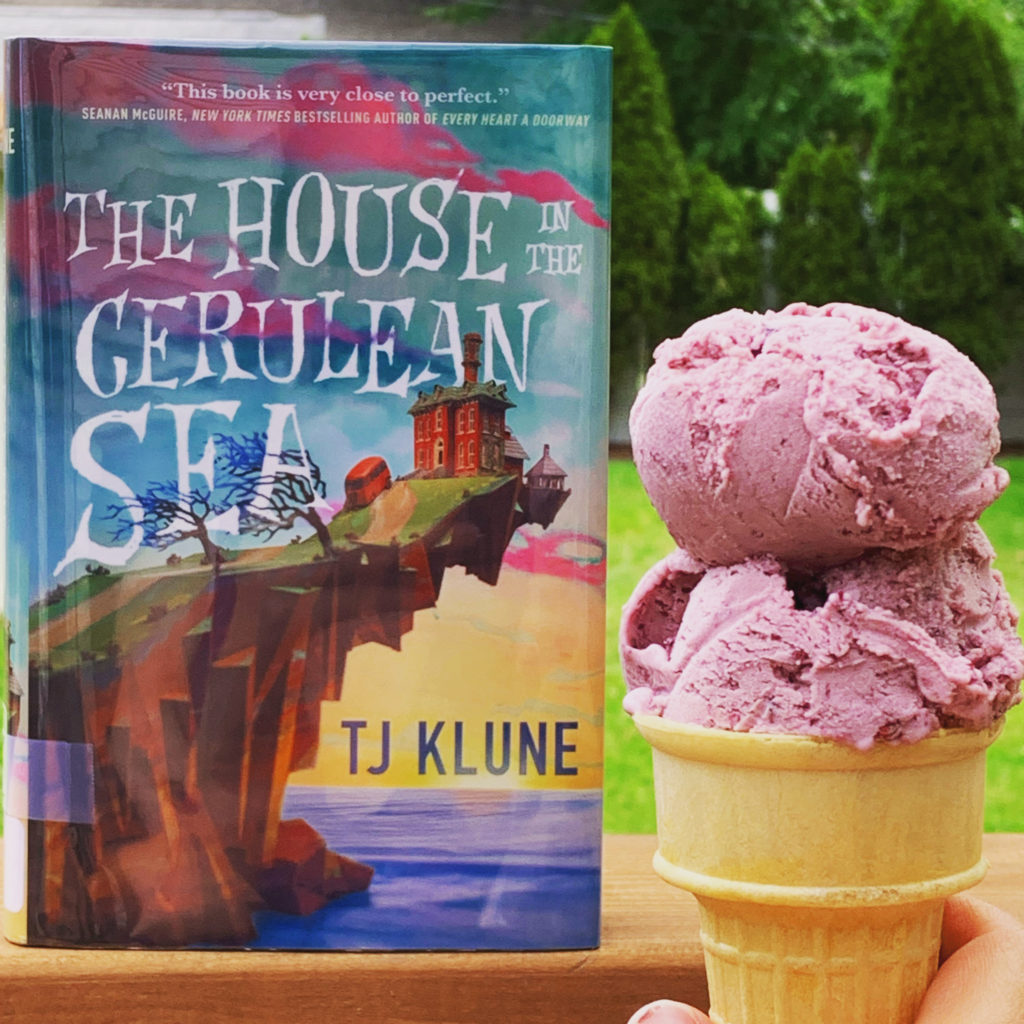 Blackberry Ice Cream
Ingredients
2

half-pint baskets blackberries

2 cups

¼ to ½

cup

sugar

as needed

5

large egg yolks

½

cup

sugar

divided

1 ¾

cups

heavy cream

¾

cup

1% or 2% milk

¼

tsp

kosher salt
Instructions
Cook the Berries
Combine the berries with the sugar, using ¼ cup if they are very sweet and ½ cup if less so, in a small nonreactive saucepan and stir well. Put the pan over medium heat and cook, stirring frequently, until the berries are soft and the liquid they release has reduced somewhat, about 10 minutes.

Let cool slightly, then transfer the berries and their juice to a blender or food processor. Puree until smooth. Strain half the mixture through a fine-mesh strainer into a medium bowl, pressing on the solids to extract as much puree as possible. Discard the solids. Add the unstrained puree to the same bowl and stir once to combine. Cover the bowl and refrigerate.
Make the Base
In a medium heatproof bowl, whisk the yolks just to break them up, then whisk in half of the sugar (¼ cup). Set aside.

In a heavy nonreactive saucepan, stir together the cream, milk, salt and remaining sugar (¼ cup) and put the pan over medium-high heat. When the mixture approaches a bare simmer, reduce the heat to medium.

Carefully scoop out about ½ cup of the hot cream mixture and, whisking the eggs constantly, add the cream to the bowl with the egg yolks. Repeat, adding another ½ cup of the hot cream to the bowl. Using a heatproof rubber spatula, stir the cream in the saucepan as you slowly pour in the egg-and-cream mixture from the bowl into the pan.

Cook the mixture carefully over medium heat, stirring constantly, until it is thickened, coats the back of a spatula and holds a clear line when you run your finger across the spatula — about 1 to 2 minutes longer.

Strain the base through a fine-mesh strainer into a clean container. Set the container into an ice-water bath, wash your spatula, and use it to stir the base occasionally until cool. Remove the container from the ice-water bath, cover with plastic wrap and refrigerate the base for at least 2 hours or overnight.
Freeze the Ice Cream
Whisk the blackberry puree into the chilled base.

Freeze in your ice cream machine, according to the manufacturer's instructions. Enjoy right away, or for a firmer ice cream, transfer to a chilled container and freeze for at least 4 hours.
Notes
From the Bi-Rite Creamery cookbook Sweet Cream and Sugar Cones
---
This post contains affiliate links. This does not increase the price you pay, but I may receive a small commission for any products you choose to buy. Purchases made through affiliate links help to cover my blogging costs. Thank you for helping to support The Hungry Bookworm! Full disclosure here.