As you may recall, Blake Crouch's Dark Matter was one of my favorite books the year I read it. So, naturally, when I heard he was releasing a new similarly thrilling sci-fi novel, I was looking forward to it. I was lucky enough to get a copy of Recursion through NetGalley before its release (though it's available now; it came out June 11th). And, most importantly, I am so happy to report it lived up to my high expectations!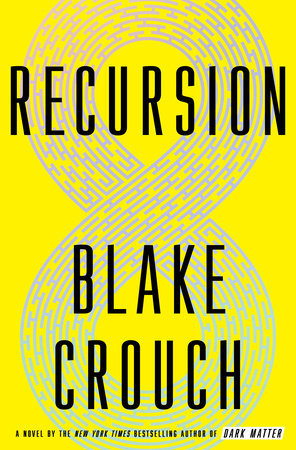 Just like with Dark Matter, it's hard to describe Recursion without giving too much away. But here's what I can tell you: Barry Sutton is a New York City cop who stumbles into an investigation on something called False Memory Syndrome, in which those affected suddenly have a whole set of real, vivid memories from another lifetime; one they haven't actually lived. Helena Smith is a researcher obsessed with memory. She has dedicated her life to trying to preserve those memories most precious to us, so they never get lost. 
Barry must work with Helena to save the world as we know it from crumbling, even as reality continues to shift around them.
For my food pairing, I decided to make huevos rancheros, which is one of the few foods mentioned (and mentioned multiple times) throughout the course of the story. The first time I saw it, I noted it — not sure if it was significant — but then it continued to appear, and I knew it would be a great fit. 
Though I have long-wanted to try huevos rancheros, I never have. I was excited to try a recipe at home, and Scott (who also enjoyed Recursion) was really looking forward to them as well. As always, he helped me make the perfect sunny-side up eggs to top them.
The recipe I found was quite simple, and though we made them for dinner, I would certainly have no issue whipping them up for breakfast as well. It was a quick and satisfying recipe. I opted to use more pans and save some time than the recipe calls for, but if you'd like to follow her step-by-step instructions (included below in the recipe), you can save some dish-washing instead. 
I simultaneously heated the tortillas, salsa and black beans and cooked the eggs.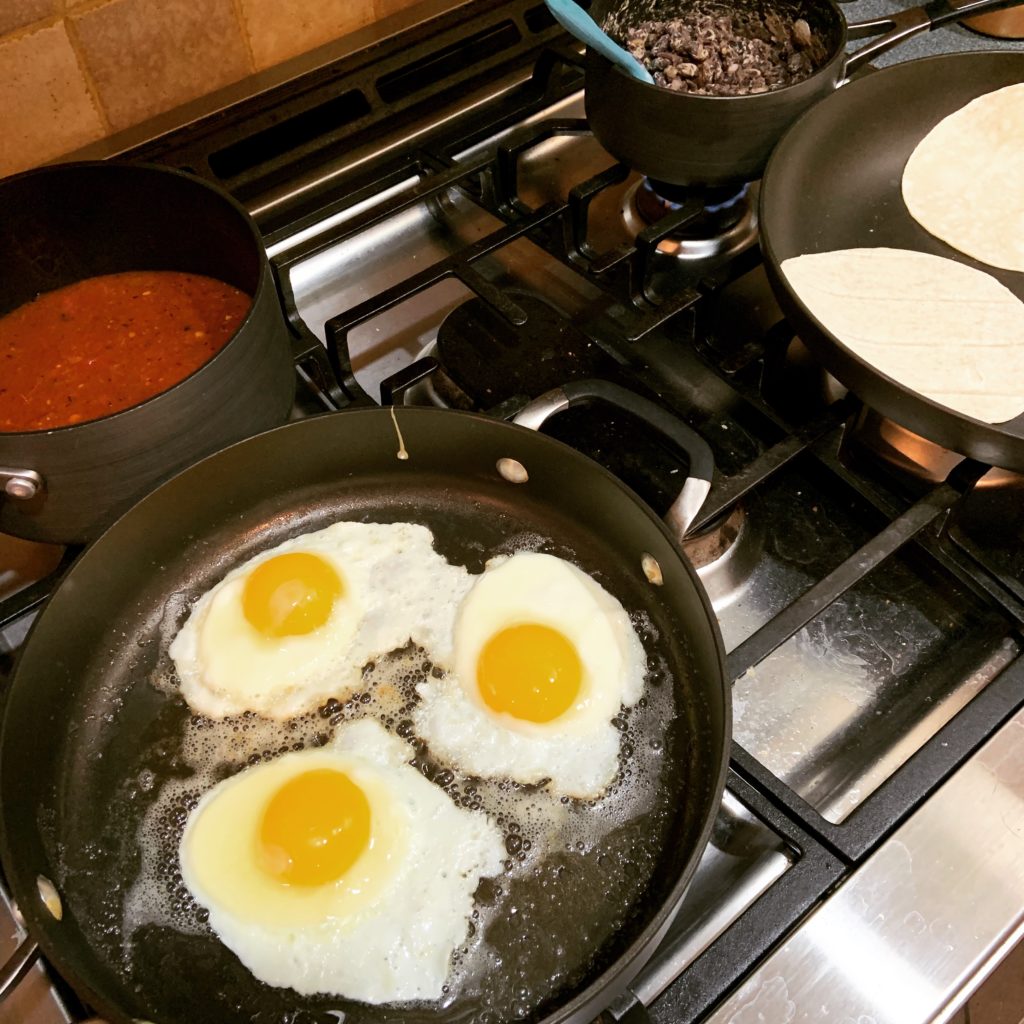 When all the ingredients were done, it was really easy to plate: I topped the tortillas with salsa, beans and cheese. On top of that, I placed the eggs. And, then, we opted to garnish with some freshly chopped cilantro, feta and guacamole.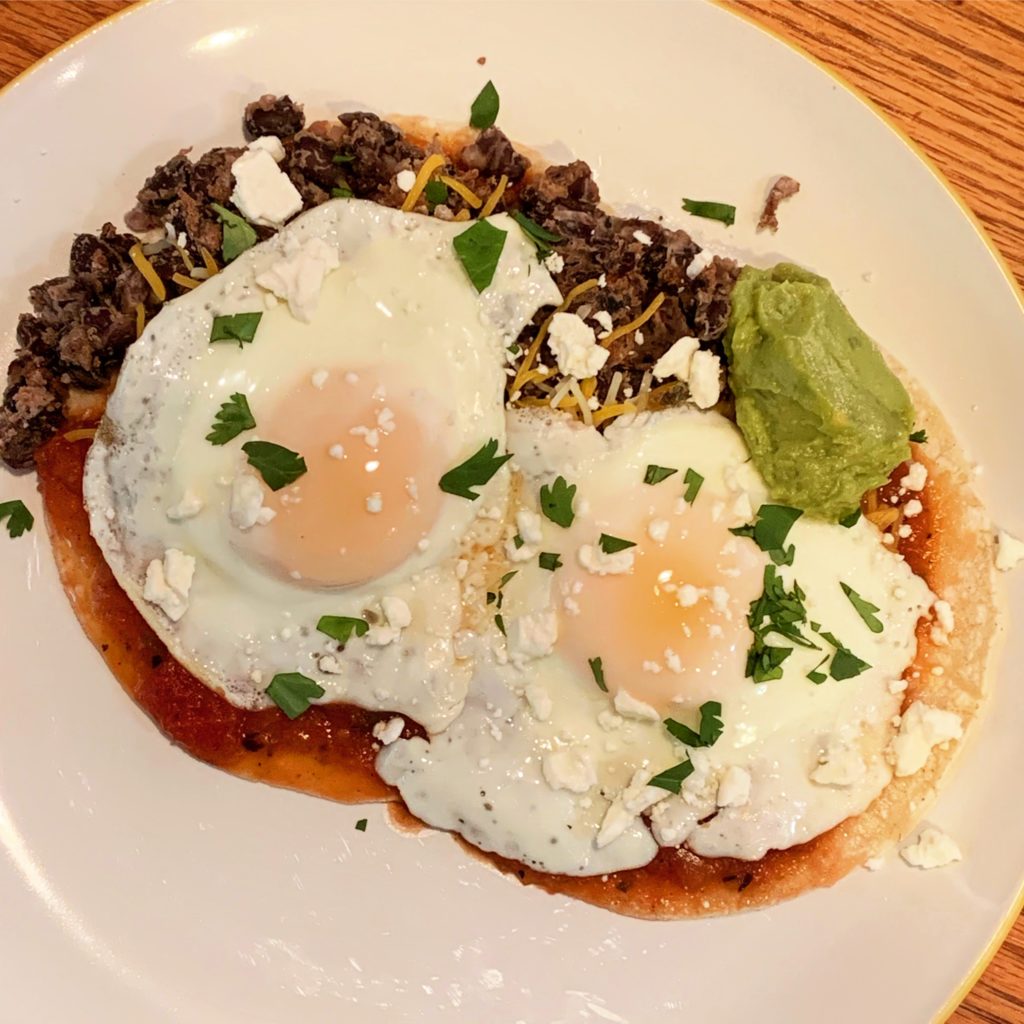 Like Recursion itself, this book-inspired recipe was something we gobbled right up!
Have you read this one yet? What did you think?  
Easy Huevos Rancheros
Ingredients
1

tablespoon

olive oil

divided

2

cups

favorite salsa recipe

16-

ounce

can black beans*

4

round corn tortillas

1

tablespoon

butter

4

large eggs

½

cup

crumbled cotija (or feta) cheese or shredded monterey jack

optional additional garnish and toppings: chopped fresh cilantro, sliced/diced avocado or guacamole, sliced jalapeno, fresh corn
Instructions
Heat a skillet over medium heat; add 1 tablespoon of olive oil. When olive oil ripples, add salsa and cook over medium heat, stirring occasionally for about 10 minutes.

Meanwhile, begin warming beans in a separate pan.*

Transfer cooked salsa to bowl; cover to keep warm.

Wipe out skillet; heat skillet over medium heat. Add tortillas in single layer to dry skillet (working in batches as needed), cook until warm and slightly toasted, turning as needed. Remove and cover to keep warm.

Heat skillet over medium heat. Coat pan with a bit of butter. Fry eggs to preference; season to taste with salt and pepper. Add additional butter as needed.

Serve fried eggs on warm tortillas, topped with cooked salsa, warmed black beans, and cheese. Add any optional chopped fresh cilantro, sliced/diced avocado or avocado, sliced jalapeno or fresh corn as desired.
Notes
From: She Wears Many Hats
* If you'd like to make them "refried," drain, warm in a saucepan with a little water, add 1/2 teaspoon ground cumin, salt and pepper to taste, mash slightly. Or, as the original (sponsored) recipe suggests, you can use Bush's Cocina Latina Frijoles Negros Machacados.
_______________
*I received a free digital copy of this book from NetGalley in exchange for an honest review.
This post contains affiliate links. This does not increase the price you pay, but I may receive a small commission for any products you choose to buy. Purchases made through affiliate links help to cover my blogging costs. Thank you for helping to support The Hungry Bookworm! Full disclosure here.