When Etaf Rum's A Woman Is No Man was shown as an option for the February Book of the Month, I didn't hesitate to select it. The description of her debut novel ticked a lot of boxes for me. Rum takes us inside the lives of conservative Arab women living in America and leaves us gasping for air.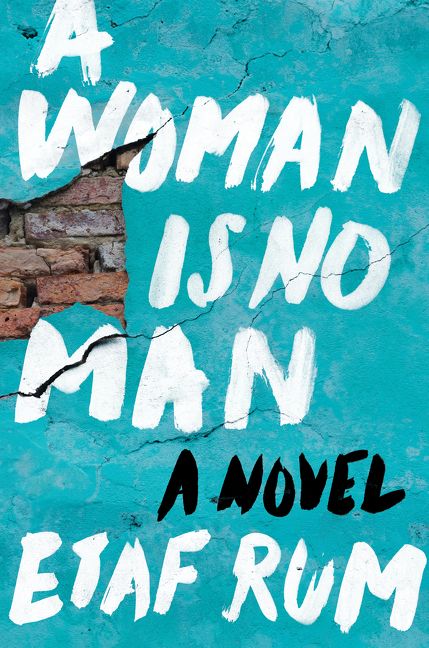 The novel is the story of three generations of Palestinian women — Deya, who is 18 and begrudgingly beginning to look for suitors; her mother, Isra, who desperately wants to find love, ultimately leaving her family in Palestine to marry a man living in Brooklyn; and Fareeda, Isra's mother-in-law, who pressures Isra to bear sons and Deya to find a husband, even though both women want more for their lives than what is traditionally expected of them.

Rum weaves together their stories expertly to paint an affecting intimate family portrait, both heartbreaking and courageous. In a world where sons are favored over daughters and a woman's place is in the home, it's not only the men who keep the women in their place but a culture of self-shaming that causes the women to suffer generation after generation. I cannot say enough about this powerful novel. It's a must-read.

I decided to make stuffed grape leaves, or waraq dawali, which make an appearance a few times in the novel. Many scenes take place in the kitchen, where our main characters can be found making meals for the family and any guests and having several important conversations. I used a recipe from Genius Kitchen, since it included lamb, which seemed to be the stuffing of choice in the book.

I bought my grape leaves from Amazon, mostly because I wasn't sure if I could easily find them locally. It turns out I probably could've — there's a Middle Eastern market just a mile away from my house, which where I ended up getting the pomegranate molasses (also available on Amazon).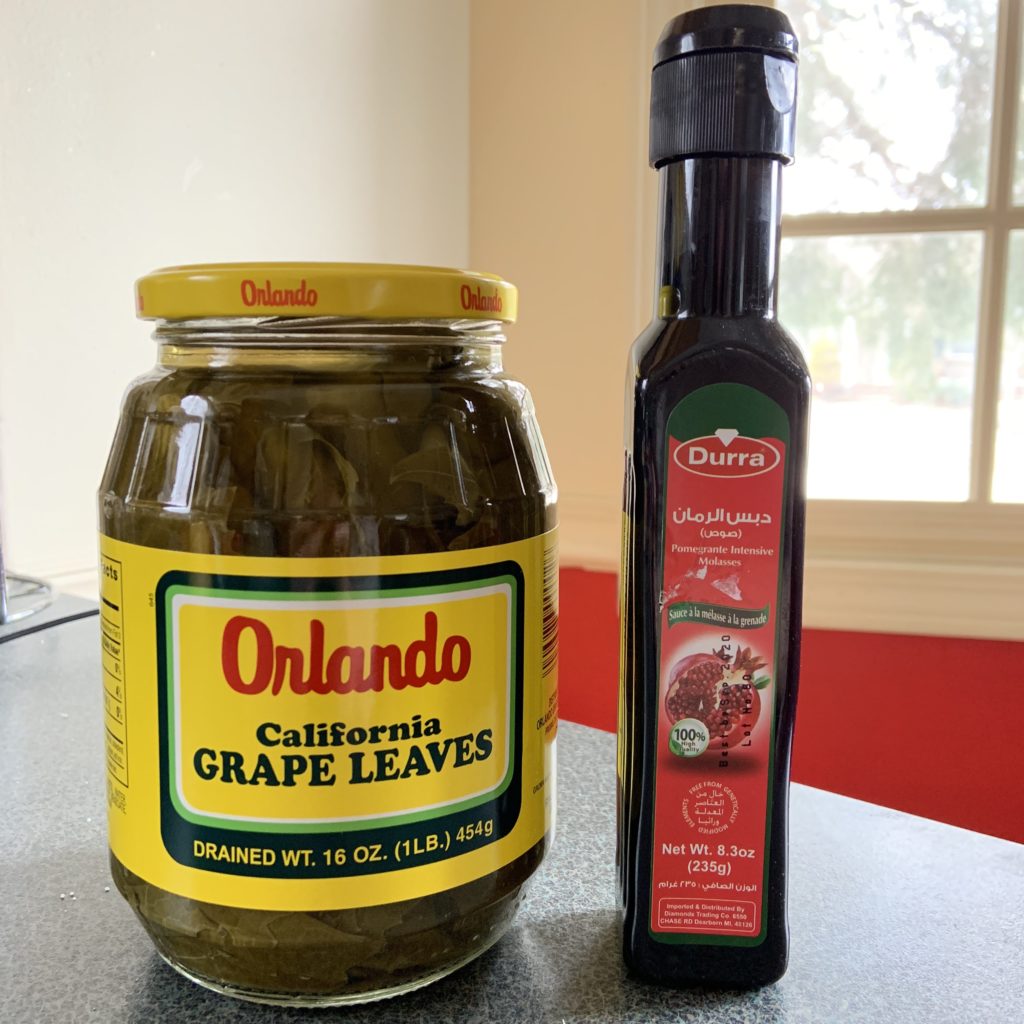 First, I removed my grape leaves from the jar, rinsed them thoroughly and chopped of their stems. Then I made the filling, combining lamb, uncooked rice, minced onion, olive oil, molasses, allspice, minced garlic, salt, black pepper, and tomato paste in a large bowl. I also made the sauce — water, lemon juice, more tomato paste, and more minced garlic — and sliced my onions for the pot. (I forgot to get tomatoes, so I didn't end up using them between the leaves while cooking.)

Then, I set to work stuffing my grape leaves, which is the time-consuming element of this recipe, but quite easy once you get the hang of it. I put my grape leaf stem side up with the top pointing away from me and placed about 2 teaspoons of filling, roughly oval-shaped, at the bottom of the leaf.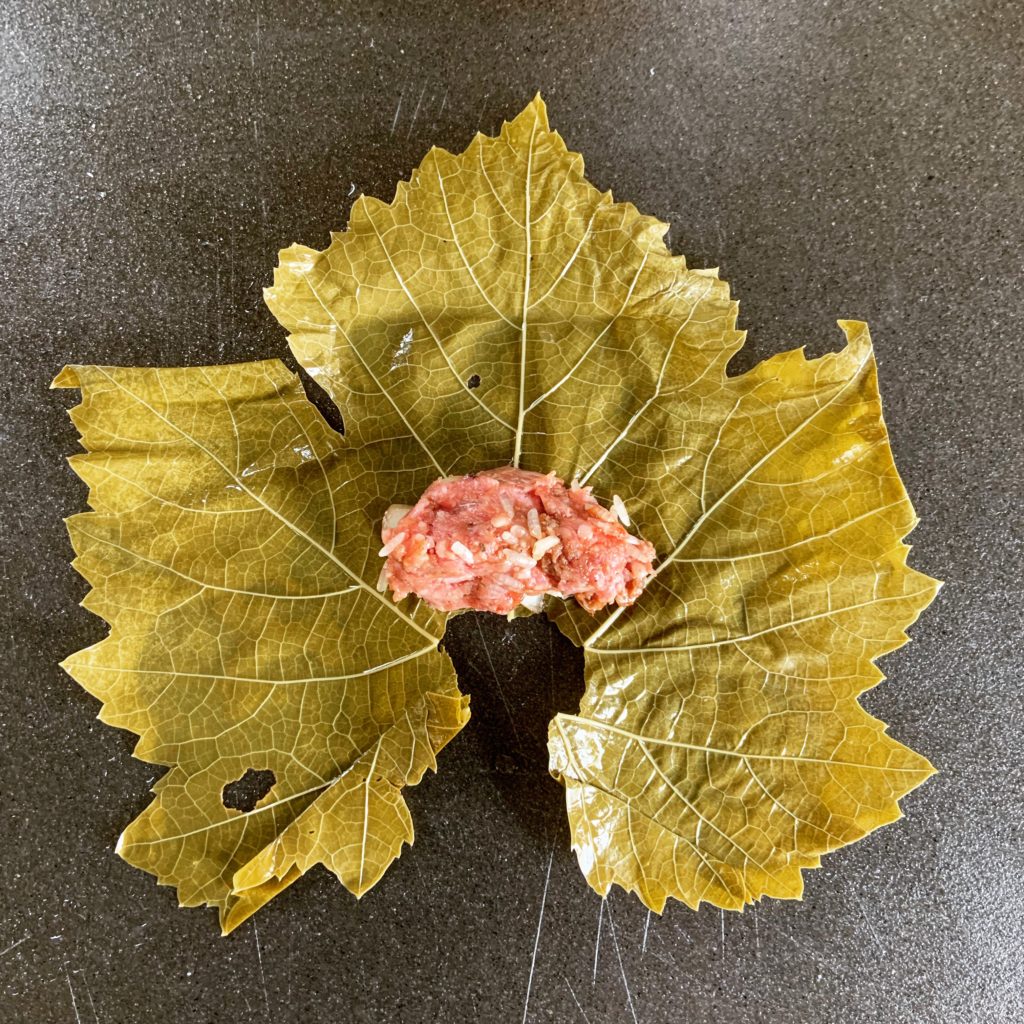 I rolled the bottom up once and folded the sides in. (In some cases, depending on my leaf, I folded the sides in first as it provided for better closure. I'm not sure if there's truly a "right" way; both versions stayed sealed while/after cooking.)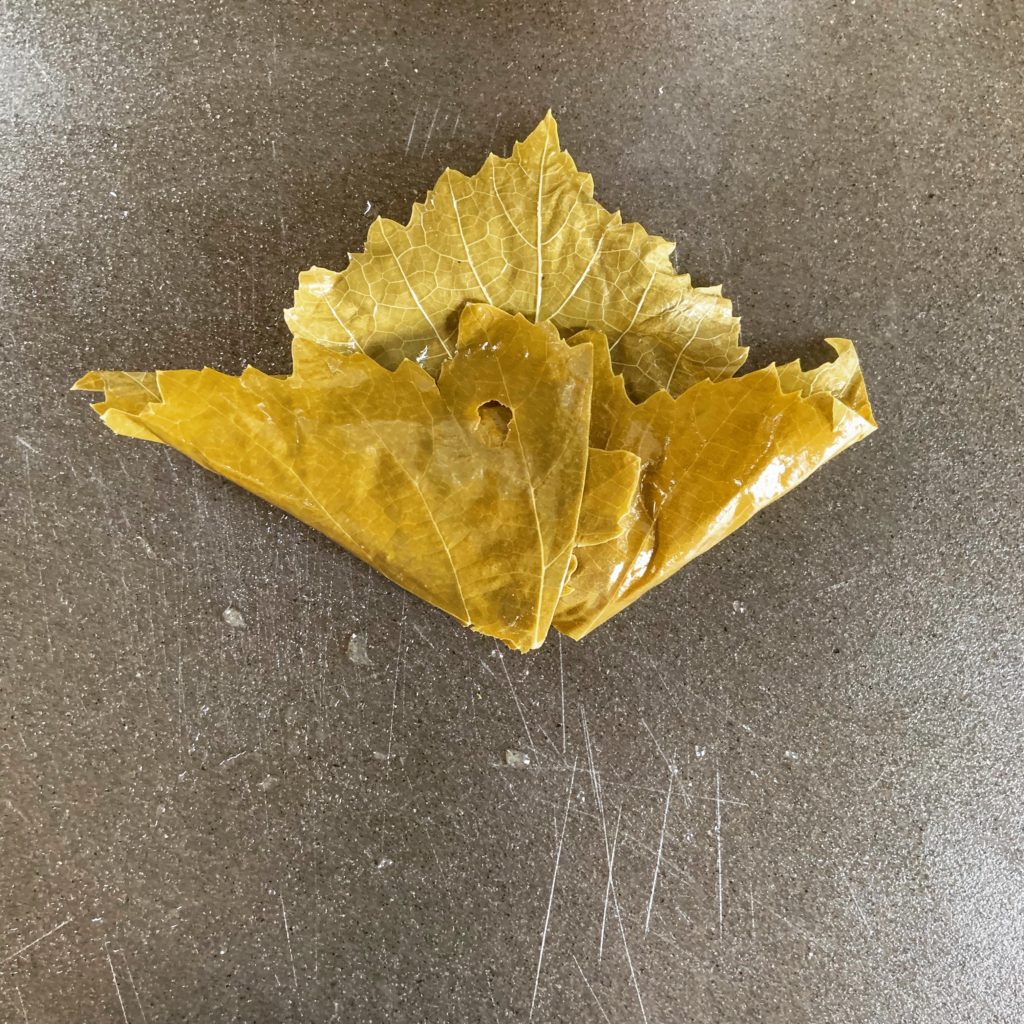 Finally, I rolled it all the way up until the filling was securely enclosed.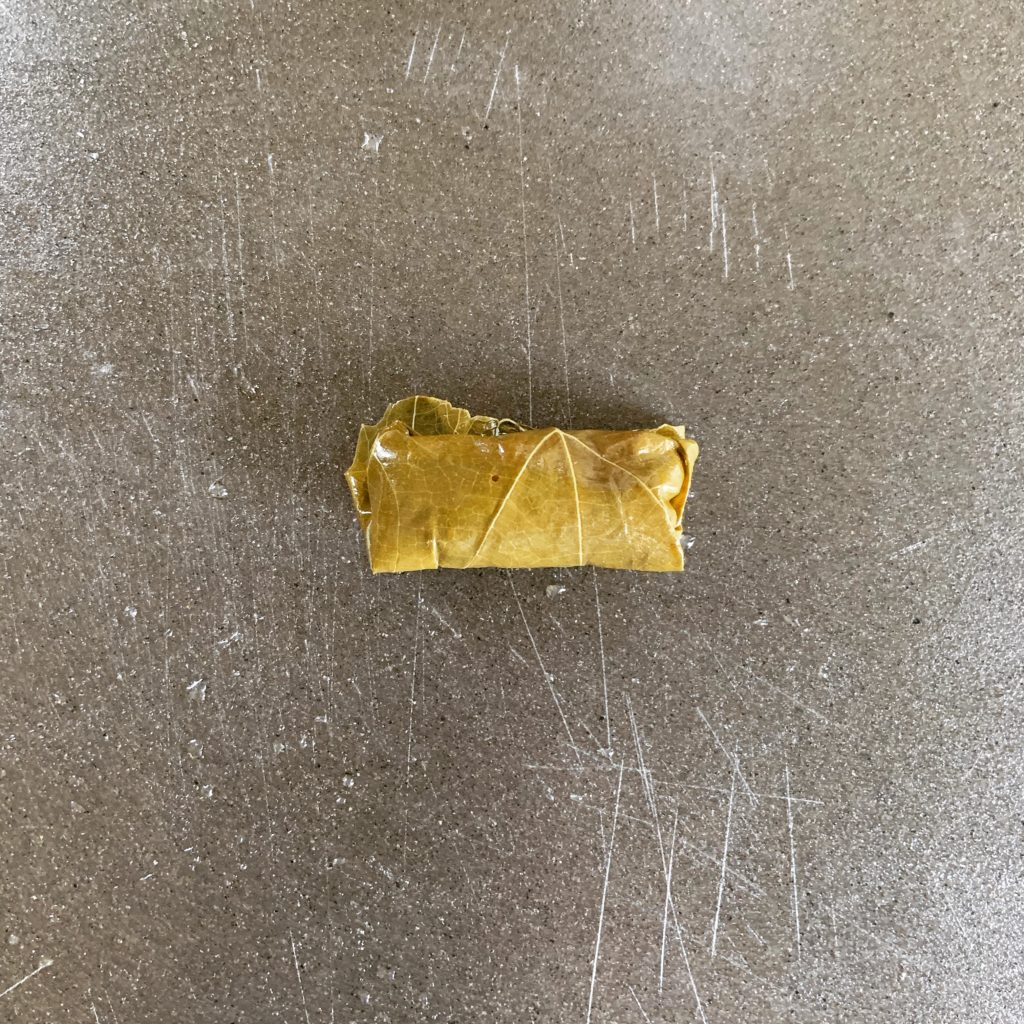 When I had a group of them made, I added them to a large stockpot that had oil and sliced onions covering the bottom.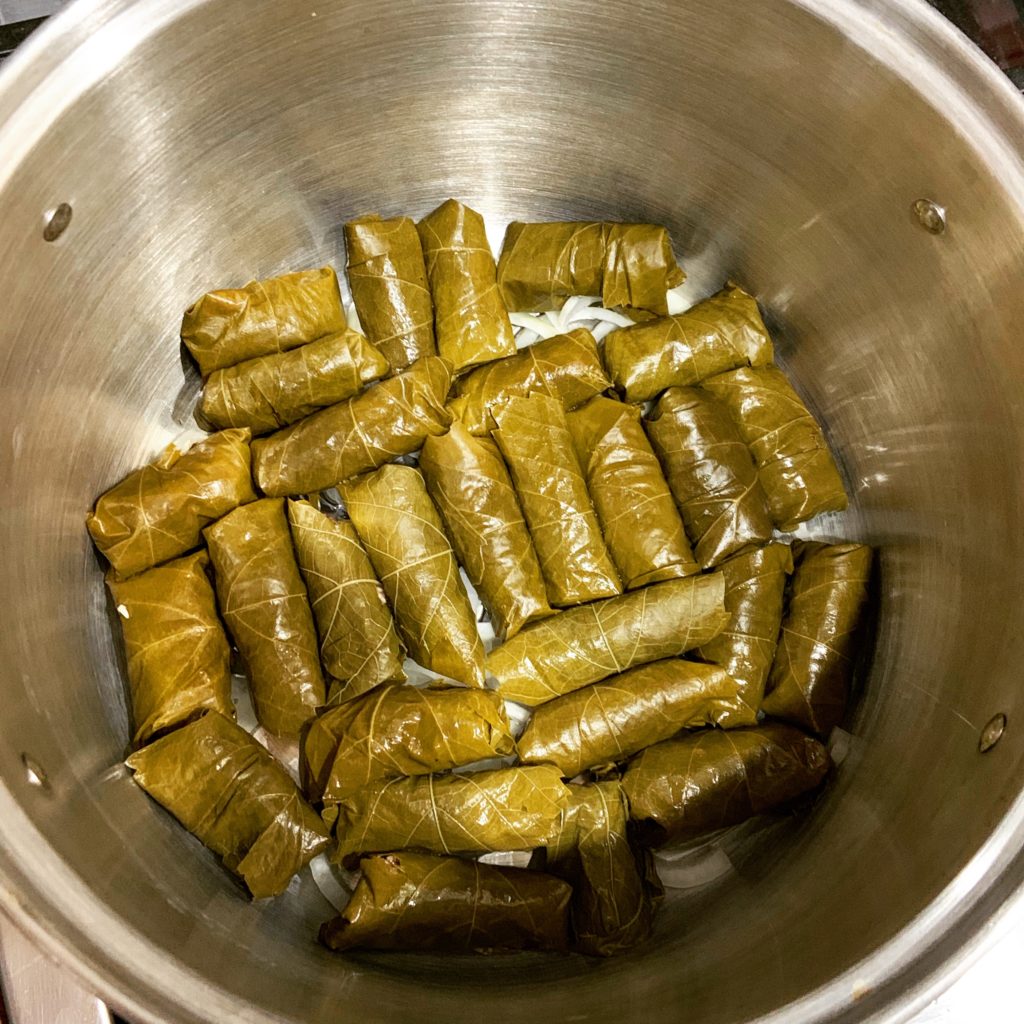 I poured some of the sauce over top, added another layer of onions, and then stacked more stuffed grape leaves on top when they were ready. It's important to get them pretty tightly wedged in the pan so they don't open while cooking. Depending on the size of your pot, you'll probably have 2 or 3 layers of grape leaves/onions/tomatoes. (If you have more layers, you may also need additional liquid to cover them for cooking.)

Once all of the grape leaves were in the pot, I made sure they were just covered with liquid, mostly sauce with some additional water to help bring it up to the top of the leaves. Then, I placed a oven-safe plate on top and an oven-safe bowl. I was a little nervous my plate wasn't heavy enough. Then, I covered the pot with its lid and set it to quiet simmer for an hour. (Be careful to watch that it doesn't come up to a boil, which can cause some of the leaves to come loose if they weren't packed tightly enough, or your plate isn't heavy enough.)

I used some tongs to carefully remove them to a serving tray, and let them cool to warm before we ate them.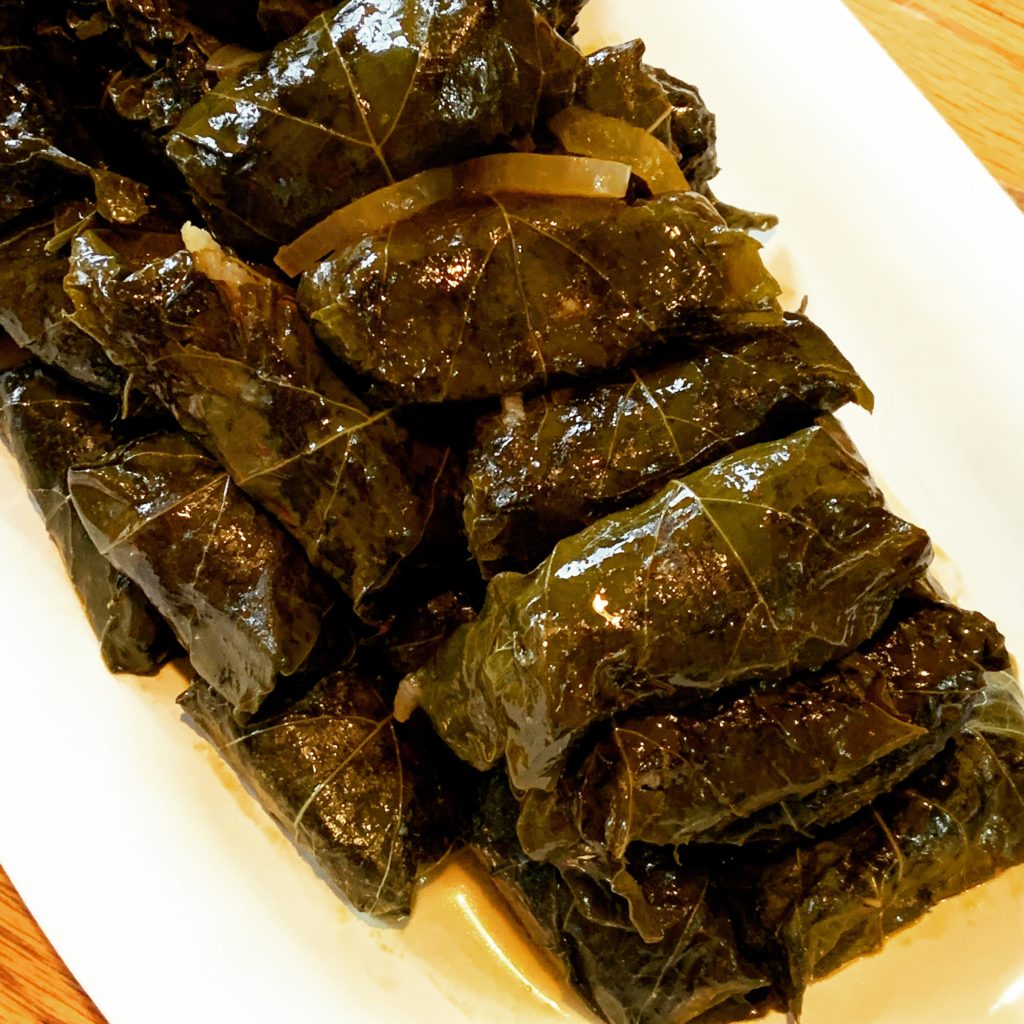 I love stuffed grape leaves, and I was really hoping this recipe turned out well. I'm happy to report that I was not disappointed! These were probably some of the best grape leaves I've ever had. They were so moist inside and the leaves were nice and tender. They were definitely a bit of a pain to make, but I can see myself doing it again. It made literally dozens of them, so we were eating them for quite a while!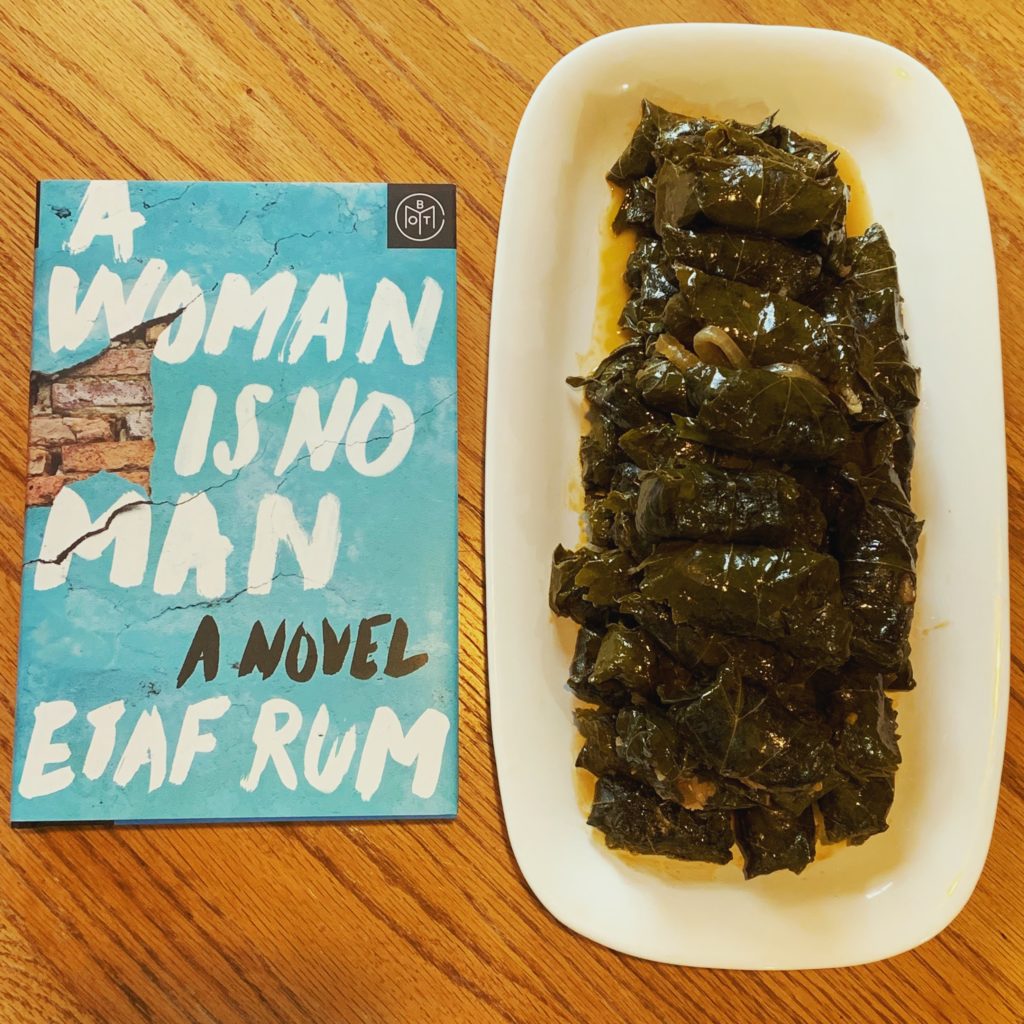 Either way, they were the perfect complement to Etaf Rum's novel. If I was hosting a book club discussion about this one, these stuffed grape leaves would definitely be on the menu!

Stuffed Grape Leaves
Servings
100
leaves (approx.)
Ingredients
1

jar grape leaves

(see notes)

1

medium onion

minced

4

tablespoons

olive oil

divided

1½

lbs

ground lamb or ground beef

1

cup

rice, short or long grain

uncooked

3

tablespoons

pomegranate molasses

½

teaspoon

allspice

2

teaspoons

garlic

minced

1

tablespoon

garlic

minced

1

teaspoon

salt

½

teaspoon

black pepper

1¼

cups

water

¼

cup

lemon juice

1 4

oz

can tomato paste

divided

1-2

large onion(s)

sliced into rings

2

medium tomatoes

sliced thinly
Instructions
Drain and rinse grape leaves well, until water runs clear. Remove the stems.

Add ½ of the oil to a large pot with a well fitting lid and spread around the bottom.

Mix minced onion, remaining oil, meat, rice, molasses, allspice, 2 tsp garlic, salt, black pepper, and half of tomato paste in a large bowl.

Mix water, lemon juice, remaining tomato paste, and tablespoon of garlic in separate bowl.

Lay one layer of onion rings and tomato slices in pot.

Lay one grape leaf vein side up with the top of the leaf pointing away from you, place about 2 tsp of filling at the bottom of the leaf (make it kind of like an oval). Turn the leaf up one turn away from you (rolling the leaf around the filling). Fold the sides in, and roll the leaf up to the top. Place the leaf seam side down in the pot.

Continue rolling remaining leaves and packing them tightly in the pot.

When you have made one layer, sprinkle the layer with some of the sauce.

Add a layer of onion rings and tomato slices on top, followed by another layer of grape leaves and more sauce on the top. Continue until all the leaves have been filled.

Make sure you have enough liquid to cover the leaves in the pot (you may need to add more water).

Put a heavy heat proof plate on the top of the leaves, cover pot, and bring to simmer for 50-60 minutes.

Carefully remove the leaves from the pot, using tongs.

Serve warm.
Notes
The original recipe called for a 1000g jar of grape leaves, but I used a 454g (2 lb) jar and had enough leaves to use all of the filling.
From: Genius Kitchen
_______________
This post contains affiliate links. This does not increase the price you pay, but I may receive a small commission for any products you choose to buy. Purchases made through affiliate links help to cover my blogging costs. Thank you for helping to support The Hungry Bookworm! Full disclosure here.