When The Map of Salt and Stars was released last May, there was a lot of buzz around it. It's captivating cover meant it was all over bookstagram. But, aside from judging the book by its cover, the "what" of the story sounded captivating as well. Jennifer Zeynab Joukhadar weaves together two coming-of-age stories to create her novel.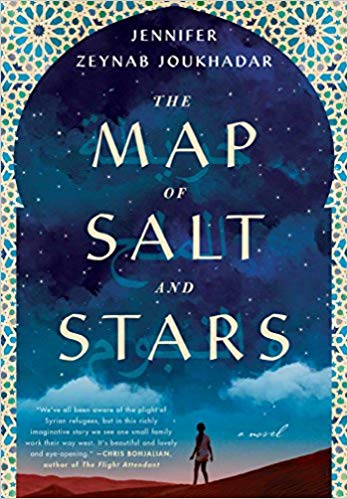 Nour, a young teenager, has just moved back to Syria with her mother and sisters after her father succumbed to cancer. As an American, born and bred in New York City, Nour speaks only passing Arabic and is still getting adjusted to her new life when bombings and protests force her family to flee to safety. Her story mirrors that of 16-year-old Rawiya, who earns work by disguising herself as a boy, ultimately going on adventures around the world with a famed mapmaker. Rawiya is the subject of Nour's favorite story, a tale told to her by her beloved father.

Joukhadar's novel was full of heart and culture, a unique take on a refugee story. Her writing, too, was beautiful and bursting with description. Nour's synesthesia provided her with a lot of opportunity to create rich, memorable passages. Perhaps because of this, Nour's sections were fascinating. I actually missed them when we were with Rawiya, whose story I found both confusing and plodding. In the end, I wish the two stories had co-existed less clumsily. It was an ambitious attempt that was more successful in some places than others.

When we first meet Nour and her family, food is everywhere. They are preparing for a visit from a family friend, and of course, a meal is the centerpiece. There is mention of cumin, pistachios, cucumber salad with yogurt sauce, and a dish called sfiha. Before dinner, however, there are errands, and a side trip to get some ice cream, in which Nour finds great pleasure. I liked the idea of making an ice cream with some of the ingredients she mentioned -- the kind of ice cream she chooses is never revealed -- and decided on pistachio.

I took a recipe from my new ice cream cookbook, which my husband gave me for Christmas following our trip to San Francisco this past fall. While we were there, we visited the most amazing ice cream shop, Bi-Rite Creamery, and I'm actually surprised I haven't made every ice cream in this book yet. Pistachio was my first.

The recipe is for a smooth pistachio ice cream, and since I prefer some pistachio chunks in mine, I did make a few tweaks to the recipe below. If you like a smooth version, just leave out the mix-ins.

To start, you need raw unsalted pistachios. I was able to find them in my grocery store, but only the kind with shells on them. It was a little bit of a pain to shell them all, since I needed so many, and if I had to do it all over again, I'd probably search them out elsewhere (or buy them online).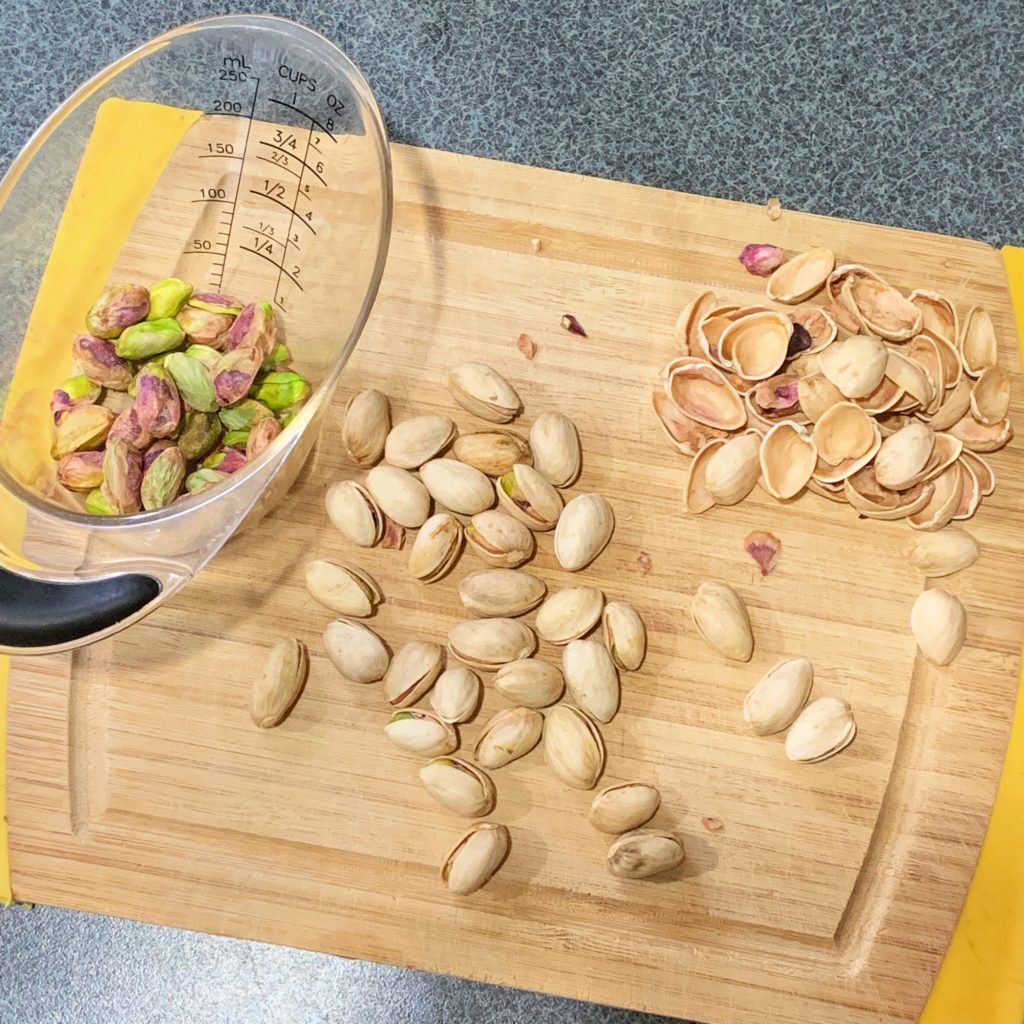 I roasted them all in a preheated 350 degree (F) oven for about 6 minutes.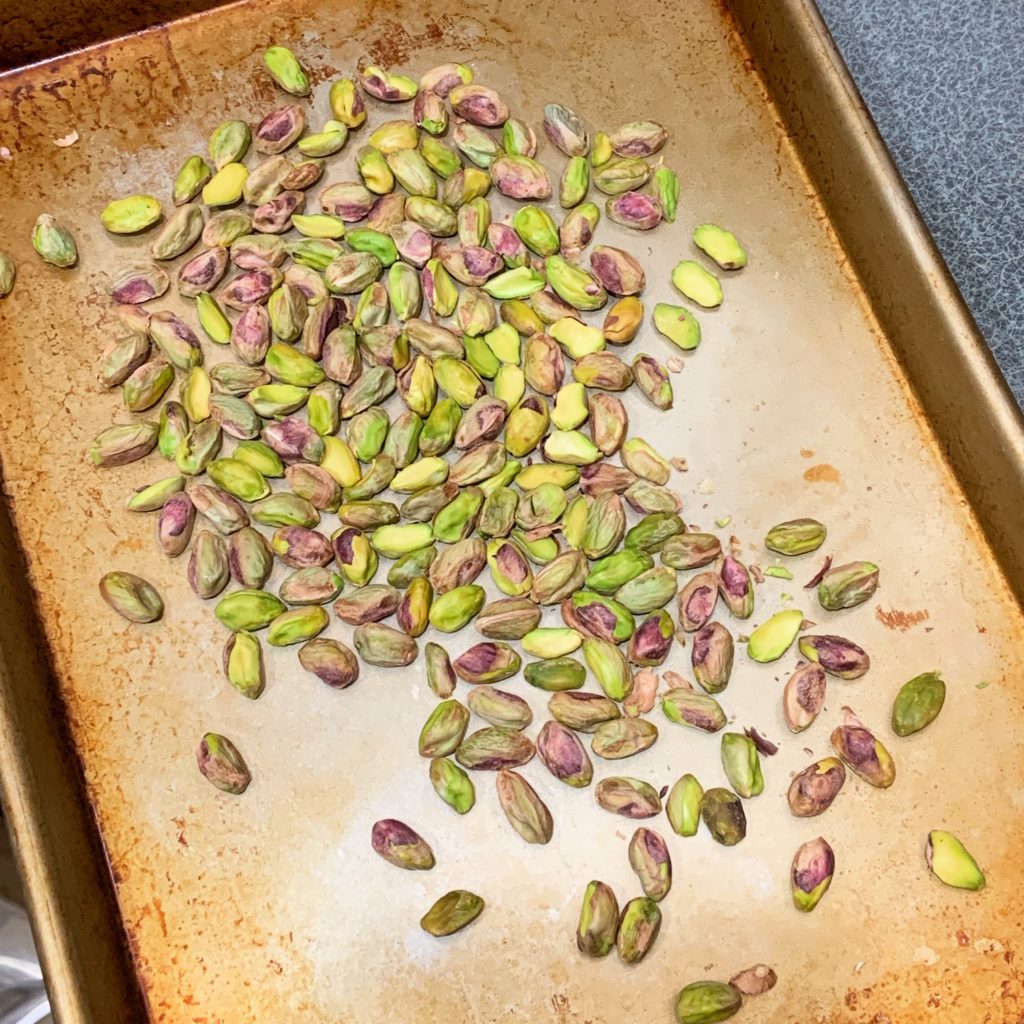 Then, I took ¾ cup of them and placed them in the food processor with ¾ cup of sugar, pulsing it until it was a coarse consistency. The increased surface area of the nuts allows the flavor to better infuse into the base.

To make the base, I combined pistachio-sugar mixture with milk, cream and salt in a saucepan and heated it until it began to bubble around the edges. Then, I turned off the heat, covered the pan, and allowed the mixture to sit for about 20 minutes. Make sure you bring the mixture up to a warm enough temperature to fully infuse it with flavor. You can check the flavor as you go with a small spoon and allow to infuse longer if needed.

Then, I brought the base back up until it was at a bare simmer and poured it in small amounts -- ¼ cup to ½ cup of the warm mixture -- into 5 lightly beaten egg yolks, whisking all the while. Once I transferred and whisked in about 1 cup of mixture successfully, I poured it back into the saucepan, stirring constantly. I continued to stir it over medium heat until the base thickened.

Finally, I poured it into a clean bowl through a fine mesh strainer, covered the base, and put it in the fridge to chill. I left it overnight, but it can sit as little as 2 hours.

When you're ready to make the ice cream, pour it into the ice cream maker. Mine takes about 20 minutes. While it was churning, I chopped up my remaining roasted pistachios -- somewhere between ⅓ of a cup and half a cup. When the ice cream was almost finished (about 2 minutes left), I dropped the nuts into the ice cream in a few handfuls.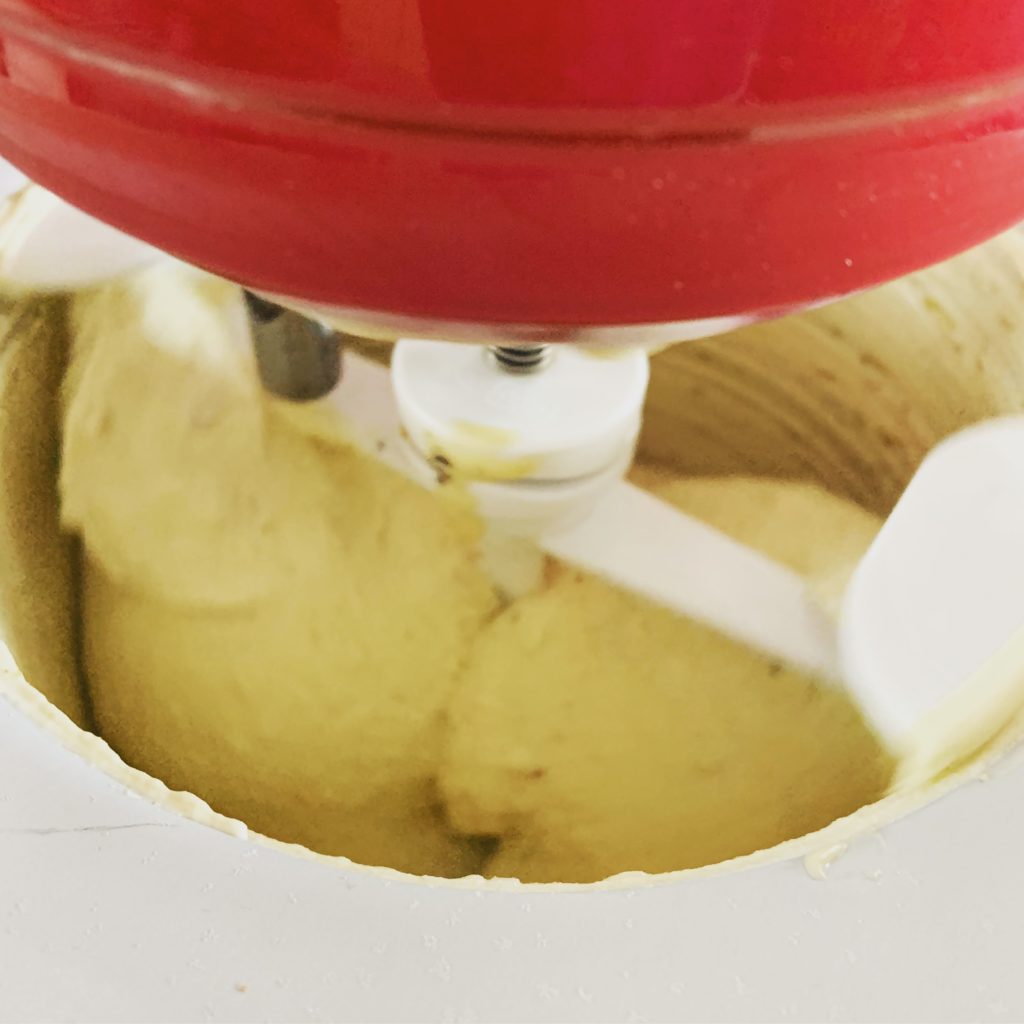 Then, I scooped it out into my ice cream container and put it into the freezer for several hours, until it more closely resembled hard, scoopable ice cream. It turned out even better than I expected!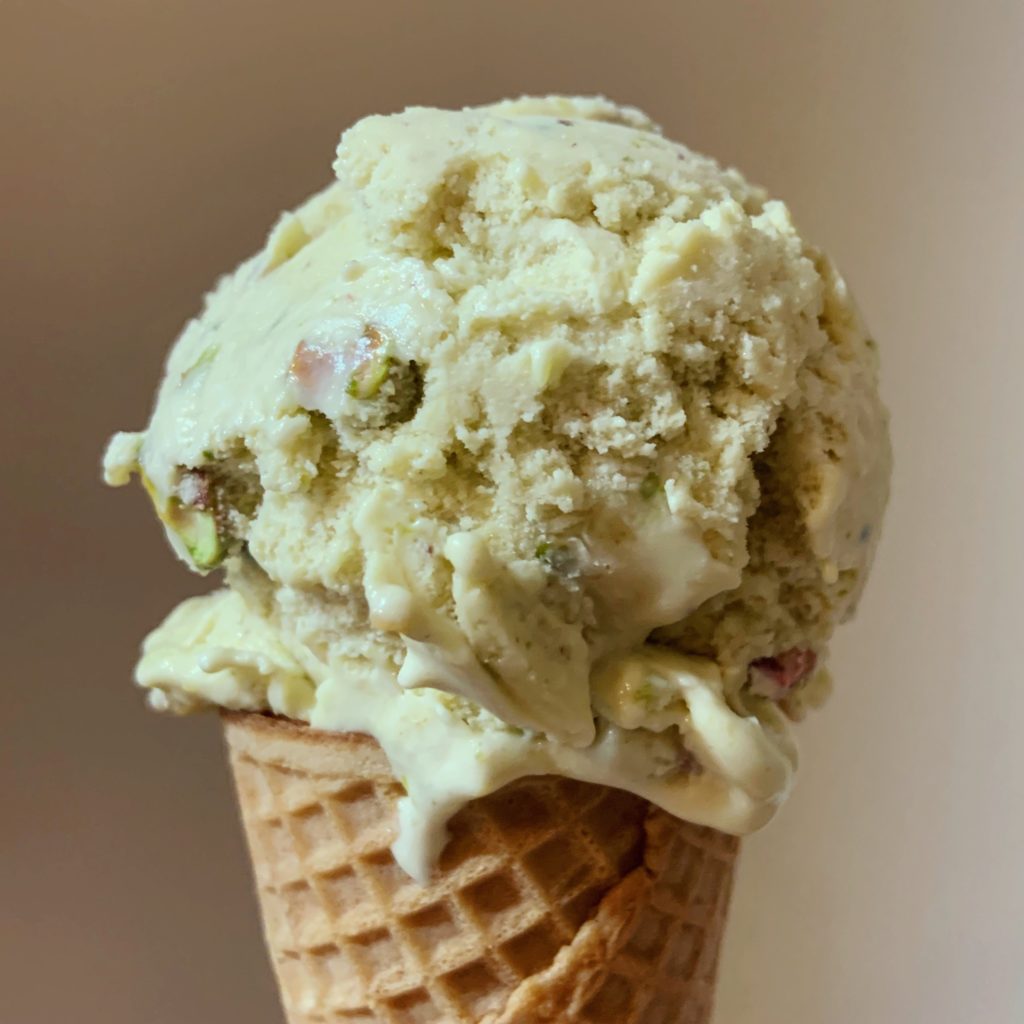 It was rich and creamy, an amazing pistachio flavor, and I loved the little chunks of pistachios in there as well. They added little pops of color and a nice texture. I'm sure it's an ice cream Nour would've enjoyed!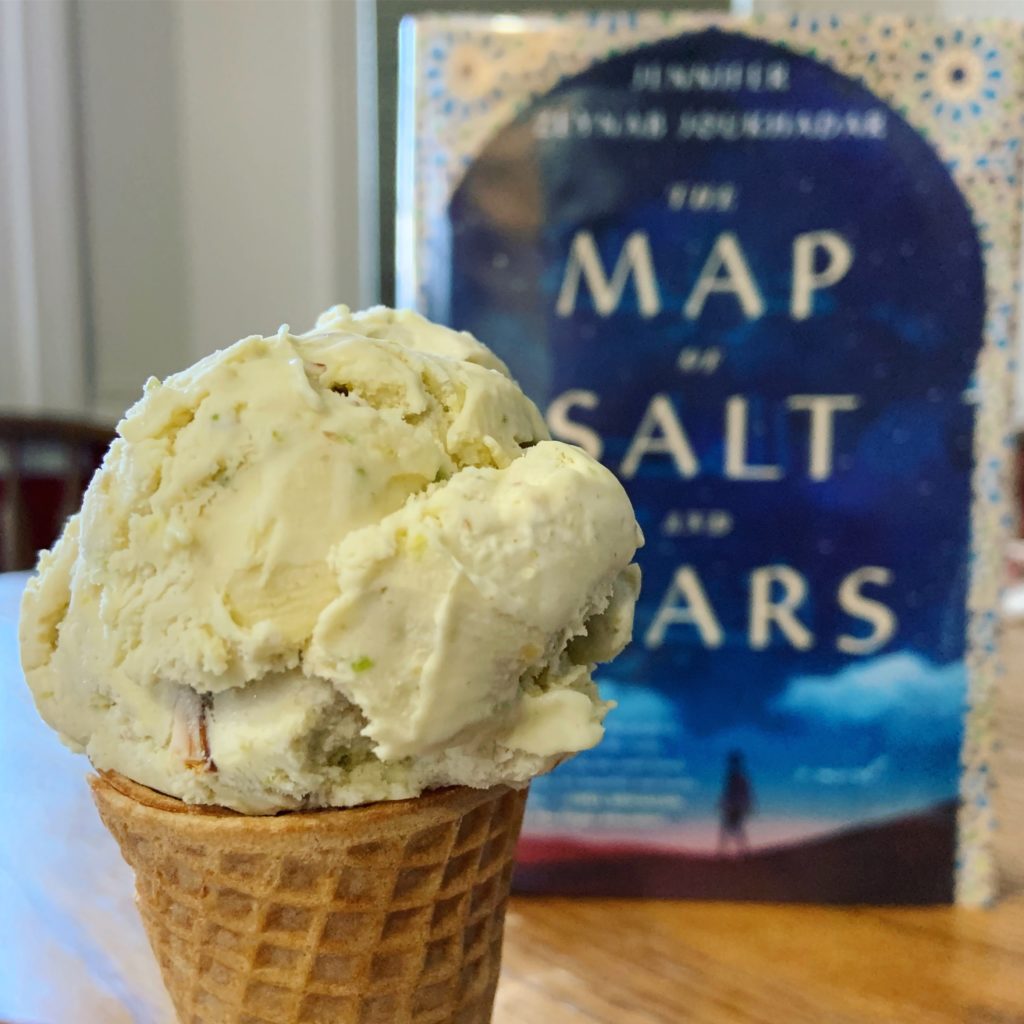 Pistachio Ice Cream
Ingredients
¾

cup

raw shelled pistachios

¾

cup

sugar

2

cups

heavy cream

1¼

cups

1% or 2% milk

¼

teaspoon

kosher salt

5

large egg yolks

⅓ - ½

cup

additional raw shelled pistachios

as a mix-in (optional)
Instructions
Prepare the nuts
Position a rack in the center of the oven and preheat the oven to 350 degrees F.

Spread the pistachios on a rimmed baking sheet. Bake until the nuts are just starting to brown and smell nutty, 5 to 6 minutes. Let cool completely.

Combine the ¾ cups of the cooled nuts and the sugar in the bowl of a food processor. Pulse until very finely ground (about the consistency of sand). Do not overprocess or the mixture will become oily and pasty.
Infuse the milk/cream
Transfer the pistachio mixture to a heavy nonreactive saucepan and stir in the cream, milk and salt.

Put the pan over medium-high heat. When the mixture just begins to bubble around the edges, remove from the heat and cover the pan. Let steep for 15 to 20 minutes, or until a distinct pistachio flavor has infused into the mixture. (Taste it to monitor the progress.)
Make the base
In a medium, heatproof bowl, whisk the yolks just to break them up. Set aside.

Uncover the cream mixture and put the pan back over medium-high heat. When the mixture approaches a bare simmer, reduce the heat to medium.

Carefully scoop out about ½ cup of the hot cream mixture and, whisking the eggs constantly, add the cream to the bowl with the egg yolks. Repeat, adding another ½ cup of the hot cream to the bowl with the yolks. Using a heatproof rubber spatula, stir the cream in the saucepan as you slowly pour the egg-and-cream mixture from the bowl into the pan.

Cook the mixture carefully over medium heat, stirring constantly, until it is thickened, cats the back of a spatula, and holds a clear path when you run your finger across the spatula, 1 to 2 minutes longer.

Stain the base through a fine-mesh strainer into a clean container. Set the container into an ice-water bath, wash your spatula, and use it to stir the base occasionally until it is cool. Remove the container from the ice-water bath, cover with plastic-wrap, and refrigerate the base for at least 2 hours or overnight.
Freeze the ice cream
Freeze in your ice cream machine according to the manufacturer's instructions. While the ice cream is churning, put the contain you'll use to store the ice cream in the freezer.

Also, while the ice cream is churning, coarsely chop the remaining roasted pistachios (you should have somewhere between ⅓ and ½ cup) using a knife or by pulsing a food processor a few times. When the ice cream is nearly finished -- about 2 minutes before the time is up -- drop the almonds into the mixture a few handfuls at a time.

Enjoy right away or, for a firmer ice cream, transfer to the chilled container and freeze for at least 4 hours.
_______________
This post contains affiliate links. This does not increase the price you pay, but I may receive a small commission for any products you choose to buy. Purchases made through affiliate links help to cover my blogging costs. Thank you for helping to support The Hungry Bookworm! Full disclosure here.