I requested Marie Darrieussecq's novel Our Life in the Forest from NetGalley because the concept was intriguing. Marie -- both the author and the main character, our narrator -- describes for us a future world in which wealthy humans of her generation have "halves," or breathing but unconscious humans that are available should they need spare body parts. If you're less fortunate, you'll have a "jar" instead, holding just a backup heart and pair of lungs.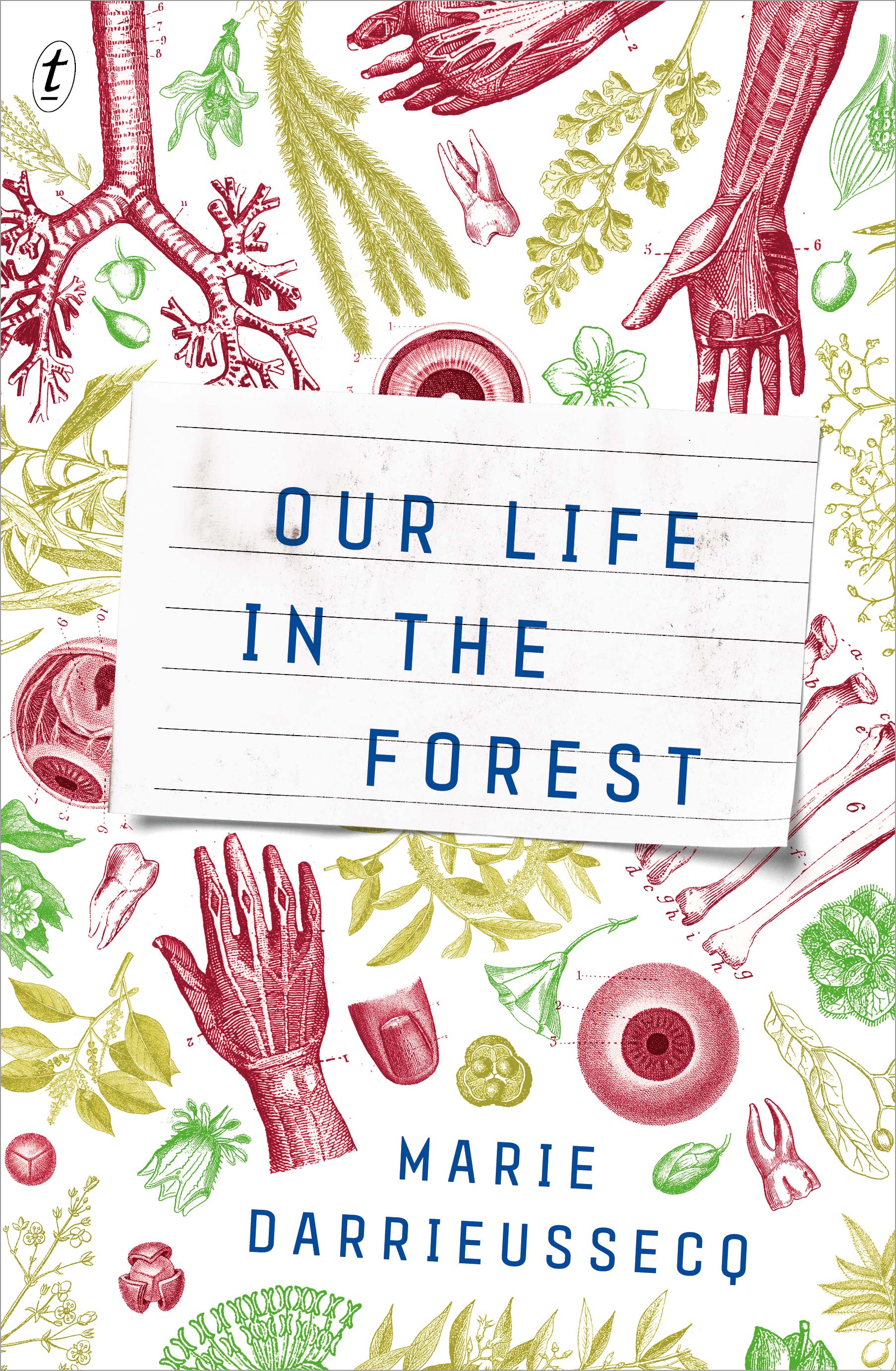 It's a bleak future, and it's one that Marie has decided to escape with several others. They have taken their halves and are hiding in the forest, where the drones can't spot them through the dense treetops. The story is translated from French (a wonderful translation) and Darrieussecq's writing style is direct; we are treated to very little extraneous description.
The concept was bizarre, though not entirely original -- many people have said it's reminiscent of Never Let Me Go, and I agree. The format is also experimental, a la The End We Start We Start From. The story is told through Marie's journal entries, in a very matter-of-fact, scientific way.
While I didn't love Never Let Me Go and really disliked The End We Start We Start From, I did like this one. Despite her writing style, Darrieussecq is able to paint a complete picture of the future world, elicit emotion and raise thought-provoking questions. It's a short read that would be perfect for a book club discussion.
In the forest, Marie and her group survive mainly on grains and vegetables, and though mushrooms aren't specifically mentioned, I think of them as the quintessential forest food. I went on the hunt for a recipe that used mushrooms and a grain and stumbled upon Cookie and Kate's Roasted Mushrooms with Herbed Quinoa. It also uses herbs and pumpkin seeds, which are ingredients that go perfectly with an outdoor kind of life.
First, I prepped the mushrooms for roasting. I happened to have pretty huge mushrooms, so I cut most of them in sixths (half and then thirds), but some of them I cut into fourths. I placed them on a baking sheet and tossed them in olive oil and salt before putting them in the oven.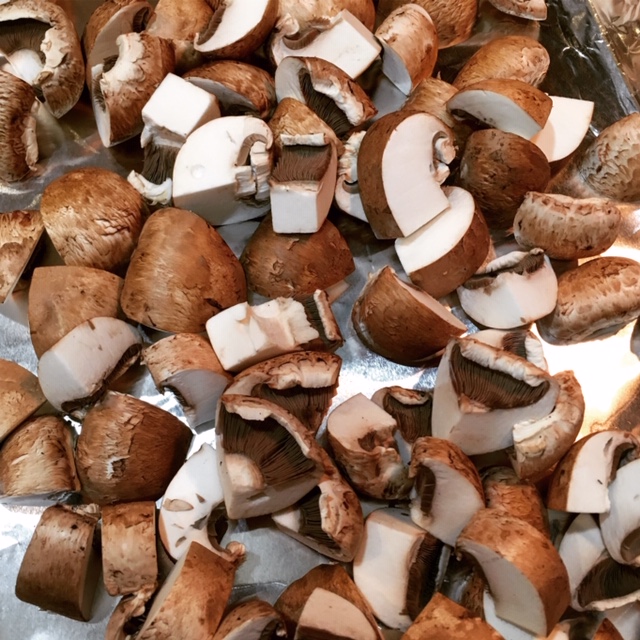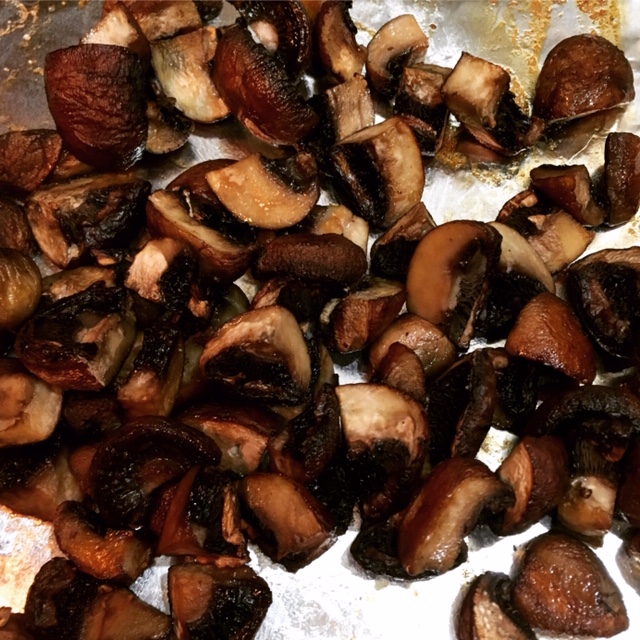 While the mushrooms roasted, I began making the quinoa. I placed 1 cup of rinsed quinoa in a medium saucepan with 2 cups of water and brought it to a boil. Once it was boiling, I reduced the heat and allowed it to simmer for about 20 minutes, until the water was all gone. Then, I covered the pan and allowed it to steam for 5 minutes.
To the fluffed quinoa, I added the chopped parsley, sliced green onions, garlic, salt, pepper, olive oil and a touch of lemon juice. Oh, and of course, Parmesan cheese.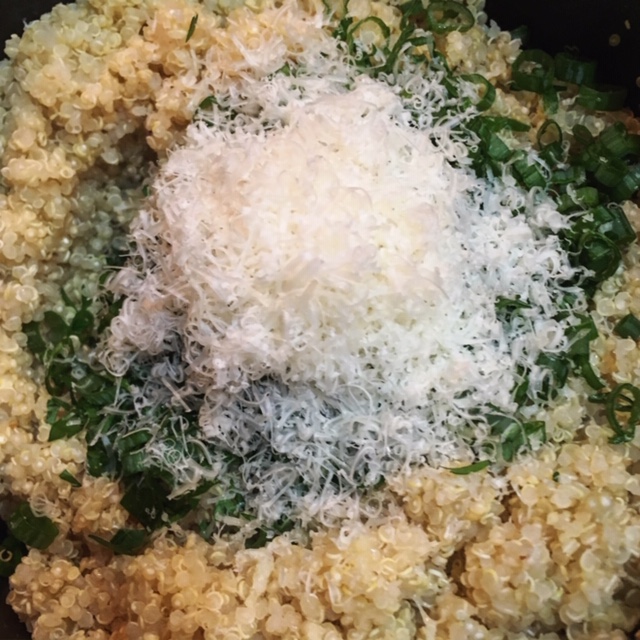 I mixed the quinoa well and put it in a serving bowl. Then, I topped it with the mushrooms, a little more olive oil, and parsley and pepitas for garnish.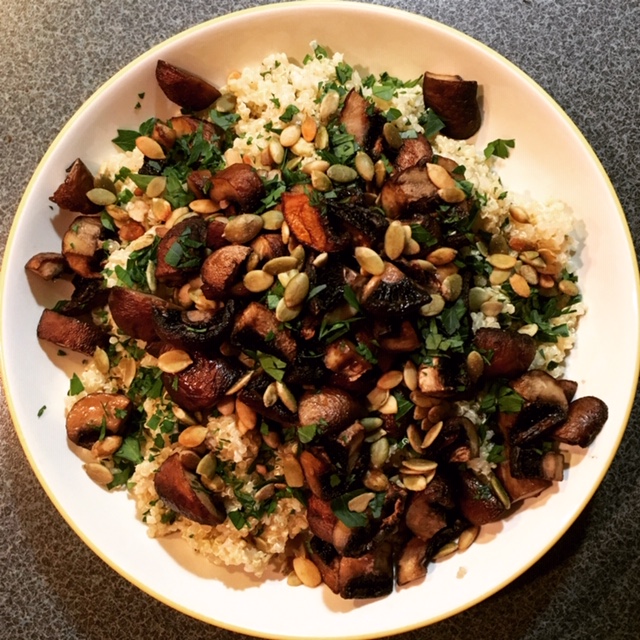 It was a delicious and easy side dish alongside some chicken.
Roasted Mushrooms with Herbed Quinoa
Ingredients
Roasted Mushrooms
16

ounces

Baby Bella mushrooms

1

tablespoon

extra virgin olive oil

¼

teaspoon

salt
Herbed Quinoa
1

cup

quinoa

rinsed in a fine-mesh colander

2

cups

water

½

cup

parmesan cheese

grated

¼

cup

chopped fresh flat-leaf parsley

divided

¼

cup

thinly sliced green onions

green parts only

1

clove

garlic

pressed or minced

¼

teaspoon

salt

1

tablespoon

extra virgin olive oil

plus more for drizzling on top

2 to 3

teaspoons

lemon juice

to taste

Freshly ground black pepper

to taste

2

tablespoons

toasted pepitas
Instructions
To prepare the mushrooms: Preheat the oven to 425°F. Line a large rimmed baking sheet with parchment paper for easy cleanup (the rim is important, as the mushrooms release a lot of juices while roasting—use a large baking dish if you don't have a rimmed baking sheet).

Quarter the large mushrooms, halve the medium mushrooms, leave small mushrooms whole, and place them all onto the prepared baking sheet. Drizzle the olive oil over them and sprinkle the salt on top. Toss until the mushrooms are evenly coated in oil. Roast until the mushrooms are tender and somewhat condensed in size, about 15 to 18 minutes, tossing halfway.

Meanwhile, to cook the quinoa: Combine the rinsed quinoa and water in a saucepan. Bring the mixture to a boil over medium-high heat, then decrease the heat a bit to maintain a gentle simmer. Cook until the quinoa has absorbed all of the water, about 15 to 20 minutes. Reduce heat as time goes on to maintain a gentle simmer.

Remove the pot from heat, cover, and let the quinoa steam for 5 minutes. Then, remove the lid and fluff the quinoa with a fork. Add the Parmesan, most of the parsley (reserve about 1 tablespoon for garnish), green onions, garlic, salt and olive oil. Stir to combine, then add 2 to 3 teaspoons lemon juice to the mixture and black pepper, both to taste.

To assemble, pour the quinoa into a small serving platter or medium serving bowl. Top with the roasted mushrooms and their extra juices, then sprinkle pepitas and the remaining parsley on top. Finally, finish the dish with a light drizzle of olive oil over the mushrooms. This dish is best when fresh, but leftovers keep well in the refrigerator, covered, for up to 3 days.
I received a free digital copy of this book from NetGalley in exchange for an honest review.
This post contains affiliate links. This does not increase the price you pay, but I may receive a small commission for any products you choose to buy. Purchases made through affiliate links help to cover my blogging costs. Full disclosure here.