Leif Enger is an award-winning author who I'd never heard of before coming across his latest novel, Virgil Wander. He truly has a gift for language, painting a colorful and complete picture of a Midwestern small town and its inhabitants without overdoing it. I look forward to checking out his previous work, but first, Virgil...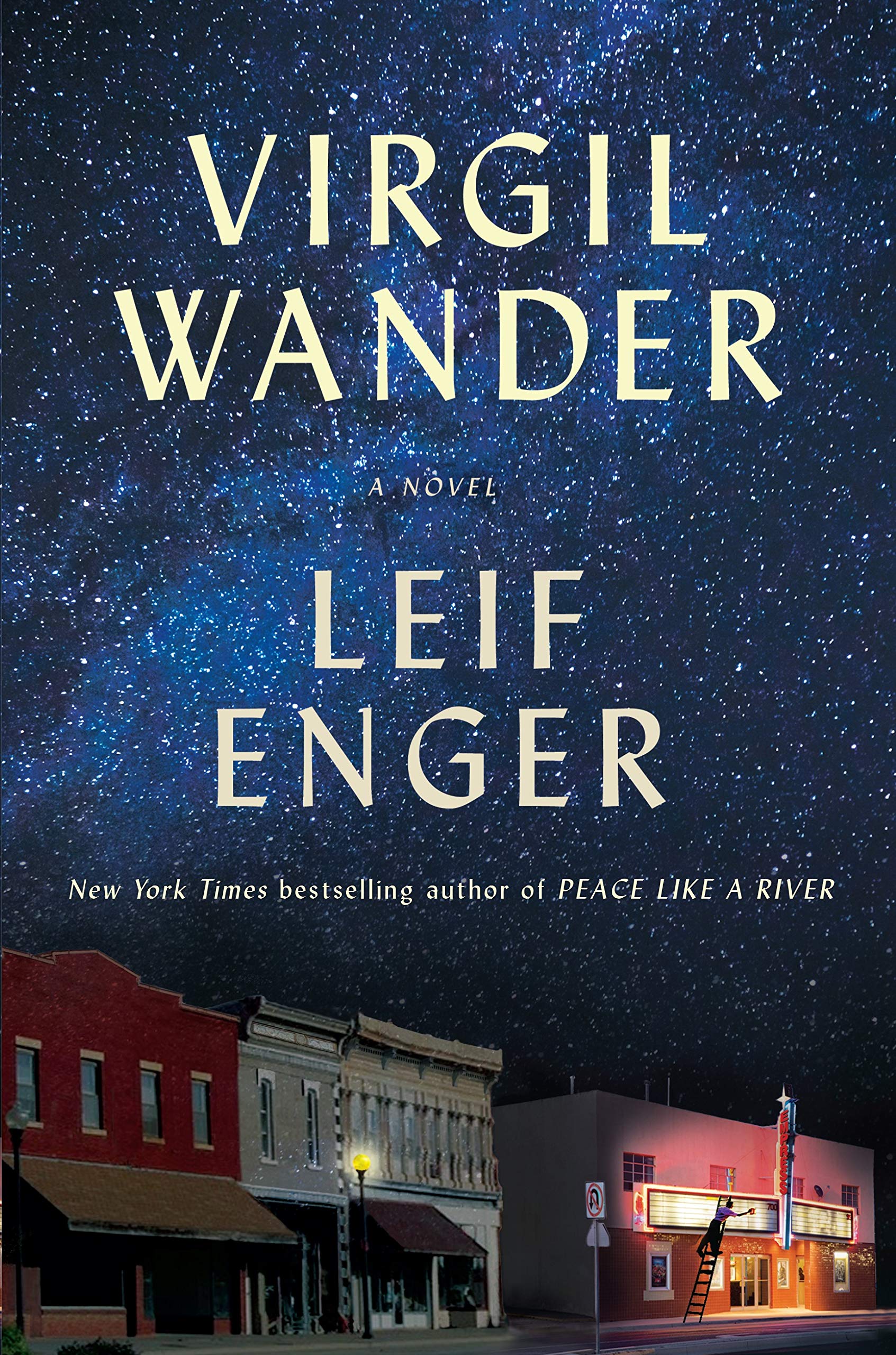 Despite Virgil Wander's somewhat-aspirational last name, he describes himself as "cruising through life at medium altitude." That is, until his car unexpectedly flies off the road and into an ice cold Lake Superior. When he wakes up in the hospital, Virgil has lost some of his memories and most of his adjectives.
Virgil is the part-time city clerk as well as the owner of his town's only movie theater (and a failing one at that). As he becomes reacquainted with his life, we too get to know the town and cast of characters within it. Despite a lack of adjectives, Virgil finds spot-on descriptors for each of them. I fell in love with the quirky characters, who were both realistically and richly described.
Somewhat akin to A Man Called Ove, this novel was both whimsical and full of heart. I loved the focus on the Upper Midwest. My favorite moments in the story were the Empress theater's "after parties." Virgil invited close friends to stay after regular showings for a classic movie screening and a potluck meal -- almost always involving lasagna and Rune's deliciously simple bread. They were just charming. I wish I'd been invited.
Instead, I decided to make my own lasagna. Though I love lasagna, it's something I've never attempted. Having come out on the other side, I can say it's definitely a labor of love. I chose a recipe from The Stay at Home Chef, set out for the grocery store and got to work.
First, I made the sauce, which uses both Italian sausage and ground beef, a pound of each. I browned them together in my Dutch oven, adding onion and garlic to cook as well. Once the meat was browned, I added the rest of the sauce ingredients -- white sugar, fresh basil and parsley, fennel seeds, dried oregano, and salt and pepper.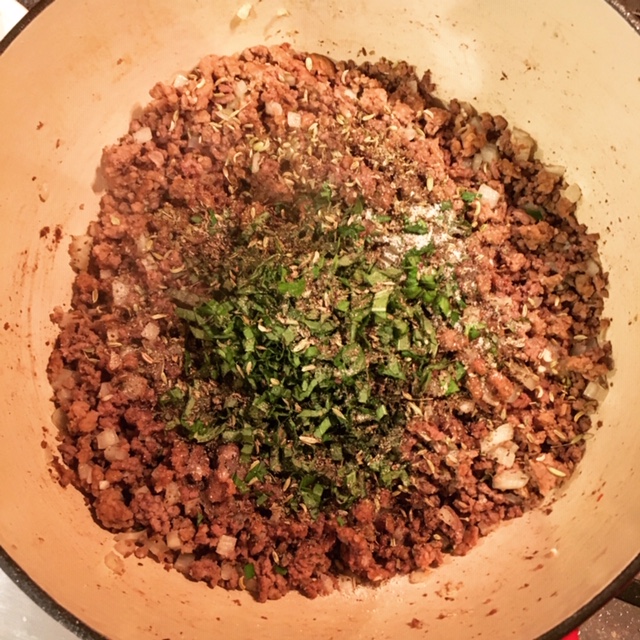 To that, I added the tomato sauce, crushed tomatoes and two cans of tomato paste, plus a little bit of broth. (The recipe calls for chicken, but I used veggie because that's what I had on-hand.) I let the whole mixture simmer for about an hour, though you can simmer longer if you like.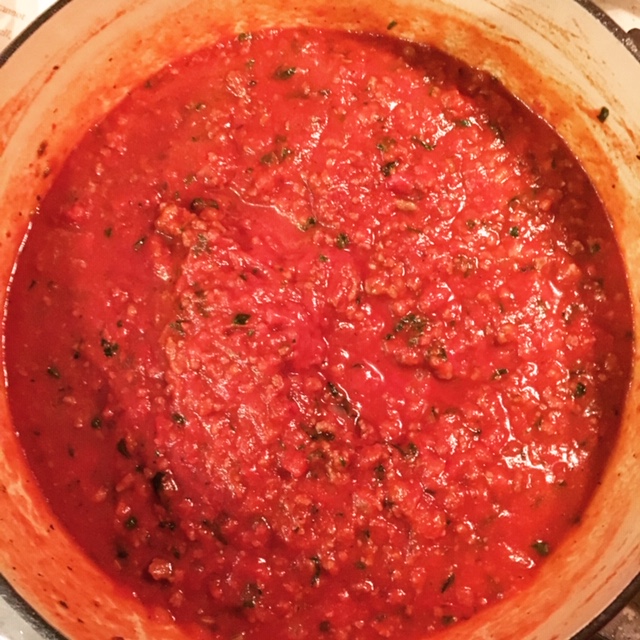 While the sauce simmered, I soaked the lasagna noodles in hot water for 30 minutes. I also made the ricotta mixture, which included egg, more fresh parsley, salt and a bit of nutmeg. Once the noodles were ready, it was time to assemble.
First, a bit of sauce, followed by the noodles, ricotta mixture, mozzarella slices, the freshly grated parmesan, and repeat until finished.
*If you'd like to see a fun gif of the whole process, stop by my Instagram.
The top layer should be the mozzarella cheese slices. (I ran out about half way down, so I added some shredded mozzarella that I had in the fridge. In the end you couldn't tell the difference, though the original recipe strongly recommends using slices over shredded throughout.)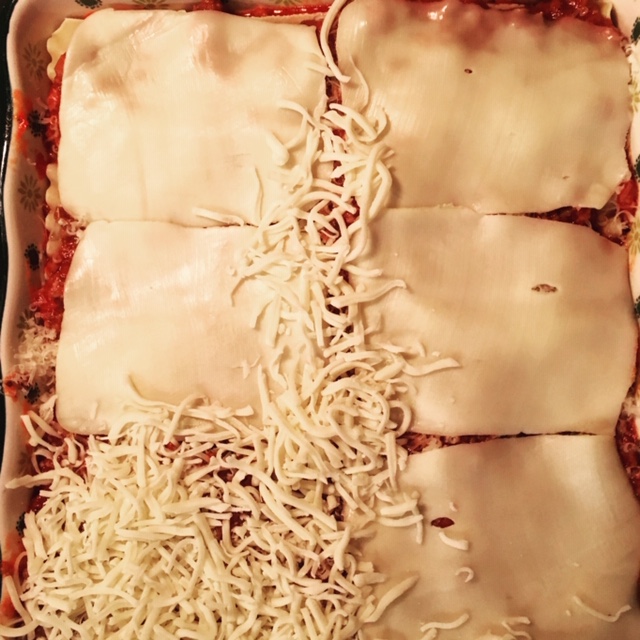 Even before I popped it into the oven, my entire kitchen smelled like an Italian restaurant. After 90 minutes on my feet, I felt not only exhausted but so proud to see it coming together. At that point, all that was left to do was wait.
When it came out of the oven, the edges were beautifully browned, the cheese fully melted, and my kitchen smelled even better than it had even an hour before!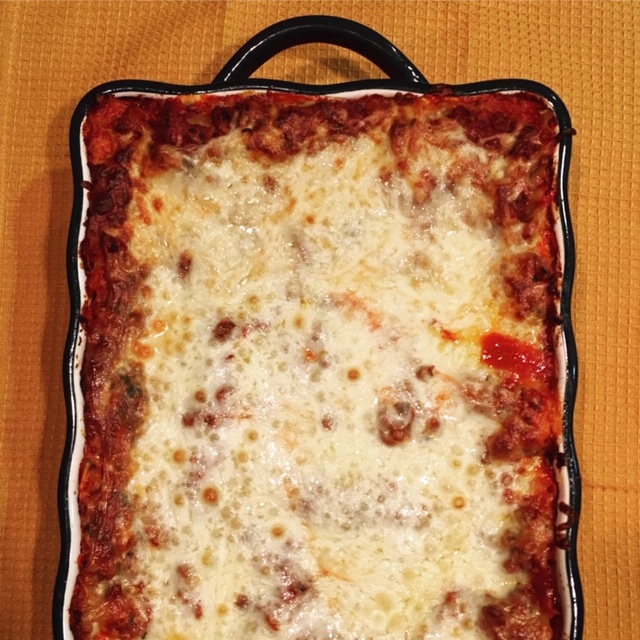 Scott and I couldn't wait to dig in, and when we did, it was DELICIOUS! If you've never made lasagna before, I think this is the perfect recipe. Quite classic and full of specific directions that are hard to mess up. The flavor can't be beat, and when it comes out, you've got yourself an impressive baked dish ready to share with family and friends.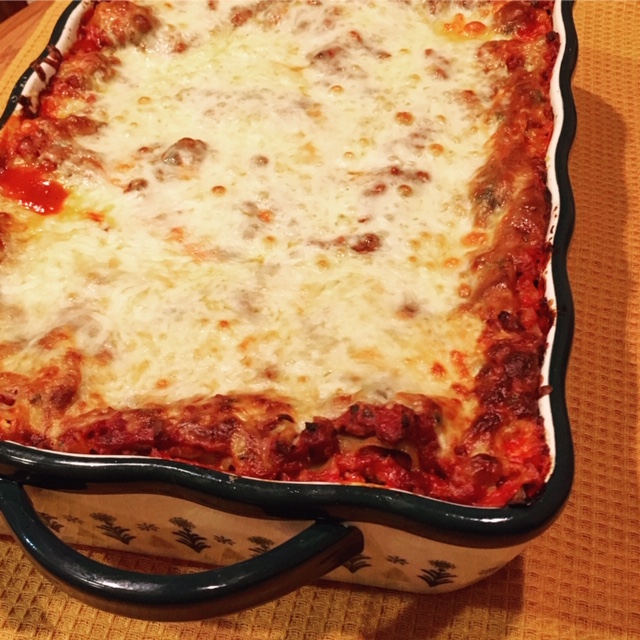 Empress After Party Lasagna
A classic baked lasagna, perfect for a gathering of family and friends.
Ingredients
1

pound

sweet Italian sausage

1

pound

lean ground beef

1

large white onion

minced

5

cloves

garlic

crushed

1

28 ounce can crushed tomatoes

2

6 ounce can tomato paste

1

15 oz can tomato sauce

½

cup

chicken broth

2

tablespoons

white sugar

½

cup

chopped fresh basil

1

teaspoon

fennel seeds

1

teaspoon

ground oregano

½

teaspoon

salt

¼

teaspoon

ground black pepper

¼

cup

+ 2 tablespoons chopped fresh parsley

divided

1

pound

lasagna noodles

30

ounces

ricotta cheese

1

large egg

½

teaspoon

salt

⅛

teaspoon

ground nutmeg

1

pound

deli sliced mozzarella cheese

1

cup

freshly grated Parmesan cheese
Instructions
In a large pot over medium heat, add in ground sausage and ground beef. Use a spoon to break up the meat into small pieces. Add in onion and garlic and cook until meat is well browned, stirring constantly. Stir in sugar, fresh basil, fennel, oregano, ½ teaspoon salt, pepper, and ¼ cup chopped parsley. Pour in crushed tomatoes, tomato paste, tomato sauce, and chicken broth. Stir well and bring to a simmer. Reduce heat to low and simmer 1-4 hours, stirring occasionally.

Meanwhile, place lasagna noodles into the bottom of a pan. Pour hot tap water directly over the noodles, making sure the pasta is completely immersed in the water. Let them soak for 30 minutes, then drain and discard water.

In a mixing bowl, combine ricotta cheese with egg, remaining 2 tablespoons parsley, ½ teaspoon salt, and nutmeg. Refrigerate until ready to assemble lasagna.

Preheat oven to 375 degrees. Lightly grease a deep 9x13 pan.

To assemble, spread about 1 cup of meat sauce in the bottom of the prepared pan. Place 4 noodles on top. Spread with ⅓ of the ricotta cheese mixture. Top with ¼ of mozzarella cheese slices. Spoon 1½ cups meat sauce over mozzarella, then sprinkle with ¼ cup parmesan cheese. Repeat layering two more times to create three complete layers. To finish, place a final layer of pasta, topped with another 1 cup of meat sauce to cover the pasta. Top with remaining mozzarella and Parmesan cheese. Cover loosely with aluminum foil.

Bake in preheated oven for 25 minutes. Remove foil, and bake an additional 25 minutes to allow cheese to brown. Serve hot.
I received a free digital copy of this book from NetGalley in exchange for an honest review.
This post contains affiliate links. This does not increase the price you pay, but I may receive a small commission for any products you choose to buy. Purchases made through affiliate links help to cover my blogging costs. Full disclosure here.