The description for Diane Chamberlain's "genre-spanning" novel The Dream Daughter promises it will be "irresistible." In that, it was 100% correct.
Twenty-six-year-old Caroline Sears is pregnant when she finds out her baby has a fatal heart defect. In 1970, there's nothing that can be done, and the news is devastating. Carly's brother-in-law Hunter is a physicist, who came into their lives quite mysteriously a few years before. When he tells her he has a way to help her baby, she's skeptical.
The book description doesn't give too much away, beyond the fact that, what Hunter is proposing is inconceivable. To save her baby, Carly needs to be courageous in the face of the unknown. I'll expand just a little bit more to say that how Hunter saves Carly is by helping her time travel into the future, a time when medicine has caught up to her baby's needs.
I won't give anything else away, but if I had known this was book involved "realistic time travel" -- one of my absolute favorite sub-genres (think The Time Traveler's Wife and the movie About Time) -- I would have rushed to pick it up even sooner. After a few chapters in, when I figured out what was going on, I was hooked. I couldn't put it down, and I stayed up until 1am one night to finish it (if you know me, that's a huge deal; I typically go to bed around 10).
Oh my gosh, I can't say enough good things about this novel. It was unexpected and clever. It definitely played with my emotions a little bit, but I didn't even care. I was all in, and I loved every minute of it!
When Carly goes forward from 1970, a lot of things are unfamiliar. The technology, yes, but also the food. In one of the most amusing scenes, Carly's host brings home some Taco Bell for dinner. Not only has Carly never heard of Taco Bell, she doesn't even know what Mexican food is. She specifically calls out the taco, burrito and enchirito, but also mentions that there were a few other items on the table that were "alien" to her.
I like to think one of those was the Mexican Pizza, my absolute favorite thing at Taco Bell. I've been eating them since I was a young kid, and I like to think of myself as a Mexican Pizza aficionado. Regardless of what they ate for dinner they night, they ate Taco Bell, and this is my excuse to make a copycat version of the best food on their menu.    
For those of you who don't know, a Mexican Pizza is definitely a loose interpretation of the word pizza, but it's delicious, and that's what matters. It has meat and beans sandwiched between two crispy tortillas; the top tortilla is covered in red sauce, cheese and tomatoes. (There also used to be green onions, back when I was little, so I brought those back into this homemade version.)
I found a recipe from Genius Kitchen to use as a guide, though having eaten an embarrassing number of these throughout my life, I probably could've figured it out myself. I did tweak it a bit to be closer to the Taco Bell version. Good news: Like the book, it turned out even better than I imagined!
To start, I prepared my taco meat (ground beef with taco seasoning) and warmed my canned refried beans. I also combined a can of red enchilada sauce (I used medium, you can use whichever spice-level you like best) with a can of diced tomatoes with green chiles (drained) to make the pizza's sauce.
Then, I prepared the tortillas. If you can find flat, roughly 8" corn tortillas, that would definitely make this experiences easier and quicker, but I couldn't. I used the flour tortillas from the recipe. To get them crispy enough, you need to fry them in oil on the stove top -- just until they're golden brown and stiff.
They don't need much time, about a minute or so will do it. You might need to flip and repeat on the other side (I did). Once all of your tortillas are ready to go, it's time to assemble the pizzas.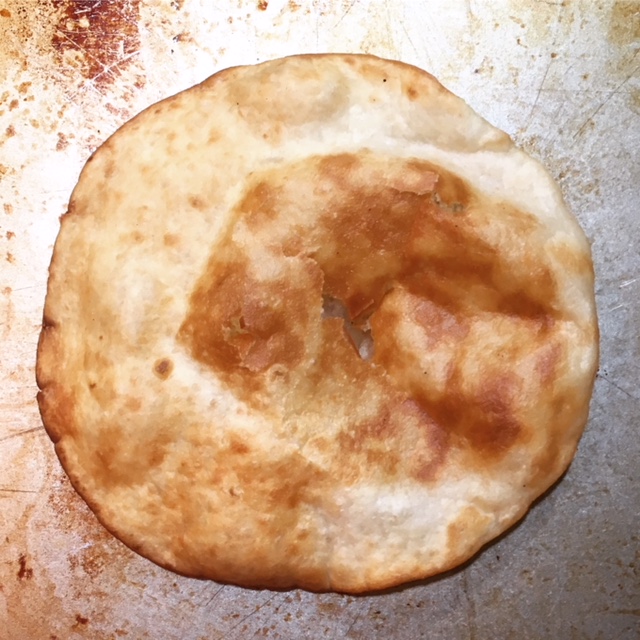 First, I spread a thin layer of the refried beans onto a tortilla and covered them with some of the ground meat.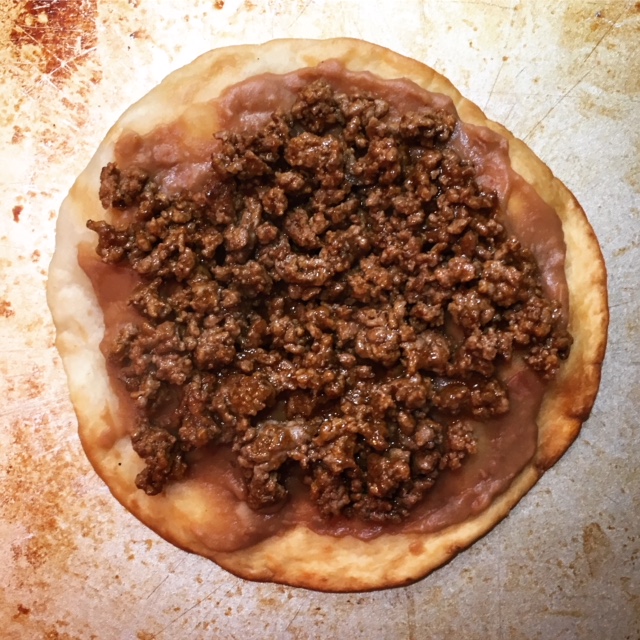 Then, I added another tortilla on top of that and carefully spread on some of the sauce and covered it with cheese.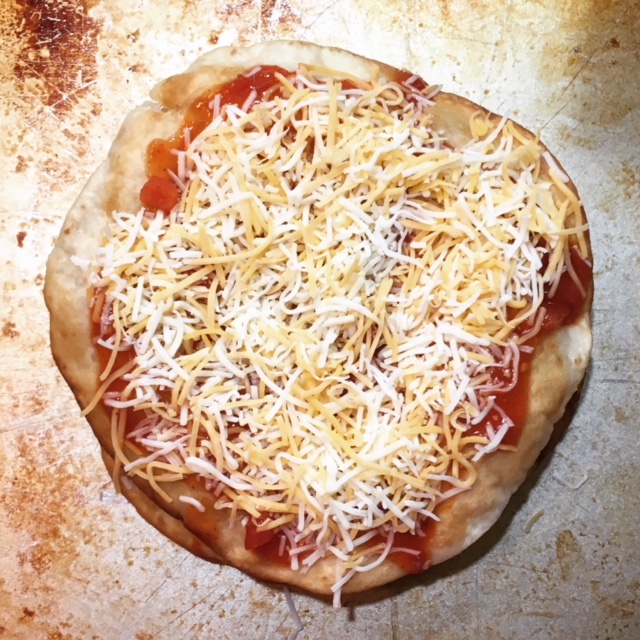 Then, I added my toppings -- in this case, diced tomatoes and chopped green onions, but you could also add black olives (or anything else taco-y, I suppose). I wanted to keep it as close to what I've come to know-and-love at Taco Bell; plus, Scott doesn't like olives.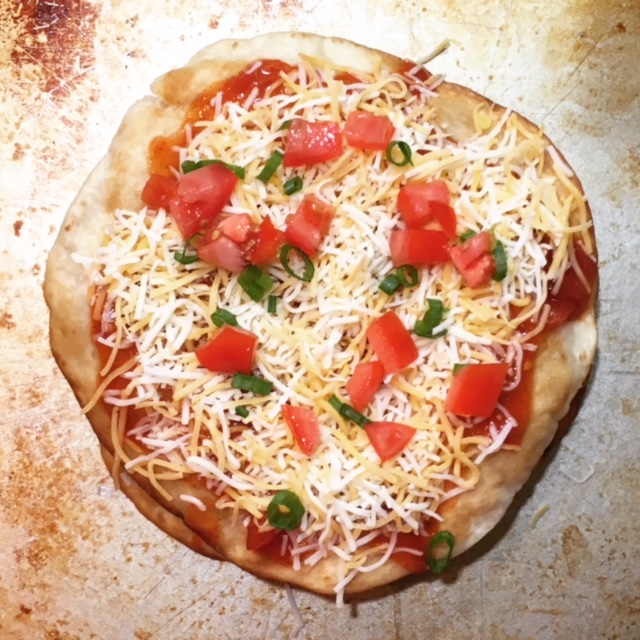 Finally, I put the prepared pizzas under the broiler in the oven just to melt the cheese.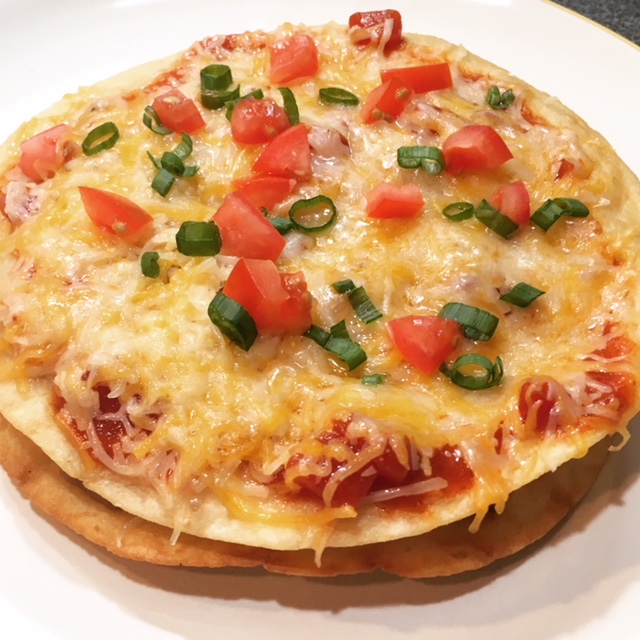 They came out perfectly! If I'm being honest, even better than half the time I get them at Taco Bell (where the employees clearly don't care if it looks as perfect as I'd like). It looked like something right off the menu.
I cut them in fours and served them up.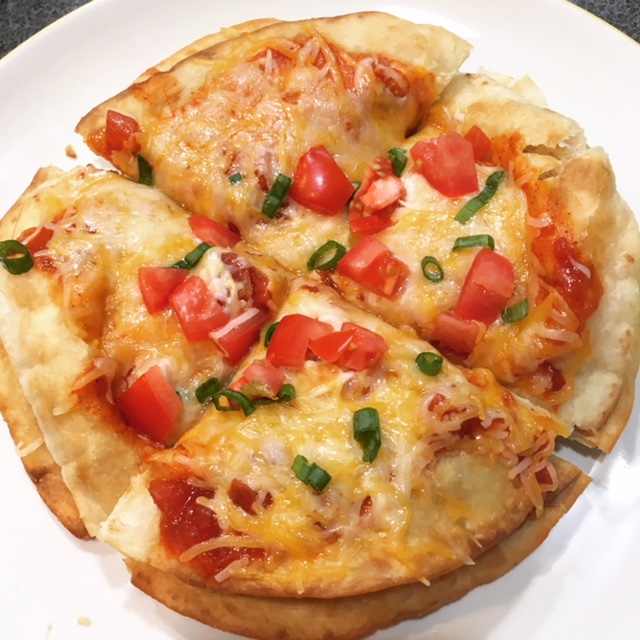 The best part? They tasted DELICIOUS. (And maybe even better than the Taco Bell version…)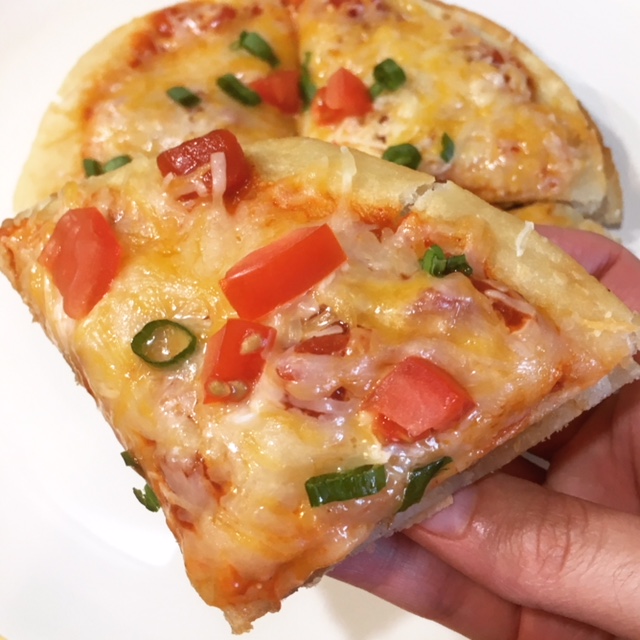 Taco Bell Copycat Mexican Pizzas
Ingredients
1

8 1/2 ounce package 8-inch flour tortillas

1

10 ounce can enchilada sauce

1

10 ounce can diced tomatoes with mild green chilies

drained

1

lb

ground beef

1

package taco seasoning

1

15 ounce can refried beans

1

8 ounce bag Mexican blend cheese

2

stalks green onions

chopped
Instructions
Prepare taco meat per package directions.

Warm refried beans.

In a small bowl, combine enchilada sauce with diced tomatoes and green chiles.

Prepare a small amount of oil in pan to 375°F (do not put so much that it will cover the flour tortillas). Cook flour tortillas in oil for 30-45 seconds or until just golden brown, flipping once. Drain on paper towels.

To assemble: top 4 tortillas with a thin layer of refried beans, followed by a layer of taco meat. Put another tortilla on top of the taco meat. Add red sauce on top of the tortilla, followed by the Mexican cheese blend and then top with diced tomatoes and green onions if desired.

Put finished Mexican pizzas on cookie sheet and broil in oven until cheese is melted.

Cut into fourths and serve.
I received a free digital copy of this book from NetGalley in exchange for an honest review.
This post contains affiliate links. This does not increase the price you pay, but I may receive a small commission for any products you choose to buy. Purchases made through affiliate links help to cover my blogging costs. Full disclosure here.