Tommy Orange's novel There There tells a multigenerational story of Native Americans as they are today, living not on reservations but in cities throughout America. It's a perspective many of us have never seen or read about, that of the Urban Native.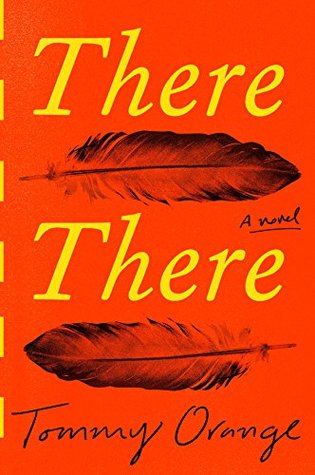 It's a complex and epic story, told through vignettes involving twelve different characters. There are characters who embrace their Indianness, those who are just fully discovering it, and those who use it as a means to an end. Though in the beginning they are seemingly disconnected, their convergence at the Big Oakland Powwow gives each of them purpose.
The unique format also includes a prologue and interlude that seem to speak to the reader directly, highlighting experiences that exist outside of the book, that perhaps inspired the book. It was this format that caused me to only slowly warm up to the novel, unsure at first, but in the end, it came together beautifully. Orange offers a strong perspective and puts forth a truthful, eye-opening narrative.   
As the Big Oakland Powwow gets nearer, Orvil Red Feather and his brothers make elaborate plans to attend. Orvil, who has recently discovered Indian regalia hidden in his home, hopes to participate in the pageantry and be a part of the traditional dance. His brothers are more concerned with being able to buy Indian tacos.  
They only knew about Indian tacos because their grandma made them for their birthdays. It was one of the few Indian things she did. And she was always sure to remind them that it's not traditional, and that it comes from lacking resources and wanting comfort food.
Indian tacos, also known as Navajo tacos, are made with fry bread rather than tortillas. I had made fry bread before -- when I read and reviewed The Round House by Louise Erdrich, a popular author who, like Tommy Orange, is also of Native descent -- but I hadn't used it for tacos until now.
I found a recipe from Cooking Classy to use as inspiration, though you could easily make taco meat your preferred way and top as desired. For the fry bread, both her recipe and the one I shared in my review of The Round House, are great options.
I started by prepping the dough for the fry bread, and let it rest while I began cooking the onions and ground beef for the taco filling.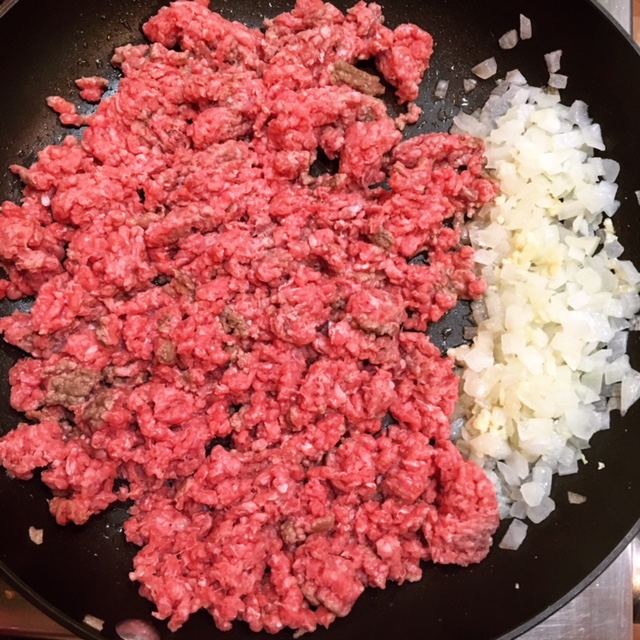 Once the meat was browned and the onions were soft, I added the spices (cumin, chili powder, paprika, salt and pepper), a can of dark red kidney beans, a can of diced tomatoes with green chiles and a small can of tomato sauce. I let it simmer and cook down while I fried the bread.
When the bread and taco filling were finished, we were ready to put them together and eat. Everything smelled so good, we couldn't wait!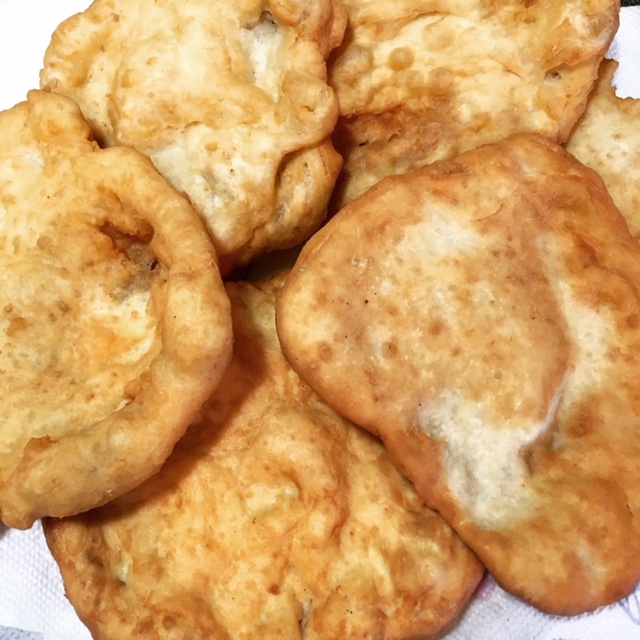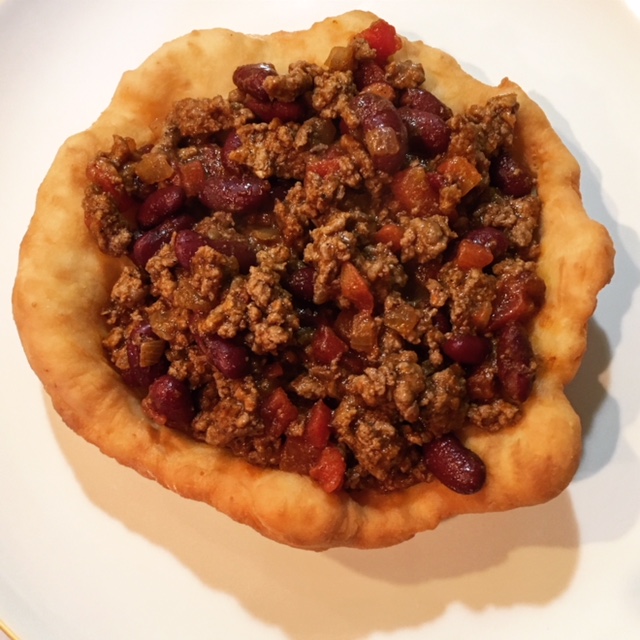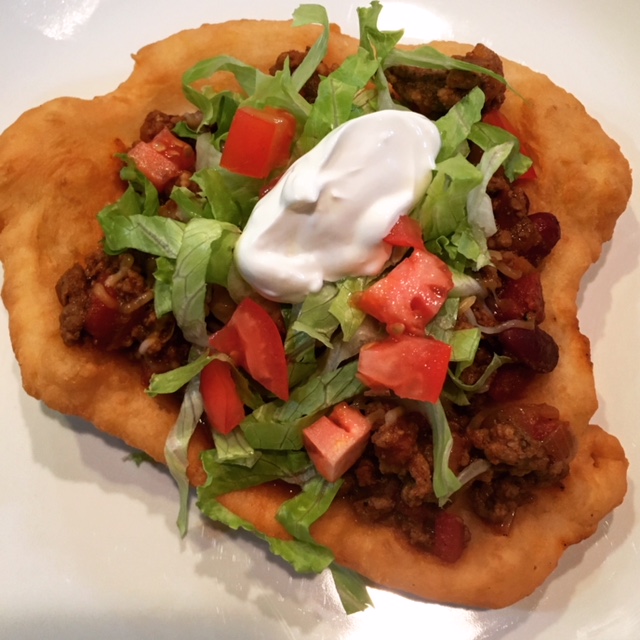 The fry bread is pillowy yet crispy, the perfect vehicle for tacos. Definitely a repeatable meal!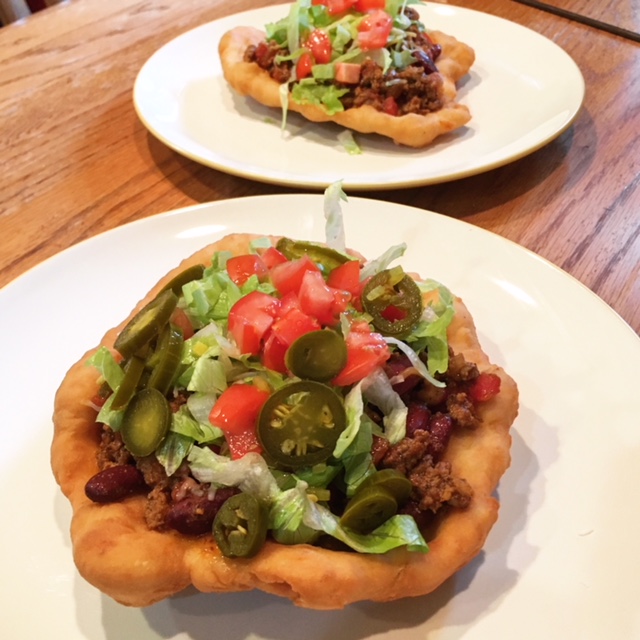 Indian Tacos
Ingredients
1

Tbsp

olive oil

3/4

cup

yellow onion

diced

2

cloves

garlic finely minced

1

lb

lean ground beef

2

tsp

chili powder

1

tsp

ground cumin

1/2

tsp

paprika

1

15 oz can dark red kidney beans

drained and rinsed

1

14.5 oz can petite diced tomatoes

drained (or 8 oz can of tomato sauce)

1

4 oz can diced green chilis

Salt and pepper

to taste

Indian fry bread

see notes
For topping:
Shredded Mexican cheese blend

Shredded lettuce

Chopped roma tomatoes

Sour cream
Instructions
Heat olive oil in a 12-inch non-stick skillet over medium-high heat. Add onions and saute 2 minutes, add garlic and saute 20 seconds. Scoot mixture to the side then crumble beef into skillet.

Season with salt and pepper and cook stirring occasionally and breaking up beef when stirring, until beef has browned and cooked through. Drain fat from beef and return to skillet.

Stir in chili powder, cumin, paprika, kidney beans, canned diced tomatoes and green chilis then season mixture with salt and pepper to taste.

Cover and simmer for 10-15 minutes (if you used the tomato sauce you can add in a few tbsp of water to thin a little if needed).

Using a slotted spoon, spoon mixture over fry bread, then top with lettuce, cheese, tomatoes and sour cream (or any other desired toppings). Serve immediately.
Notes
From: Cooking Classy
There is a recipe for Indian Fry Bread accompanying the original recipe (link above) or from a previous Hungry Bookworm post with step-by-step commentary and pictures (link here).
If you're unable to find a can of green chiles separately (though they should be available in the Mexican aisle of most large grocery stores), you could instead use a can of diced tomatoes with green chiles (slightly more common) and an 8 oz can of tomato sauce.
This post contains affiliate links. This does not increase the price you pay, but I may receive a small commission for any products you choose to buy. Purchases made through affiliate links help to cover my blogging costs. Full disclosure here.