Meghan MacLean Weir's debut novel The Book of Essie is about seventeen-year-old Esther Hicks, also known as Essie. Her father is an evangelical preacher and she grew up on a hit reality show, Six for Hicks. Not only do her parents have strict expectations for her, but her entire life is often under public scrutiny. When her mother finds out Essie is pregnant, an emergency meeting with the producers determines the best way to salvage the situation.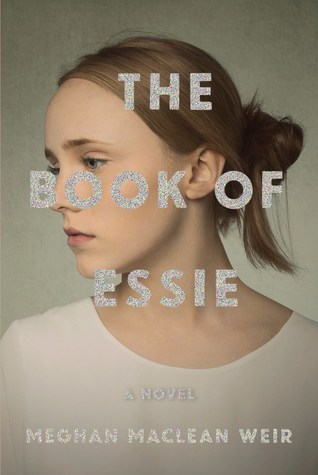 While the producers and her mother plan out Essie's life without her input, she is arranging a different future. She attaches herself to fellow student Roarke, and their to-good-to-be-true love story is sold to the media. Will Essie get the happy ending she desires, or will her parents and producers get their way?  
From The Book of Essie's first chapter, I was riveted. I couldn't believe the audacity of Essie's religious family, and at one point, I even turned to my husband Scott and shared one of the more shocking parts. I found the premise intriguing and thought the story was smart and timely. It tackles some tough and controversial topics, including abuse, religion and the role of media/entertainment in American society.
On a mission trip to Cuba with Roarke, Essie's true intentions are revealed. As she opens up to Roarke, his commitment is cemented, paving the way for a new life for both of them. Because this trip came at a turning point in their relationship, I decided to use it as the inspiration for today's recipe. I found a recipe for Cuban Sandwiches from Food Network that used the slow cooker, which meant it worked well with my busy schedule.
Making the pork for the Cuban sandwich was easy, since once it's seasoned it gets placed in the slow cooker and you can forget about it for a few hours. And, honestly, I have to give credit to Scott for doing most of the work to get it started while I was still at the office. To get it ready, he simply mixed the spices, minced garlic, olive oil and citrus juices, slit the pork with a paring knife and then rubbed the mixture all over. He placed it in the crockpot on low and set it for 3 hours.
Three hours later, it was already starting to look delicious!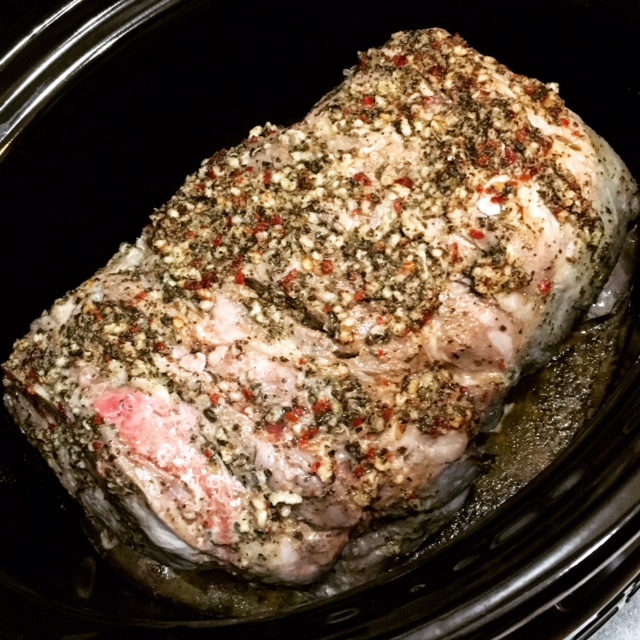 We flipped it over and set it for another three hours (still on low). Once it was tender, I removed it from the slow cooker and allowed it to cool for a little bit while I prepped the rest of the sandwiches.
I cut open two French bread rolls and smeared each side with mustard before placing slices of Swiss cheese and ham on the bottom roll of each.
I used two forks to separate the pork into large chunks and then put it on top of each sandwich.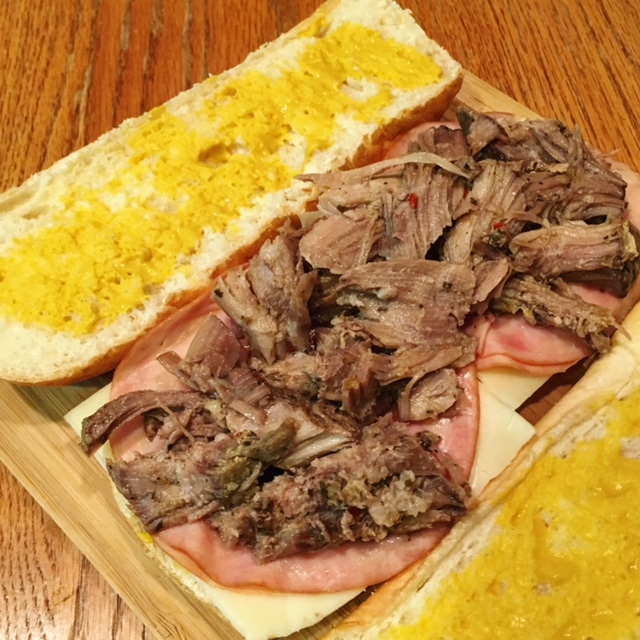 On top of that, I added sliced pickles and red onions.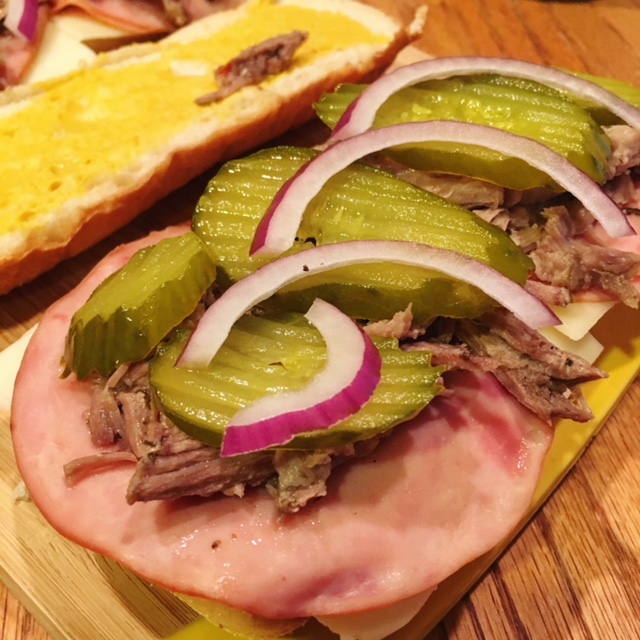 I put the tops in place and sliced the sandwiches in half. The delicious smell of spicy pork filled the house and they were hard to resist for long! I made sure to quickly snap a picture before I took a bite.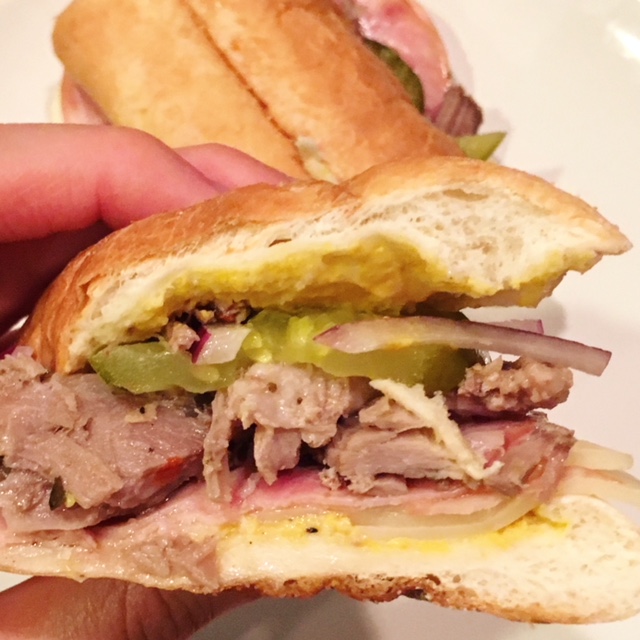 Slow Cooked Cuban Sandwich
Ingredients
2

tablespoons

extra-virgin olive oil

1

tablespoon

kosher salt

2

teaspoons

ground cumin

2

teaspoons

dried oregano

1

teaspoon

ground black pepper

1/4

teaspoon

crushed red pepper

3 to 4

cloves

garlic

minced

Juice of 1 lime

2 tablespoons

Juice of 1 orange

2 tablespoons

3 to 3 1/2-

pound

boneless pork shoulder

Yellow or Dijon mustard

1

pound

Swiss cheese

thick-sliced

1

pound

honey ham

thinly sliced

2

cups

dill pickle chips

2

red onions

thinly sliced

6-8

sub rolls
Instructions
Mix the oil, salt, cumin, oregano, black pepper, red pepper, garlic, lime juice and orange juice in a small bowl. Make slits in the pork with a paring knife and rub liberally all over with the oil mixture. Place the pork in a slow cooker and top with the remaining juices from the bowl. Cover and cook on low until tender, flipping once halfway through, about 6 hours.

Remove from the slow cooker and let cool slightly. Shred the pork into thick chunks with 2 forks. Set the pork aside and keep warm in the cooking liquid.

Slice each roll open and smear both sides with mustard. Layer on the Swiss, ham, pulled pork and pickles. Place the onions over half the sub and cut in half.
This post contains affiliate links. This does not increase the price you pay, but I may receive a small commission for any products you choose to buy. Purchases made through affiliate links help to cover my blogging costs. Full disclosure here.