Amy Blumenfeld's The Cast centers around a group of friends -- Becca, Jordana, Seth, Holly and Lex -- who are bonded and forever touched by Becca's battle with cancer as a teenager. Though as adults they're not the tight-knit group they once were, this intense bond brings them back together when life happens. Jordana organizes a 4th of July weekend getaway to celebrate Becca's 25th year cancer-free, and that's where we begin.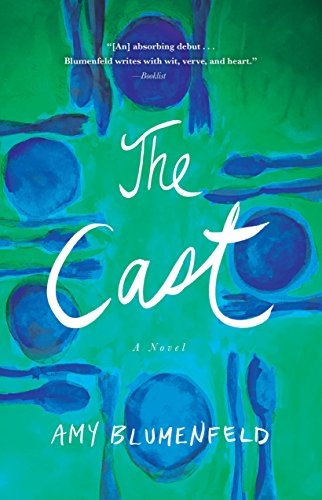 Life never goes as planned, and their get-together embodies that perfectly. Everyone is hiding something but trying to keep a brave face for the others. When that all breaks down, their friendship shines the brightest and it's obvious why it has endured so long. It was an easy book to get through, but it wasn't "light."
The novel is told through multiple points of view, primarily those of the core five friends, but Becca's husband Nolan gets a few chapters of his own, too. Through flashbacks and reminiscing, Amy Blumenfeld paints a clear picture of each of their complicated pasts and present. While I thought she did an excellent job creating realistic relationships and situations, on the whole, when they were piled one on top of another, it felt overly dramatic.
Throughout the novel, key moments -- good and bad -- seemed to happen around planned picnic outings. Naturally, this gave me a wonderful excuse to plan a picnic of my own. I wanted something delicious but easy, and with this heat, I wanted to cook as little as possible to prepare for it. I decided to make one of our household favorite's, chicken salad sandwiches from Belly Full, which I paired with a vinaigrette-based potato salad and a super-portable fruit-and-chocolate dessert.
I started by cooking the potatoes, which I covered with water and brought to a boil while I made the chicken salad. For the potatoes, I grabbed a mixed bag of baby potatoes (yellow, red and purple) because I think they add visual appeal to the potato salad, but you can use any kind of new potato you prefer.
The chicken salad is so delicious, and thankfully, comes together in minutes -- no cooking required! To start, in a large bowl, I mixed together the "sauce" base, which includes equal parts mayonnaise and Greek yogurt, along with a bit of dijon mustard, onion powder, salt and pepper. On top of that, I added the dried cranberries, chopped walnuts, canned chicken (drained and broken up) and diced Granny Smith apple.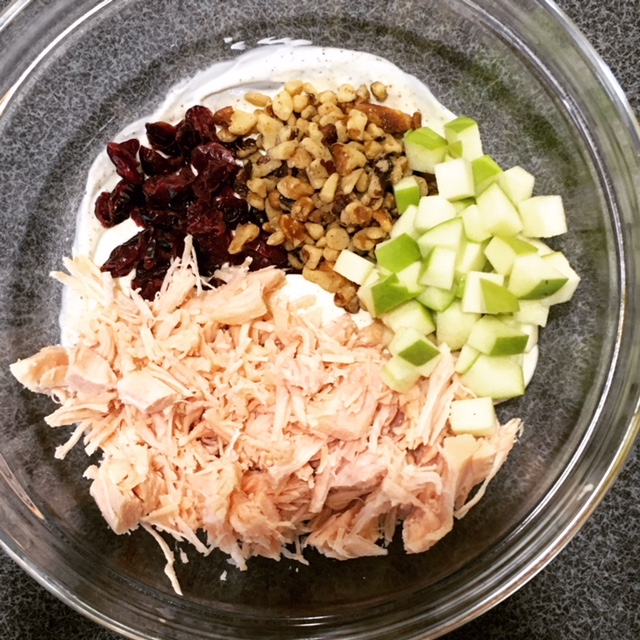 I stirred it all together, and just like that, it was done.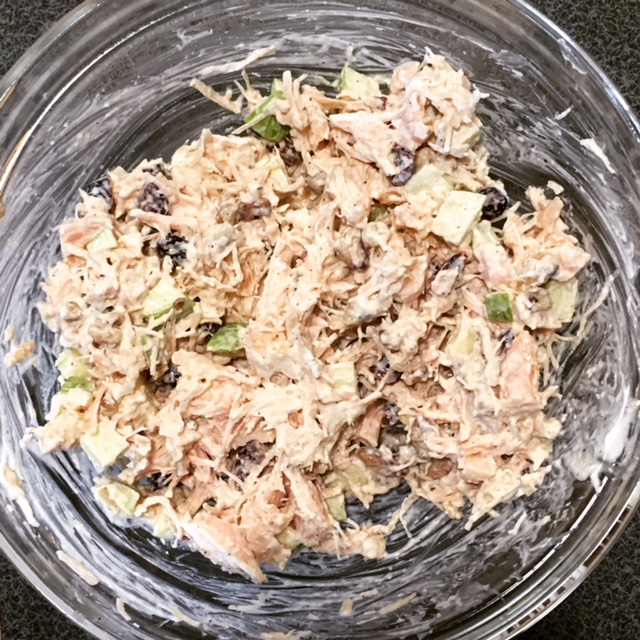 I covered it and put it in the fridge, until I was ready to assemble the sandwiches for our picnic.
Then, I moved onto dessert. While I melted the chocolate using the microwave (20 second intervals, stirring each time), I peeled the clementines and separated them into segments. Once the chocolate was fully melted, I dipped each segment about halfway and laid them out on a baking sheet covered in parchment paper. Once I filled a tray, a sprinkled on a bit of sea salt and put them in the fridge to set.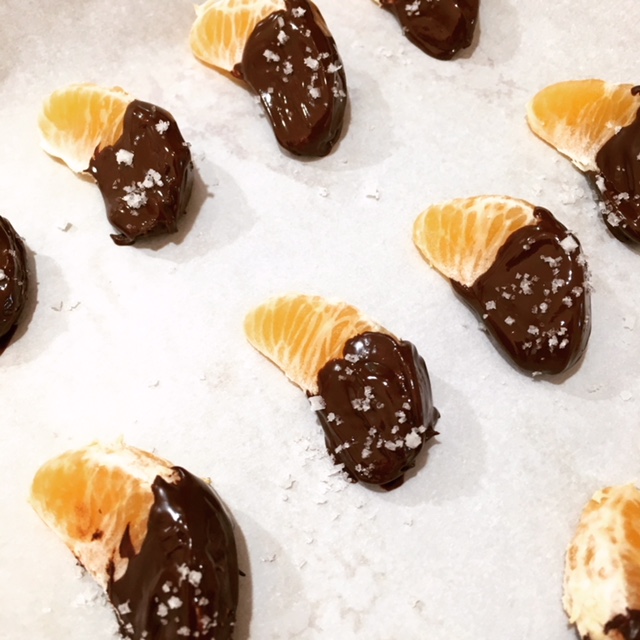 When the potatoes were tender (simmering for about 15 minutes after bringing them to a boil), I drained them and cooled them underneath cold water. Then, I cut them into halves -- the larger ones into quarters. I added them to my large bowl of vinaigrette of olive oil, red wine vinegar and dijon mustard and tossed.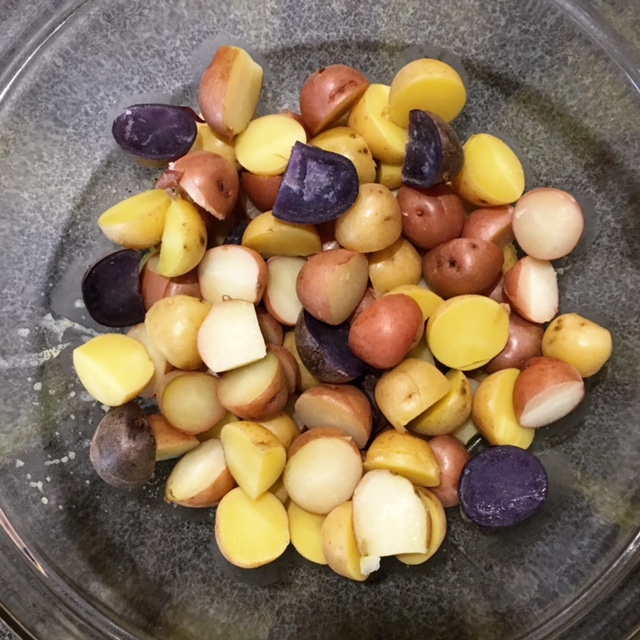 To that, I added lemon zest, chopped parsley and scallions, red chili flakes and minced garlic.
I gave it all a final toss and the salad was complete. I assembled my sandwiches and it was time to prepare my picnic. I packed everything into my basket, along with some white wine. You could also pack some cheese and crackers or crudités to munch on before getting to the main meal.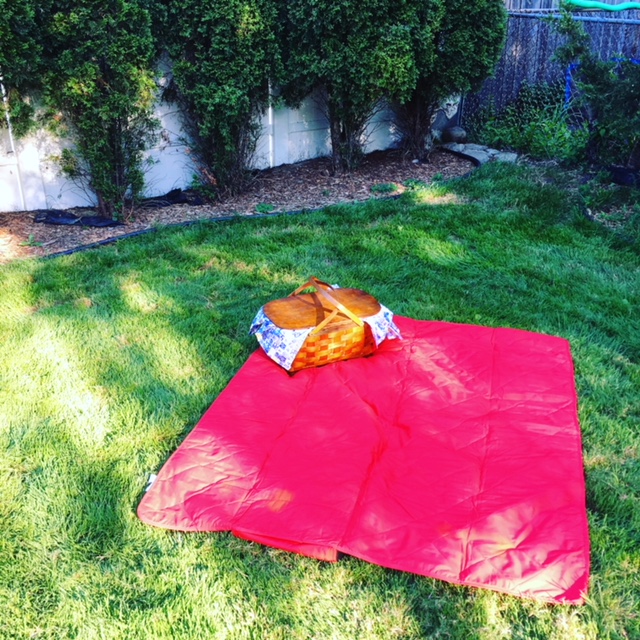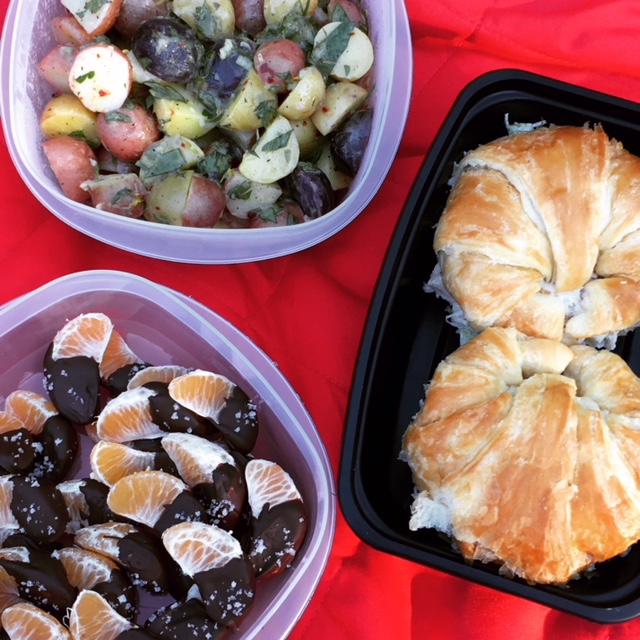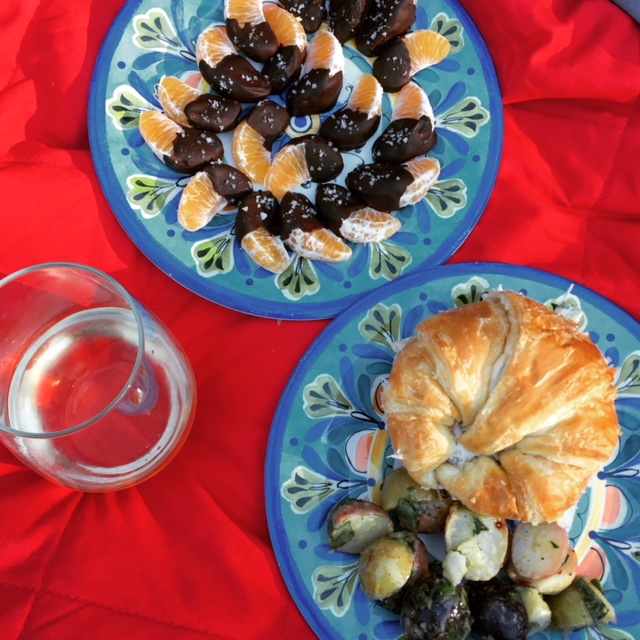 Our backyard picnic was delicious! It was also a fun change of pace from our average Friday night dinner. I prefer the potato salad slightly warm (we ate shortly after it was finished), but it was good cold as well. What are some of your favorite picnic foods?
Chicken Salad Sandwiches
Ingredients
2

tablespoons

mayonnaise

2

tablespoons

plain Greek yogurt

1

teaspoon

dijon mustard

¼

teaspoon

onion powder

¼

teaspoon

kosher salt

¼

teaspoon

pepper

2

tablespoons

dried cranberries

3

tablespoons

chopped walnuts

¼

cup

diced Granny Smith apple

12.5

ounce

1 can white chunk chicken breast, drained, broken up into pieces
Instructions
In a medium bowl, mix together the mayo, yogurt, mustard, onion powder, salt, and pepper. Taste and adjust seasoning, if necessary. Gently fold in the cranberries, pecans, apple, and chicken.

Eat as-is or place or serve on your favorite sandwich bread.
Chimichurri Potato Salad
Ingredients
2

lb.

small new potatoes

kosher salt

Black pepper

3

tbsp

olive oil

2

tbsp

red wine vinegar

1

tbsp

Dijon mustard

zest of ½ lemon

¼

tsp

red chili flakes

4

scallions

finely sliced

1/2

cup

roughly chopped fresh flat-leaf parsley

1

clove

garlic

minced
Instructions
Place the potatoes in a large, wide pot, cover with cold water, and bring to a boil. Add 2 teaspoons salt, reduce heat, and simmer until the potatoes are just tender, 10 to 15 minutes. Drain and run under cold water to cool.

Meanwhile, in a large bowl, whisk together the oil, vinegar, mustard, and 1/4 teaspoon each salt and pepper.

Cut the potatoes in half (or quarter if large). Add the potatoes to the dressing and gently toss to coat. Fold in the lemon zest, chili flakes, scallions, parsley, and garlic.
Notes
From: Woman's Day Kitchen
Make Ahead: Prepare the potato salad without the scallions, parsley, and garlic. and refrigerate for up to 2 days. Fold in the scallions, parsley, and garlic just before serving.
Chocolate-Dipped Clementines
Ingredients
4

oz.

bittersweet chocolate

roughly chopped

6

clementines

peeled and separated into segments

Coarse Sea Salt
Instructions
Line a large baking sheet with parchment paper.

Melt the chocolate in a microwave-safe bowl on high power in 20-second increments until melted and smooth, about 1 minute.

Dip half of each clementine segment into the chocolate, shaking off any excess, and transfer to the prepared baking sheet. Sprinkle with a pinch of salt, then refrigerate until the chocolate hardens, about 10 minutes.
I received a free digital copy of this book from NetGalley in exchange for an honest review.
This post contains affiliate links. This does not increase the price you pay, but I may receive a small commission for any products you choose to buy. Purchases made through affiliate links help to cover my blogging costs. Full disclosure here.