I read Koren Zailckas' memoir Smashed about her "drunken girlhood" over a decade ago, and I absolutely loved it. It was a sober (and sobering) look at her past that also touched on the societal and social pressures that cause many young women to drink so heavily in the first place. Not only was her story powerful, her writing was as well. So, when I came across her novel Mother, Mother at a used book sale a little while back, I didn't hesitate to scoop it up.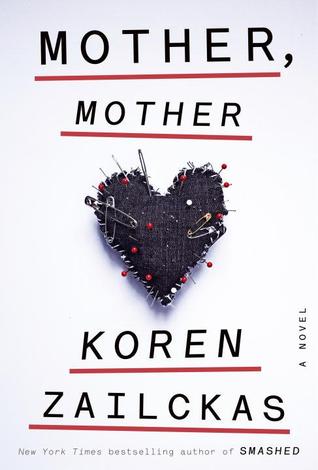 In the Hurst family, no one is perfect. The oldest daughter, Rose, has seemingly had enough and run off with her mysterious boyfriend, leaving her sister Violet struggling to cope with an ever-changing home life. Will, the youngest, clings most closely to his mom who has been homeschooling him since his recent diagnoses with Asperger's and epilepsy. Meanwhile, their father, Douglas, is mostly absent and, when he is home, distracted and taking phone calls in whispers. In the center of it all is Josephine, the Hurst matriarch, a narcissist and master manipulator. Hiding behind her facade of caring homemaker, she may just be the worst mother ever.
After a violent incident at home, Violet lands in a psych ward and child protective services makes a house visit. Ever conscious of keeping up appearances, Josephine whips up some homemade scones to serve to the officers. It's almost eerie to watch the scene unfold as she does her best to remain "on" and Will does his best to support her while struggling with self-doubt. The plot is dark and twisty, with enough actual psychological facts thrown in to give it and the characters depth and realism. I couldn't put it down.
Though, I toyed around with a few different recipes for this novel, the scones ultimately seemed most indicative of the games Josephine played. I think a lot of people think scones can be difficult to make, but they're really not -- especially if you have a good recipe and are mindful of not overworking the dough. If you haven't made scones before, I 100% recommend this recipe. These Lemon Blueberry Scones from Mom on Timeout (love her blog name, especially given the novel!) are hands down the best scones I've ever tasted. And, they're so easy, I'm already planning to make them again.
To start, I preheated my oven to 400 degrees F and lined a baking sheet with parchment paper. In a large bowl, I whisked together the dry ingredients -- flour, sugar, baking powder and salt. I used a pastry cutter to cut in the cold butter. I zested my lemon with the blueberries, and in a separate bowl, I combined the egg, vanilla extract and heavy cream.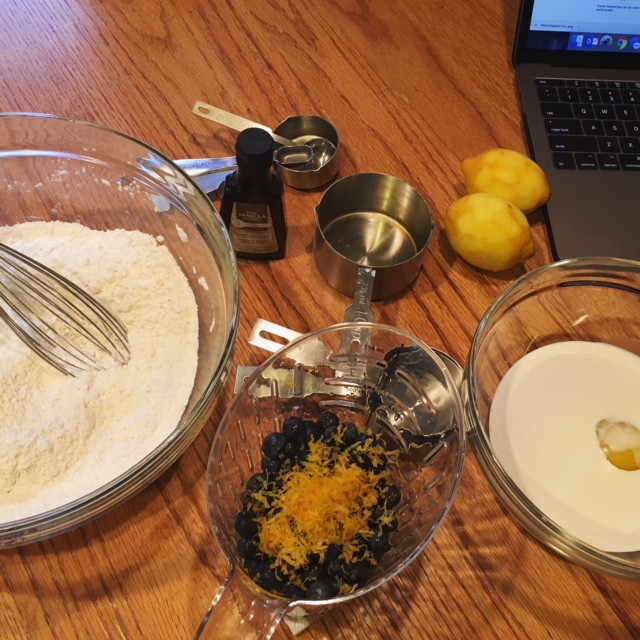 I poured the blueberries and zest into the flour mixture, stirring just until the blueberries were covered in flour. Then, I poured the cream mixture into the flour mixture and stirred with a fork until just combined. I poured the dough out onto a lightly floured surface and formed it into a disc about 6 inches in diameter.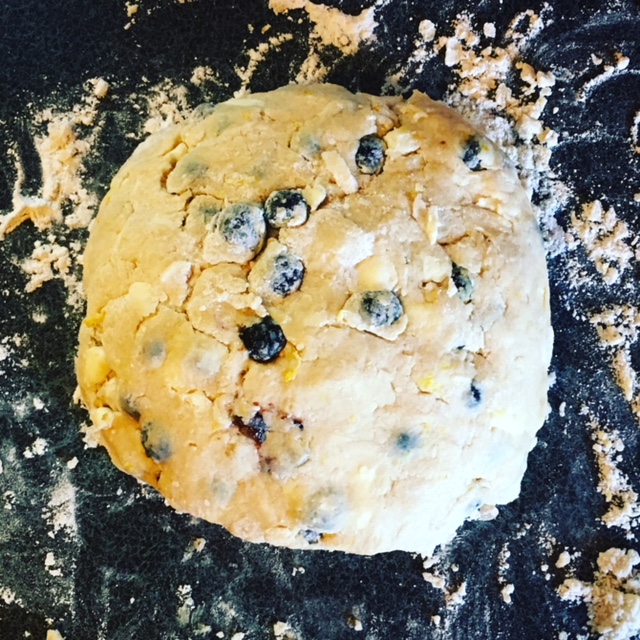 Then, I sliced it into 6 wedges using a large knife. I carefully placed each wedge onto the parchment paper and then brushed the tops with cold cream. (You can also sprinkle them with caster sugar if desired; I opted not to.)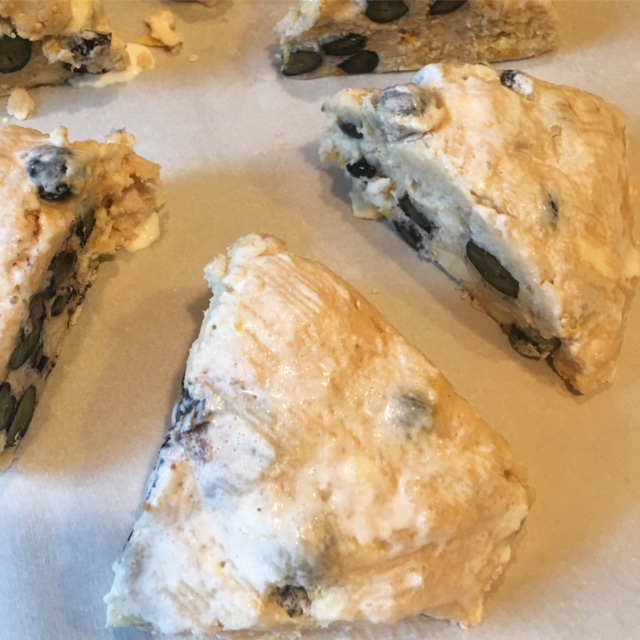 I baked them for about 17 minutes, until the were golden brown on top. I allowed them to cool a bit, serving warm.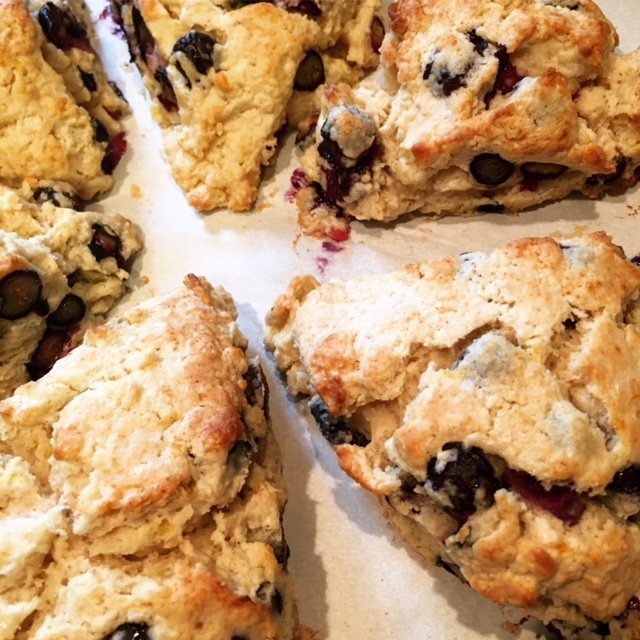 These are definitely best eaten shortly after baking, but I still enjoyed the leftovers the next day. If saving, make sure to allow them to fully cool before putting an airtight container.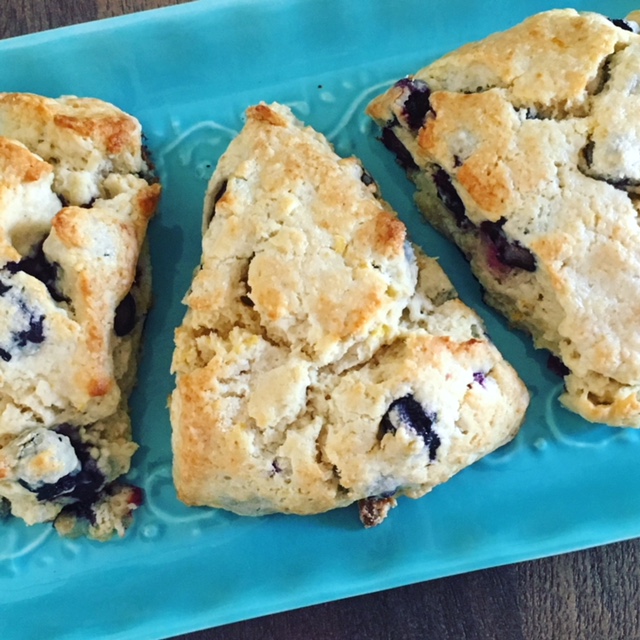 Lemon Blueberry Scones
Ingredients
2

cups

all purpose flour

1/4

cup

granulated sugar

2

tsp

baking powder

1/2

tsp

table salt

6

tbsp

cold unsalted butter

cut into small cubes

1

cup

blueberries

3

tbsp

lemon zest

3/4

cup

cold heavy cream

1

egg

large

2

tsp

vanilla extract

1

tbsp

cold heavy cream

2

tbsp

sanding sugar

optional
Instructions
Preheat oven to 400F. Line a baking sheet with parchment paper and set aside.

In a large bowl, whisk together flour, sugar, baking powder and salt.

Using a pastry cutter, cut the butter into the flour mixture until only a handful of small, pea-sized pieces of butter remain.

Add blueberries and lemon zest and stir to combine, just until blueberries are coated with flour mixture.

In a separate bowl, whisk together the cream, egg, and vanilla extract.

Pour cream mixture into flour mixture and stir with a fork until just combined.

Turn dough out onto a lightly floured surface and pat into a disc about 6 inches across.

Use a large knife or bench scraper to cut into 6 wedges. Transfer to prepared baking sheet.

Brush the tops of the scones with heavy cream. Sprinkle with sanding sugar if desired.

Bake for 16 to 19 minutes or until golden brown and cooked through, rotating baking sheet halfway through.

Serve warm or room temperature. Store leftovers in an airtight container. Best enjoyed the day they are baked.
Notes
From: Mom on Timeout
Frozen blueberries can be used in place of fresh. Simply thaw and pat dry. If you're in a hurry, throw them in frozen - works great!
This post contains affiliate links. This does not increase the price you pay, but I may receive a small commission for any products you choose to buy. Purchases made through affiliate links help to cover my blogging costs. Full disclosure here.