I was unexpectedly captivated by Gin Phillips' novel Fierce Kingdom, which I read as part of the Book Challenge by Erin earlier this month. Joan and her four-year-old son are ending an otherwise ordinary day at the zoo, when suddenly, just before they reach the exit, something goes very wrong. Joan hurries to hide with her son Lincoln, and for the rest of the novel - a period of just four hours - she must keep them out of danger.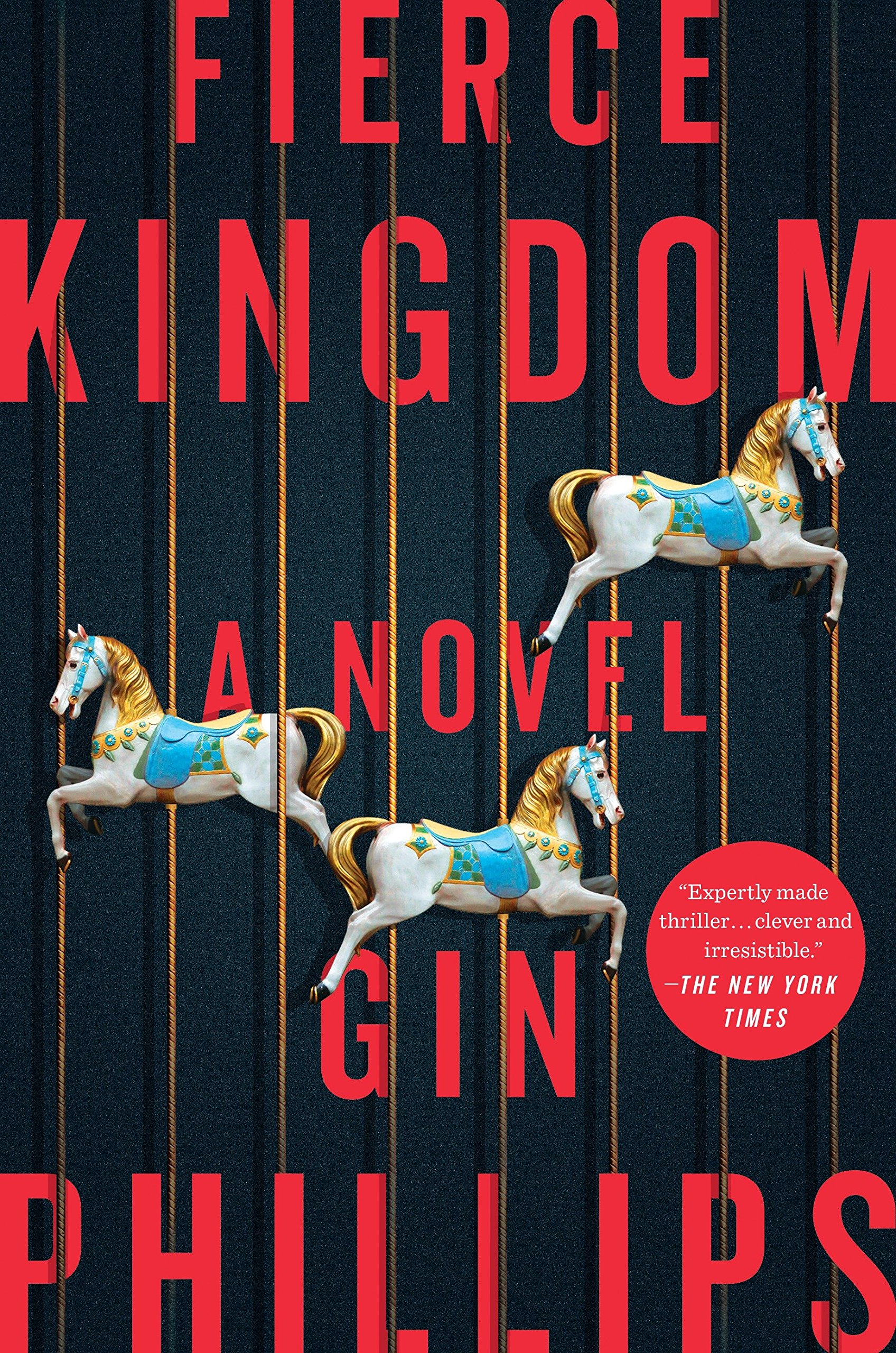 For the most part, the novel follows Joan, but on occasion it dips into other points-of-view, including that of the mass shooter who is terrorizing the zoo's guests and animals without remorse. As you can guess, Phillips weaves a harrowing tale. Unfortunately, it's one that is all too realistic today. I was deeply invested in the well-being of Joan and her son, and though there were times I felt as though I could've used a mental break, I didn't want to stop reading until it was over.
Even though it was horrifying, I thought Phillips did an excellent job making the situation seem realistic. At one point, as four-year-olds are bound to do after a long day out, Lincoln can no longer ignore his hunger. Despite the danger, Joan knows she must find something to feed him before he cries or throws a tantrum -- something that would give them away. Fortunately, she is able to get him some cheese crackers to placate him. This decision becomes somewhat of a turning point in their story.
So, I decided to make my own cheese crackers to pair with this novel. Though, unlike the ones in the story -- which are cracker sandwiches with cheese filling, these are more akin to Cheez-Its. They were very easy to make, flavorful, and could be customized with other cheeses or spices to better suit your (or your kids') tastes, if desired.
To make the dough, I added all of the ingredients into my food processor - shredded sharp cheddar cheese, flour, butter, salt, seasoned salt and cayenne pepper. I pulsed until the mixture resembled sand before adding 3 tablespoons of water and pulsing to combine into dough. I formed it into a ball, wrapped it with cling wrap, and refrigerated it for an hour.
Then, I rolled the dough out to about ¼-inch thickness and cut it into squares using a pizza cutter. (Don't worry if they're not perfect, but do your best to keep them close to the same size.)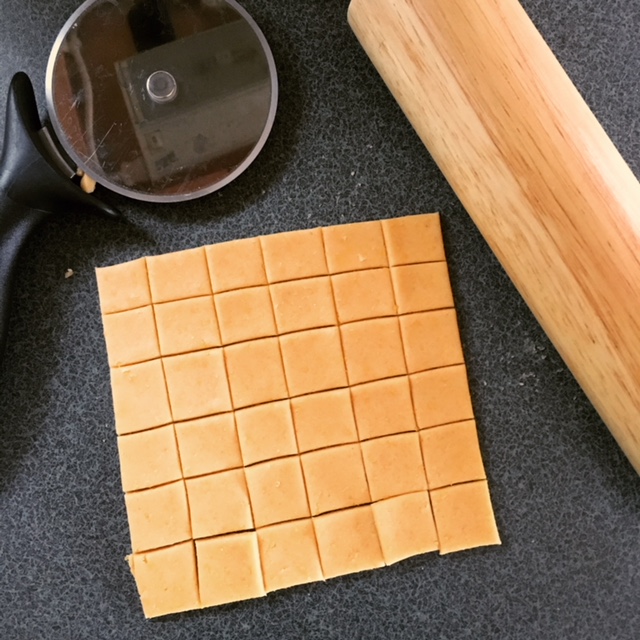 Then, I put them on a cookie sheet lined with parchment paper and used a skewer to poke a hole in the middle of each.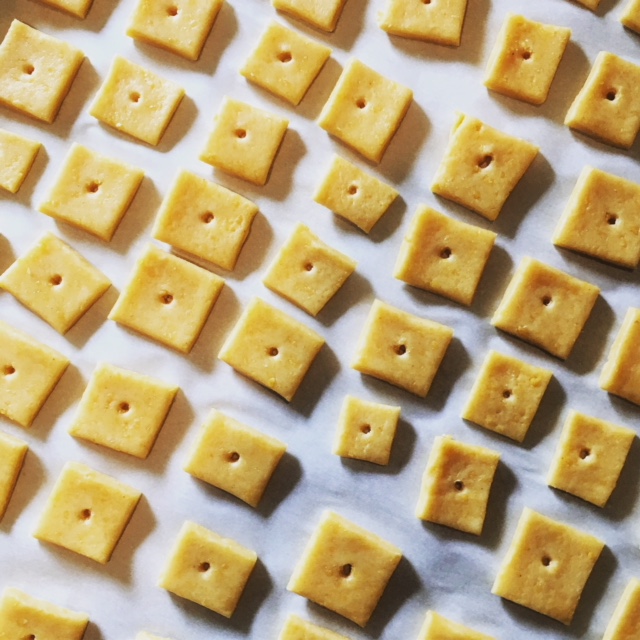 I baked them for about 17 minutes, though if you wanted them to be crunchier, you could try 18-20 minutes. If you like, sprinkle them with a little salt just out of the oven.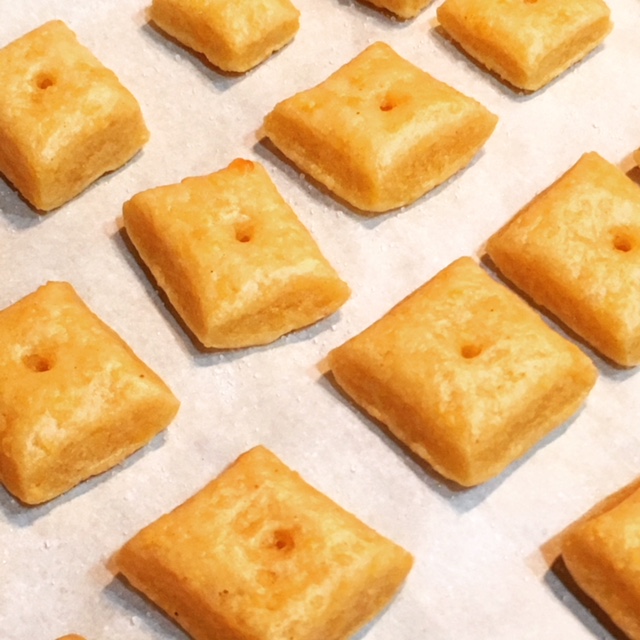 Once they cooled, I tried a few and then packed them up in a airtight container. These crackers make a nice addition to soup or work as a snack all on their own.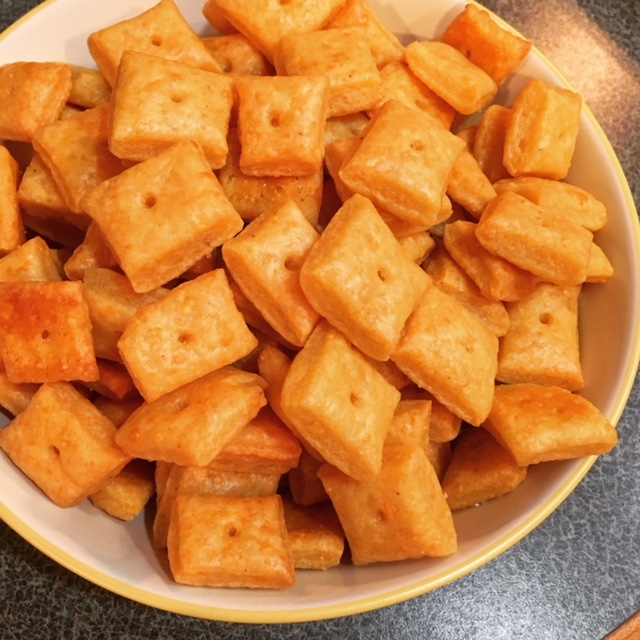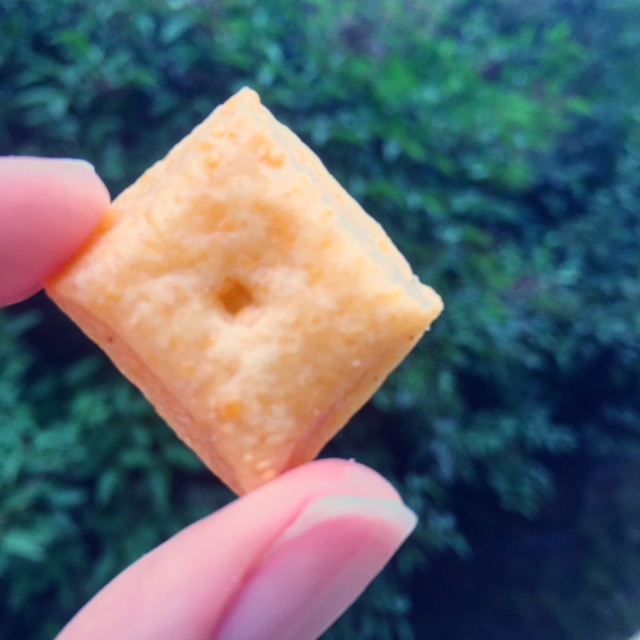 Homemade Cheese Crackers
Servings
150
crackers (approx.)
Ingredients
8

ounces

sharp cheddar

finely grated

1

cup

all-purpose flour

4

tablespoons

1/2 stick butter, cut into pieces

1/2

teaspoon

kosher salt

1/2

teaspoon

seasoned salt

Pinch

of cayenne

3

tablespoons

ice water
Instructions
Put the cheddar, flour, butter, salt, seasoned salt and cayenne in a food processor and pulse until the mixture resembles sand. Add the ice water and pulse until the dough comes together. Form the dough into a ball, wrap in plastic and refrigerate for 1 hour.

Preheat the oven to 350 degrees F. Line a baking sheet with a silicone baking mat.

Roll out the dough to 1/4-inch thickness and cut into squares with a pizza cutter. Use a wooden skewer to poke a small hole in the center of each square. Transfer to the prepared baking sheet and bake until golden brown, 15 to 17 minutes. Allow to cool before packing up.
This post contains affiliate links. This does not increase the price you pay, but I may receive a small commission for any products you choose to buy. Purchases made through affiliate links help to cover my blogging costs. Full disclosure here.