I have never before had to request that my library purchase I book I wanted to read, but for Dane Huckelbridge's Castle of Water, I'm SO glad I took the extra step to do so. I had selected this novel as part of the Book Challenge by Erin not only because it fit perfectly into the category "book with a water-related word in the title" but because I had heard amazing things about it. Its impressive 4.24 rating on Goodreads also promised an amazing read.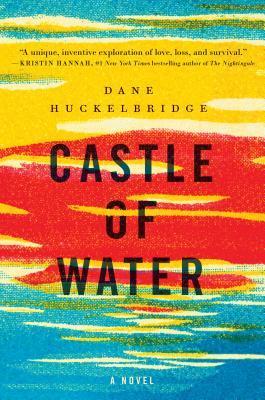 The majority of the story takes place on an island in the middle of the South Pacific, near where a small plane was was downed in the ocean, leaving two passengers stranded. Sophie is a newlywed French architect, and Barry is a former investment banker from New York who has decided to turn his attention to painting. They must learn to survive together with the limited resources they have on the island -- for food, they have some fish, coconuts and an abundance of bananas. It's a castaway story, yes. But it's also much more than that. It's about what it means to truly need someone else. Ultimately, they find that a home is what you make it.
Dane Huckelbridge's writing was wonderful. It had a steady, engrossing rhythm that allowed me to get entirely lost in the story. Though the subject matter was serious, there were elements of fun that made it human and entertaining. I still find myself thinking about this novel, even though I read it in an afternoon almost a month ago.
The survivors proved to be quite resourceful, using everything they could for everything it could produce. Their diet became much more varied than one may expect, but obviously, it made sense to use bananas in my chosen recipe for this novel, because they were "the only thing on the island, excluding sand and sunlight, that was always in abundant supply." In fact, Barry's favorite food comes to be banana fritters.
I found a recipe using both bananas and coconuts on The Kitchn and set to work. First, I chopped my ripe bananas and then stirred them together with the flour, cornstarch, coconut, sugar, baking powder, and salt. To that mixture, I also added the milk, vanilla and egg yolks.
I used a potato masher to combine and form a thick batter.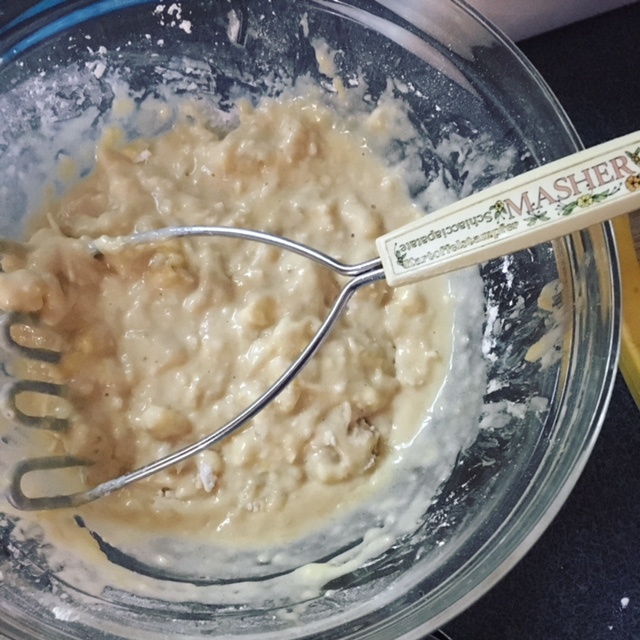 Using a medium springform scoop (about 2 TBSP), I added large dollops of the batter into heated oil in my Dutch oven carefully so it wouldn't splatter. I fried 4 of them at a time, turning once over the 2-3 minutes to ensure even cooking and coloring.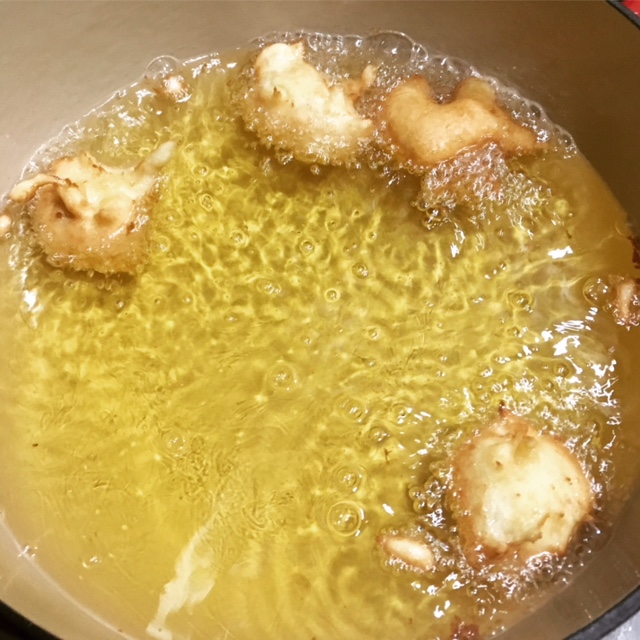 Once each batch was finished, I fished them out with a slotted spoon and placed them on a plate lined with paper towel to allow them to drain.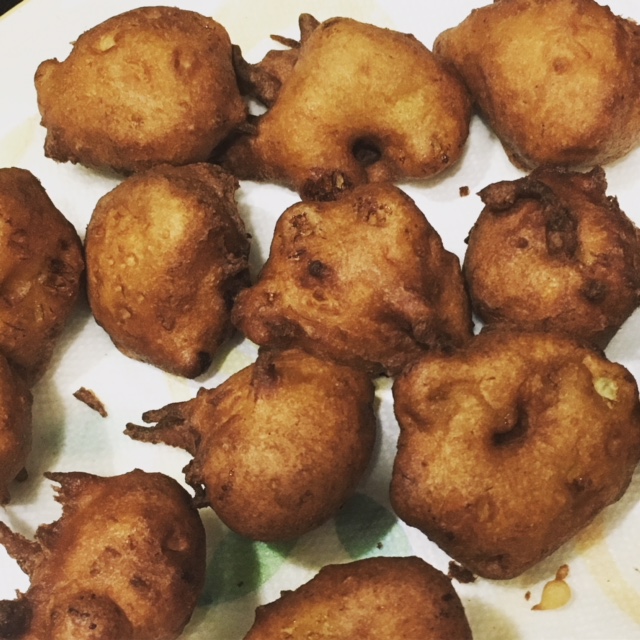 When all of the fritters were done, I allowed them to cool for about 5 minutes before sprinkling with powdered sugar and serving.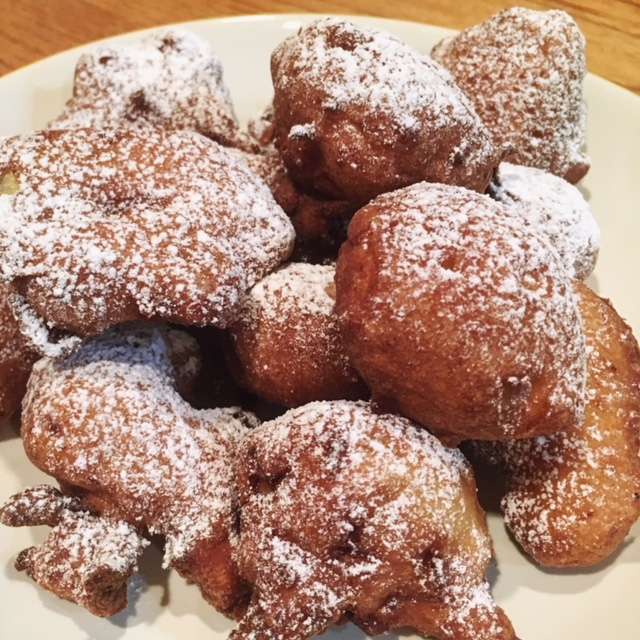 They were delicious. The outside had a crisp initial bite while the inside was light and flavorful.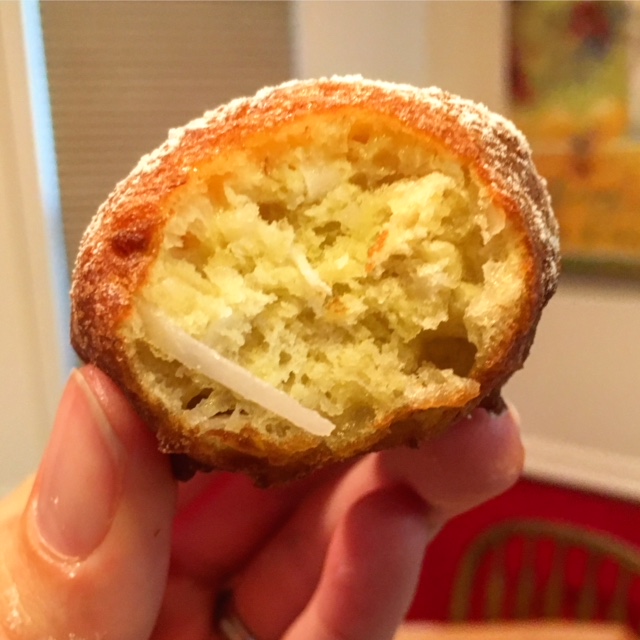 Banana Coconut Fritters
Ingredients
Clean peanut or canola oil

for frying

1

cup

chopped

packed ripe bananas (approximately 2 medium)

1/2

cup

all-purpose flour

1/2

cup

cornstarch

1/4

cup

sweetened shredded coconut

or up to 1/2 cup, if desired

2

tablespoons

sugar

1/2

teaspoon

baking powder

1/8

teaspoon

salt

2

large egg yolks

1/4

cup

milk

plus more as needed

1/4

teaspoon

pure vanilla extract

Powdered sugar

for serving
Instructions
Fill a Dutch oven or cast iron pot with a few inches of peanut or canola oil and heat on medium-high until it reaches 375°F.

In a large bowl, stir together the bananas, flour, cornstarch, coconut, sugar, baking powder, and salt, followed by the egg yolks, milk, and vanilla. Combine the mixture using a potato masher until it becomes a thick yet viscous batter, adding more milk — tablespoon by tablespoon — if necessary.

Using a springform ice cream scoop to form the fritters, carefully lower 4 to 5 dollops of batter into the hot fry oil at a time (I gently slip the scoop into the oil, then release the batter by squeezing the clamp a few times). Cook, flipping once, until the fritters are a nice golden-brown, approximately 2 to 3 minutes. Remove the fritters with a slotted spoon or spider, shaking off excess oil back into the pot, and place on a paper towel-lined sheet pan to cool.

Continue with the remaining batches, making sure to return the oil to 375°F in between batches. Let fritters cool for 5 to 10 minutes. Sprinkle generously with powdered sugar and serve warm.
This post contains affiliate links. This does not increase the price you pay, but I may receive a small commission for any products you choose to buy. Purchases made through affiliate links help to cover my blogging costs. Full disclosure here.