I read Molly Wizenberg's first memoir, A Homemade Life, during my Thanksgiving readathon last year and fell in love with it. Her storytelling was warm and relatable, and her recipes sounded (and were, when I tried a couple of them) delicious. So, I was excited when I stumbled upon her next memoir, Delancey, one day while browsing near the cookbooks in the library.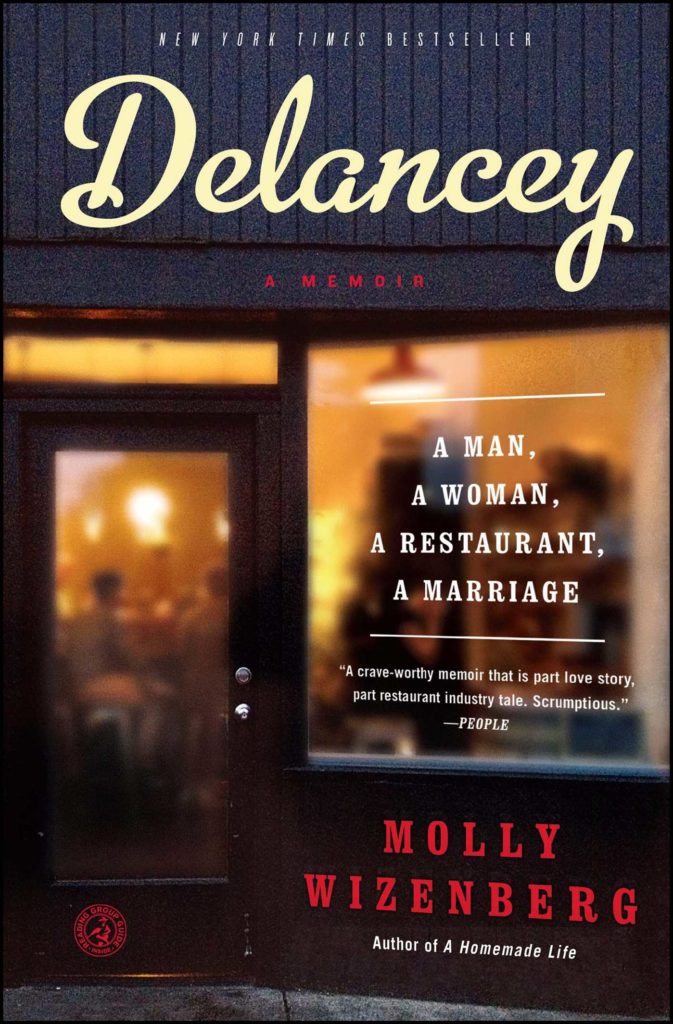 While A Homemade Life was more a jumble of life stories (sometimes connected, sometimes not) and charming nonetheless, Delancey tells a linear story of her experiences while opening a restaurant with her husband Brandon. While it was more his dream than hers - like me, Molly detested working in restaurants and preferred the comforts of home cooking - she supported him as he pursued it.
My husband and I just celebrated our one year anniversary the other day, and as I was preparing my gift, I was naturally thinking back on our wedding day and the vows we made to each other. Reading this book just beforehand proved to be perfectly timed. In the introduction, Molly and her husband are also preparing to celebrate an anniversary (their 5th) and she, too, is looking back on their vows. She sets us up for his eventual dream of opening a restaurant, explaining his various hopes and dreams - which she of course promised to help make a reality, "whatever they might be."
Brandon's dreams varied. He wanted to build a violin. He wanted to build a boat. He wanted to open a local ice cream shop, something Molly looked forward to as he perfected his favorite ice cream flavor (with her as a taste tester), salted caramel. None of those ever materialized, but the one Molly seemed to least expect - his desire to open a restaurant - did.
I love Molly's honesty throughout the memoir, and her storytelling was as lovely as I remembered. In my opinion, the only thing missing from its pages was a recipe for this irresistible sounding salted caramel ice cream (or any pizza, for that matter, since Delancey was founded on pizza-making). Luckily, in doing a little research on her famous food blog, Orangette, I was able to find exactly the Salted Caramel Ice Cream recipe I was craving - Brandon's very own.
I don't recall making caramel before, and though it's actually quite simple to make, I was nervous. (I appreciated Molly's soothing direction to "don't be afraid" within the recipe instructions.) To start, I added ¾ cup of sugar and 2 tablespoons of light corn syrup to a medium saucepan and set it over medium-high heat. There isn't much to do then, but to wait for it to begin to melt together and become caramel, swirling it to ensure all of the sugar dissolves into it. For me, this process took about 8 minutes and I had a dark, rich caramel ready to go.
Then, to the saucepan, I added the cream followed by, slowly, the milk. I brought the mixture to a boil, stirring until the caramel began to soften and dissolve into the mixture.
Meanwhile, in a medium bowl, I separated 10 eggs, keeping the yolks for the ice cream.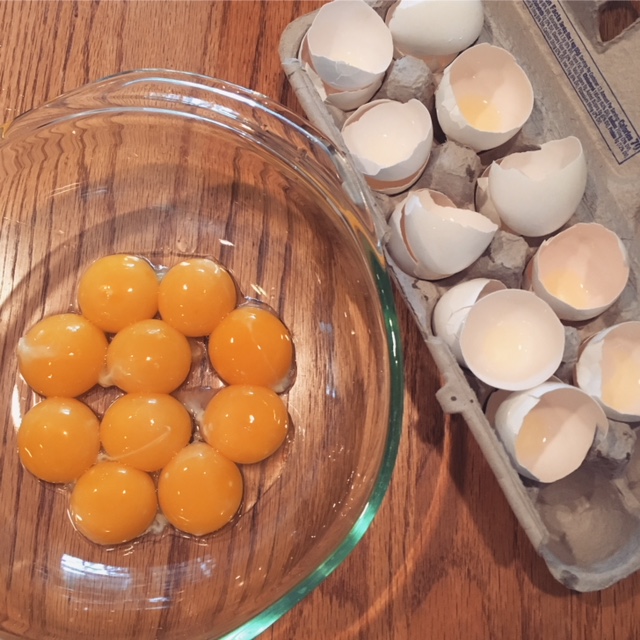 To the yolks, I added the remaining ½ cup of sugar and ½ teaspoon of fleur de sel (or flaky sea salt). I whisked them together to combine.
I added a bit of the caramel-cream mixture to the yolks, whisking in about 2 tablespoons at a time (and about 8 tablespoons total), to temper the eggs. Then, I poured that mixture from the bowl back into the warm caramel-cream in the saucepan, whisking thoroughly.
I poured the ice cream mixture over a fine sieve into a clean glass bowl that was sitting in an ice bath so it could cool completely before refrigerating.
After allowing the mixture to sit, covered, in the fridge overnight, I added to the ice cream maker. Mine typically churns for 20-25 minutes, but I let mine work for about 30 minutes, since Molly said they let it go longer than other ice creams. I scooped it out, still relatively soft, into my pint containers and put them in the freezer to harden. After a few hours, it scooped out perfectly. I ate mine initially in a small bowl, speckled with flakes of fleur de sel.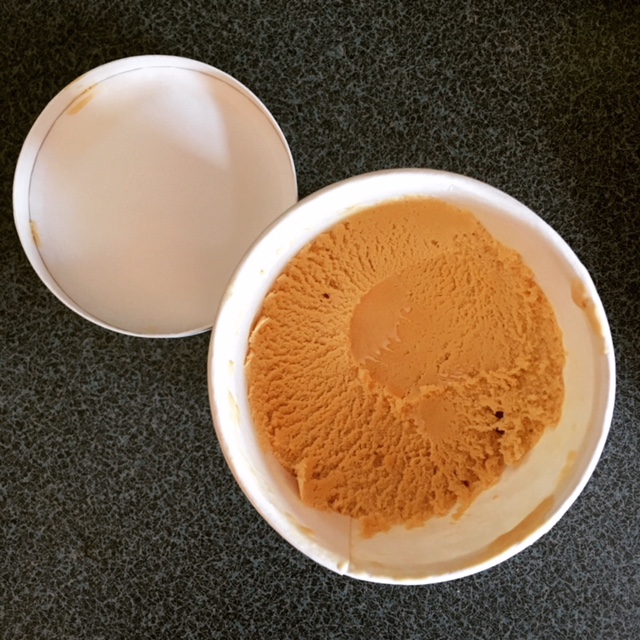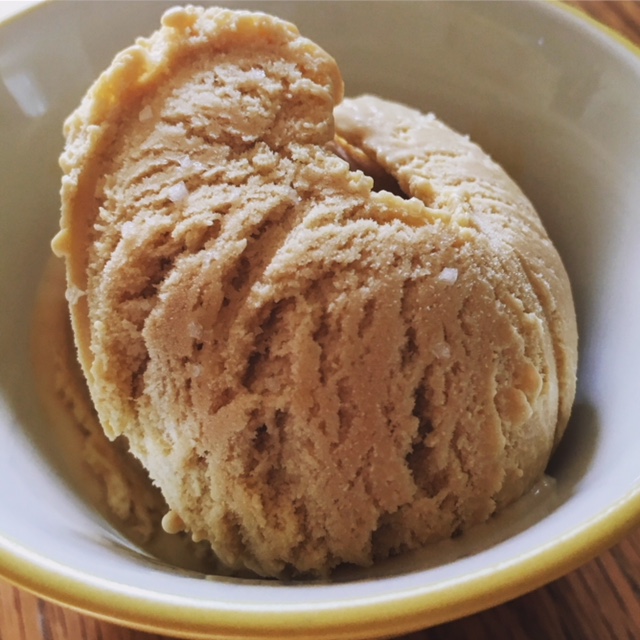 The next evening, Scott and I enjoyed some scoops in classic sugar cones instead, and I liked that even better.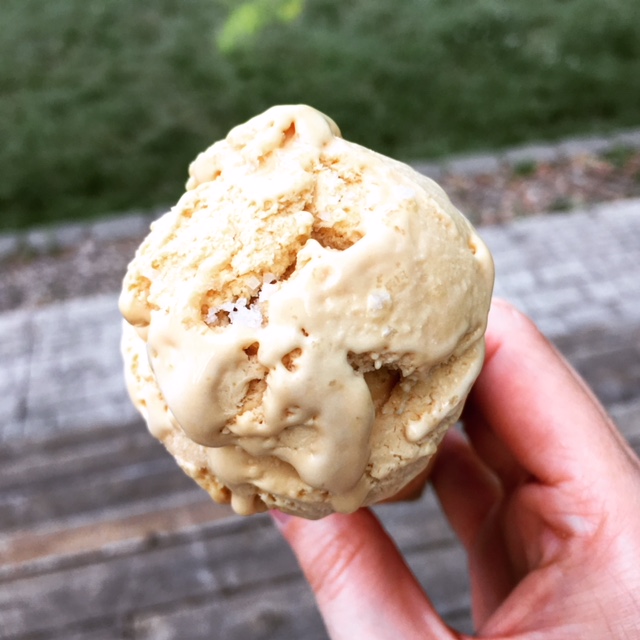 Whatever your preferred method of eating ice cream, this salted caramel flavor will hit the spot. It's sweet and salty, rich and creamy. Be sure to sprinkle with just a touch of salt before enjoying.
Salted Caramel Ice Cream
Servings
3
pints, or 1 1/2 quart
Ingredients
1¼

cup

granulated sugar

divided

2

tsp

light corn syrup

2

cups

cream

preferably organic

2

cups

whole milk

10

large egg yolks

½

tsp

fleur de sel

plus more for serving
Instructions
Place ¾ cup sugar and the corn syrup in a medium heavy-bottomed saucepan. Do not stir. Place the pan over medium-high heat, and cook the mixture to a dark caramel, swirling the pan as it begins to brown to distribute the sugar. [This took me about 8 minutes.]

Add the cream; then slowly add the milk. The caramel will seize and harden, but don't be afraid. Bring the mixture to a boil, and then simmer it, stirring, just until the caramel has dissolved.

Meanwhile, place the yolks in a large bowl with the remaining ½ cup sugar and the fleur de sel. Whisk to combine.

When the caramel cream is ready, pour a splash of it into the egg mixture to temper, whisking constantly, and then another splash or two for good measure. Then pour the tempered egg mixture into the caramel cream. Whisk thoroughly.

Pour the mixture through a fine-meshed sieve into a medium metal bowl. Place the bowl in an ice bath to cool the mixture completely. Remove the bowl from the ice bath, cover it with plastic wrap, and refrigerate overnight.

Freeze in an ice cream maker according to the manufacturer's directions. [Put in a freezer-safe container and freeze for a minimum of 2 hours, but better if 4 or more, before serving.] Serve with additional fleur de sel sprinkled on top.
Notes
From: Orangette, Molly's blog [Annotations my own]
This post contains affiliate links. This does not increase the price you pay, but I may receive a small commission for any products you choose to buy. Purchases made through affiliate links help to cover my blogging costs. Full disclosure here.