Lisa See's historical fiction novel The Tea Girl of Hummingbird Lane is a family saga that begins in a remote mountain village in China in the late 1980s. Life there revolves around tradition and tea farming, until a stranger arrives, bringing a glimpse into the modern world -- and a proposal that will transform all of their lives.
Interspersed with Li-Yan's story, as she struggles against the traditions of her village and family but fully embraces the rituals and importance of tea in their culture, is the story of a young girl growing up in Los Angeles, searching for a key to her past. The story is full of heart, and the plot full of coincidence. Some of the village's traditions were a bit hard to stomach, but I think Li-Yan's personal rebellion against them made her more relatable, at least to me.
In regards to the intricacies of tea farming and production, be prepared to learn more than you ever thought you could. Some in my book club reported skimming those parts, but I found them utterly fascinating. When we met for our discussion at a Chinese restaurant, one of our members was thoughtful enough to bring a box of Pu'er tea -- which was central to the novel -- with her and share a bag with each of us. I brewed mine at home, and it was a strong, earthy tea, as described.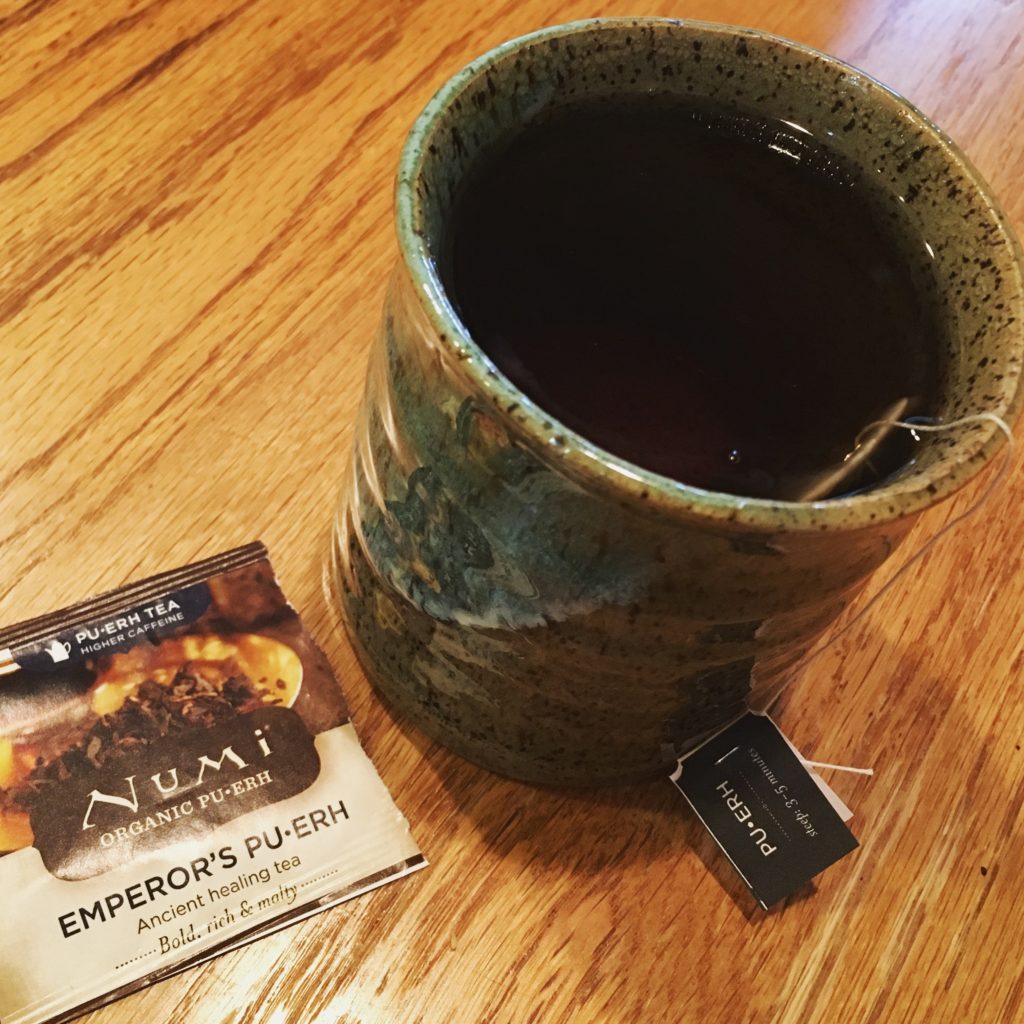 Though it would've been a no-brainer to make something tea-related to go with Tea Girl, I opted instead to make an equally fateful dish in Li-Yan's life -- scallion pancakes. Within the first dozen pages of the novel, she gives into the temptation of scallion pancakes, the enticing aroma drawing her in and a young boy named San-pa offering her a bite. Though it's but an innocent childhood transgression, in some ways, it starts a series of events that transform Li-Yan's life.
I found a recipe for Extra-Flaky Scallion Pancakes on Serious Eats, and though it seemed intimidating, I knew I had to give it a try. The recipe calls for a food processor, and it's probably easy if you have one, but it also includes directions if you don't -- you'll just need to work your arms a little more!  
First, I began by boiling my water. Then, I got out my food processor and added the flour. I placed the lid on, turned it on and began streaming in my boiling water. I needed to add a couple additional tablespoons of the water before it truly came together, but it when it finally did, it was quite obvious.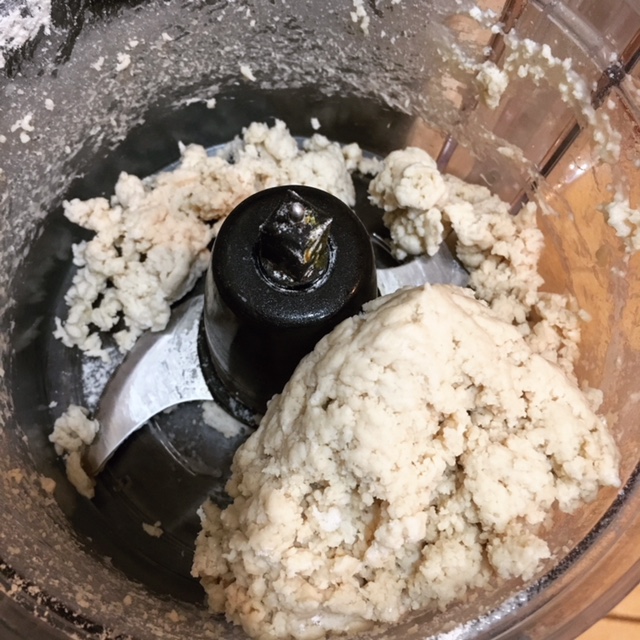 I formed it into a smooth ball before placing it in a bowl covered with a damp towel to rest. While it rested, I sliced my scallions. I used about 2 bunches to get as many as I needed (2 cups once cut).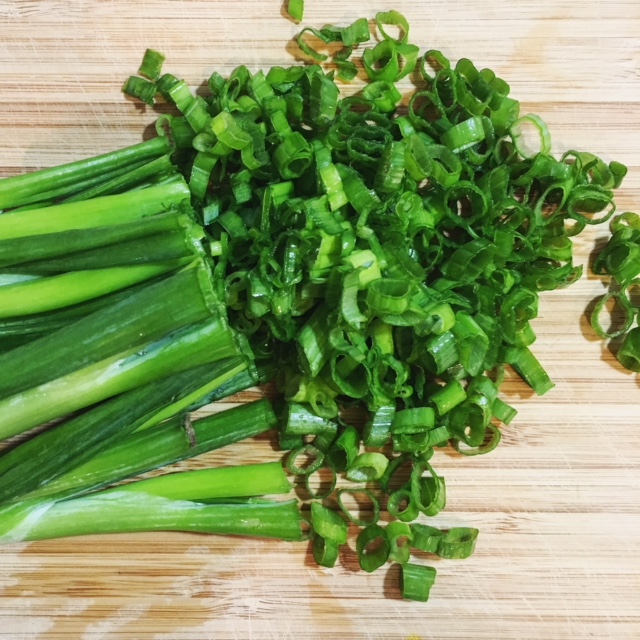 Then, I divided the ball into 4 equal parts and started with one of them. I rolled it out until it was a flat disc (ish), about 8" around.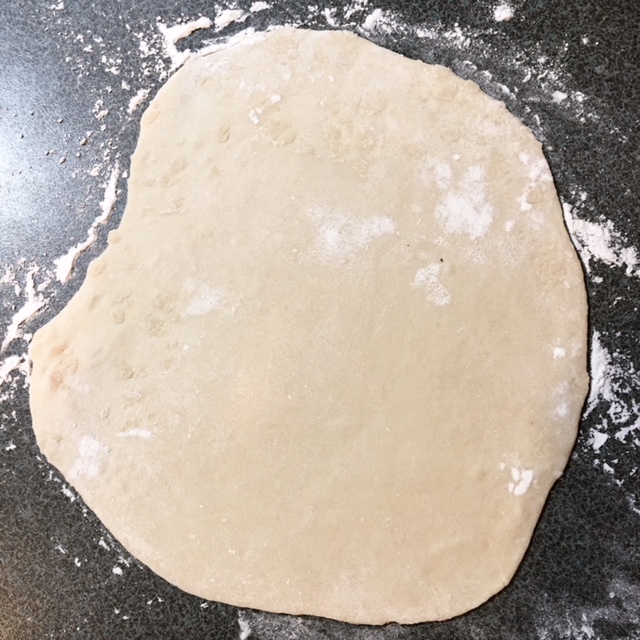 I brushed it with oil and rolled it up so it looked like a long tube. Then, I curled the tube into a circle, pressing it softly to flatten a bit before rolling it out again.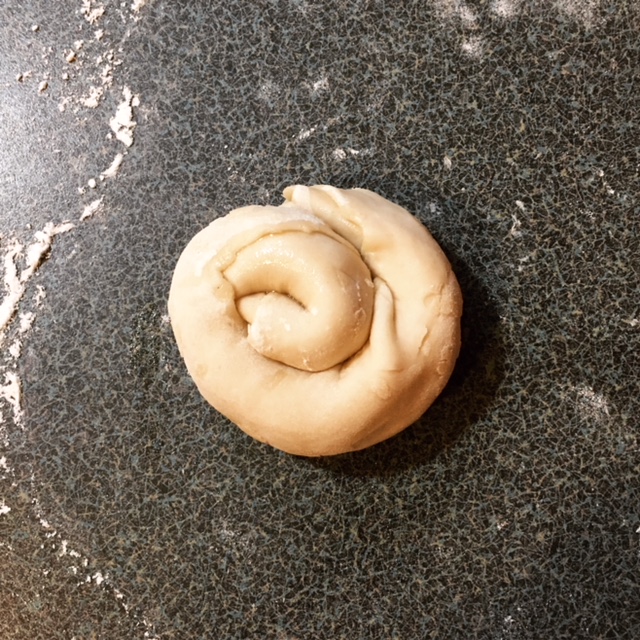 Once flat, I again brushed the dough with oil and then topped it with about ¼ of my sliced scallions.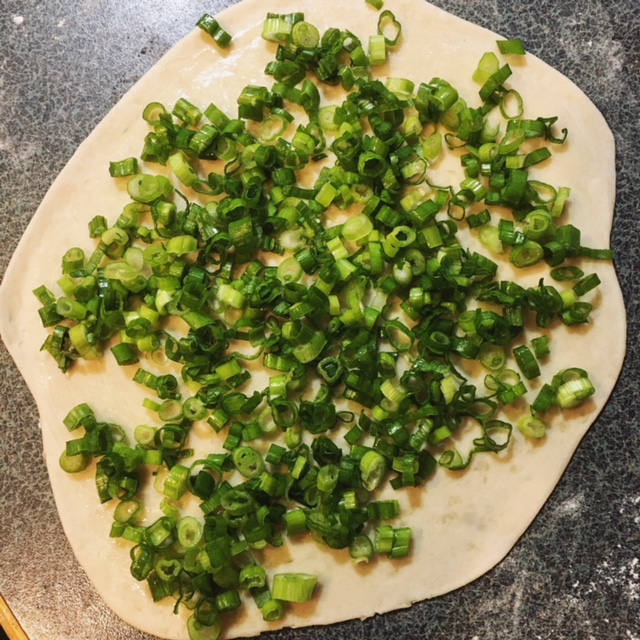 Again, I rolled it into a tube, curled it in on itself and rolled it out flat.
I repeated this step three more times until I had all four pancakes prepped. I quickly combined the ingredients for the dipping sauce and set it aside until we were ready to eat.
Then, I pre-heated vegetable oil in my skillet. (Be careful not to use too much or it won't cook properly. The ¼ cup should be sufficient for the first 2-3 pancakes, but you may need to add another tablespoon or two for the last couple.) I carefully placed one pancake into the hot oil and allowed it to fry for 2 minutes, until the bottom was a golden brown.
I flipped it and cooked the other side for 2 minutes as well.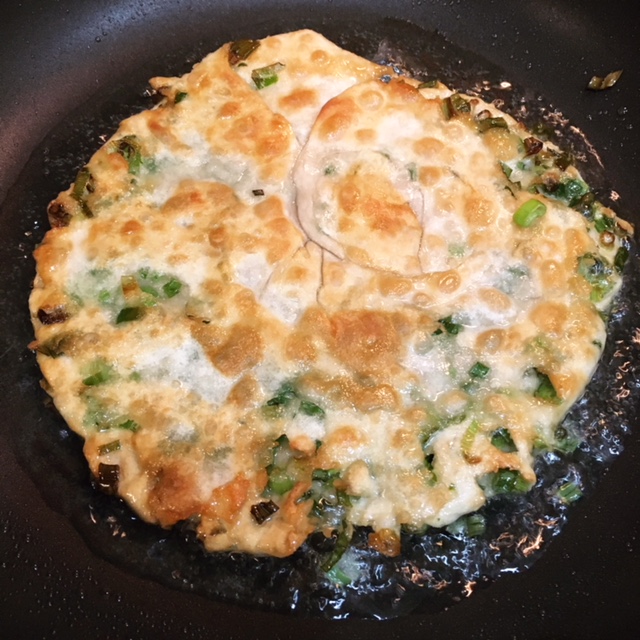 Once both sides were a beautiful golden brown, I took the pancake out and let it rest on a paper towel. I sprinkled it with a bit of salt while it was still hot, and repeated these steps for the rest of the pancakes.
Finally, it was time to eat. I cut each pancake into wedges.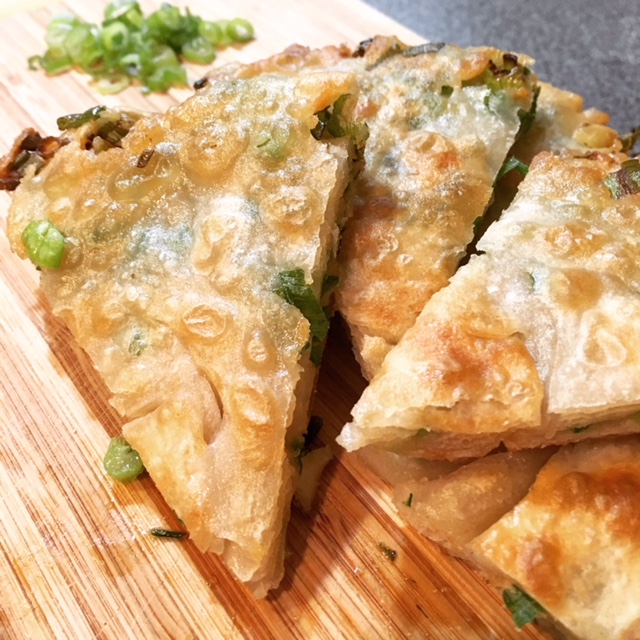 I put the pancakes onto a platter with the dipping sauce, so we could eat. These 4 pancakes would make a perfect appetizer or side to other Chinese food, though we ate them as our lunch when I made them.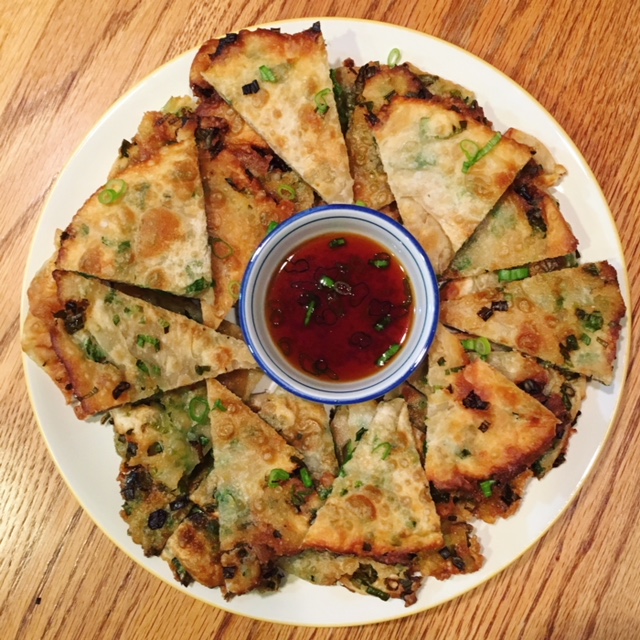 Have you read The Tea Girl of Hummingbird Lane, or any of Lisa See's other novels? What did you think?
Extra-Flaky Scallion Pancakes
Ingredients
For the Pancakes:
2

cups

all-purpose flour

plus extra for dusting work surface

1

cup

boiling water

Up to 1/4

cup

toasted sesame seed oil

2

cups

thinly sliced scallion greens
For the Dipping Sauce:
2

tablespoons

soy sauce

2

tablespoons

Chinkiang or rice wine vinegar

1

tablespoon

finely sliced scallion greens

1/2

teaspoon

grated fresh ginger

2

teaspoons

sugar
To Cook:
1/4

cup

vegetable oil

Kosher salt
Instructions
Place flour in bowl of food processor (see note). With processor running, slowly drizzle in about 3/4 of boiling water. Process for 15 seconds. If dough does not come together and ride around the blade, drizzle in more water a tablespoon at a time until it just comes together. Transfer to a floured work surface and knead a few times to form a smooth ball. Transfer to a bowl, cover with a damp towel or plastic wrap, and allow to rest for 30 minutes at room temperature, or up to overnight in the fridge.

Divide dough into four even pieces and roll each into a smooth ball. Working one ball at a time, roll out into a disk roughly 8-inches in diameter on a lightly floured surface. Using a pastry brush, paint a very thin layer of sesame oil over the top of the disk. Roll disk up like a jelly roll, then twist roll into a tight spiral, tucking the end underneath. Flatten gently with your hand, then re-roll into an 8-inch disk.

3.Paint with another layer or sesame oil, sprinkle with 1/2 cup scallions, and roll up like a jelly roll again. Twist into a spiral, flatten gently, and re-roll into a 7-inch disk. Repeat steps two and three with remaining pancakes.

4.Combine all the sauce ingredients and set aside at room temperature.

5.Heat oil in an 8-inch nonstick or cast-iron over medium-high heat until shimmering and carefully slip pancake into the hot oil. Cook, shaking the pan gently until first side is an even golden brown, about 2 minutes. Carefully flip with a spatula or tongs (be careful not to splash the oil), and continue to cook, shaking pan gently, until second side is even golden brown, about 2 minutes longer. Transfer to a paper towel-lined plate to drain. Season with salt, cut into 6 wedges. Serve immediately with sauce for dipping. Repeat with remaining 3 pancakes.
Notes
From: Serious Eats
If you don't have a food processor, you can still make this recipe. Just stir the flour with a wooden spoon or chopsticks in a large bowl as you add the boiling water. After it comes together, turn it out onto a floured work surface and knead for five minutes until satiny and smooth. Proceed as instructed.
Olive oil can be substituted for sesame oil, though it will affect flavor a bit. 
This post contains affiliate links. This does not increase the price you pay, but I may receive a small commission for any products you choose to buy. Purchases made through affiliate links help to cover my blogging costs. Full disclosure here.