At this point in my life, I thought I could safely say graphic novels aren't for me. I'd read a handful of graphic novels and a couple of comic books - mostly all recommendations from friends but a few piqued my curiosity on their own - and just wasn't a fan. I appreciated the talent that went into creating them, but for some reason, I haven't been able to connect to these types of stories emotionally. I decided to give graphic novels one last chance with Lucy Knisley's Relish: My Life in the Kitchen.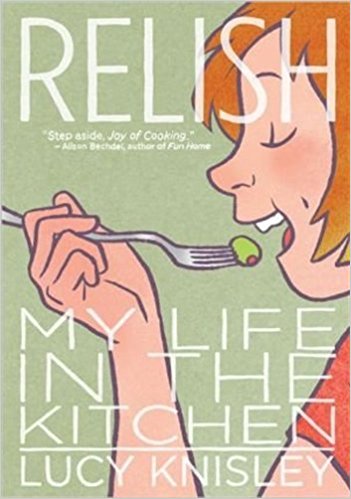 Happily, I enjoyed it immensely. I'm going to guess the main difference here is the way food was constantly incorporated into the story. Every chapter revolved around her memory of a food experience and nearly all of them featured a whimsically illustrated recipe at the end.
Lucy was a child raised by foodies, before being a foodie was as mainstream as it is today. As she described it, her family "worships nothing so much as we do food, and the trinity of cooking, dining out, and eating." Her vivid memories transform into vivid illustrations and quick, to-the-point prose that had my mouth watering.
There are more complex family recipes like marinated lamb that was served on special occasions, and there are kitchen classics like pasta carbonara and pesto. Lucy isn't afraid of intimidating foods, like huevos rancheros which requires some multi-tasking or sushi rolls, and her step-by-step drawings make them seem doable. She also bestows some key tips for cooking mushrooms and picking out cheeses.
She is endearing in her attempts to make the perfect croissant, before suggesting you just by them from the store and enjoy some homemade sangria instead (recipe provided, of course). But it's Lucy's appreciation of chocolate chip cookies that I could most relate to. She claims her mother's are the best, something she has been unable to achieve, though not for a lack of trying. Still, that didn't stop Lucy from making them constantly; they're her source of comfort.
She finally settled on a recipe she considered to be the best, and after making them, I have to say I agree. Or, at the very least, they're way better than any of my previous failed attempts at making the perfect chocolate chip cookies. It's definitely a recipe I'll be keeping around!
I enlisted Scott to help me in the kitchen this time. He started by melting 2 sticks of butter, so they had time to cool off a bit before we used them. Meanwhile, I gathered the rest of the ingredients.
In a large bowl, I added ¾ cup each of granulated sugar and brown sugar (packed). In a different bowl, I combined the flour, baking soda and a teaspoon of salt. Once the butter wasn't hot any longer, I added it to the bowl of sugars and mixed it using a whisk until well-combined. To that bowl, I also added the vanilla extract and eggs gradually while continuing to stir.
Then, Scott helped me add the dry ingredients into the wet ingredients, while I whisked them together. To that almost-finished cookie dough, we added an entire bag of semi-sweet chocolate chips and 1 cup of coconut flakes, stirring with a wooden spoon until both were well-incorporated into the dough.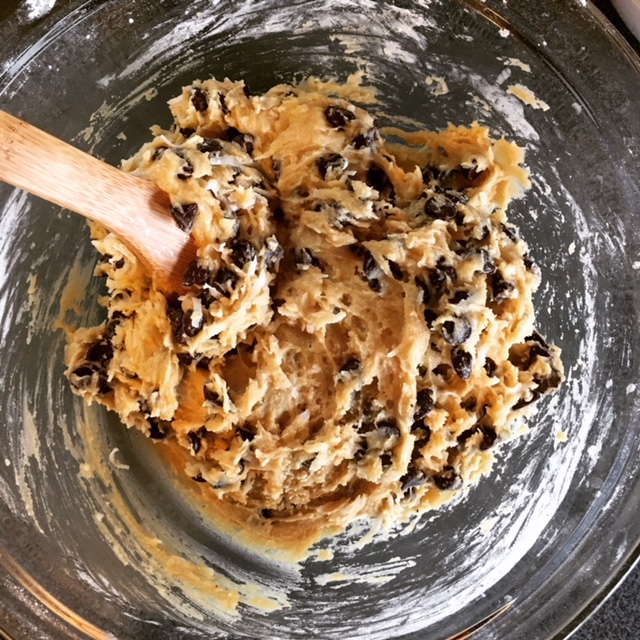 Using a 2-tablespoon scoop, we covered our cookie sheets with dollops of dough. I fit a dozen on each sheet, making sure to keep them well-spaced out.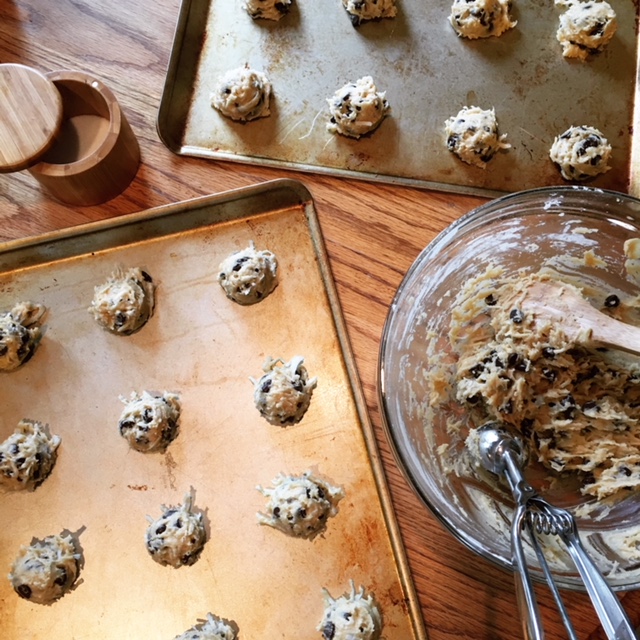 Last, it was time for the "secret weapon" - a pinch of salt on top of each cookie before it went into the oven.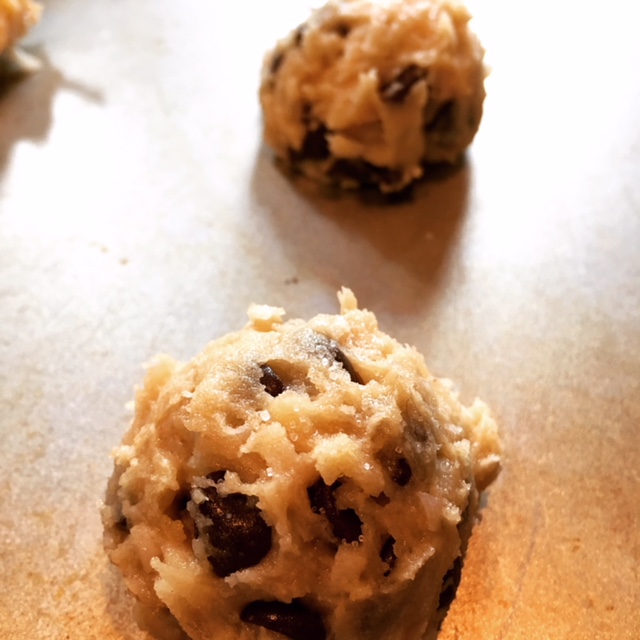 The original recipe from Lucy says to bake for 10 minutes or "until perfect." My first batch took closer to 14 minutes (and my last closer to 12 minutes). Keep an eye on your cookies as you bake them!
Either way, they turned out beautifully and were as delicious as they looked! If you're too impatient to wait until they cool, go ahead and snag one while still warm - you won't regret it!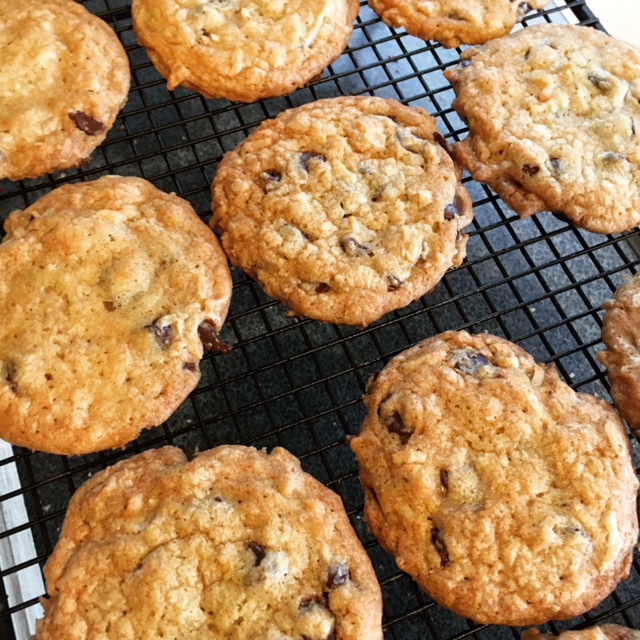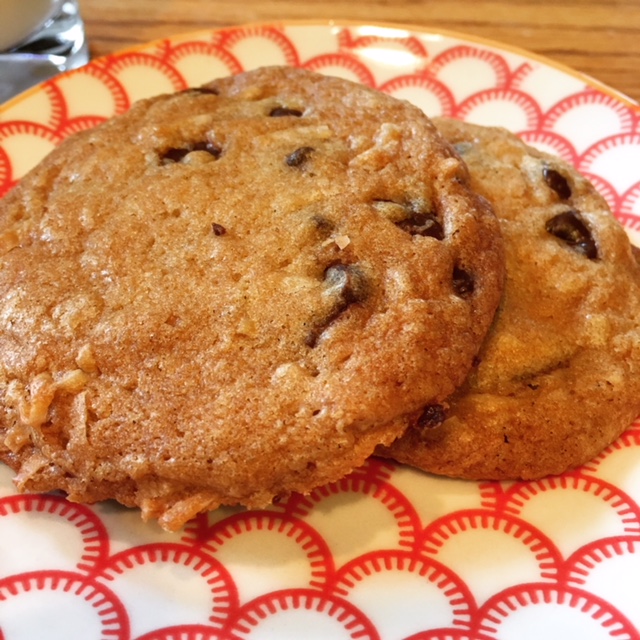 The Best Chocolate Chip Cookies
Ingredients
1

cup

unsalted butter

melted (but not hot)

¾

cup

brown sugar

packed

¾

cup

granulated sugar

1

tablespoon

vanilla extract

2

eggs

2

cups

flour

1

teaspoon

baking soda

2

teaspoons

salt

divided

12

oz

chocolate chips

1

cup

coconut flakes
Instructions
Preheat oven to 350 degrees F.

In a large mixing bowl, mix together melted butter, brown sugar and granulated sugar. Once well-combined, add vanilla and eggs gradually while stirring.

In a different bowl, mix flour, baking soda and 1 teaspoon of salt.

Gradually combine dry ingredients into wet ingredients.

Mix in coconut flakes and chocolate chips.

Drop cookie dough onto an ungreased baking pan. (I recommend a 2-tablespoon scoop to keep them even.)

Add a tiny pinch of salt to the top of each cookie before baking.

Bake each batch for about 10 minutes, until perfect. Serve with milk, if desired.
Notes
From: Relish: My Life in the Kitchen by Lucy Knisley (Chapter 3)
A note on the cooking time: Keep an eye on your cookies as they bake, as actual time needed may vary. My first batch needed to bake for 14 minutes before they were finished, and my last batch baked for closer to 12 minutes.