I was drawn to my latest read both by the striking cover art and the following description:
You say you want a revolution? This energetic and entertaining novel about a utopian summer camp and its charismatic leader asks smart questions about good intentions gone terribly wrong.

Framed by the oil shale bust and the real estate boom, by protests against Reagan and against the Gulf War, The Optimistic Decade takes us into the lives of five unforgettable characters, and is a sweeping novel about idealism, love, class, and a piece of land that changes everyone who lives on it…
Heather Abel's novel is a brilliant exploration of the bloom and fade of idealism and how it forever changes one's life. Or so we think.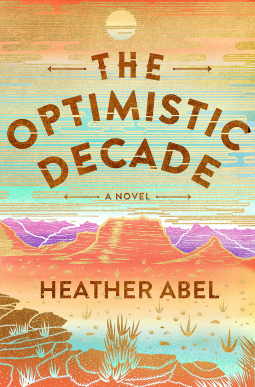 Caleb is the idealistic owner of Llamalo, the hippie-esque summer camp we descend on for our story. As a younger man in his twenties, he sought out the perfect location for his paradise, a camp where he could teach rich city kids to marvel at nature and learn to take ownership of something. He settled on the Double L, a rundown ranch in Colorado, and purchased it from his now-right-hand-man Don and his son Donnie.
To say the camp is barebones would be generous; campers sleep on hand-constructed platforms rather than in cabins or tents. Each summer is outlined in a series of rituals created of near-happenstance during Caleb's first summer in business, and so it goes, year after year. Llamalo is a place that transforms you, and David, an older camper who idolizes Caleb, has definitely drank the Kool-Aid.  
Rebecca, Caleb's cousin and brand new camp counselor, however, takes some time to warm up to the idea of Llamalo. Raised by activist parents, she is determined to make her mark in the world and initially sees her summer at Llamalo as a sort of punishment. The novel twists and turns, from the rituals of camp in the "present" 1990s to flashbacks of Caleb's chance meeting with Donnie during the Reagan Years and then sideways to Northern California, where Rebecca's parents reside.
While I would hardly call the novel "energetic," it was entertaining. The theme of idealism was absolutely prominent and tied the various threads together. I walked away from it feeling less than optimistic about the possibility for real change, though I could tell at the end, Abel tried to bring it back up to a higher note.
With so much attention given to the experience at Llamalo, not much detail was spared for the food that sustained the campers. However, at one point it's noted that "regardless of injury, all kids visiting the infirmary were given honey-and-lemon popsicles for hydration." Dreaming of warmer weather, I decided to focus on this detail and make some myself. I found a simple recipe from Salted Plains that makes use of nearly the entire lemon, something that felt very "Llamalo" to me.
First, I procured a 10-popsicle mold online and borrowed a blender from a coworker. (Thanks, Dave!) Then, I set to work to assemble them. I washed my lemon, cut it into quarters and removed the visible/excess pith and all of the seeds I could see. I wanted to make half of them with raspberries, since they looked so good in the original recipe, so I rinsed a handful of those as well.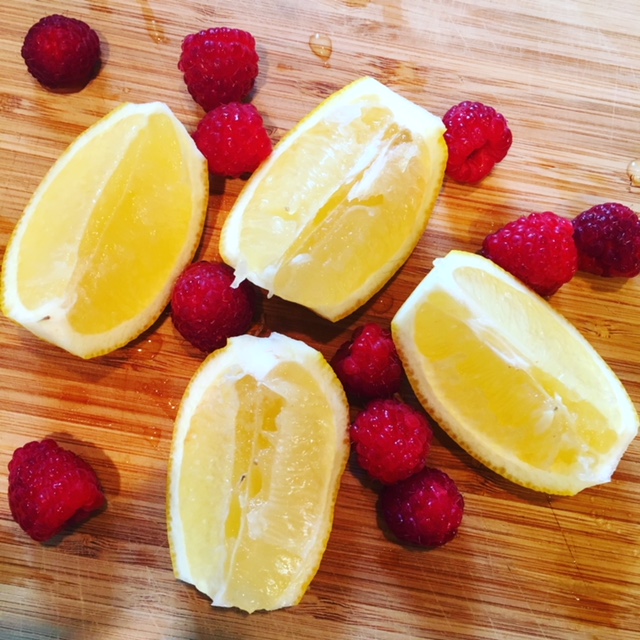 I added 2 cups of water to the blender, along with my lemon pieces and a third of a cup of honey.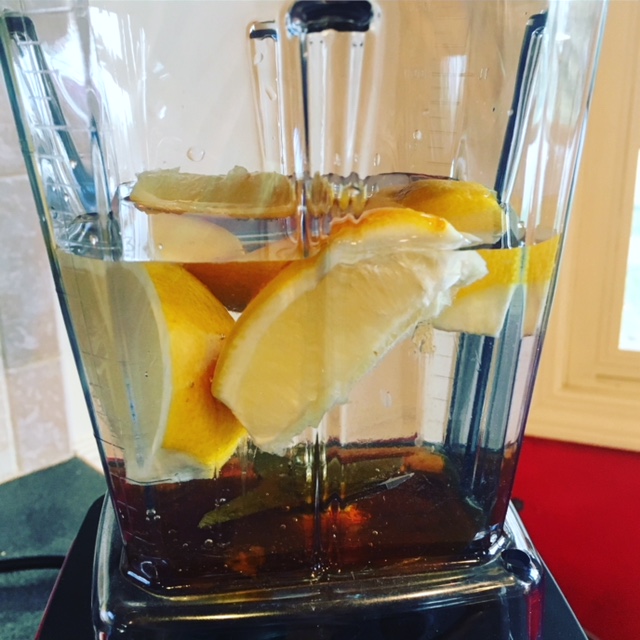 I blended on medium-high for a few minutes until it was smooth. Then, carefully, I poured the lemonade mixture into the popsicle molds and popped a few raspberries in four of them.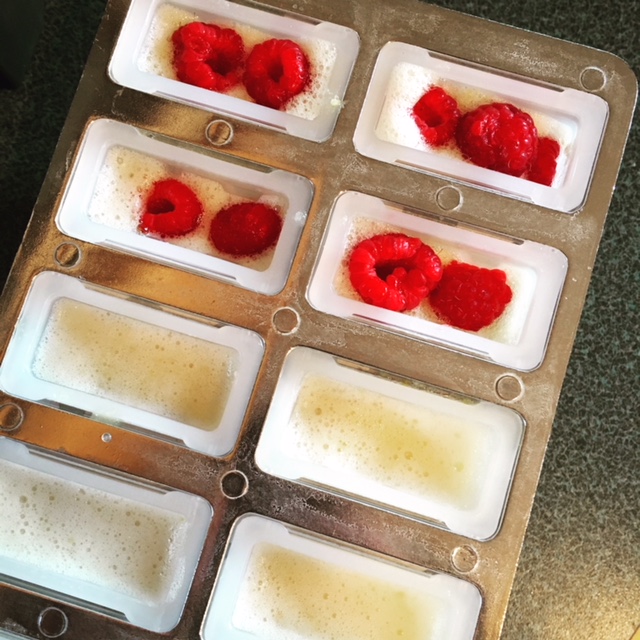 I secured the lid, added the popsicle sticks, and was ready for the freezer within 10 minutes of starting. (Probably a little longer than it would take you, since I was taking pictures along the way.)
I left mine overnight, but after a few hours, they should be frozen enough to take out and eat. I ran some warm-hot water over the bottom of my molds to help release the popsicles, and they slid out quite easily.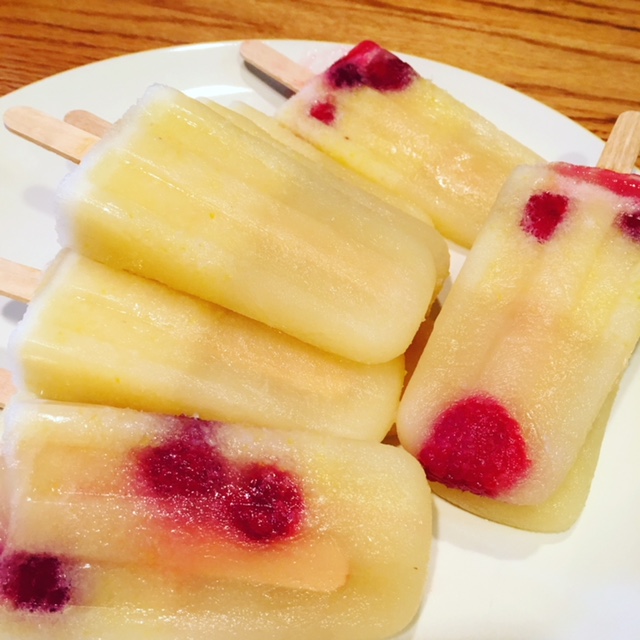 Just like that, I had 10 homemade popsicles! These would certainly be a refreshing treat on a warm day, whether you're at a camp in the middle of nowhere, or in your own backyard.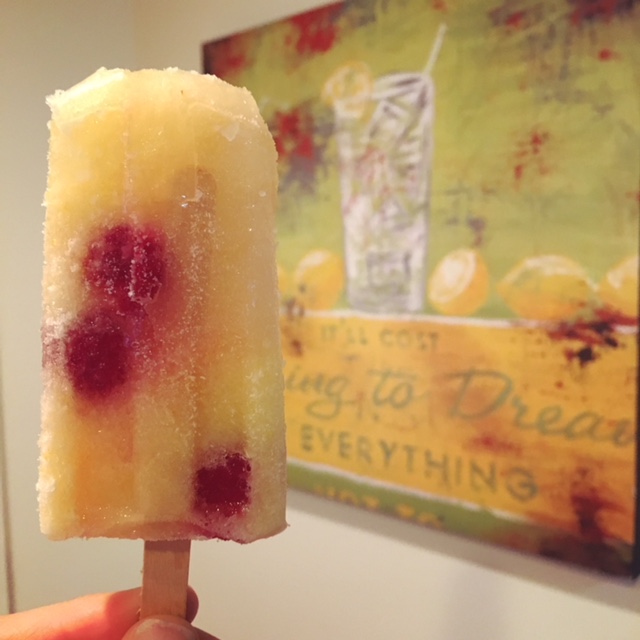 Heather Abel's novel The Optimistic Decade will be available on May 1.
Honey-Sweetened Lemonade Popsicles
Ingredients
1

whole lemon cleaned

sliced into quarters, with exposed pith and seeds removed

1/4-1/3

cup

honey

or to taste

2

cups

water

1/2

cup

raspberries

optional
Instructions
In a high-powered blender, add lemon wedges, honey, and water. Blend until completely smooth. Taste/test for desired sweetness and add more if needed.

Pour into a 10-cavity popsicle mold. If using raspberries, divide evenly and add to molds. The lemonade will most likely be a bit frothy, so tap sides of mold or use popsicle stick to dissolve bubbles. Add sticks and place in freezer until solid.
I received a free digital copy of this book from the NetGalley in exchange for an honest review.
This post contains affiliate links. Full disclosure here.