Carol Rifka Brunt's debut novel Tell the Wolves I'm Home tells a story about life and death, forbidden relationships, and how family is always more complicated than it seems. I selected it as my book featuring a character with a debilitating illness for the Book Challenge by Erin and was excited when it was chosen as a recent book club selection as well.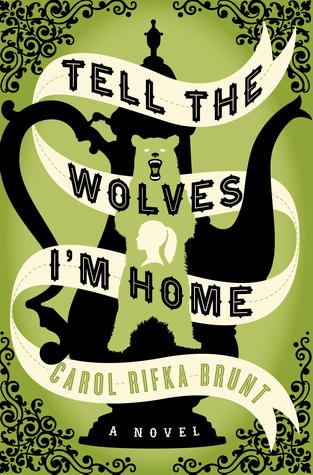 It's 1987, and fourteen-year-old June has just lost her Uncle Finn to AIDS. He was her confidant and her best friend and she struggles to deal with his untimely disappearance from her life. She no longer has any reason to visit his eclectic New York City apartment every Sunday, where he was working to complete a portrait of her and her sister Greta. Visiting the Cloisters, a favorite pastime of theirs, will never be the same.
June is still working out her own identity, one that was very much wrapped up in her adoring love for Finn, but she doesn't seem to have the support she needs to come into her own. Her parents, accountants knee-deep in a busy tax season, are never around, leaving her and Greta home alone most evenings. Greta is talented and popular, about to leave for college with other things on her mind.
When a mysterious man shows up at Finn's funeral and again at her doorstep, June can't help but be intrigued. As they go on a journey together, untangling from their grief, she learns Finn isn't exactly who she thought he was. Brunt does a wonderful job of showing the complexities of relationships and everyday life, and it shines brightest as June comes to truly understand what it means to love and be loved.
As I read, I was often struck by Brunt's writing. Tina, our book club host, felt the same and before we got together to discuss the book, she reached out and asked all of us to send our favorite quotes. None of us were exactly sure what to expect, but she is an art teacher, so I had a feeling she was creating something special with them. When we arrived at her house, we discovered she had repurposed old VHS tapes (in honor of the 80s) and covered them with our selections! Aren't they amazing?
Now, onto the food: I knew early on that I had to make stew to go with this novel. Almost the entire story takes place during tax season, and according to June, "tax season always smelled like stew. Most days my mother left her mustard-yellow crockpot sitting on the kitchen counter, slow-cooking something for our dinner. It didn't matter what was in the pot - chicken, vegetables, beans - it all smelled like stew once the pot was through with it.
June and her sister may not have loved night after night of crockpot stew, but I'm willing to bet their mother didn't serve up this Tuscan Bean and Prosciutto version. I've made this recipe, from the Crock-Pot 3 Books in 1 cookbook, a few times before and it's become a household favorite. Like most slow cooker recipes, it's really easy to put together and requires minimal prep. It also cooks for between 10 and 12 hours, which is nice for people with any sort of commute.
To start, melt some butter in a skillet or griddle pan and fry 4 slices of prosciutto (or bacon).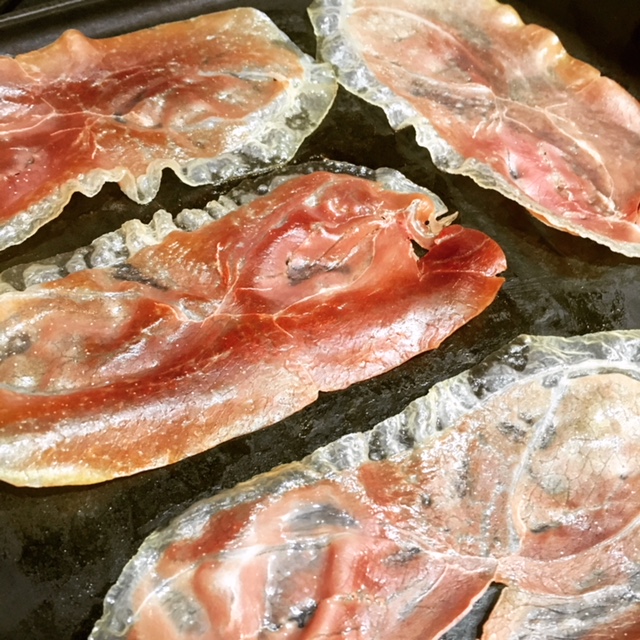 Once it's crispy, put it on a paper towel to remove excess oil and cool. Crumble it in the bottom of the slow cooker and add the rest of the ingredients. Give it all a stir and set it on low for 10 hours.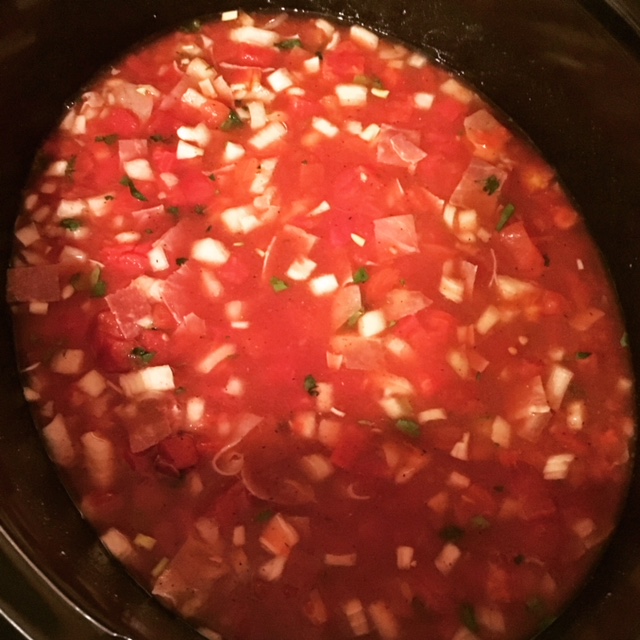 When you're ready to serve, fry up a couple of additional slices of prosciutto to crumble on top of the stew. I generally do this because prosciutto often comes in packages of 6 or 8 slices, but it's absolutely optional.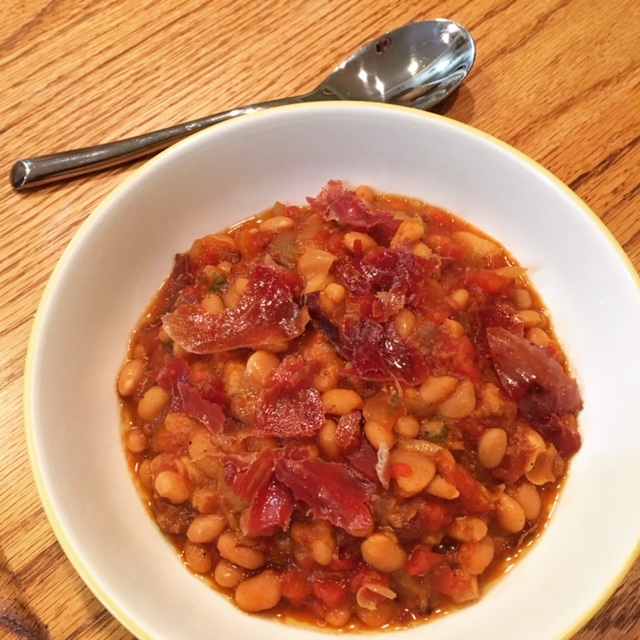 Tuscan Bean and Prosciutto Stew
Ingredients
2

TBS

unsalted butter

6-8

slices

prosciutto (or bacon)

divided

3 ½

cups

water

1

cup

dried navy beans

rinsed and sorted

½

cup

dried lima beans

rinsed and sorted

1

medium yellow onion

finely chopped

1

TBS

chopped fresh cilantro

1

tsp

salt

1

tsp

ground cumin

1

tsp

black pepper

½

tsp

ground paprika

1

28-oz

cans petite diced tomatoes

undrained
Instructions
Melt butter in large skillet over medium-high heat. Add 4 slices of prosciutto and fry until crisp. Remove to paper towels to cool.

Crumble prosciutto into small pieces in Crock-Pot slow cooker. Add water, navy beans, lima beans, onion, cilantro, salt, cumin, black pepper, paprika and tomatoes with juice. Stir well to combine. Cover and cook on LOW 10 to 12 hours.

Prior to serving, fry up remaining 2 slices of prosciutto and remove to paper towels. Crumble equally on top of each bowl of stew. Serve with crispy bread.