Hello! My name's Elsie, and I'm visiting from the Tea and Ink Society. The Society is where I share book lists and literary musings with a bent towards the classics. I also love to play in the kitchen, so I was excited for Megan's invitation to share a literary recipe with you all!
For this post I chose to make a classic, old-fashioned potato salad recipe to go along with L. M. Montgomery's 1937 novel Jane of Lantern Hill.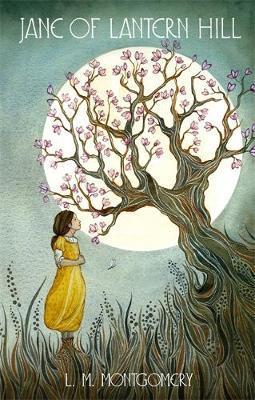 One of the things people love and remember most about the novels of L. M. Montgomery are her evocative descriptions of nature and the pastoral world of Prince Edward Island. Over the past two years I've immersed myself in this world again, going on a spree of reads and re-reads as I traverse the Island and the early decades of the 1900s with each heroine. Like many fans, I'm captivated by the Island's natural beauty, of course, but this time I'm also noticing the food.
Food - and food preparation - are everywhere in Montgomery's novels. Yes, there's the liniment cake, the mouse in the sauce, and the raspberry cordial we all remember from Anne of Green Gables. But those are just a small sampling of the many food passages we're treated to throughout Montgomery's work. Montgomery provides us with entire menus as she recounts episodes of picnics, weddings, or guests coming to dinner. All of Montgomery's heroines must learn to cook at some point or another. Mastering cookery is a sign of their self-determination and the increasing ownership they take of the traditions and rhythms of their respective homes.
Of all of Montgomery's major heroines, Jane most longs to embrace the domesticity of Island life. Jane is an Islander by birth, but when her parents have a mysterious falling out, her mother takes her to Toronto to raise her, losing all contact with Jane's father back on the Island. They live with Jane's extremely wealthy and villainously tyrannical grandmother, who obsesses over Jane's mother but holds Jane herself in contempt.
Jane has a natural inclination to be industrious and nurturing, but in Grandmother's house she's allowed to be neither. Jane wants to tidy and decorate and "do things" for the house, and "more than anything else Jane would have liked to cook." When Grandmother is out, Jane sneaks into the kitchen to watch the cook preparing meals and sometimes gets the pleasure of helping out.
Jane is eleven when a letter arrives from her father out of the blue. He insists that she come spend the summer with him on Prince Edward Island. Jane goes reluctantly, sure she will hate both the Island and her father. But as any kindred spirit knows, no true Montgomery heroine can resist the wholesomeness, mystery and allure of PEI. Jane finds herself more at home with her dad in their little house overlooking the sea than she ever has before. Lantern Hill is her new Eden and the genesis of her first flourishing as a person.
I loved the plot, characters, and narrative of Jane of Lantern Hill. The storyline is a little more tight and tidy than many of Montgomery's other novels. This makes it a great standalone book, even if it's your first introduction to Montgomery's world. Reading it, I kept thinking how it would make an excellent gift for a preteen or teen whom you want to bless with quality literature!
When I was considering what recipe would go well with the book, I had lots of options to choose from. The novel mentions pies, biscuits, chicken, doughnuts...but I decided on potato salad. It's the one of the first things Jane attempts - and succeeds at - making when she sets up house with her dad on PEI. Plus, a little internet spelunking revealed that potatoes are one of the biggest crops on the Island. In fact, PEI currently produces about 25% of Canada's total potato crop!
I love this easy recipe because it's perfect to serve to guests, as Jane does, or to take on a picnic when you go rambling. There's no need to peel the potatoes, especially if you use baby (or new) potatoes, which have tender skins. Plus, the skins add a bit of color to the dish!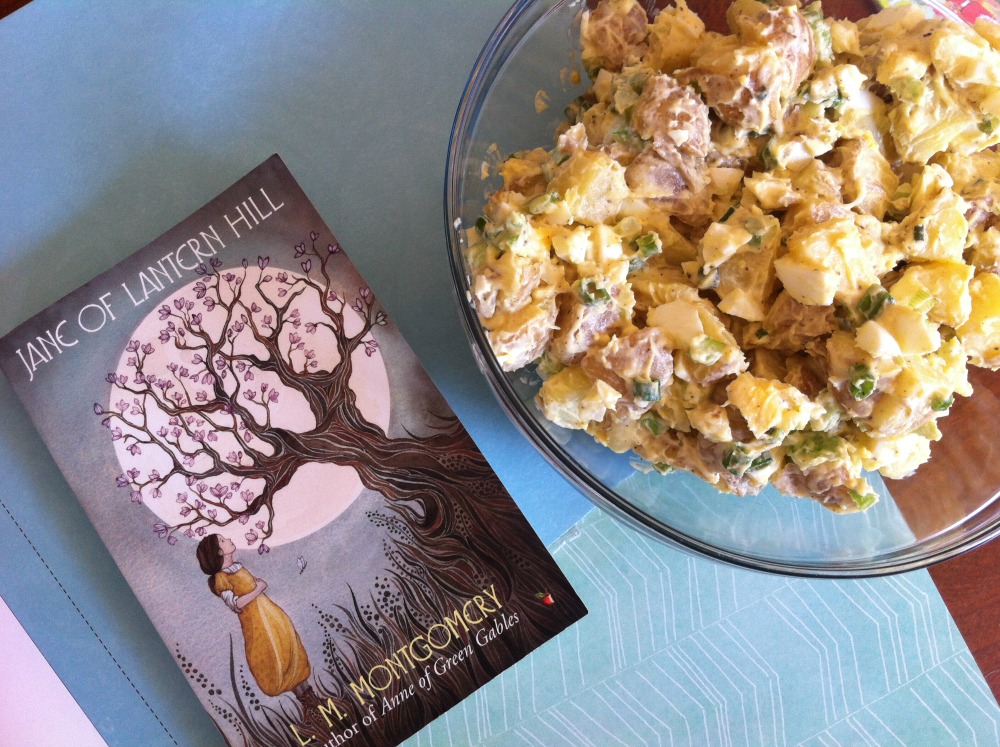 Old-Fashioned Potato Salad
Ingredients
2

lbs

baby yellow potatoes or another waxy variety, like fingerling or new red potatoes

2

tsp

salt

3

TBS

white vinegar

3

hard-boiled eggs

chopped

4

large green onions

chopped

1

stalk celery

cut in half lengthwise and finely diced

1/2

cup

mayonnaise

1/4

tsp

freshly-grated pepper

additional salt

as needed
Instructions
Wash and scrub the potatoes.

Put potatoes in a pot and cover completely with cold water and 1 tsp salt.

Bring potatoes to a boil, then turn down to a simmer. Cook potatoes 15-20 minutes, or until just tender when pierced with a fork. (You can boil the eggs while the potatoes simmer.)

Drain potatoes in a colander and let cool just slightly.

Meanwhile, in a small bowl stir together vinegar and 1 tsp salt.

When the potatoes are no longer burning to the touch, cut into cubes and put in a large bowl. Using a rubber spatula, toss potatoes gently with the vinegar/salt mixture.

Let potatoes cool to room temperature.

When potatoes are cool, gently stir in chopped eggs, green onions, celery, mayonnaise, pepper, and additional salt to taste.

Serve immediately at room temperature, or cover and chill in the refrigerator.
Notes
Created by: Elsie Callender
Personally, I think Jane is a literary Hufflepuff. If you love this book like I do or share her Hogwarts house, you might enjoy my list of 10 Books That Are Perfect for Hufflepuffs!
This post contains affiliate links. Full disclosure here.