I always appreciate a book where you can immediately fall into it and remain completely immersed to the end - part of the joy of reading, for me, is leaving your own world/viewpoint/experiences and hanging out in someone else's for a while. The powerful storytelling in Sue Monk Kidd's The Secret Life of Bees did that for me.
During a hot South Carolina summer in 1964, Lily Owens is about to turn 14. Propelled by a fuzzy recollection of the day her mother died and desperate to know more, she sets off on a haphazard journey from home with Rosaleen, a black woman who has become her stand-in mother. Their immediate safety may be Rosaleen's driving force, but Lily's search for clues about her mother's existence brings them to Tiburon.
It is there - in a pink house where three beekeeping sisters live and make their living on Black Madonna Honey - that they find solace and security. As Lily learns about beekeeping from the eldest sister August, she also begins to discover who she is.
Given the title, I anticipated I would be pairing this book with something honey-related. While I certainly could have, it didn't feel right the more I got into the story. One of August's younger sisters is named May; May has a fondness for bananas but she also has some quirks about them.
May had to have a banana every morning, and this banana absolutely could not have a bruise on it. One morning I watched her peel seven bananas in a row before she found one without a bad place. She kept tons of bananas around the kitchen, stoneware bowls chock-full; next to honey, they were the most plentiful thing in the house.
With an abundance of open bananas lying around, Rosaleen was forever making banana desserts - including banana cream pie. I don't know if I've ever eaten a banana cream pie, but I certainly hadn't made one before this. I didn't want to make one out of boxed pudding, so I looked for and came upon an Old-fashioned Banana Cream Pie recipe from Genius Kitchen.
Once my crust was baked and set to cooling, I began making the pie filling. In a large saucepan, I scalded the milk (which I learned to do here). Then, I mixed together the sugar, flour and salt in a different saucepan and gradually added the slightly-cooled scalded milk. I stirred constantly over medium heat until thickened and covered it for two more minutes.
In a bowl, I added a bit of the mixture (several spoonfuls) to three beaten egg yolks, until they were well-blended. Then, I poured that into the hot mixture in the saucepan and cooked for another minute. I removed it from the heat, added the vanilla and butter, and allowed the pudding to cool to lukewarm.
Meanwhile, I readied my crust by slicing and filling it with three bananas.
I poured the slightly warm pudding over the bananas, filling the crust, and let it come to room temperature before serving.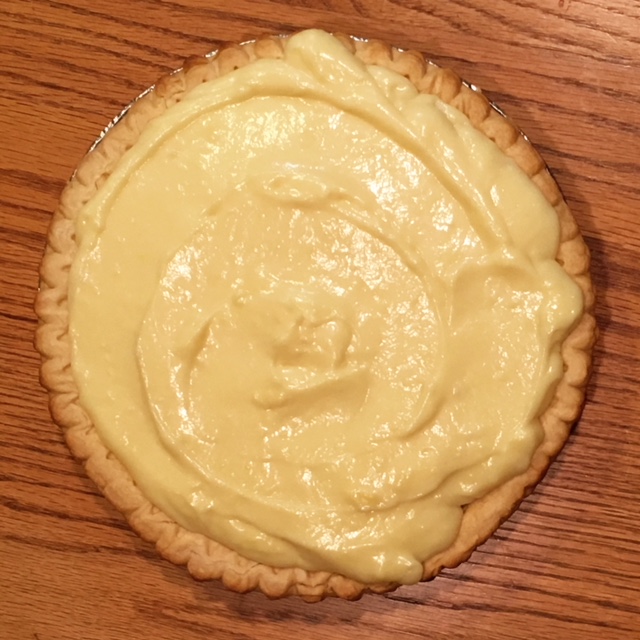 I had some issues getting pure "slices" to come out, similar to my potato peel pie incident of a couple of weeks ago. (This remained an issue, even after refrigerating overnight, so I'm not sure why.) While it wasn't particularly photogenic, it still tasted delicious. I would absolutely recommend this recipe to someone with a few ripe bananas on-hand. May would approve!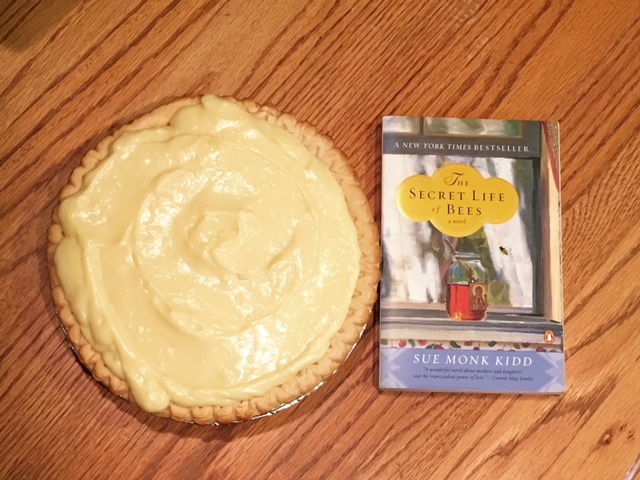 Old-Fashioned Banana Cream Pie
Ingredients
1 (9 inch) pie crust, baked
3 cups whole milk
¾ cup white sugar
⅓ cup all-purpose flour
¼ teaspoon salt
3 egg yolks, slightly beaten
2 tablespoons butter
1 teaspoon vanilla
3 bananas
Directions
Have baked 9-inch pie shell ready.
In a large saucepan, scald the milk.
In another saucepan, combine the sugar, flour and salt; gradually stir in the scalded milk.
Over medium heat, stirring constantly, cook until thickened.
Cover and, stirring occasionally, cook for two minutes longer.
In a small bowl, have the 3 egg yolks, slightly beaten, ready; stir a small amount of the hot mixture into beaten yolks; when thoroughly combined, stir yolks into hot mixture.
Cook for one minute longer, stirring constantly.
Remove from heat and blend in the butter and vanilla.
Let sit until lukewarm.
When ready to pour, slice bananas and scatter in pie shell; pour warm mixture over bananas.
If desired, make a meringue (you'll have 3 leftover egg whites) to top the pie, or just let the pie cool until serving.
This post contains affiliate links. Full disclosure here.