My friend Deanna, who you may know recognize from my short series of Gilmore posts, absolutely loves David Mitchell's Cloud Atlas. I had read one of his other novels a while back and wasn't a fan, so when she actually let me borrow it (an embarrassingly long time) ago, I was reluctant to read it and find it underwhelming. But, I finally decided I should rip off the bandaid, so to speak, and recently gave it a try. It was definitely not underwhelming.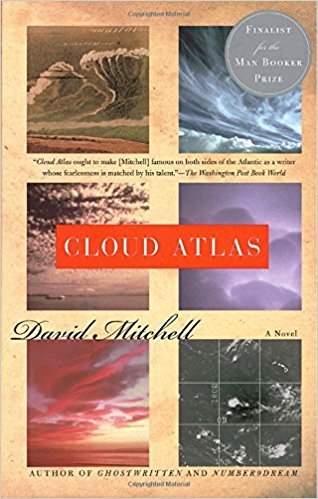 Cloud Atlas is a complicated story five spanning centuries, going from the 1800s to the distant future and back again. Each character has only two chapters, one where they're introduced as we move through the future and one as we head back in time to the beginning. (Excepting one, of course, who is there only in the middle of the story.) It's a very interesting concept, and I probably wouldn't have chosen to start it on a boat in the middle of the 1800s, but it is what it is. Thankfully, Deanna had warned me about the first chapter, and though it took quite a while to get into, I persevered.
As with all books, there were characters I liked better than others and some i disliked altogether. The problem with the structure, however, was that I was stuck with the ones I didn't really like for a long time in a row and then I had to "look forward to" seeing them again on the boomerang back. The novel was also a little too self-aware for my taste. Mitchell wrote a lot of commentary on the structure and the characters and the meaning of it all into his own characters' mouths and thoughts, which I typically don't enjoy.
I know my review isn't exactly glowing, but I didn't hate it. I'm actually glad I read it, and I can see why Deanna (and others) like it so much. The story it tells is very intriguing. Weirdly, it made me want to see the movie for a different and visual perspective. It also made me want to make some cloud eggs. A book that fit perfectly with the latest hipster trend - what luck! (Kidding, but only a little bit.)
In my research, I found a recipe that wasn't too intimidating (though most of them seemed mostly doable). I also found an interesting article from NPR that made me feel a lot better about the whole cloud egg trend. Wouldn't you know it, what's old is new again - in food as in everything else.
To start, I preheated my oven to 450 degrees and assembled my ingredients and bowls. I separate the old-fashioned way (hands only), so I just had a couple of bowls to divide the whites and yolks into.
With the whites separated, I seasoned them with salt and pepper and used a hand mixer to whip them into stiff peaks. I carefully folded in the Parmesan cheese. On the baking sheet, I made 4 separate mounds of the whipped whites and indented them so my yolks would have somewhere to lie later.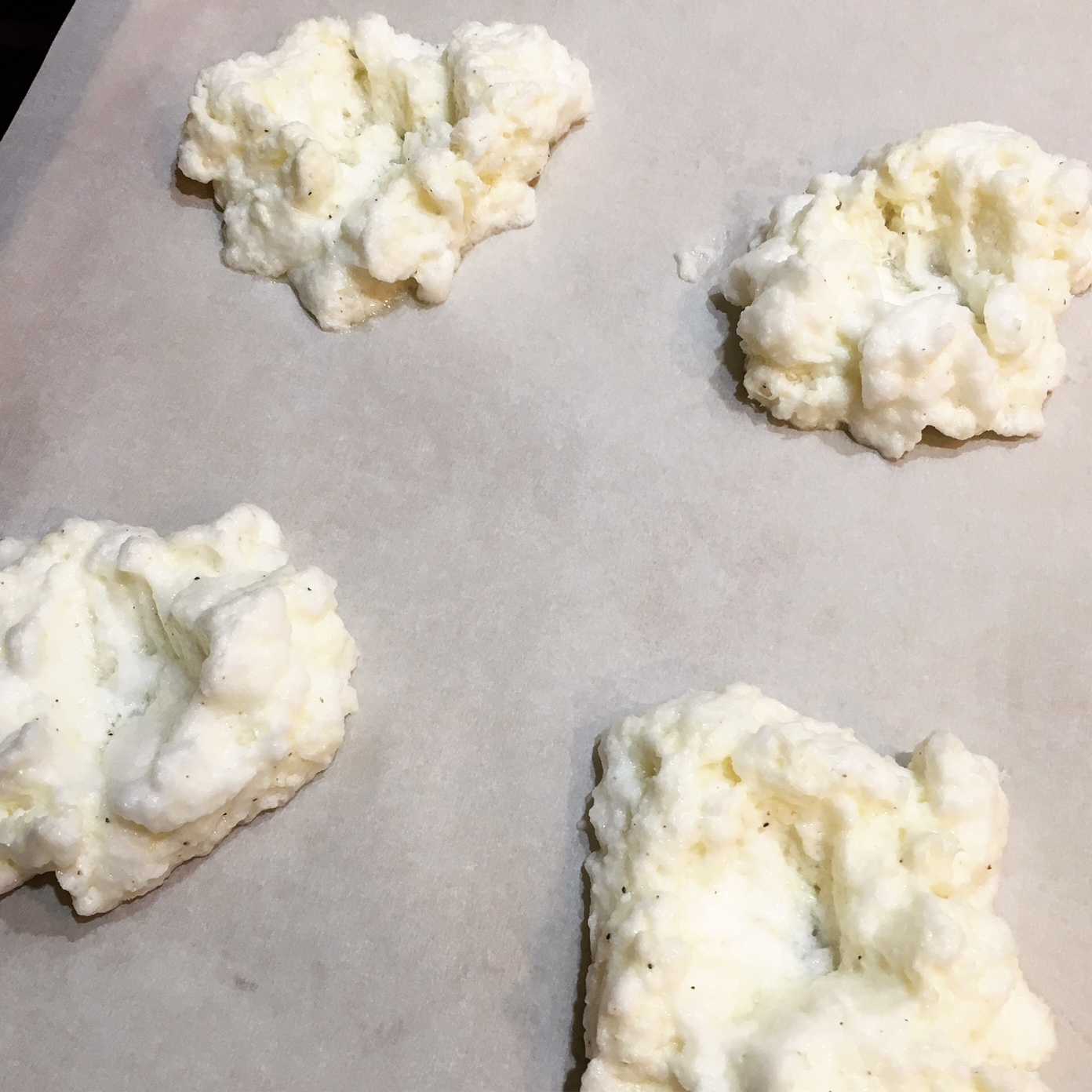 After they baked for 3 minutes, I took the sheet out of the oven and added one egg yolk to each egg white cloud. It went back into the oven for 3 more minutes, until the yolks were set. I served with toast, perfect to mop up the runny yolks.
Cloud Eggs
Ingredients
4 large eggs
salt and freshly ground black pepper
½ cup freshly grated Parmesan
3 TBS finely chopped fresh chives, for garnish (optional)
Directions
Preheat oven to 450 degrees F and line a large baking sheet with parchment paper. Spray lightly with baking spray.
Separate egg whites and egg yolks, placing the egg whites in a large bowl and each yolk in its own small bowl.
Season the egg whites with salt and pepper. Using a whisk or a hand mixer, beat the egg whites until stiff peaks form. Gently fold in Parmesan.
On the prepared baking sheet, create 4 mounds of egg whites and indent the centers of each to look like nests. Bake until slightly golden, about 3 minutes.
Carefully add an egg yolk to the center of each egg white cloud. Season yolk with salt and pepper. Bake until the yolks are just set, about 3 minutes more. Garnish with chives, if using, and serve immediately.
Adapted from:
Delish
The original recipe doesn't call for spray the parchment paper, but I found that my finished eggs were a bit difficult to get off after baking. Additionally, the original recipe has you add all egg yolks to one bowl - obviously this creates less dish cleaning afterward, but it's much trickier to get them out later without breaking them. (I broke two, despite being extremely careful.) The call is ultimately yours, but be careful!
PLUS: If you haven't entered for your chance to win a free book yet, there's still time! Enter my 1 Year Anniversary Giveaway through Friday, 8/11. More details in Sunday's post.
This post contains affiliate links. Full disclosure here.