Marilynne Robinson is perhaps best known for her Gilead series, of which the first novel was published to much acclaim about 25 years after the book I'm here to share today, Housekeeping. This novel is understated, following sisters Ruth and Lucille, as they are left in the quiet, flood-prone town of Fingerbone to live in their grandmother's house.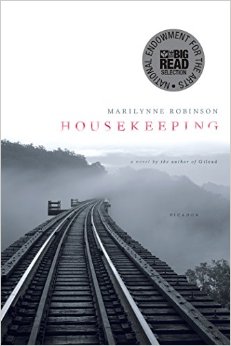 After their grandmother dies, the house is passed on to two great aunts who move in to take care of Ruth and Lucille, though they seem to doubt their abilities to do so. Late one evening, the girls' Aunt Sylvie appears, seemingly unaware of her mother's passing. She is greeted with surprise and a quick meal of poached eggs.  
Eventually, Sylvie becomes the girls' caretaker, though she isn't much for mothering, cooking or housekeeping, instead piling up cans and newspapers in the living room, preferring to eat her food cold and allowing the girls to skip school. Her transient ways leave her restless in the house. In response, Lucille seeks out a more normal childhood; Ruth can't help but be drawn in, with implications that last their whole lives.
Shortly after Sylvie takes up permanent residence, a flood seeps into Fingerbone, covering the town with water and dampening everything, including her spirits. So, I thought some local mushrooms, which require a damp environment to grow well, would pair nicely with the poached eggs Sylvie ate upon her arrival. This weekend's brunch was Poached Eggs on Mushroom Arugula Toast.
First, I roughly chopped my mushrooms (so nicely picked up by Scott at Eastern Market on Saturday morning) and my flat leaf parsley.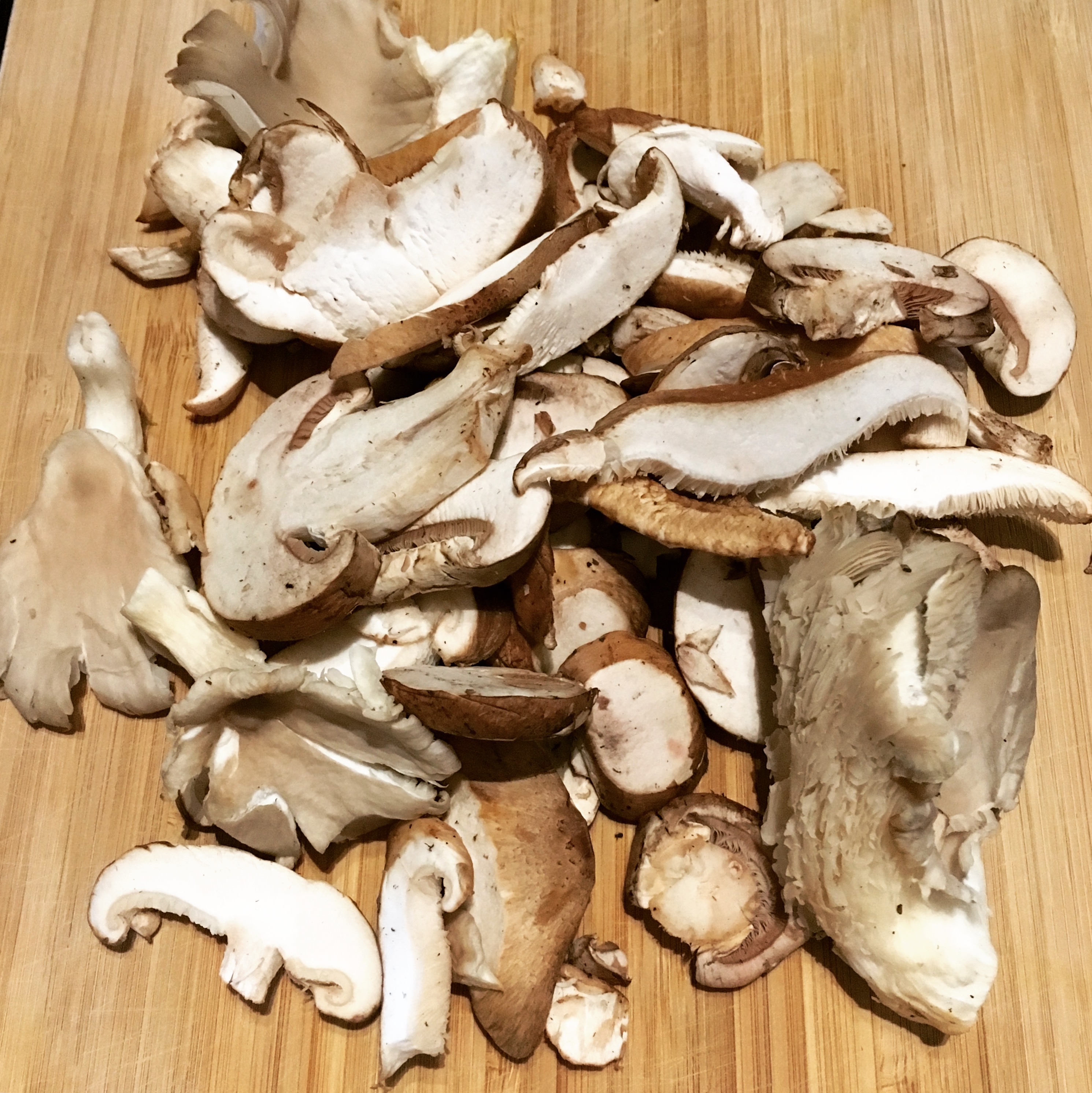 I set a high-sided skillet mostly filled with water onto the stove to begin coming to a boil for the poached eggs. In another medium skillet, I heated through a tablespoon or so of olive oil and added the mushrooms. After a few minutes, when they were lightly browned and softened, I added the minced garlic and a pinch of red pepper flakes.
About a minute later, I added the goat cheese and milk and stirred until combined. I seasoned with salt and black pepper before adding the butter. At this point, I turned off the heat because my poaching water was ready to go. I also slipped my bread into the toaster.
I poured approximately 2 tablespoons of vinegar into my softly boiling water (vinegar will vary based on the amount of water, but for about 3 inches of water in a 10" pan, 2 tablespoons worked perfectly). I started with 2 eggs and cracked each into its own small bowl, lowering them one at a time into the water so that a bit of the water could seep in and help to start setting the egg white. I slowly poured the egg into the boiling water and used a wooden spoon to "collect" the egg whites around the yolk. I repeated with the second egg and set a time for 3 minutes.
I reignited the heat under the mushrooms and added the parsley and arugula so it could begin to wilt while the eggs finished poaching. I placed the finished toast on a plate, topped with the mushroom mixture and, once the eggs were done (fish them carefully out of the water with a slotted spoon), I added them to the top of the toasts.
Poached Eggs on Mushroom Arugula Toast
Slightly Adapted From:
Shutterbean
(whose pictures are much nicer than mine)
Ingredients
2 slices hearty bread, toasted
a glug olive oil
6 oz. mixed mushrooms, roughly chopped
2 cloves garlic, minced
2 tablespoons milk
2 oz. goat cheese
a pad of butter
kosher salt & fresh ground pepper
a pinch red pepper flakes
⅓ cup chopped Italian parsley
a handful of arugula
4 eggs, poached in two batches
Directions
Begin by heating a deep-sided skillet or wide pot filled with about 2-3 inches of water over medium-high heat. This should be brought to a soft boil while you cook the mushroom topping.
Meanwhile, heat a medium skillet over medium-high heat with a glug of olive oil. Add in mushrooms and cook until softened and lightly browned, about 3-4 minutes. Stir in the garlic and red pepper flakes and cook for another minute.
Add in the milk, and goat cheese, stirring until well combined. Season with salt and pepper. Stir in butter. Turn off the heat while you make the poached eggs.
Add about 2 tablespoons of vinegar to the softly boiling water. (If it boils to aggressively it will cause the whites of the eggs to fall apart.)
Put each egg in a small bowl (a measuring cup works well too). Carefully tip the bowl into the pot so that a bit of the hot water helps to start setting the egg and then pour the egg slowly into the pot. Using a wooden spoon or similarly blunt cooking utensil, gently push the egg whites over/around the yolk. Repeat with the second egg. Allow eggs to cook for approximately 3 minutes.
While the eggs cook, put your toast in the toaster.
Turn the heat back on under the mushrooms and add the parsley and arugula. When arugula has wilted, take mushrooms off the heat and transfer them to the top of the toasts. Place a poached egg (or two) on the top of each mound of mushrooms. Season with salt & pepper and serve immediately.
This post contains affiliate links. Full disclosure here.