Bridge Daughter came to my attention when a friend, who happens to know author Jim Nelson, recommended it. Based on the concept alone, I knew I had to read it. Once I got started, I finished it in less than a day.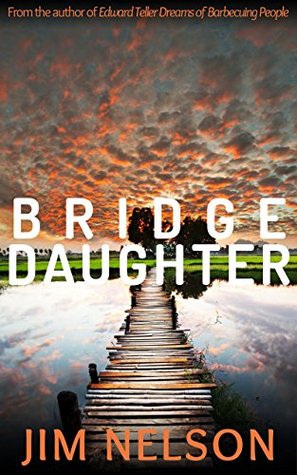 A short dystopian novel, Bridge Daughter describes a world very similar to our own, with one exception - when a woman gives birth, she always gives birth to a bridge daughter. Fourteen years later, the bridge daughter gives birth to her actual child.
Hanna is one of the lucky ones. Raised by caring parents and taught to read, she grows up hoping to attend college and start a career. These dreams seem possible, until she learns that she, too, is a bridge daughter. Hanna must decide if she wants to accept her fate or become the woman she always dreamed she'd be.
A strong character, I found myself sympathizing with Hanna and rooting for her until the very end. The morning her mother forces her to make pancakes for breakfast, it becomes clear things are shifting for Hanna. Later on, pancakes are on the table again as her life takes another unexpected turn.
I'm sure Hanna made traditional breakfast pancakes, but since I decided to make them for dinner, I opted for a more savory recipe - adapted from Wonderland Kitchen's Pancakes with a Heart of Gold. An apt name, I think, as Hanna counts on the goodness of many along the way.
I began by finding my sifter so that I could get my dry ingredients together and shredding my small zucchini, so it would be ready to go.
After combining all of the ingredients to make the pancake batter, I heated my griddle and put the first one on. Here it is with some cheddar, pre-flip.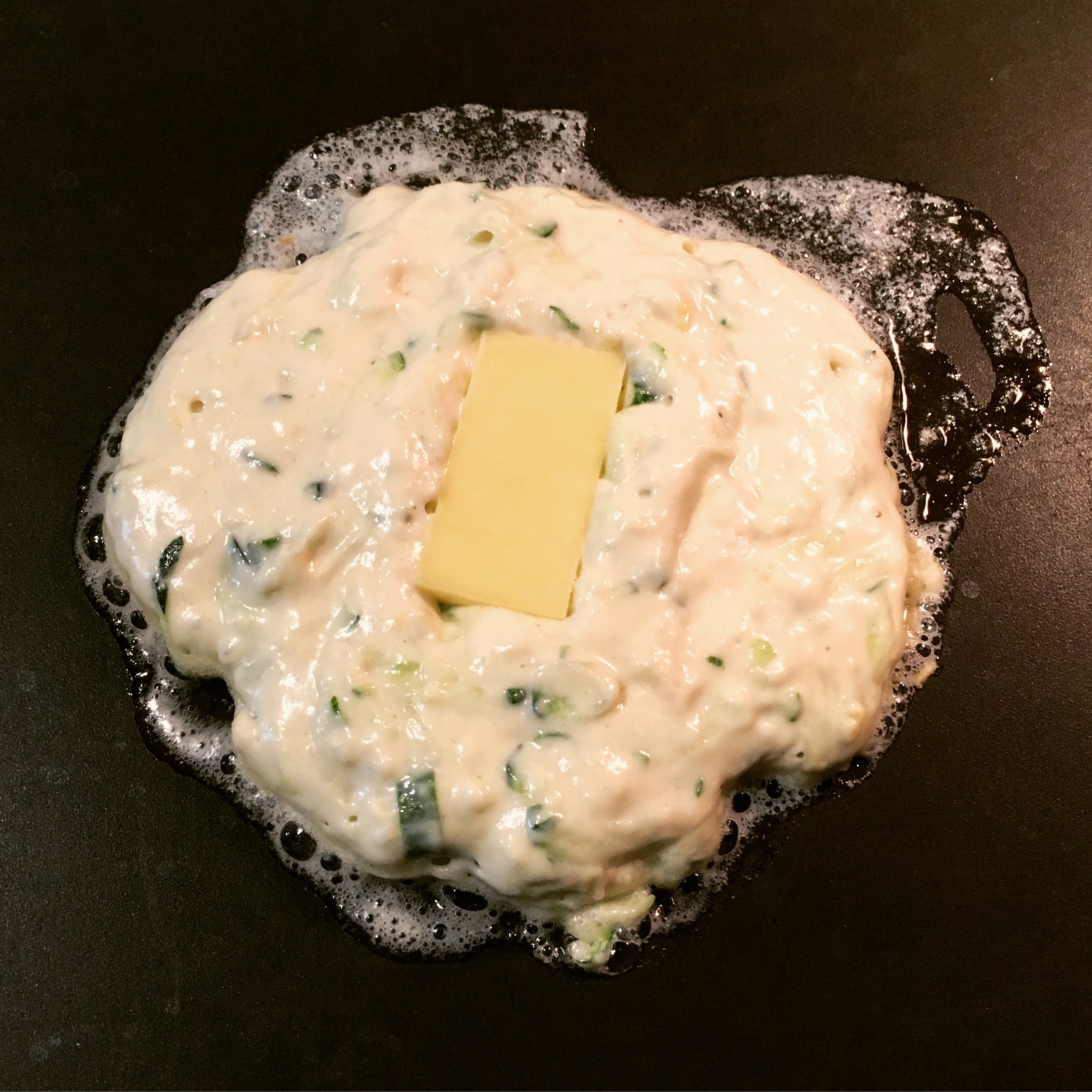 I always find pancake-making a little precarious - a flip too early can create a mess, just as a misplaced turnover can end up folding the little guy in half...or off the griddle onto the stovetop. Fortunately, no pancakes were harmed in the making of this post, so I call that a success.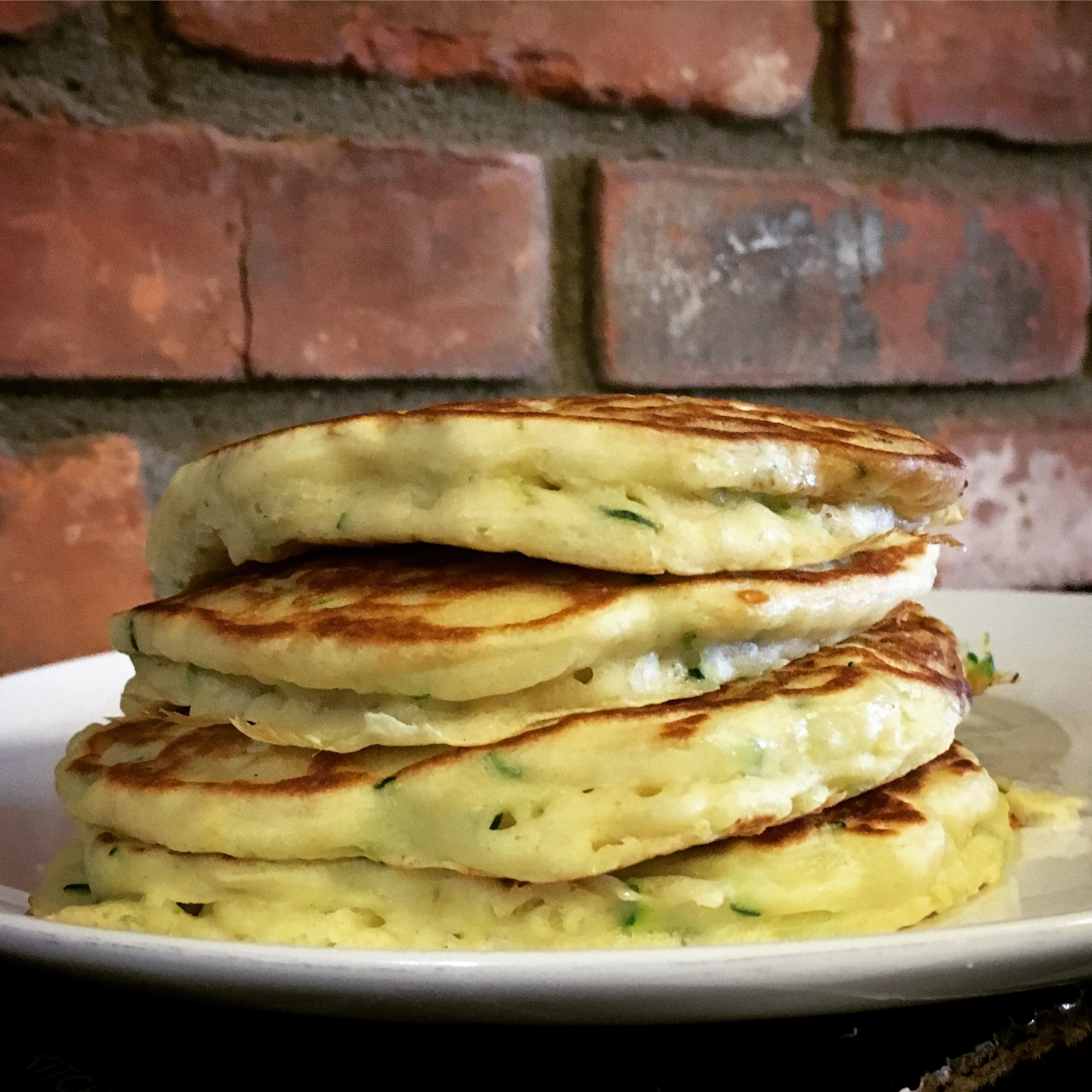 Zucchini Pancakes with a Heart of Cheddar
Ingredients
1

cup

flour

1

tsp

baking soda

1/2

tsp

salt

1

tsp

sugar

1

cup

buttermilk

1

egg

1

TBS

olive oil

1

small zucchini

about 1 - 1 1/2 cups shredded

2

scallions

finely sliced

1

garlic clove

minced

1

tsp

lemon zest

8

thin slices of cheddar from a block

(I used sharp white cheddar)
Instructions
In a medium-sized bowl, sift together flour, baking soda, salt, and sugar. Set aside.

Shred zucchini and blot well with paper towels to remove as much excess moisture as possible.

Beat egg into the buttermilk and add this mixture, the oil, zucchini, scallions, and lemon zest to the dry ingredients. Whisk together until just incorporated. Allow to rest while bringing your skillet or griddle up to medium heat.

When hot, grease lightly with a little butter. Drop batter by the roughly 1/3 cup onto griddle.

When dry around the edges and ready to flip, place a slice of the cheese on top of the uncooked side and turn in over in the pan. Continue in this manner until all pancakes are made. I got eight 6-inch cakes.

Serve hot topped with a pat of butter and a drizzle of honey.
This post contains affiliate links. Full disclosure here.