Hi there! If you're already well-acquainted with The Hungry Bookworm, you know that I love all things book- and food-related. If you're new to the blog, welcome! I decided to compile a list of things that get me really excited - bookish, foodish and otherwise - so you can try them out for yourself. What are your some of your favorite things? Add in the comment below!
Some of these links are affiliate links, and though following and/or purchasing through the link will cost you nothing additional, I may receive some compensation if you do, which helps to make up for the time and money I spend to bring you blog posts each week. All of these products are ones that I absolutely adore, and I'm sharing them because I want to. There is absolutely no implied obligation to buy.
Bookish Things
Book of the Month - As avid followers will know, I love love love my Book of the Month subscription. Not only is it a cost-effective way to get brand new hardcover books, sometimes you also get the opportunity to get your hands on a book before it's even released. Subscriptions start at $14.99/mo (for 3 months) but can be as little as $11.99/mo. The best part? If you don't like the selections that month, just skip it! You subscription will extend at no cost to you, and you don't get stuck with a book you don't like. (The link above gets you your first book and a tote bag for just $9.99.)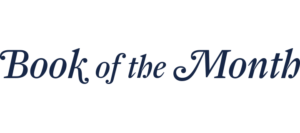 Candles by Frostbeard - This lovely shop on Etsy has the widest variety of bookish candles I've ever seen - from classic smells like Old Books and Bookstore to Harry Potter favorites Pumpkin Juice and Divination Classroom. Add a little mood lighting and warmth to your book nook with one of these.

Library Stamps by Packagery - Do you ever get a little nervous when you hand over a beloved book to a friend? Well, now you can lend your books without worry! Make your mark in the cover of all your favorite novels with one of these adorable stamps. They can be completely personalized, and there are dozens of options to choose from. These also make a great gift for wonderfully bookish friends.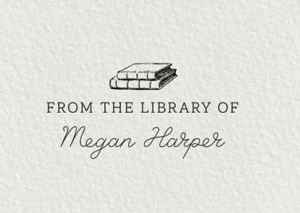 Thriftbooks - Imagine going to a used book sale and being able to find exactly the book you were looking for, every single time. That's Thriftbooks. Full of popular and hard-to-find used books, it's great for book lovers on a budget. (The link above provides first time users with 15% off their first order.)

Kindle Paperwhite - Some of you may be firmly in the real-books-only-please camp. I was once too, but then I was lucky enough to get a job that required a two-hour trip each way (mostly by train), which allowed for ample reading time, but became a bit cumbersome when it came to bringing along enough books each time. For those of you without long commutes via public transit, no more Sophie's choice before vacation! Bring along every single book your heart desires. And, if you like reading outside, the Paperwhite is just like a book - no shiny glare - and as a bonus, the pages don't blow in the wind. My favorite thing about it, though, is the built-in light and one-handed reading, allowing me to read in bed while being almost completely under the covers. (Yes, I still read real books - often! - but this wonderful little device certainly comes in handy for an avid reader like myself.)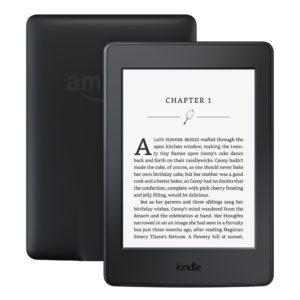 Foodie Things
Recipe Journal - My mom got me one of these when I grew up and moved away, but first she filled it with some of my favorite family recipes. This can make a great gift for a loved one, or you can buy one yourself and start documenting your own favorites. It makes re-making them a snap - no more frantically searching Pinterest for the link you knew was there somewhere.
Mortar and Pestle - Ever since I took a cooking class in Thailand, where they grind up their own spices to make curries, I wanted one of these for my own kitchen. Not to mention that a mortar and pestle is featured as a thoughtful gift in one of my favorite foodie movies, Julie & Julia. No matter your reasoning, these little tools are super useful in the kitchen and look really impressive sitting on a shelf.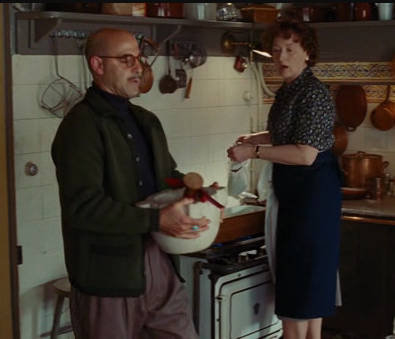 Make Your Own Cheese Kit by UrbanCheesecraft - I received one of these little kits for my birthday one year and got so much joy out of making my own cheese. It's an experience like I've never had before. Plus, you get the added bonus of bragging that you made it yourself.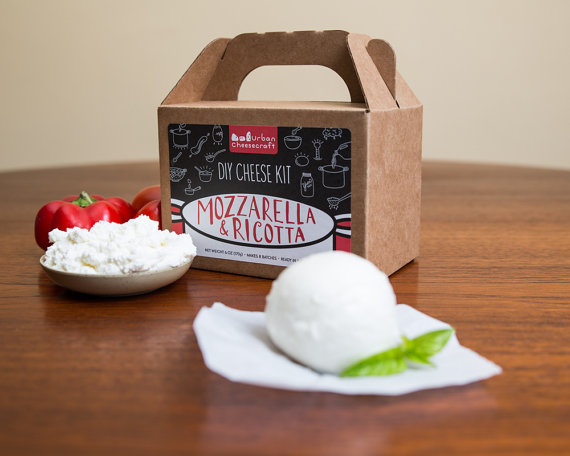 A Slow Cooker - As much as I love cooking, sometimes I just want an easy meal that I can set and forget. A slow cooker is an amazing cooking tool to have in the kitchen, and here's why: Dinner cooks while you're doing other things. It makes your whole house smell amazing. It doesn't make your kitchen super hot (particularly important in the summer or warmer climates). You can literally make everything in it - breakfast, soup, pot roast, pasta and even dessert. Whichever model you choose, programmable is key and it's nice if it has a sealable lid for taking it to potlucks.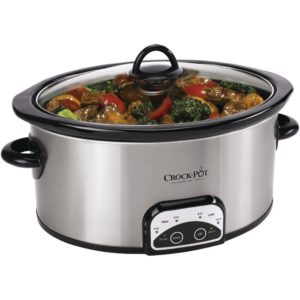 Books about Food
Voracious by Cara Nicoletti - I read this memoir early on the summer I decided to start this blog, and it absolutely served as inspiration. For those of you who are fans of The Hungry Bookworm, this would be right up your alley - not only is it full of delicious recipes, each of them are paired with a book from Cara's life. She shares memories of growing up and reading and cooking throughout.
My Life in France by Julia Child and Alex Prud'homme - Any foodie should read this book at least once. Julia Child, obviously, is an idol of mine, but above and beyond that, her love of food is contagious. The descriptions of her meals and her experiences learning to cook are rich and full of heart. And, yes, it'll definitely make you hungry.
Bread and Wine by Shauna Niequist - Apparently all my favorite food books are food memoirs. Shauna's is no exception. It's filled to the brim with delicious recipes, and like me, she borrows a lot of her favorites from recipe-makers better than she. Still, it's an appetizing collection worth adding to your shelves.
Books about Books
The Storied Life of AJ Fikry by Gabrielle Zevin - When we read this novel for my book club, I found it absolutely charming. Zevin tells the story of a bookseller in a small town on an island, where by the end, books make a difference in the lives of so many. It's heartwarming and lovely, and if you don't already own it, you should.
The Jane Austen Book Club by Karen Joy Fowler - Every time I read this, I want to join in and read some Jane Austen myself (though I rarely, if ever, do). It's a wonderful homage to her work, but even if you're not that familiar with Austen, it's enjoyable. I've only read Pride and Prejudice, and I love it nonetheless. At its heart, it's about a book club and how its members handle what life throws at them, supporting each other all the way.
How to Find Love in a Bookshop by Veronica Henry - The title alone makes this novel irresistible to book lovers like us, but beyond that, it's an enchanting story about a community of book lovers who come together to keep a bookstore alive. It ends around Christmastime, making it the perfect gift to cozy up with during the holidays. But I read it in the summer, and I think it's great no matter what time of year you choose to indulge. 🙂
BONUS: Gilmore Girl Things
Eat Like a Gilmore by Kristi Carlson - This cookbook was released right around the time the Netflix reboot came out, and I was so excited I preordered it. I made a few recipes from it during my whirlwind Gilmore review week (here, here, and here), and I really need to set aside some time to cook from it again. It's full of recipes from your favorite episodes, so you too can pull off an impressive Emily Gilmore Friday Night Dinner or just pretend you're chilling with Luke at the diner.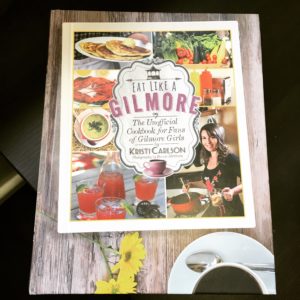 No Cell Phones Sign - If my mother could see this sign posted near any dining table, she would be a happy woman. I personally love the nostalgia it invokes, and think it would make a great addition to any home library or reading nook.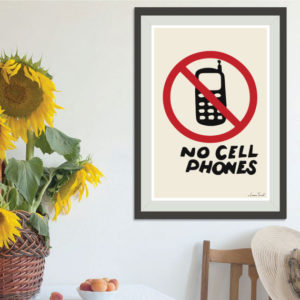 Vintage Stars Hollow Posters by Window Shop Gal - Any Gilmore fan will appreciate this Etsy shop's delightful posters, depicting Stars Hollow in all its glory, all year round.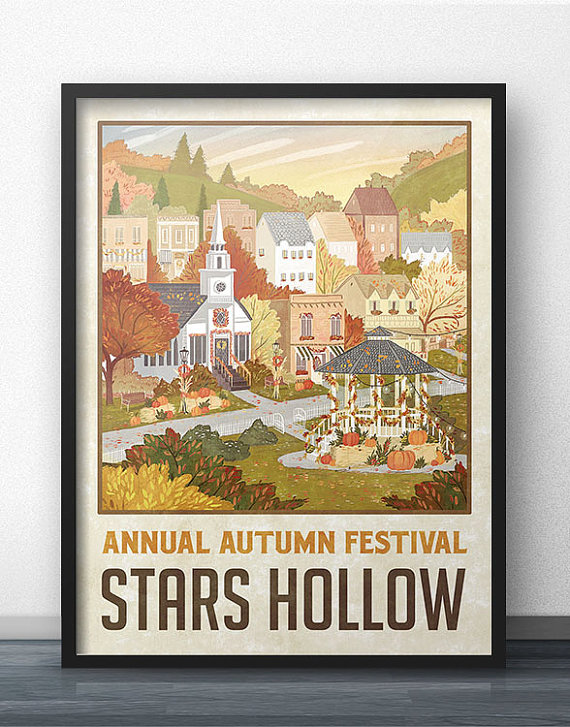 Free Things
Annotated - This podcast from Book Riot deep dives into all things language, reading and books. The episodes are short and sweet, perfect to listen to during a commute. You can download it wherever you get your podcasts.
Libraries - I cannot give enough love to public libraries! In my life, I've been a member of more than a half a dozen library systems, and honestly, they just get better and better over time. Libraries give you free access to everything from physical books to audiobooks to e-books, usually including brand new releases you'd normally be paying $20+ for. They put on tons of free programs, often have book clubs, and offer a cozy, quiet place to read. If you're not a member of your local library, I encourage you to become a member and check it out.