Last year, I made my first Hungry Bookworm recipe on June 27th for an upcoming book club meeting, where we discussed The Age of Miracles. A few days later, on June 30th, I published my very first post. I was nervous and excited, but clearly, it worked out - and today is my 1 year blogging anniversary!
I can't believe a whole year has already gone by, but I'm really happy that I'm still going strong. Sometimes you start an endeavor and you're not quite sure where it will go or how it will turn out. I have definite improvements to make, but mostly, I'm loving blogging. I've had the opportunity to make (and eat!) 56 new recipes across the 63 posts I've written. Of those posts, 50 have been book reviews and another handful have been wonderful book memes that have connected me with so many other amazing book bloggers.
I decided to take a look back at all the recipes I've made and books I've read over the past year and choose some highlights. Here they are:
Favorite Savory Recipes
Grown-up Ramen: I don't always love the books I read. Who does? But, in this case, a crappy book led to an amazing recipe. I had so much fun planning for this one, and I was legitimately excited when my first attempt at a soft-boiled egg turned out picture-perfect. Oh, and by the way, the ramen itself was amazing. It will definitely on my menu when cold weather starts in again.
Breakfast Casserole: This one made the list mostly because it was one of the few blog recipes that I specifically made for people other than Scott and myself (post-holiday brunch with my parents), so it was a big deal at the time. Also, it's ridiculously easy, ridiculously delicious, and I've already made it several other times and, whenever I share it, people love it. Plus, it's pretty versatile and I've discovered that my favorite meat add-in is sausage. Bring on the breakfast and brunch potlucks!
Norwegian Fish Stew: The reason this made my top three was because I was pretty nervous about making this - exuding confidence to Scott, but mostly wondering if it would be something we actually wanted to eat when it was finished. I felt the same way about the book - hesitant in the beginning, but in the end, loved them both. This was just an amazing recipe for fall, a really warming and filling soup that I will be making again. And this time I know to not invite any guests over for about a week afterward due to the smell. 😛
Runners-up: Spanish Bean Stew with Chorizo (Scott's favorite, for a book we both loved) and Mac and Cheese in a Jalapeno-Chipotle Cream Sauce (both because it was tasty and because Gilmore weekend with Deanna was so much fun)
Favorite Sweet Recipes
Earl Grey Ice Cream: Yes, I just made this, but I've already made it four more times because it was such a hit when I brought it to work, so it's definitely top of mind. (And, despite efforts to get me to start making ice cream full time, I won't be doing so…) Most of all, it is one of the best ice cream flavors I've ever had, and it was way easier than I expected.
Swedish Dream Cookies: This is another recipe I've made multiple times since trying it for the blog. I loved the book that brought them to me, and I ended up loving them way more than I expected to (for coconut reasons, which I explained in the original post). They're pretty foolproof for people who don't always excel at baking - ahem, me - and absolutely delicious.
Exploding Truffles: I made these in honor of the wonderful Weasley twins last Halloween, and like the two of them, this candy was pure fun. The combination of chocolate truffles and Pop Rocks surprised some unsuspecting tasters and brought delight to those who were expecting a bit of an explosion.
Runners-up: Strawberry Pie (memorable - and not just because I had to bake the crust 3 times to get it right) and Funfetti Cake (easier than I expected, over-the-top and super fun to share)
Favorite Dog Recipe
Just kidding, I only made one recipe for dogs, but it was great. Beta loved the little bone-shaped treats and so did all of the coworkers' dogs that I shared them with. They've inspired another pup-friendly recipe coming up soon!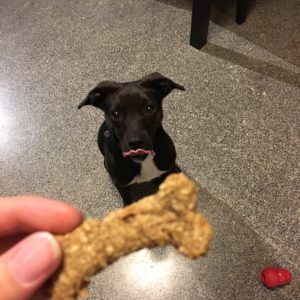 Favorite Books
Small Great Things: This has been my only 5-star book in the last two years that wasn't in the Harry Potter series. I've had some very close calls, but no question, this is the best one since I've been blogging. It stuck with me for weeks after reading it, and I'm still thinking about it and recommending it to people. If you haven't read it yet, do it.
My Grandmother Asked Me To Tell You She's Sorry: Ah, this novel was just so charming. I was completely immersed in the story of Elsa and her grandmother's fairy tales. It also led me to the aforementioned Dream Cookies, which I am forever grateful for.
Lillian Boxfish Takes a Walk: Apparently I love charming novels, because this one falls into that category as well. I was drawn to this book because, like myself, Lillian Boxfish is also a woman of the advertising industry, and it was based on a real person. It made me appreciate where we are today and the women who led us here, though as whole, we still have a long way to go. (Bonus reason: Oreo Cheesecake)
Runner-up: Bridge Daughter, which was such an interesting concept I couldn't resist and literally went out to get the book as soon as I heard about it from a friend. It also led to my "biggest blog surprise" moment when the author Jim Nelson approached me to be a part of an online cookbook because of my early post about his novel. I was so honored to be asked and have my recipe for Zucchini Pancakes chosen to accompany his work in KP Authors Cook Their Books. It's one of the few recipes that I made my own (usually preferring to use recipes from people far more gifted at recipe-creation than I am), but it's also one that I'm proud of. It turned out to be delicious and it fit the story well, which has really been the point of Hungry Bookworm from the start - good books leading me to good food.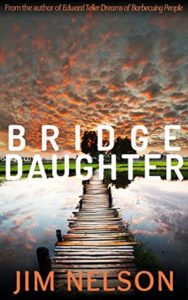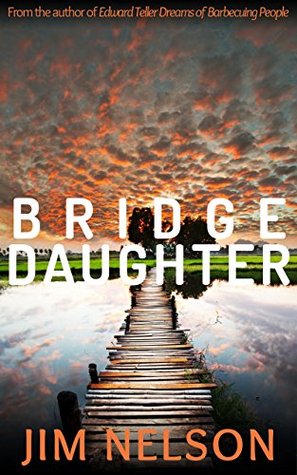 More than 600 people visited my blog last year, and over 1,000 visitors have already dropped by in 2017! I'm still astonished by and so grateful for the positive feedback I get on my blog on a regular basis. I looking forward to another year of reading, eating, and sharing it with all of you!
And, finally, to celebrate I'm doing an Anniversary Giveaway! You can win a copy of your favorite book from the first year of Hungry Bookworm posts (US only). See details below:
You must be a blog subscriber (if you aren't already, follow me

here

!)

Leave me a comment that includes your favorite blog post - this is the book you'll be sent if you win
The winner will be selected by random drawing on August 11, 2017 at 6 PM Eastern time. I'll post the winner in my next post on Saturday, August 12 - so come back then to see if you've won a free book! 
Thank you all for making my first year as The Hungry Bookworm a great one! Good luck!
This post contains affiliate links. Full disclosure here.