Mia P. Manansala's debut novel, Arsenic and Adobo, is the first book in a new culinary cozy mystery series. Though I've never read a cozy mystery, I have always been intrigued by them — especially since there seem to be a lot of culinary cozy mysteries where food is front and center. When fellow blogger, Elizabeth from Dinner and a Novel, suggested we do a buddy read and each cook something to go with it, I didn't hesitate! Not only is Arsenic and Adobo my first cozy mystery, it's my first culinary buddy read too.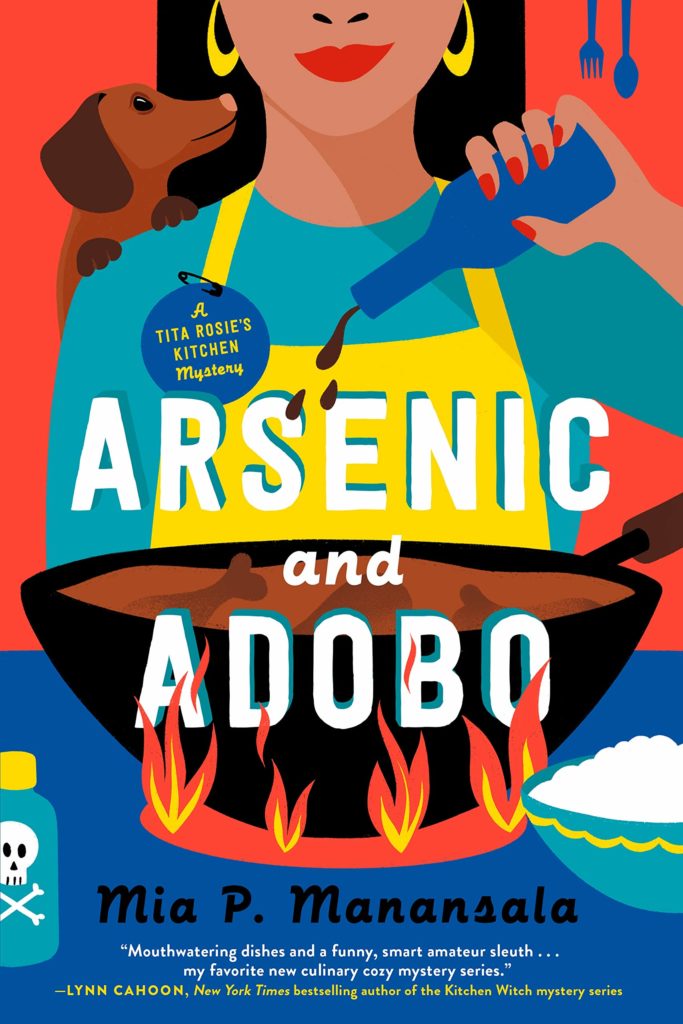 In the story, Lila moves back home from Chicago to help her Tita Rosie save her restaurant. Right away, a local food critic heads into the restaurant to cause trouble and then drops dead at a table — oh, and he happens to be Lila's ex-boyfriend too. Lila is quickly caught up in the investigation and trying to conduct her own so she can clear her and her family's name.
The pages are full of a varied cast of characters — they almost pop right off the page. I really appreciated the diverse representation throughout. Alongside the characters, of course, are plenty of food mentions. Tita Rosie runs a Filipino restaurant, and Lila's investigation of the food critic's death takes her to restaurants all over town, which had me drooling all over the place.
Overall, the story was super entertaining. Since this is my first cozy mystery, I don't have much to compare it to, but it was fun and enjoyable and will definitely make you hungry — if that's what you're looking for.
If you'd like to try some of the plentiful food Manansala mentions, you don't have to go far! She conveniently included a few recipes in the back: Lila's go-to cookie recipe for ube crinkles, salabat-spiced banana bread, a coconut jam, and of course, chicken adobo. You can stop on by Dinner and a Novel to see how the ube crinkles and chicken adobo look. 
I opted to make ensaymada, which is something that seemed to come up over and over again throughout the story. It's a soft, sweet pastry covered with butter and sugar and… cheese. Even though its origins are Spanish, ensaymada is apparently a beloved Filipino recipe now. I had to give it a try.
It was pretty easy to make, though you need to make sure to plan for it — the dough has to rise a couple of times and all of that rising takes at least 3 hours (but up to 4 or more, since you have to be patient). I was skeptical about cheese on what looks like, for lack of a better word, a frosting-covered cupcake. But it worked.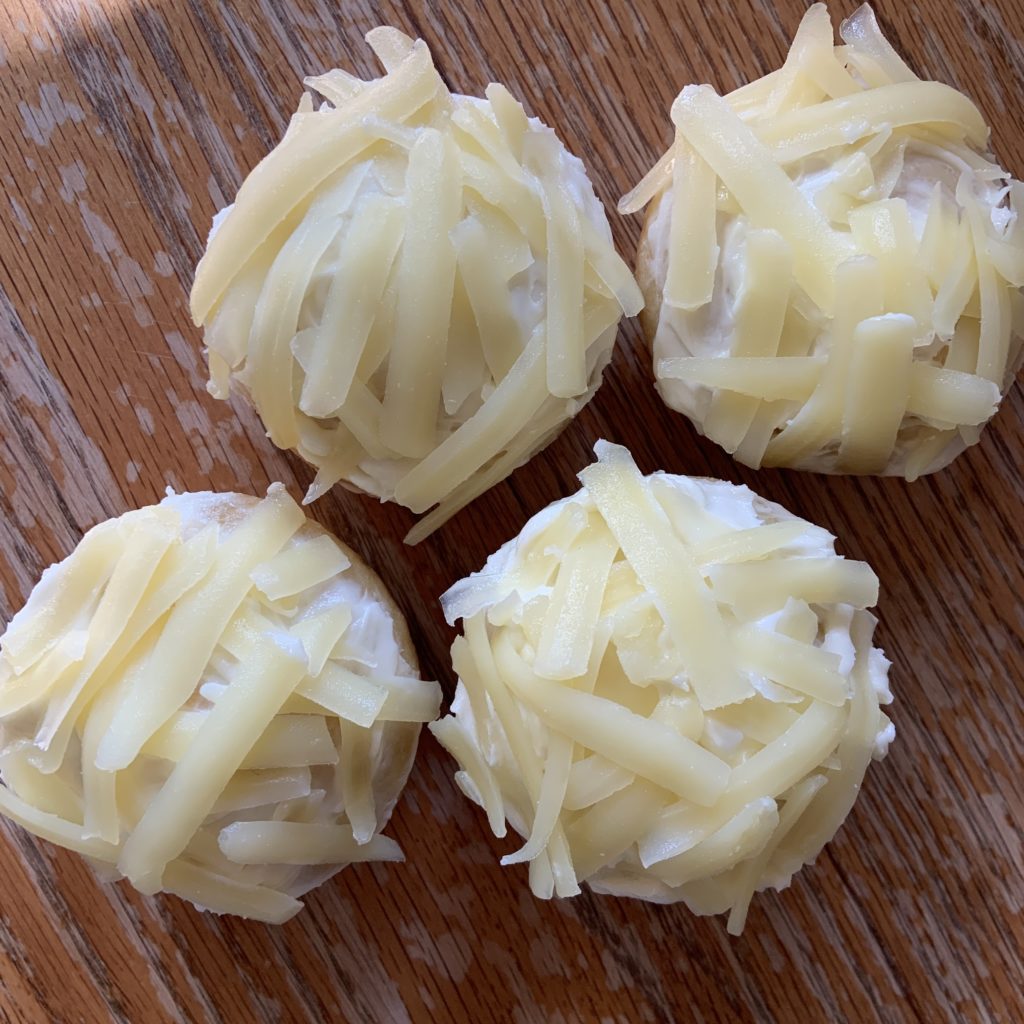 The pastry was soft and sweet (but not too sweet). The buttercream from the recipe wasn't too sweet either, but then the cheese on top (I used white cheddar) added a nice dose of saltiness that brought it all together. I can see why Filipinos love to snack on these.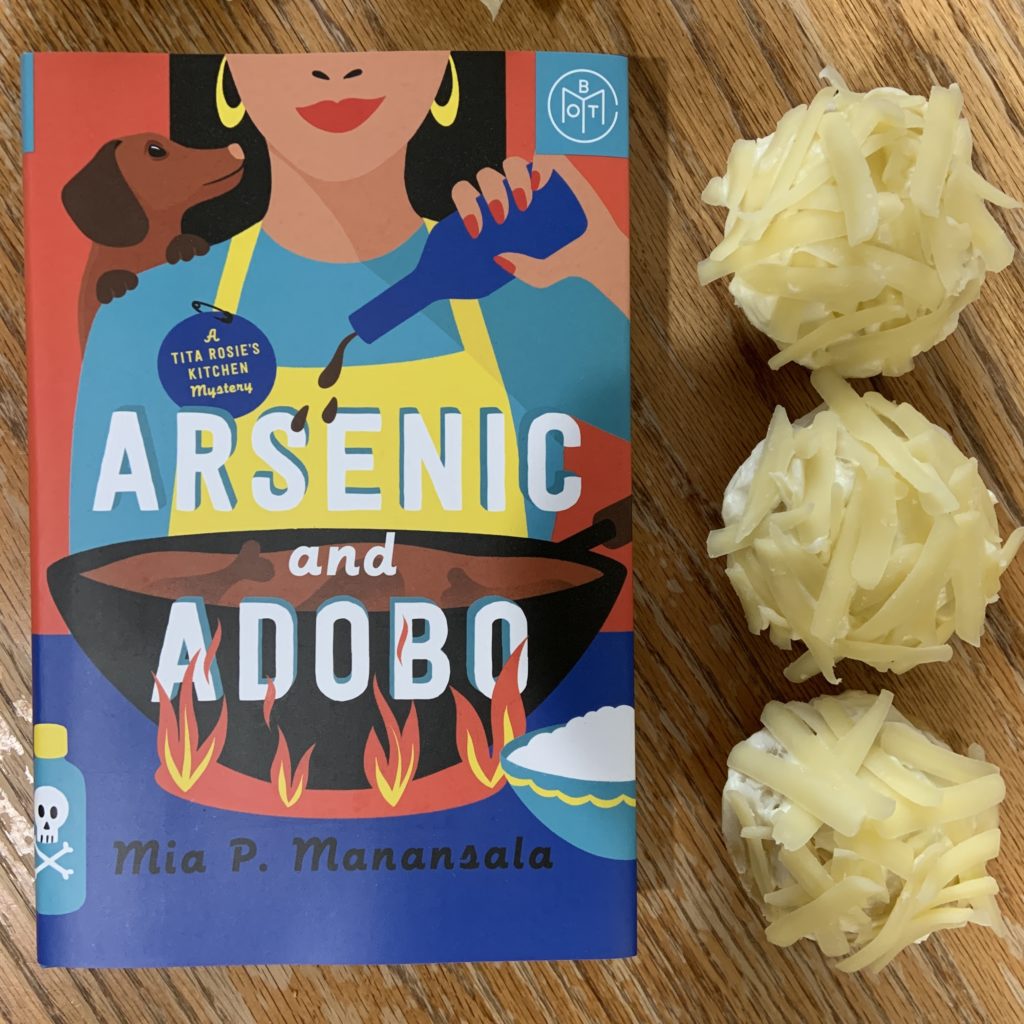 Don't forget to stop by Dinner and a Novel for some more delicious book-inspired cooking!
If you're a cozy mystery fan, I'd love to hear your favorite(s) — books or series! Especially if they're culinary-related ????
Ensaymada
Ingredients
1

cup

milk

⅓

cup

sugar

½

cup

shortening -softened to room temperature

1

envelope instant yeast

¼

cup

warm water

3 ½

cup

flour

3

egg yolks

¼

tablespoon

salt

¼

cup

butter - softened to room temperature- for brushing
For Topping
½

cup

butter - softened to room temperature

½

cup

powdered sugar

1

cup

Kraft cheese or other grated cheese
Instructions
In a mixing bowl, mix together milk, shortening, sugar and salt.

Add half of the flour and the bloomed yeast and mix for 3-5 minutes at medium speed until a paste-like consistency is achieved.

Add the egg yolks and the rest of flour and mix for another 3 minutes. Add more flour if the mixture is too liquid or too sticky but not too much.The dough is supposed to be sticky.

Scrape the sides while folding the dough in the middle of the bowl and then cover with kitchen towel. Let it rest and rise in a warm place for 2-3 hours or until it doubled its size.

Scrape the sides of the bowl while tipping the sticky dough over to the thinly floured working surface.

Roll the dough into a log and cut into 2. Roll each log again and cut into 2. Repeat this process until you end up with 16 slices.

Using a rolling pin, roll a slice into a rectangle (about 8x4 inch) and brush the surface with softened butter. Roll it from one end of the long side to the other end, creating a long, thin log then shape it into a coil (spiral) with the end tucked under.

Place each coiled dough in a greased mold and let it rest in a warm place for about 30 minutes to 1 hour until it has risen to almost double its size.

Bake them in a preheated oven at 300°F /150°C for 20-25 minutes. Once baked let them cool down for a few minutes before removing from molds.Then let them cool completely.

Meanwhile, prepare the buttercream by creaming ½ cup of softened butter and ½ cup powdered sugar.

Using a knife or spoon, cover the top of the ensaymadas with buttercream and lastly with a generous amount of grated cheese.
---
This post contains affiliate links. This does not increase the price you pay, but I may receive a small commission for any products you choose to buy. Purchases made through affiliate links help to cover my blogging costs. Thank you for helping to support The Hungry Bookworm! Full disclosure here.