When I sat down with Jodi Picoult's latest novel Small Great Things, I admit I hadn't read a description. One of my clients had recommended it to me last last year, so I requested it from the library and sort of forgot about it. It came in a couple of weeks ago and I dove right in without expectation.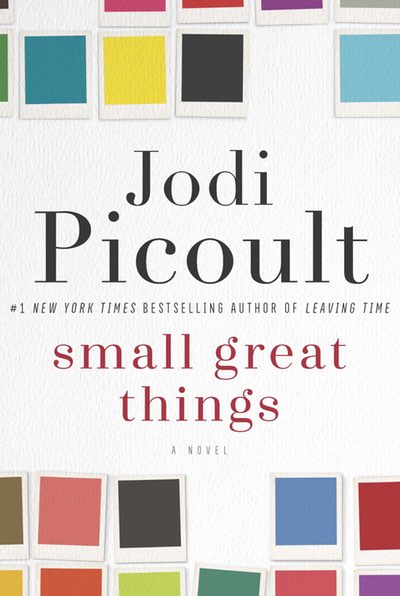 Right off the bat, this quote hit me. It felt so on-the-nose about the world we're currently living in; I knew the right book had found me again.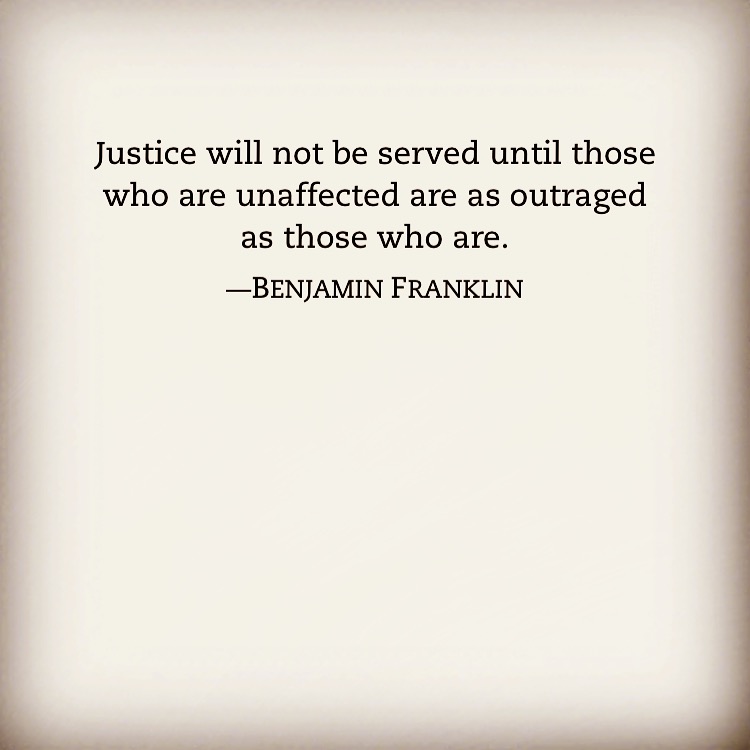 The narrative began, and I was immediately engrossed. I was also often uncomfortable. Three points of view bring this story to life - a black nurse, a white supremacist man, and a white lawyer who "doesn't see color." It isn't shy about race or racism. The topic is the crux of the novel, the reason the story is being told. (Make sure to read the Author's Note at the end.)
Ruth Jefferson doesn't realize when she walks into the hospital room of proud new parents that she's walking into a room of white supremacists. Despite her 20 years of experience, she is prohibited from having contact with them or their baby because of the color of her skin. The next day, when another nurse has no choice but to leave Ruth alone with the baby, he goes into cardiac arrest. She is forced to choose between obeying orders and her duty as a nurse, and ultimately, she is blamed for the baby's death.
During the course of Ruth's trial, each character examines their lives, their beliefs and the world around them. It's intense and it will make you examine yourself and our world as well. Like any story told about race - real or imagined - it made me think, and I still can't stop recommending this book to everyone I encounter.
To go along with Small Great Things, I opted to make a trio of bite-size appetizers. I wanted to make a "well-balanced" variety, so I opted for meatballs, spinach artichoke dip bites, and mini crab-stuffed mushrooms. All of them were easy and could, for the most part, be prepped ahead of time. Of course, they were delicious too.
I started with making the filling for the spinach artichoke dip bites. I combined my spinach (make sure it's thawed and thoroughly drained), chopped artichoke hearts, garlic, garlic powder, salt and parmesan cheese.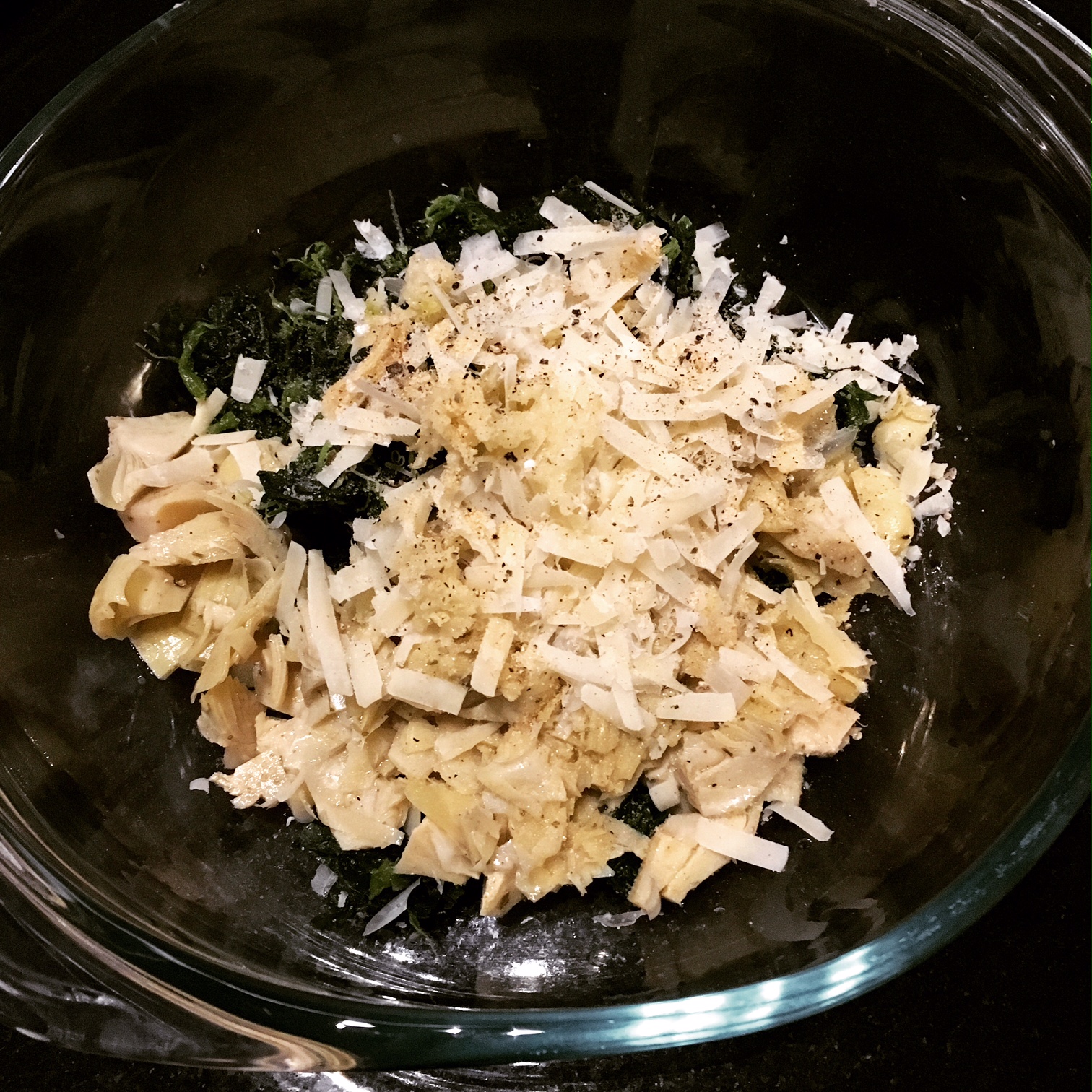 Then, I added the softened cream cheese and half of the shredded cheese, ground some black pepper over the bowl and mixed it all together. I set the filling aside while I cut the crescent roll dough into squares. I sprayed the mini muffin tin with cooking spray and popped one square in each opening, before filling it with the spinach artichoke mixture. I didn't stress out about it too much - just made sure each one was amply filled and had a good sprinkle of shredded cheese on top.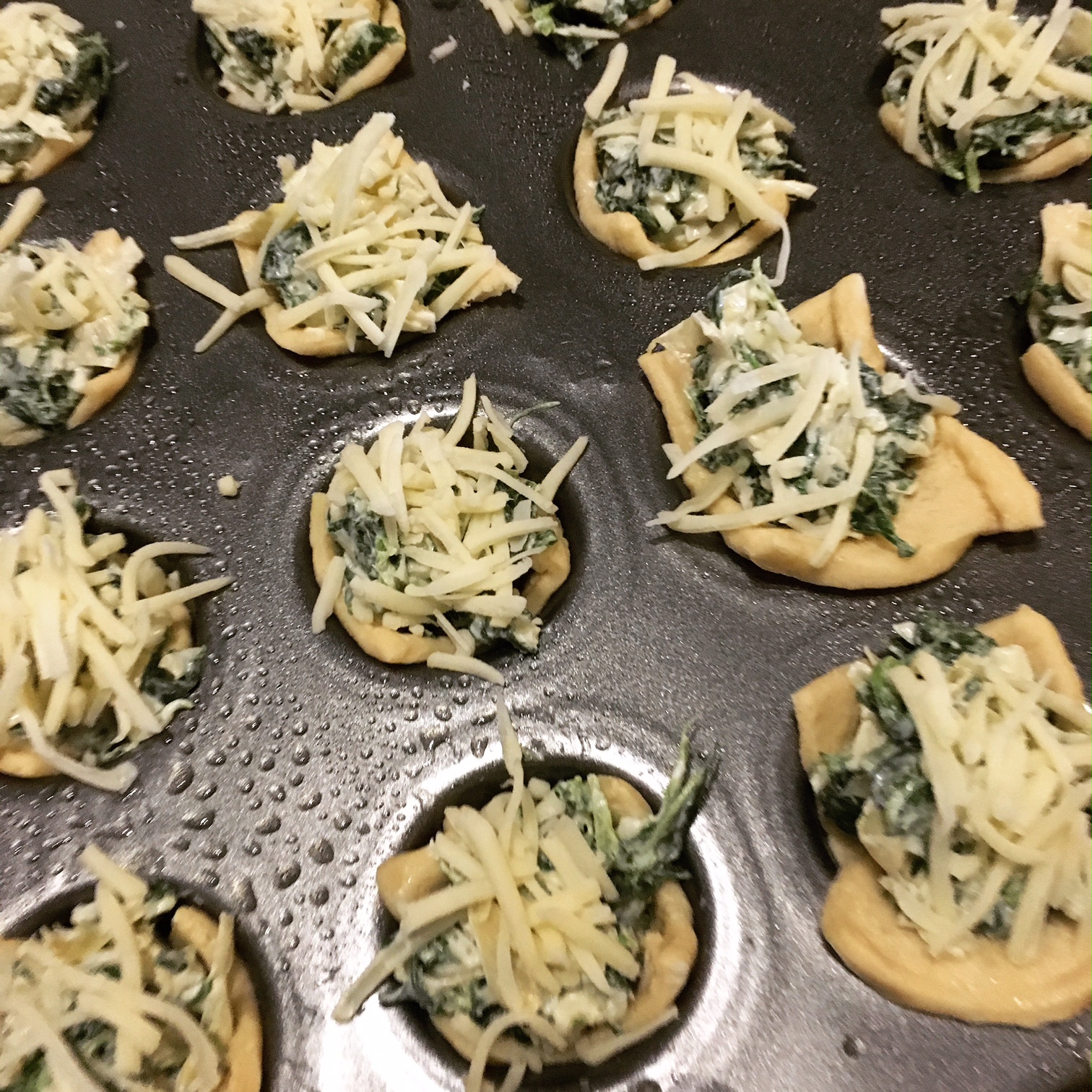 These should bake in a 375 degree oven for 15-17 minutes. After they're finished, allow them to cool for 5-10 minutes before removing from the muffin tin.
Then, I moved on to the mushrooms. First, I cleaned my little army of mini bella mushrooms. (These are my favorite kind of mushroom because they have great flavor, but feel free to use white button mushrooms if you prefer.)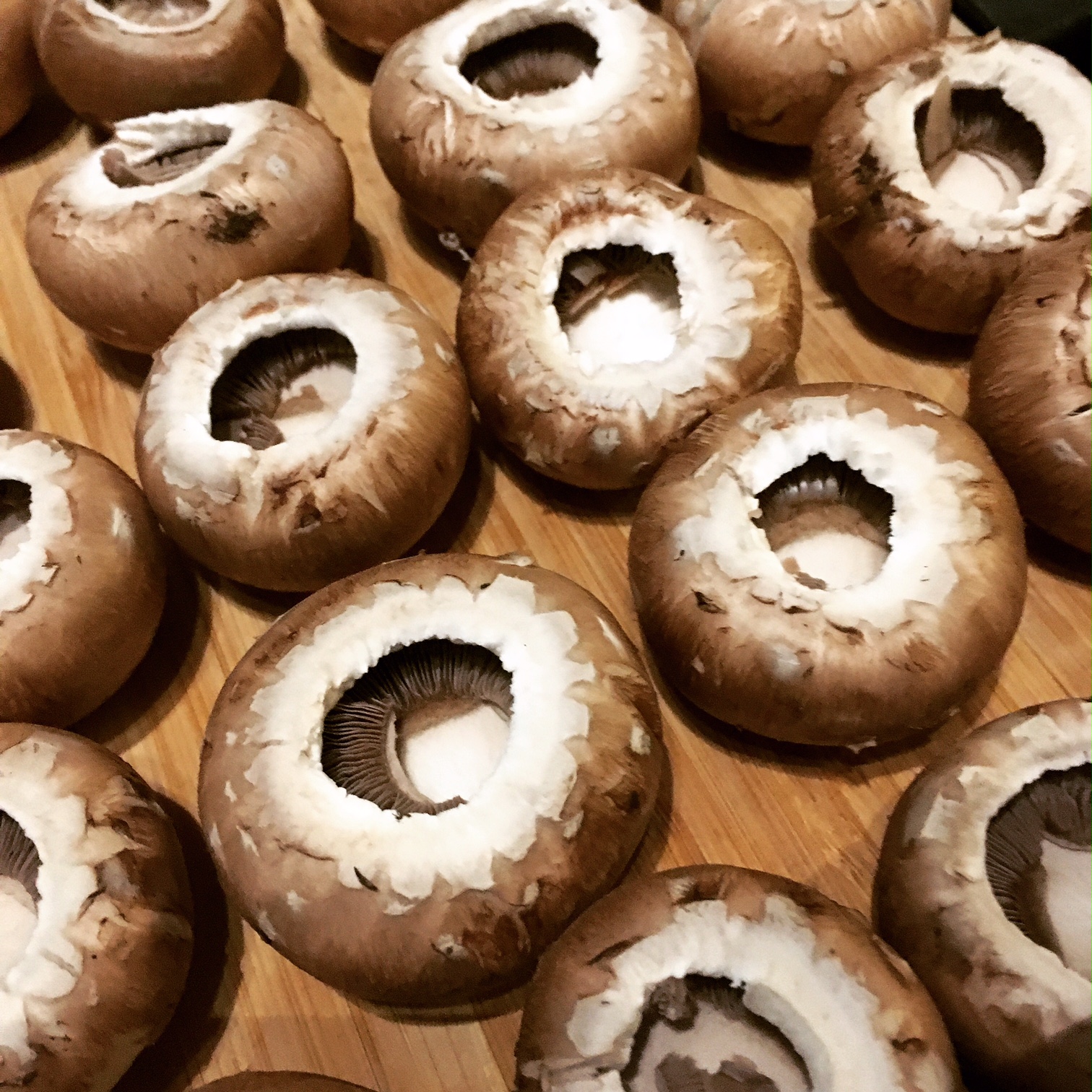 The original recipe recommended that you toss the mushrooms in melted butter until they're well-coated. I did that, but I took out of my recipe below. They were a little too moist, in my opinion. If you'd like to lightly brush the tops only with olive oil (or melted butter) that is probably sufficient.
I lined them all up on a foil-covered sheet pan while I made the filling. To make the the crab stuffing, take a medium bowl and combine the lump crab meat, cream cheese, shredded cheese, Worcestershire sauce and green onions.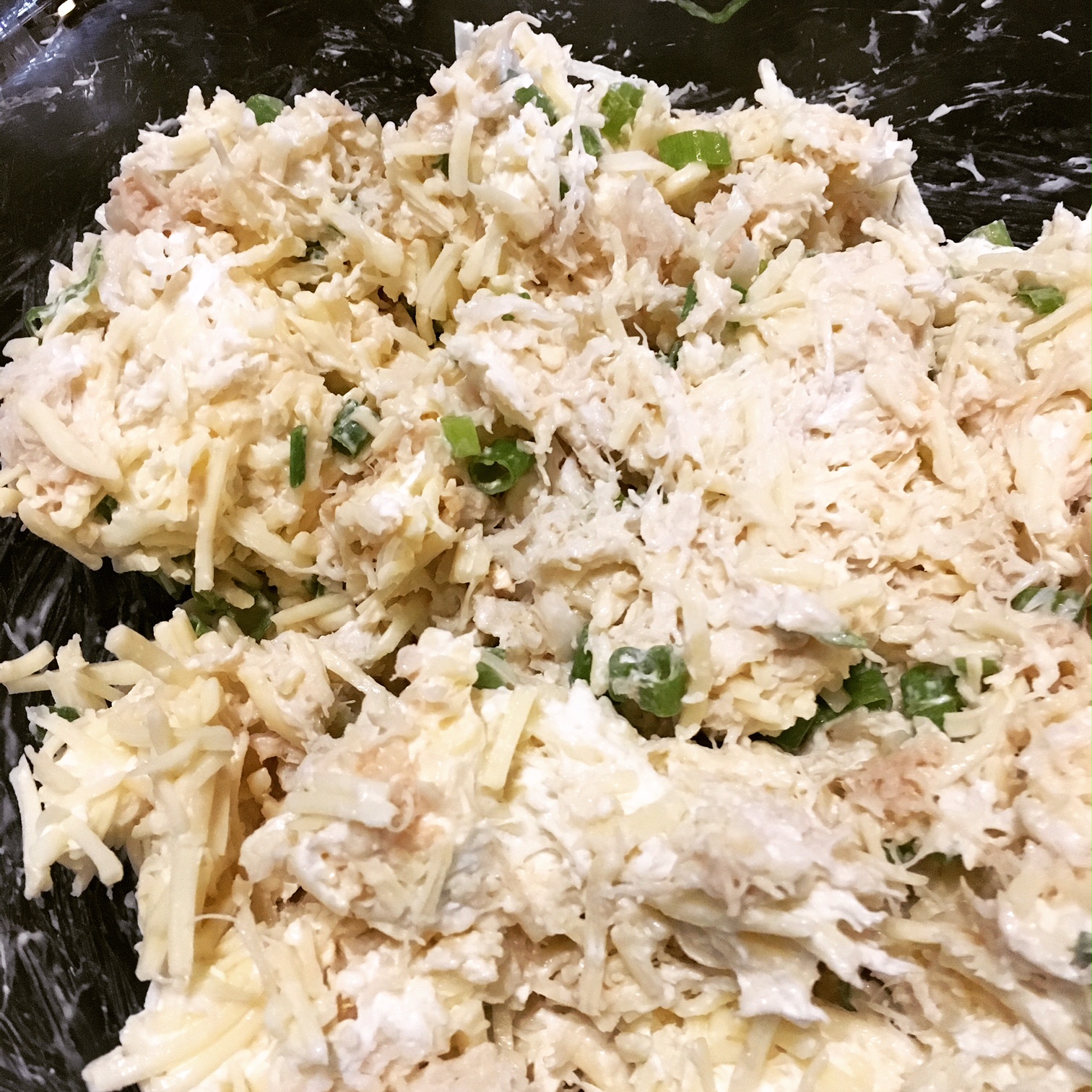 Then, I stuffed each mushroom with as much filling as would fit. It's okay to be generous here - I had them all a little over-filled because the filling cooks down as it bakes. Top each mushroom with the parmesan cheese.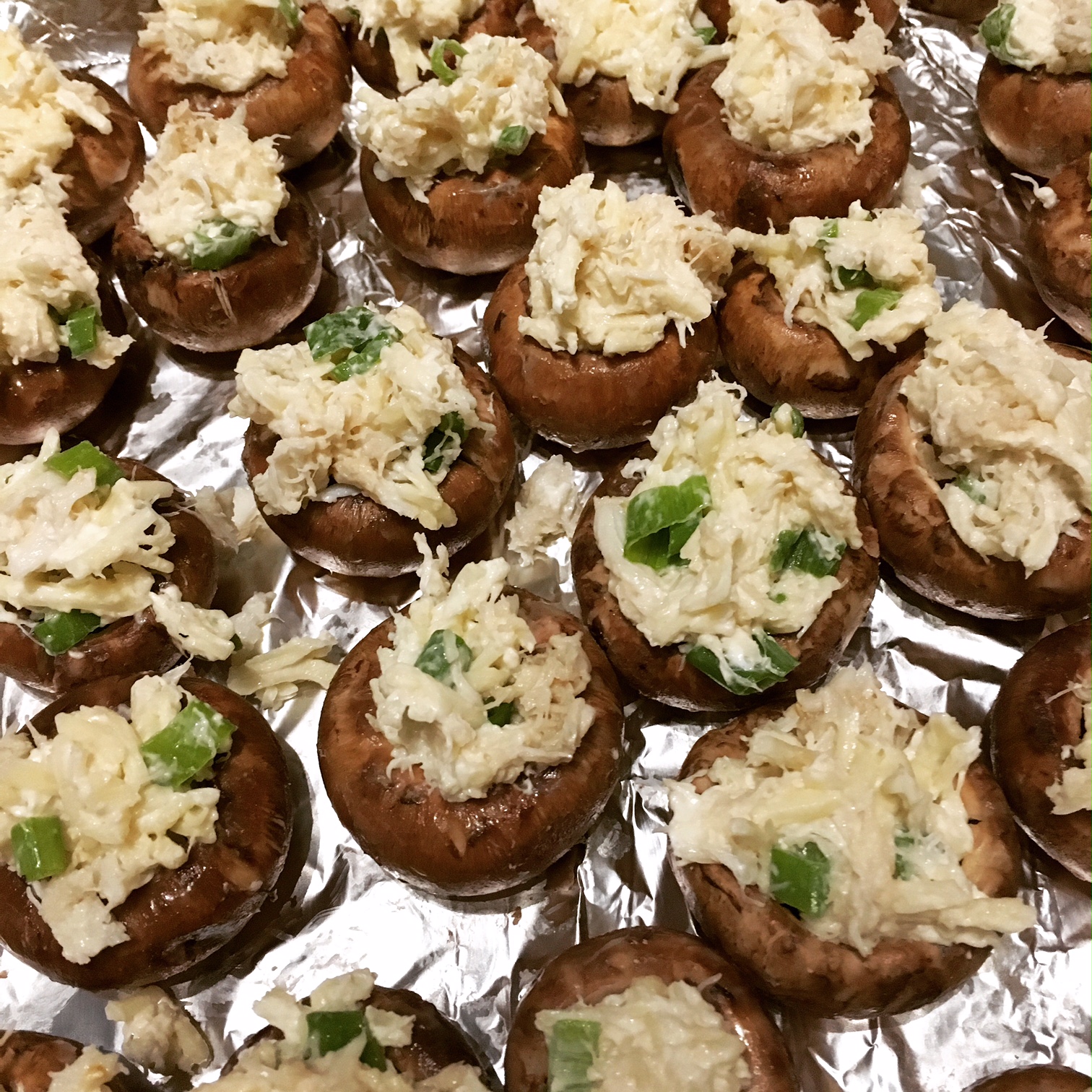 The mushrooms should bake in a 350 degree oven for about 10 minutes. After they are heated through and the cheese is melted, turn on the broiler for between 2-5 minutes, watching closely so they don't burn. The goal is to get the tops to be a nice lightly golden brown.
While everything else was baking, I began on the meatballs. I combined all of the ingredients for the sauce - peach preserves, finely diced chipotle peppers, ketchup, Worcestershire sauce, garlic powder, salt and pepper in a high-sided skillet.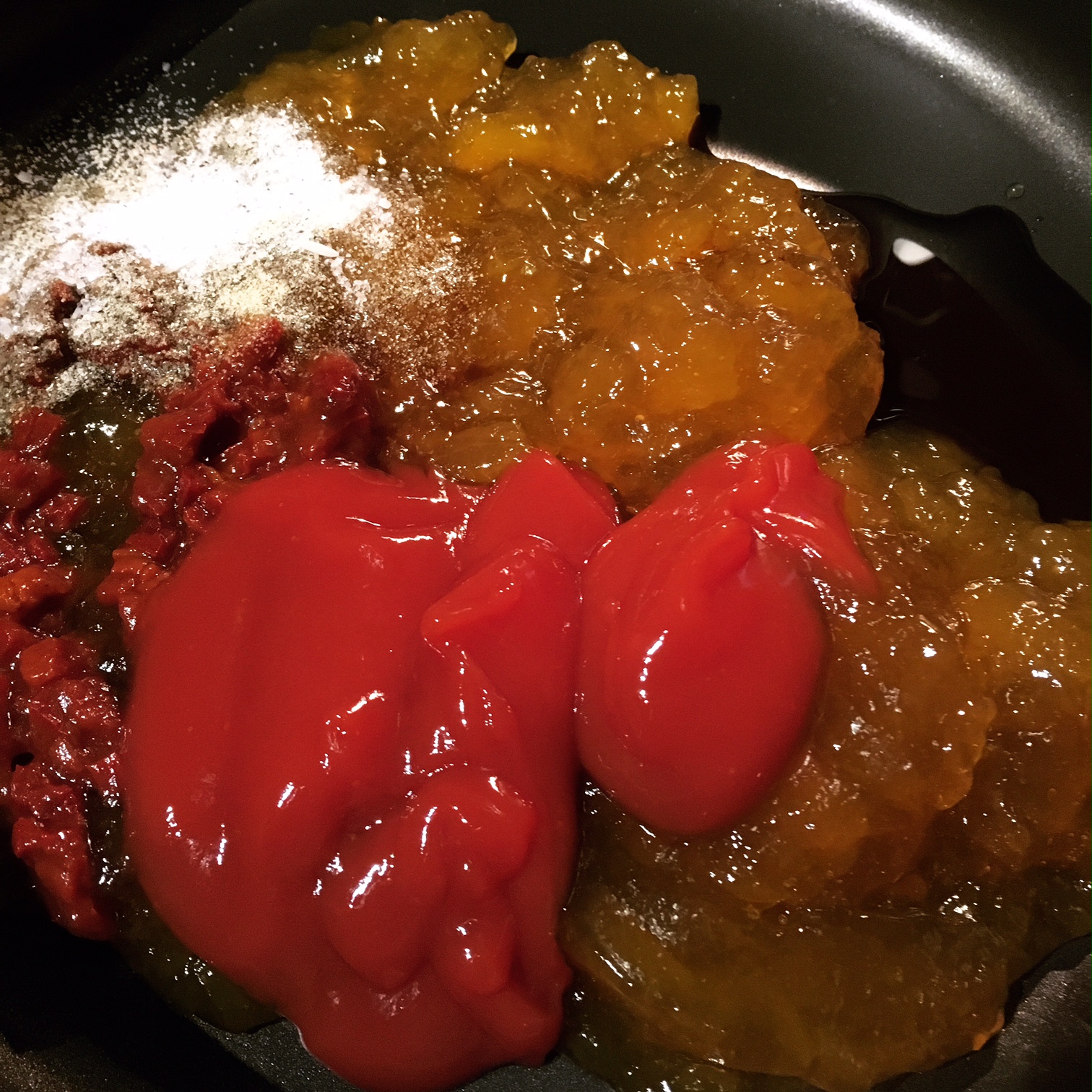 It turned it up to medium so that it could come up to a simmer and allowed it to cook at that temperature for about 5 minutes. Then, I added the meatballs and covered the pan.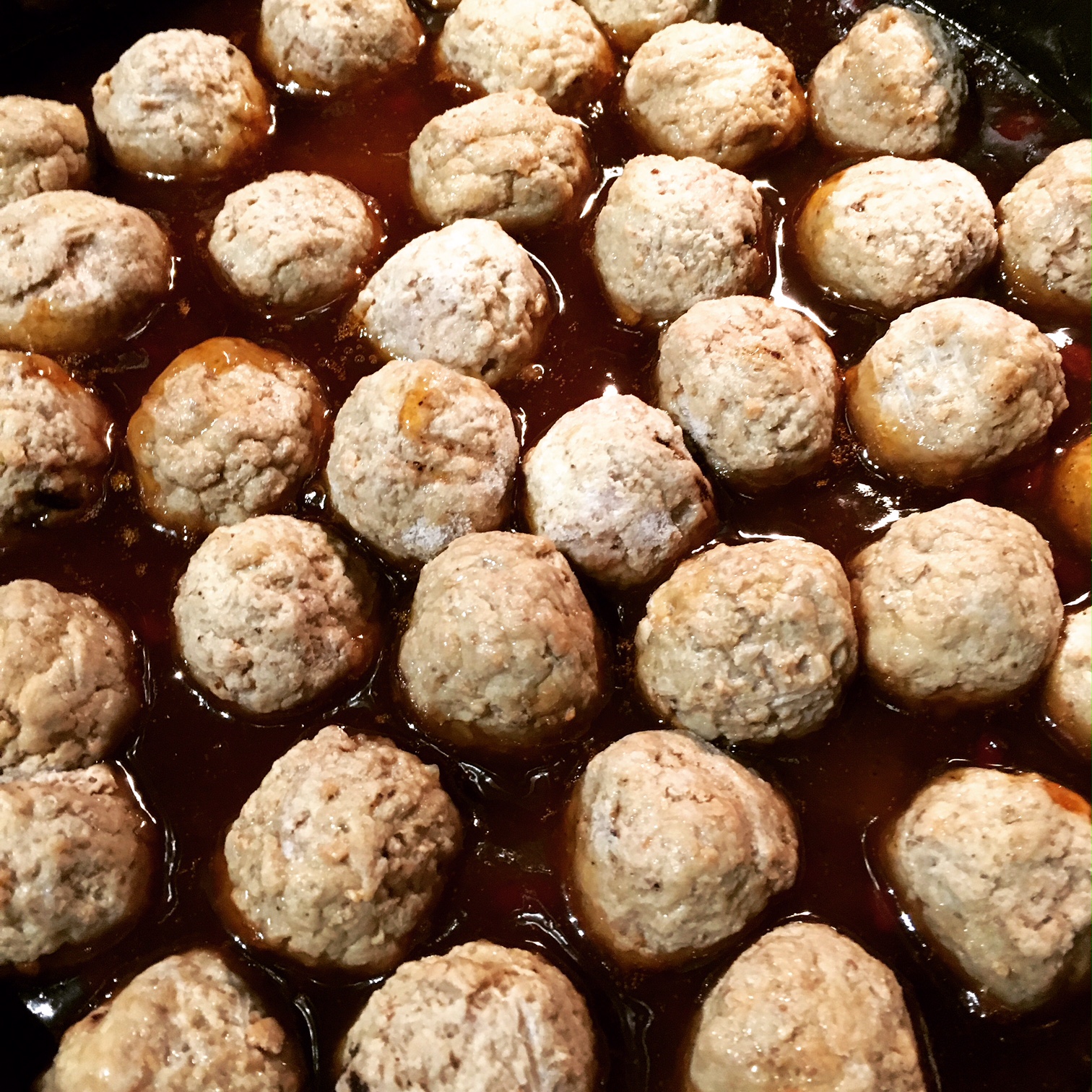 The meatballs cooked for another 25 minutes. I stirred them a few times, making sure they were well-coated and cooking evenly. Serve warm.
Spinach Artichoke Dip Bites
Ingredients
1 9-oz package frozen chopped spinach, thawed and drained
1 6-oz jar artichoke hearts, drained and chopped
½ tsp minced garlic
2 TBS shredded parmesan cheese
4 ounces cream cheese, softened
1 cup shredded Monterey Jack cheese, divided
¼ tsp garlic powder
¼ tsp salt
pepper to taste (freshly ground)
1 can seamless crescent roll dough
Directions
Preheat oven to 375 degrees F.
In a bowl, combine spinach, artichoke hearts, garlic, garlic powder, salt and parmesan cheese. Blend in cream cheese and half of your shredded cheese. Add freshly ground black pepper to taste.
Using a rolling pin, lay out dough on a cutting board and lightly stretch to 8x12. (It should already be close to this straight out of the package.) Cut down into 2-inch squares, so you have 24 squares total.
Lightly grease a mini muffin tin and place a square in each slot, gently pushing down to create an indent. (You do not need to mold it to the cup.) In most cases, the dough should naturally fall into the cups.
Scoop about 1 Tablespoon of your spinach mixture on top of each square and gently push in. (Bites will mold to the tin while baking.) If there is any remaining mixture, add to cups that look less full than others.
Sprinkle the remaining Monterey Jack cheese over the tops of each bite.
Bake for 15-17 minutes, until golden brown. Let cool for 5-10 minutes before removing from the muffin tin.
Adapted from:
Lil' Luna
Don't worry about making sure your squares are perfectly uniform. I had a whole variety of some that looked more rectangle-y, some that were small and some that were larger. They all tasted delicious.
Mini Crab Stuffed Mushrooms
Servings: 80-100 mushrooms
Ingredients
80-100 mini Bella mushrooms (5-6 containers)
8 ounces lump crab meat, drained
8 ounces whipped cream cheese
12 ounces (1½ cups) shredded Monterey Jack cheese
2 bunches chopped green onions
1 TBS Worcestershire sauce
4-6 TBS shredded parmesan cheese
olive oil or melted butter, as desired
Directions
Preheat oven to 350 degrees F.
Wash mushrooms and remove the stems. If desired, lightly brush the tops only with olive oil or melted butter. Set aside.
Mix remaining all ingredients except the parmesan cheese.
Stuff mushrooms with the crab-cheese mixture. Top with the parmesan cheese.
Bake mushrooms at 350 degrees for 10 minutes. Broil for 2-5 minutes, watching to ensure they don't burn. Mushrooms should be slightly golden brown on top.
Adapted from:
Crazy Jamie
Bonus Recipe: If you have any of the filling leftover (as I did when I made these following the original recipe), it makes great crab quesadillas. Just warm tortilla(s) in a lightly greased skillet over medium heat. Add filling to one half of the quesadilla and fold over. Once the bottom is lightly golden, flip. Wait for that side to become lightly browned as well and ensure the filling is heated through. Serve with hot sauce, salsa, guacamole, or whatever toppings you prefer!
Chipotle Peach Meatballs
Ingredients
18 oz peach preserves
3-4 chipotle peppers in adobo sauce, finely diced
½ cup ketchup
½ TBS Worcestershire sauce
¼ tsp garlic powder
½ tsp salt
¼ tsp pepper
32 oz, or about 60 frozen cocktail meatballs (see notes)
Directions
Add peach preserves, diced chipotle peppers, ketchup, Worcestershire sauce, garlic powder, salt and pepper into a medium to large high-sided skillet. Bring to a simmer over medium heat and allow to simmer for 5 minutes.
Cooking in two batches, add half (about 30) of the meatballs and cover. Let simmer over medium-low heat, stirring occasionally for an additional 25 minutes, or until meatballs are thawed.
Using tongs so the majority of the sauce stays in the skillet, transfer the meatballs to your serving container and keep warm. Repeat step 2.
Add second batch of meatballs and sauce to serving bowl. Serve warm.
Adapted from:
The Culinary Compass
If you have multiple meatball options in your grocery store, opt for Homestyle as they'll have less seasoning than Italian (which were the two options at mine).
If you prefer your meatballs saucier, you can use 18 oz (approximately 32) meatballs instead and cook in one batch only.
This post contains affiliate links. Full disclosure here.