I have been wanting to talk about Gilmore Girls: A Year in the Life since I watched the long-awaited last four words two weeks ago. Even though I started it a little late because of my trip, I still finished it before most of my friends. [SPOILER ALERT: Scroll down to the recipe if you'd like to avoid potential spoilers for any/all of the four new episodes.]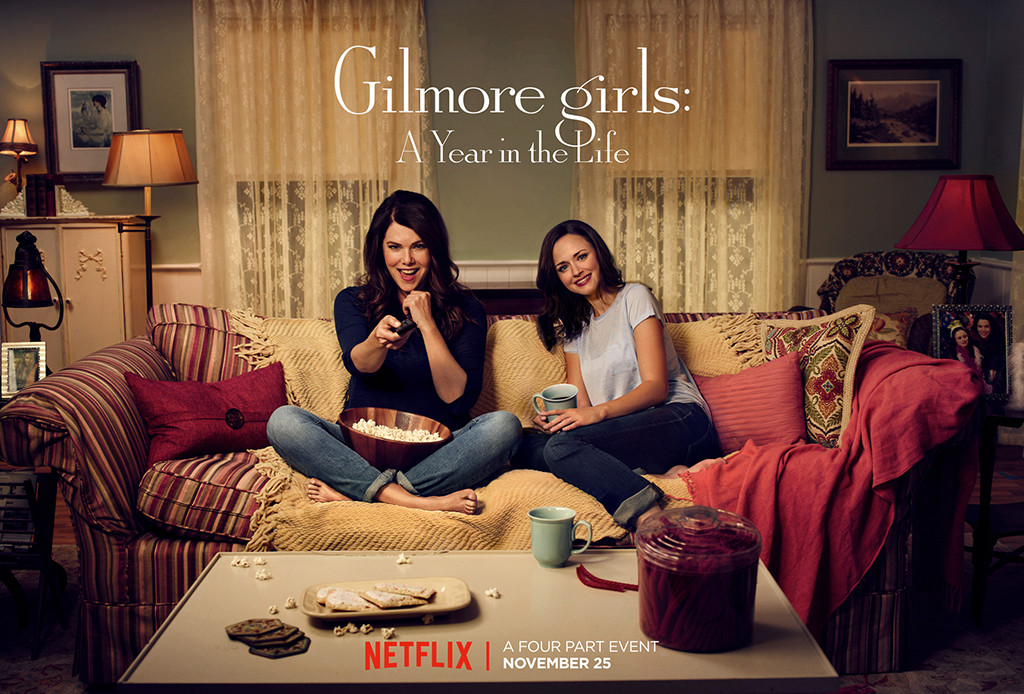 I have to admit, like many, I was a little disappointed in the Netflix revival. It was certainly enjoyable to see the familiar faces around Stars Hollow and revisit the beloved characters. There were peaks where they seemed to really have their rhythm back (gotta love those fast talkers) and poignant moments that captured the essence of the show, but for me, those were few and far between.
I didn't hate the final season or the final episode; in fact, I liked it quite a lot, and the series finale can make me tear up to this day. It was definitely a shame that it couldn't be written and directed by the wonderful Amy Sherman-Palladino and her husband Dan, but I have to say, after hearing those last four words, I am beyond glad that Rory didn't find out she was pregnant at the age of 22, just as she graduated Yale to conquer the world (which obviously she didn't…).
In the context of these 4 episodes and the "circle of life" and all that, fine, I buy it and I'm okay with it. That doesn't mean I wanted that future for Rory (and definitely not at 22). I don't even think that she wanted it for herself. While it did not lack for nostalgia, the revival lost a lot of its small town feel and its charm, but what it really seemed to lose the feel of its most important characters - the Gilmore girls.
As Lorelai didn't get the kids' food she was expecting when a pregnant Sookie made mac 'n cheese for their first foray into catering, I don't think we exactly got what we were hoping for with Gilmore Girls: A Year in the Life. Still, it was good in its way. So, the recipe that seemed most fitting for this post (and the one Deanna and I were most excited to try) was the Macaroni & Cheese in a Jalapeno-Chipotle Cream Sauce.
First, we began preheating the oven to 350 degrees and put a large pot of water on the stove to boil.
I deseeded and coarsely chopped the jalapenos, cut the ends off of the garlic cloves, and cut 2 chipotle peppers into a few large pieces. I cooked the jalapeno peppers and the garlic with some olive oil in a large skillet until softened and then added the chipotle peppers. Fair warning: don't forget to ventilate. If you can open a window or turn on an exhaust fan, it would be a good idea to do that before cooking the peppers. Deanna's little apartment was so full of intense pepper fumes that we had a little trouble breathing for a while.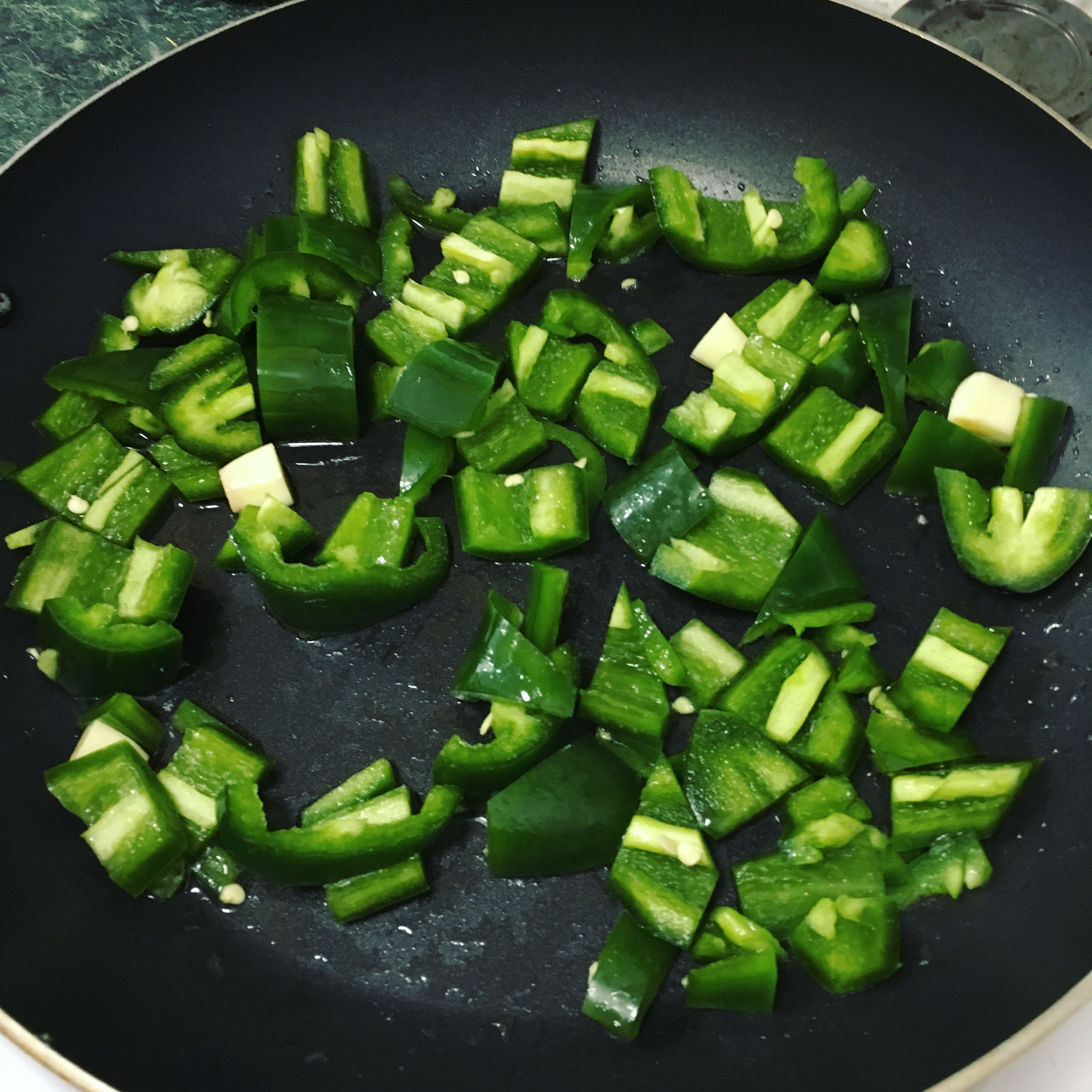 Once the water was boiling, we salted it like the sea and added the noodles to cook. We chose cavatappi, but feel free to use whichever noodles you prefer - the original recipe called for farfalle.
We tossed the whole mixture into the food processor to make a smooth sauce. My food processor is pretty big, so I'm not sure if that's why we had trouble getting them to come together, but if you have the same problem, I suggest adding some milk to the mixture a little bit at a time until it becomes smoother.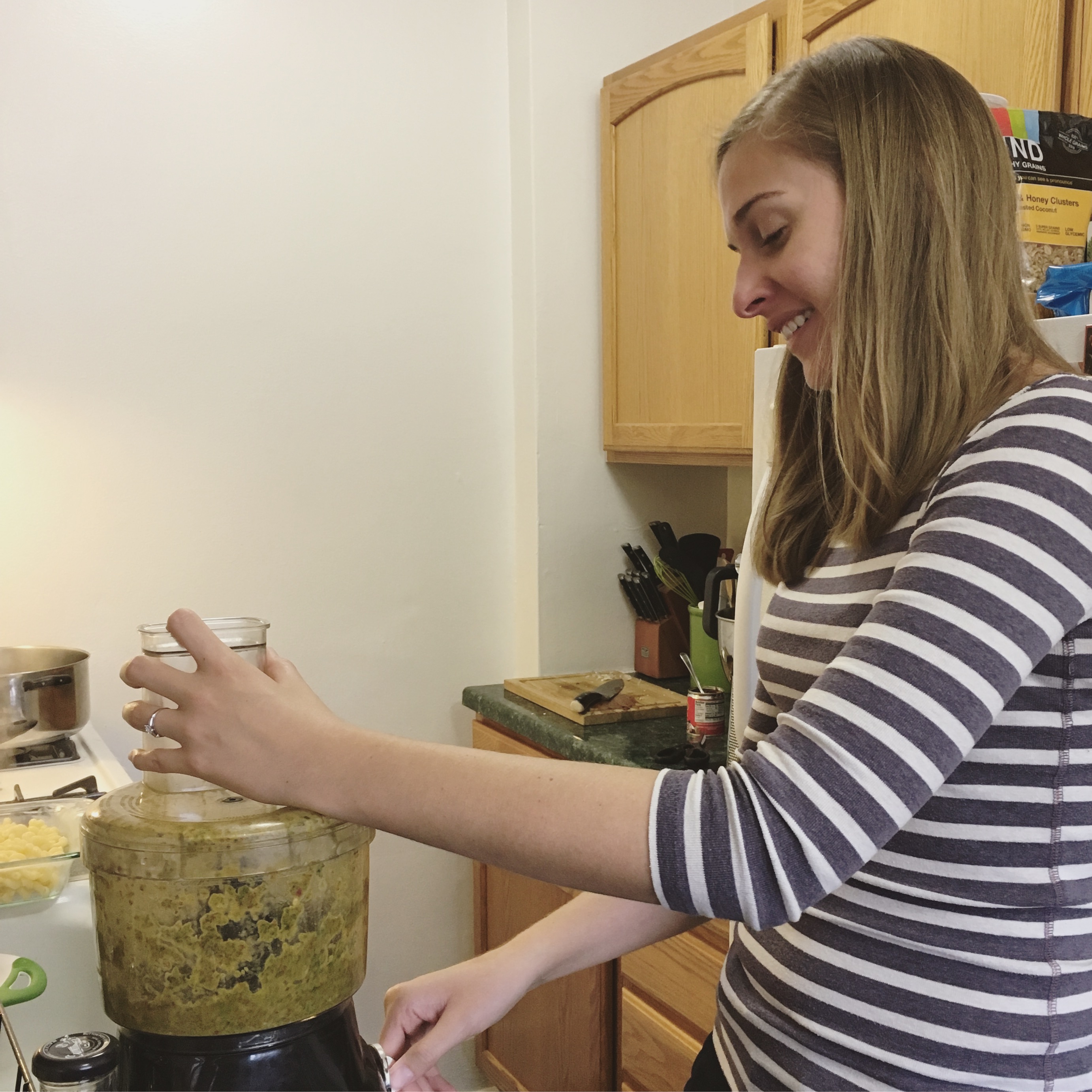 We tossed the finished noodles in the pepper sauce so that they were evenly coated and began working on the cream sauce.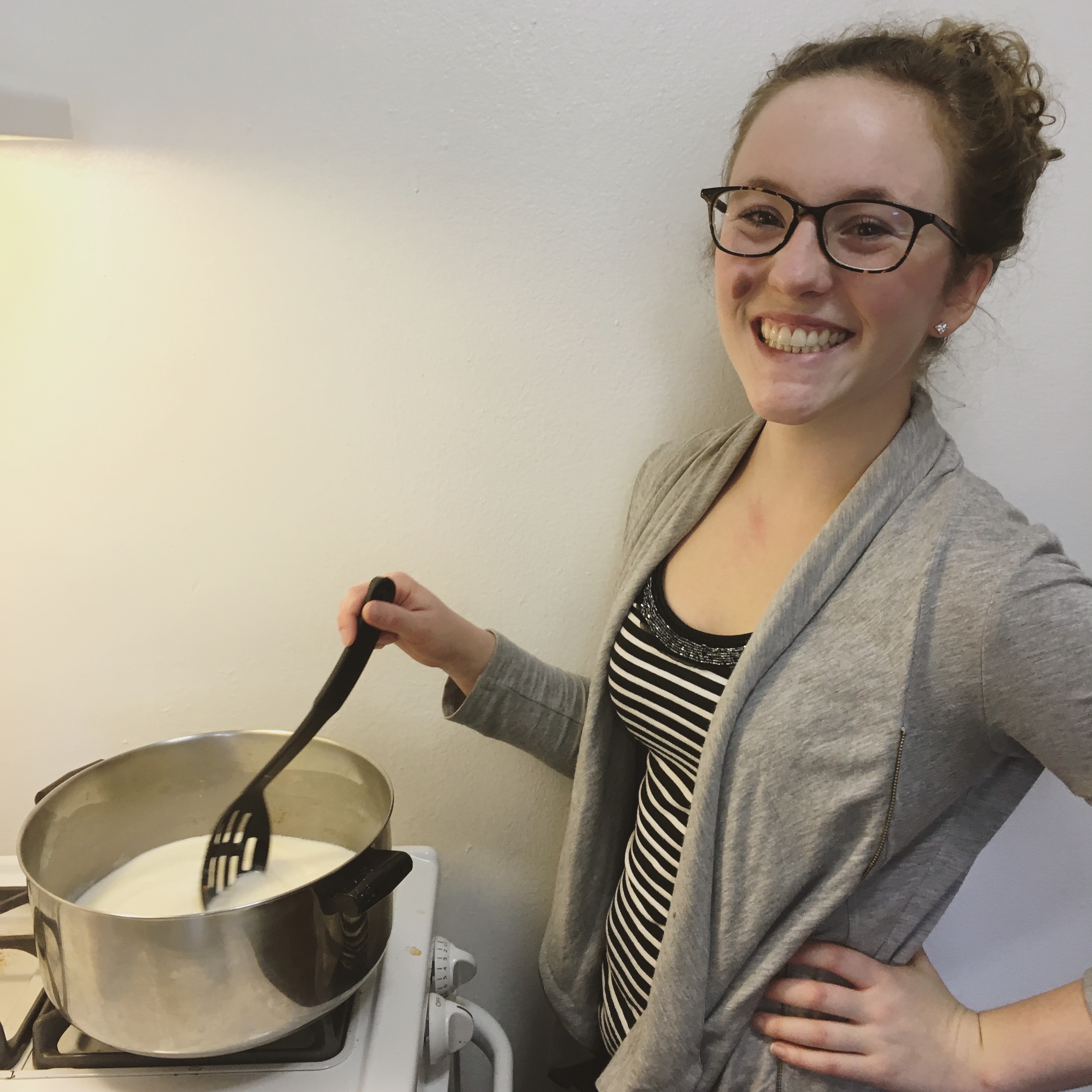 We used 6 tablespoons each of melted butter and flour to create a roux. Then, we added 4 cups of whole milk and stirred until it thickened. At that point, in went the cheese and 2 teaspoons of salt, which we stirred until it was melted and combined.
Next, we poured the whole pot of deliciousness over the pepper-coated noodles and stirred until it was all covered.
We put the foil-covered dish in the oven and let it bake for 20 minutes, then removed the foil and let it bake for another 10 minutes. It was hard to not dive right in immediately, but even after waiting 15 minutes, it burned my mouth. Look at the ooey-gooey-ness. Yum!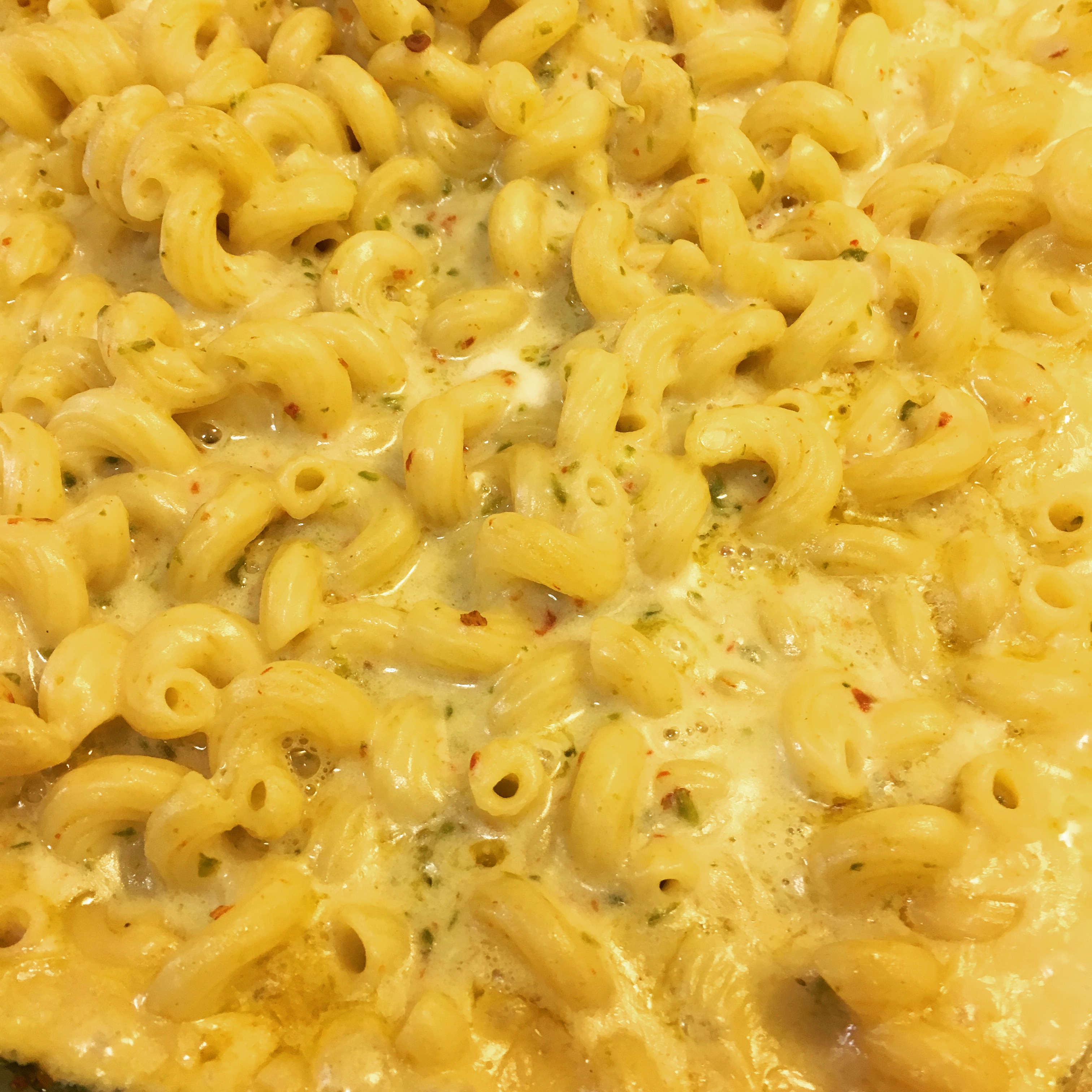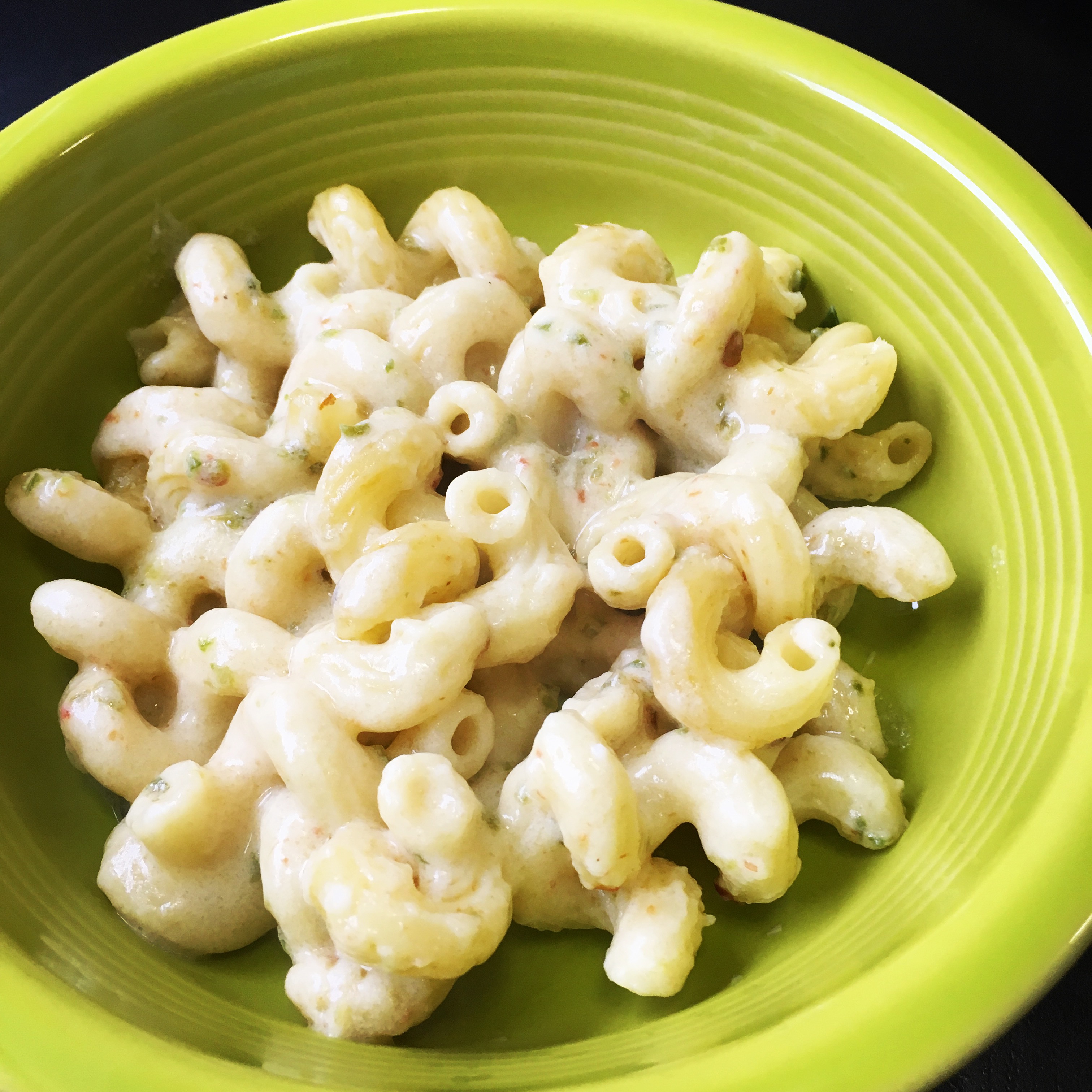 That's a wrap on Gilmore Week! Thanks for sticking with me, and if you enjoyed the recipes, I suggest you pick up a copy of the cookbook, pop in some of your favorite episodes and whip up something delicious to eat while you watch.
Macaroni & Cheese in a Jalapeno-Chipotle Cream Sauce
Ingredients
Butter

for preparing pan

1

lb

cavatappi pasta [original recipe recommends farfalle]

2

TBS

olive oil

3

large jalapeno peppers

seeds removed and coarsely chopped

2

garlic cloves

cut in half

2

TBS

chipotle peppers

coarsely chopped [I used 2 of the canned peppers in adobo]

6

TBS

butter

6

TBS

flour

4

cups

whole milk

2

cups

grated sharp white cheddar cheese
Instructions
Place the oven rack in the middle of the oven. Preheat to 350 degrees F.

In a large pot, two-thirds full of water, bring it to boil over high heat. Salt generously. Add pasta and stir. Reduce heat to medium. Cook until pasta is al dente on the edges but still uncooked in the middle. [Use directions on box as a guide, especially if using a different kind of pasta. The cavatappi took about 9 minutes.] Strain and pour into a buttered 9x13 baking pan.

While the water is coming to a boil, heat olive oil, jalapenos and garlic in medium pan over high medium-high heat. [It definitely helps to ventilate your kitchen! Turn on an exhaust fan if you have one.] Stir frequently to ensure peppers are evenly coated with oil.

Once the peppers are lightly browned on the edges and the garlic turns golden brown, add chipotle peppers. Cook for 30 seconds, then remove from heat.

Add entire pepper mixture to blender or food processor. Use the stir or chop setting until mixture turns into a smooth sauce without lumps. [If you have trouble achieving a smooth texture, add milk about 1 TBS at a time and pulse until the sauce becomes smoother.]

Once the pasta is ready, pour the pepper sauce on top, stirring gently until evenly distributed.

To make the cream sauce, use a medium saucepan to melt the butter over medium heat. Add flour and stir until a grainy, yellowish paste is created.

Add milk to the roux and stir constantly for several minutes until the sauce noticeably begins to thicken. Add cheddar cheese and stir until melted. Stir in 2 teaspoons salt.

Pour the cream sauce onto the pasta-peppers mixture and stir gently until it is evenly distributed.

10. Cover the baking pan with aluminum foil, shiny side down. Place in the center of the oven and bake for 20 minutes.

11. Remove the foil and bake uncovered for 10 minutes. Remove from the oven. Let stand for 5 minutes. Serve.
_______________
This post contains affiliate links. This does not increase the price you pay, but I may receive a small commission for any products you choose to buy. Purchases made through affiliate links help to cover my blogging costs. Thank you for helping to support The Hungry Bookworm! Full disclosure here.