There was a time before my blog, and before I became obsessed with Goodreads, that I kept track of what I read with a Google spreadsheet. It was pretty simple - title, author, notes, date finished and a Y/N column for whether or not I'd recommend it. That spreadsheet is my only memory of the last time I read a Jami Attenberg novel and my succinct reaction was "the ending was predictable; I cared about exactly zero of the characters." Four years later, with her novel All Grown Up, I found myself having deja vu.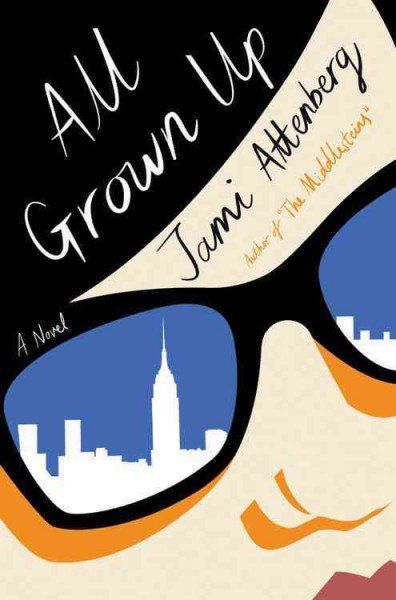 Andrea is a thirty-nine-year-old single woman without children. She wanted to be an artist, but instead finds herself in an unfulfilling career so she can pay the rent. In New York City, that's not remarkably unusual. What is remarkably unusual about Andrea is that she refuses to grow up, and the people around her think that's perfectly alright.  
I didn't find it predictable, though perhaps I should have - a 40-year-old woman who still acts like someone fresh out of college can't be expected to grow up at that late stage - but I didn't care about any of the characters. In the end, I found Andrea's life and the novel on the whole quite sad, but on the plus side, Attenberg's writing was lovely and made the less than 200 pages easy to get through.
In a transformation like the one I hoped Andrea would have, I turned a college classic into something a bit more put-together, a posh NYC favorite - Grown-up Ramen Noodles. I found a recipe from Fork Knife Swoon to go off of and set to work.  
To start, I began cooking a chicken breast seasoned with salt and pepper in a skillet with olive oil. Once the rounded side was browned - about 7 minutes - I flipped it over and cooked the other side for another 5 minutes or so. I transferred it to a small foil-lined baking sheet and placed it in my preheated 375-degree oven to finish cooking.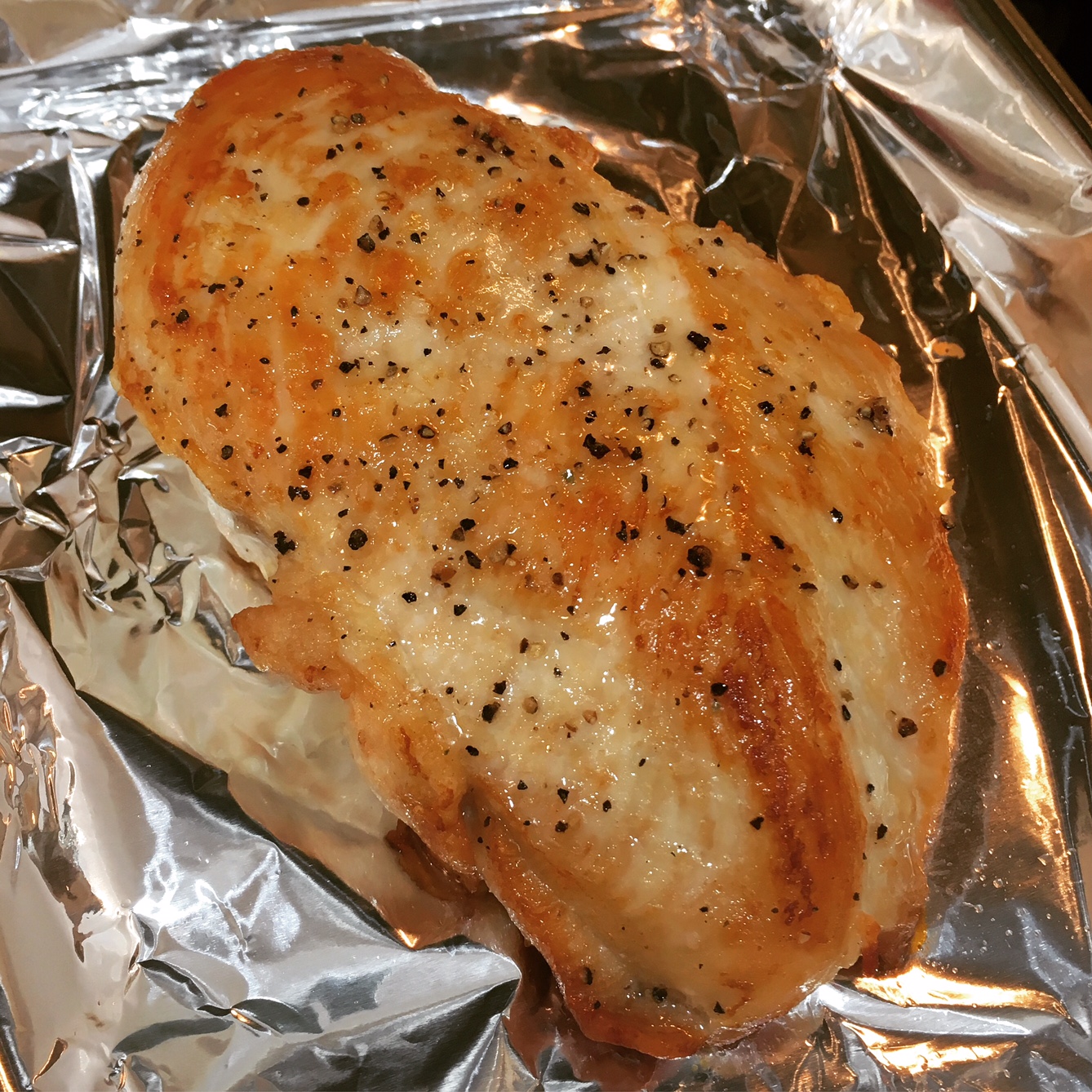 While the chicken was cooking, I began my broth and set the water for my eggs to boil. In a medium saucepan, I heated some toasted sesame oil before adding minced garlic and ginger. I allowed those to cook for a few minutes until fragrant. Then, I added the soy sauce and rice cooking wine, stirring to combine. After another minute, I added the chicken broth, covered the pan and brought it all to a boil.
Once boiling, I turned down the heat and allowed it to simmer for 5 minutes. I added the dried mushrooms and let the broth continue to simmer. Meanwhile, I removed the chicken from the oven and set it aside. I also added the two eggs to the separate pan of boiling water and set a timer for 7 minutes.
I used this time to prep my scallions and seaweed, and once the chicken had rested, I cut it into slices.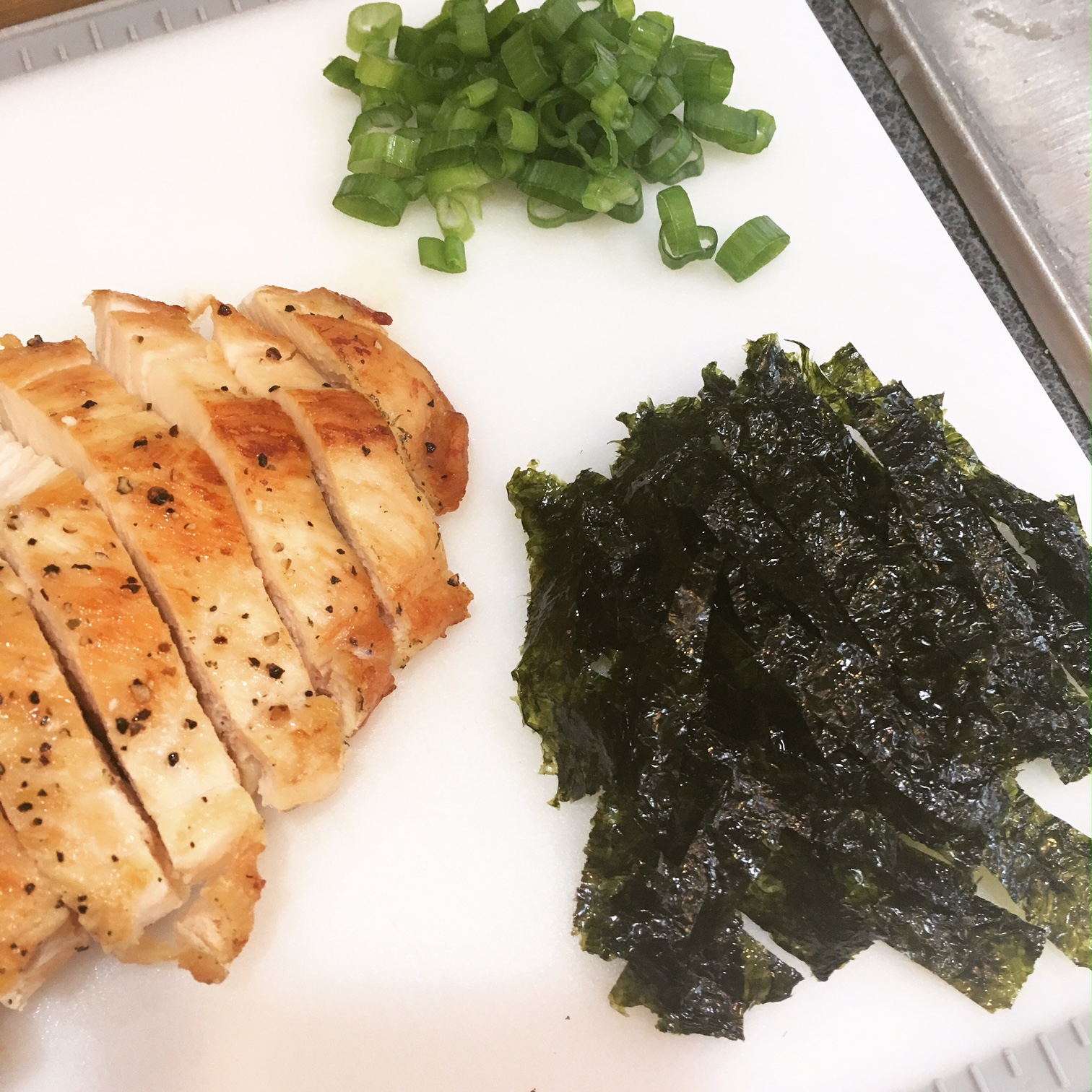 After 10 minutes, I removed the mushrooms and placed them in the waiting bowls. (If I had sliced them, I would've done so here. If I was making this again, I would slice the mushrooms into more bite-size pieces, as noted in the recipe below.) I also placed the eggs into an ice bath so they could cool before peeling.
I added the dried ramen noodles into the prepared ramen broth, discarding the flavoring packets that come with the noodles. (College memories!) You could cook the noodles in plain boiling water instead, but I have always preferred to make them in the broth/flavoring to impart some of that flavor on the noodles.
Once the noodles are ready, carefully place them in each bowl and top with the broth. Carefully peel each egg, slice in half and place in the bowls on top of the noodles and mushrooms. Add the sliced chicken, scallions and seaweed. Serve and enjoy!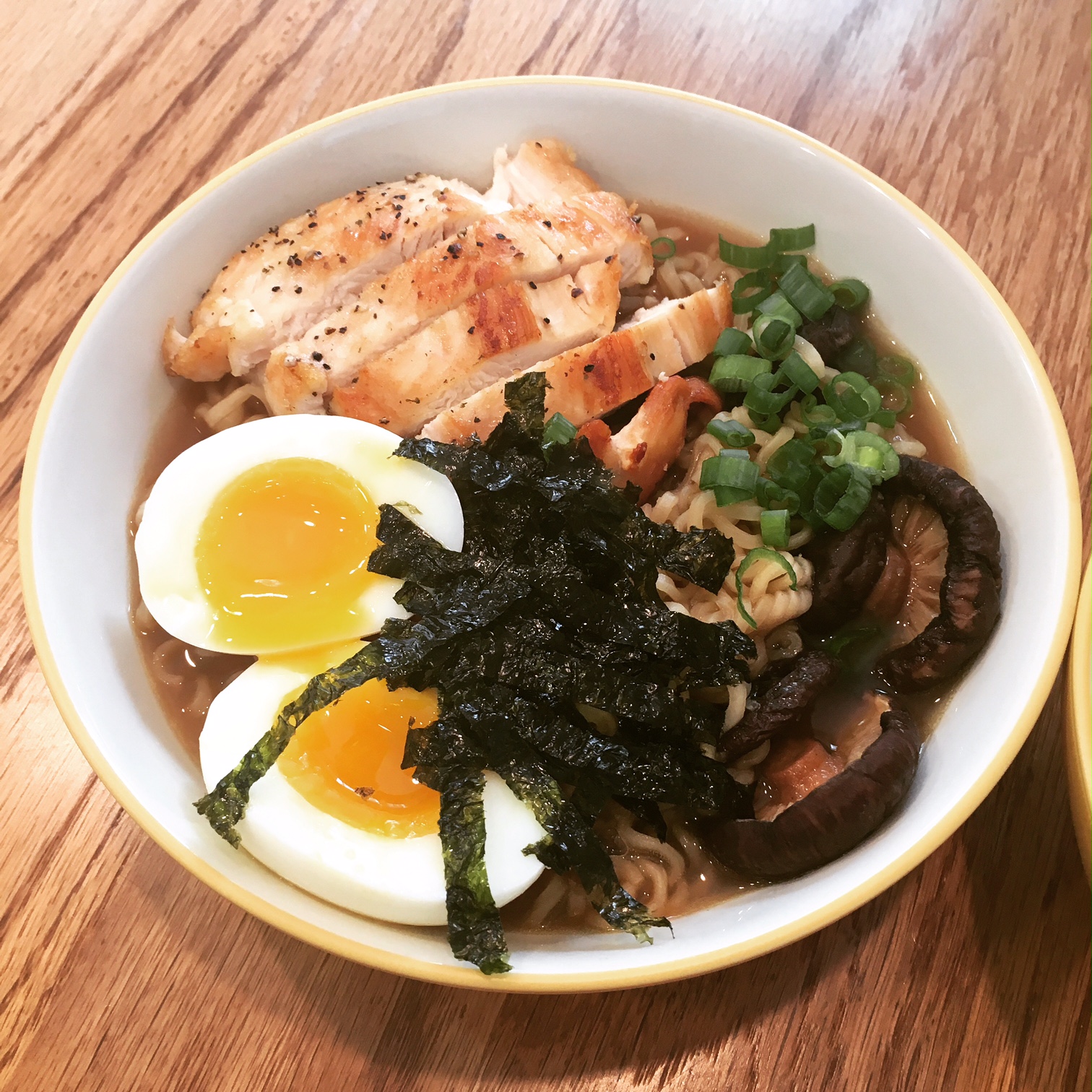 Grown-Up Chicken Ramen
Ingredients
1 large boneless, skinless chicken breast
kosher salt and freshly-ground black pepper, to season
1 TBS unsalted butter, or olive oil
2 tsp sesame oil
2 tsp fresh ginger, minced
3 tsp fresh garlic, minced
3 TBS low-sodium soy sauce
2 TBS rice cooking wine
4 cups chicken stock or broth
½ - 1 oz dried shitake mushrooms
1-2 tsp sea salt, to taste
2 large eggs
1/2 cup scallions, sliced
2 (3 oz) packs dried ramen noodles
optional: roasted seaweed snacks, in ribbons, for serving
Directions
Cook the chicken: Preheat the oven to 375 degrees F. Season the chicken generously with salt and pepper. Melt the butter (or heat olive oil) in an oven-safe skillet over medium heat. Add the chicken breast, round side down, and cook until golden brown and it releases easily from the pan, about 5-7 minutes. Flip the chicken over and cook for another 4-5 minutes, until golden.

Transfer the skillet to the oven and roast for 15-20 minutes, until the chicken is cooked through. (If you don't have an oven-safe skillet, you may transfer the chicken to a small baking sheet lined with foil.) Remove from the oven, transfer the chicken to a plate and cover with foil until ready to serve.

Make the ramen broth: Heat the sesame oil in a large pot over medium heat, until shimmering. Add the garlic and ginger, and cook for a few minutes until softened. Add the soy sauce and rice wine, and stir to combine. Cook for another minute. Add the stock, cover, and bring to boil. Remove the lid, and let simmer uncovered for 5 minutes, then add the dried mushrooms. Simmer gently for another 10 minutes, and season with salt, to taste.

Otherwise, take the mushrooms out of the broth using tongs, and carefully, slice them into thick bite-size slices on a cutting board. (For particularly large mushrooms, you may cut them in half before slicing.) Place in bowls for serving.

Make the soft-boiled eggs: Fill a pot with enough water to cover the eggs, and bring to a boil. Gently lower the eggs (still cold from the fridge) into the boiling water, and let simmer for 7 minutes (for a slightly-runny yoke) or 8 minutes (for a soft, but set-up yoke).

Meanwhile, fill a large bowl with ice water. When the timer finishes, transfer the eggs to the ice bath to stop the cooking process. Wait at least 5 minutes, or until cool enough to handle, then carefully peel away the shell and slice in half, lengthwise. Set aside until ready to serve.

Assemble the ramen bowls: Meanwhile, chop the scallions and slice the seaweed snacks into ribbons (if using). Slice the chicken into thin pieces. Set aside. When the eggs are in the ice bath, add the ramen noodles to the broth. Cook for approximately 3 minutes, until soft, then divide the noodles into two large bowls, next to the mushrooms. Add the ramen broth, dividing evenly. Top each bowl with half of the sliced chicken breast, a soft boiled egg each, fresh scallions and the seaweed. Serve immediately.
Adapted from: Fork Knife Swoon
To save some time, or if you're making this on a warm day like I was, substitute pre-made rotisserie chicken.
This post contains affiliate links. Full disclosure here.