I hope you all had a Happy (and food-filled) Thanksgiving! I'm pretty sure it marked my first Thanksgiving ever without turkey and all of the fixings, which I definitely missed more than I expected. As it was, Scott and I were spending our last day in Cambodia (and shortly before that, Thailand).
Obviously the trip was amazing - worth missing one Thanksgiving for - and thanks to the long plane rides, an overnight train trip and a few days on the beach, I had plenty of time for reading! I finished nearly five books, including what I thought would be a light and whimsical read about a man and his dog: Lily and the Octopus.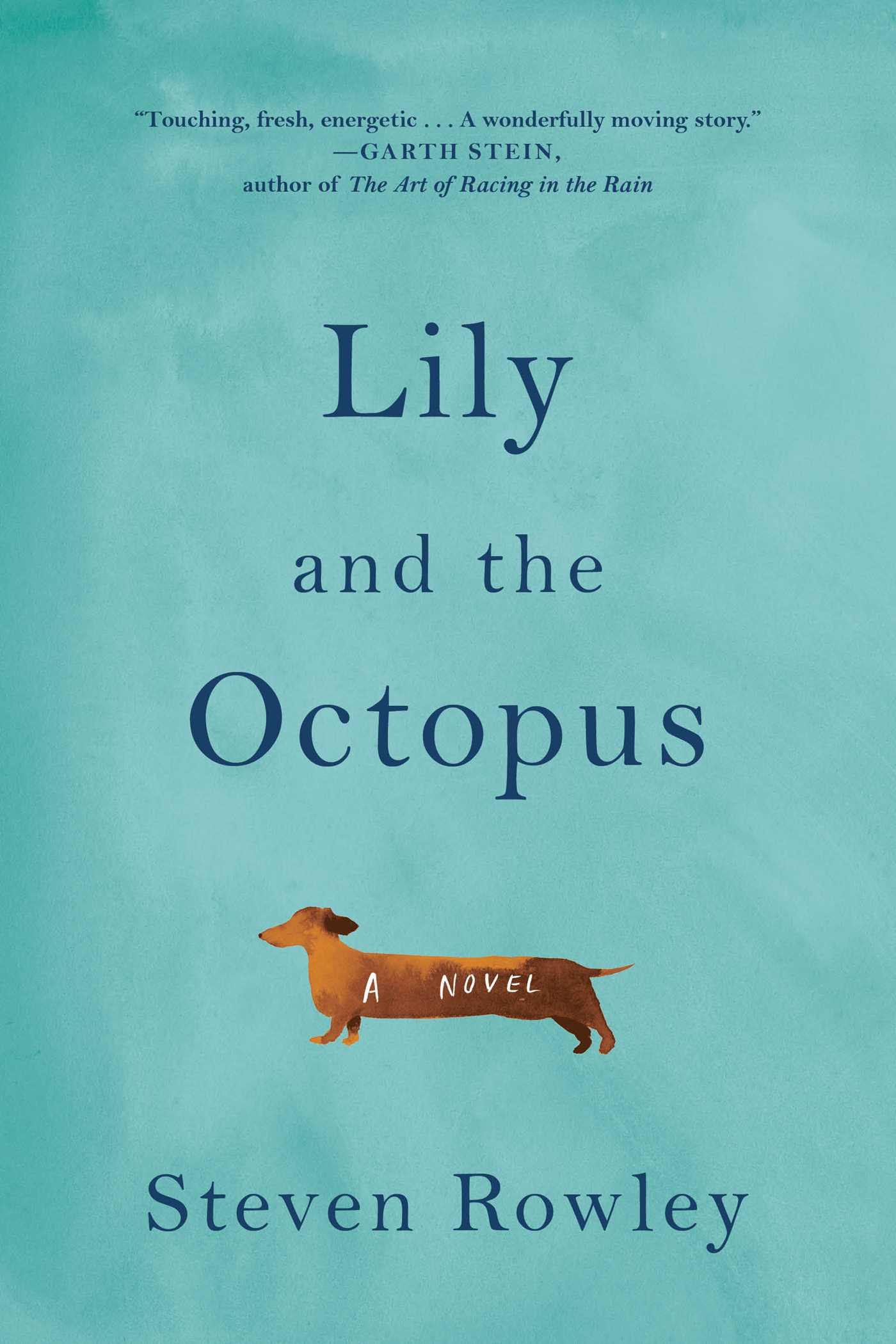 Perhaps I should've paid more attention to the description of Lily as an "aging companion." Not exactly what I bargained for - particularly when this trip was separating us from our own dog for two weeks, or what basically felt like forever. Sad book + missing my dog = Yes, I cried on the plane.
It's not a spoiler to say that Lily dies. It's very obvious from the beginning that the octopus is coming for her. The octopus, in fact, is a tumor that has Lily's friend and owner Ted in denial before he is able to get down to the business of defeating it. This cleverly-written story is a journey of acceptance more than anything else. Every dog owner will relate (I especially loved the chapter of Lily's nicknames, many of which Beta shares), but everyone will be touched.
To go with this book, and to make up our extended absence to Beta, I whipped up some homemade dog treats shortly after we got back home. Since the cupboard was bare, I found an easy recipe with only three ingredients - oats, peanut butter and (previously frozen ripe) bananas.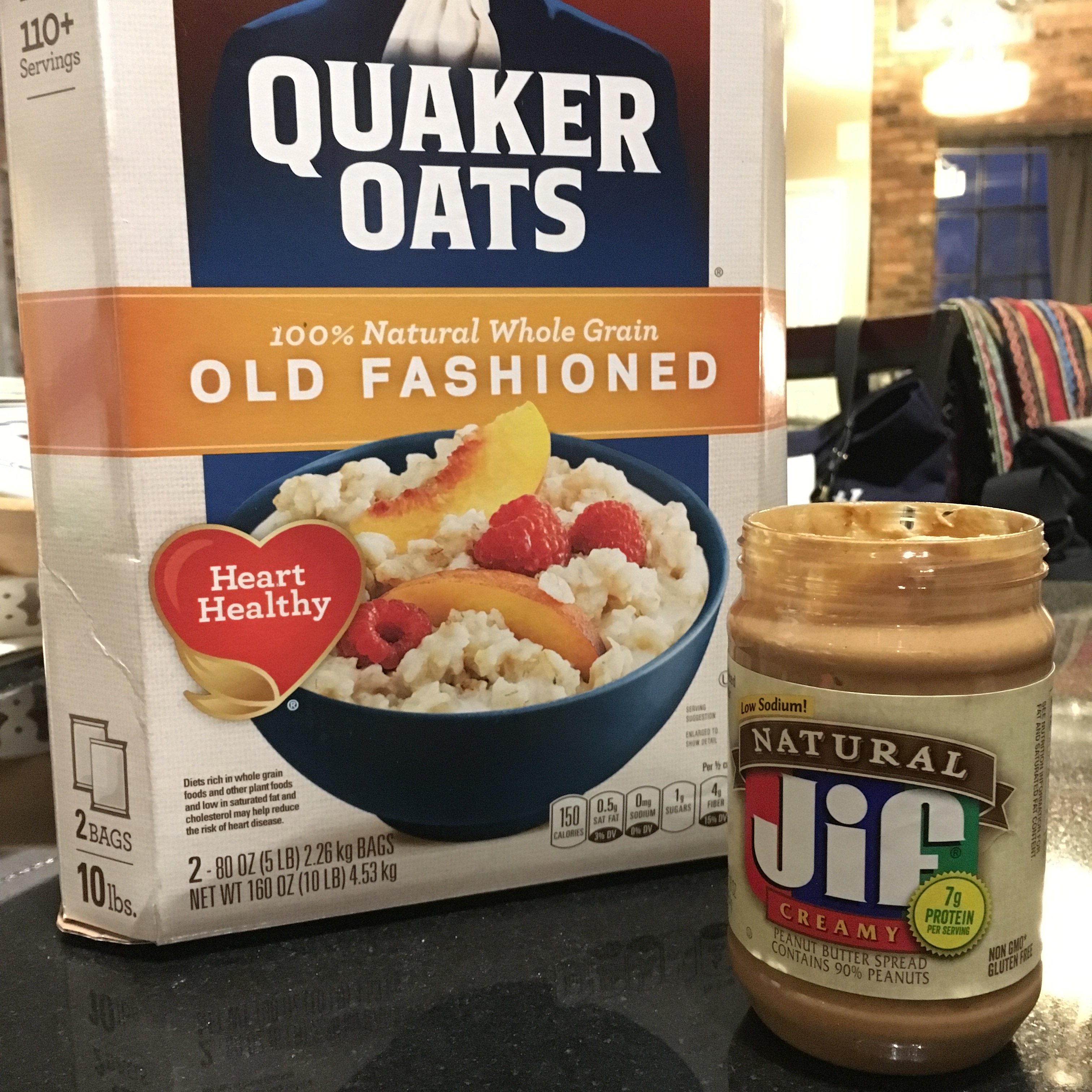 First, I preheated the oven to 350 degrees while I processed the oats into a powder. I did not grind them up as finely as she did in the original recipe, resulting in a less smooth final treat. (Beta didn't seem to mind.)
I mashed up the banana, mixed it in with the peanut butter and then added in the oat powder. I rolled it out onto the powdered counter top and used my bone-shaped cookie cutter to make the treats. Feel free to use any shapes you have handy.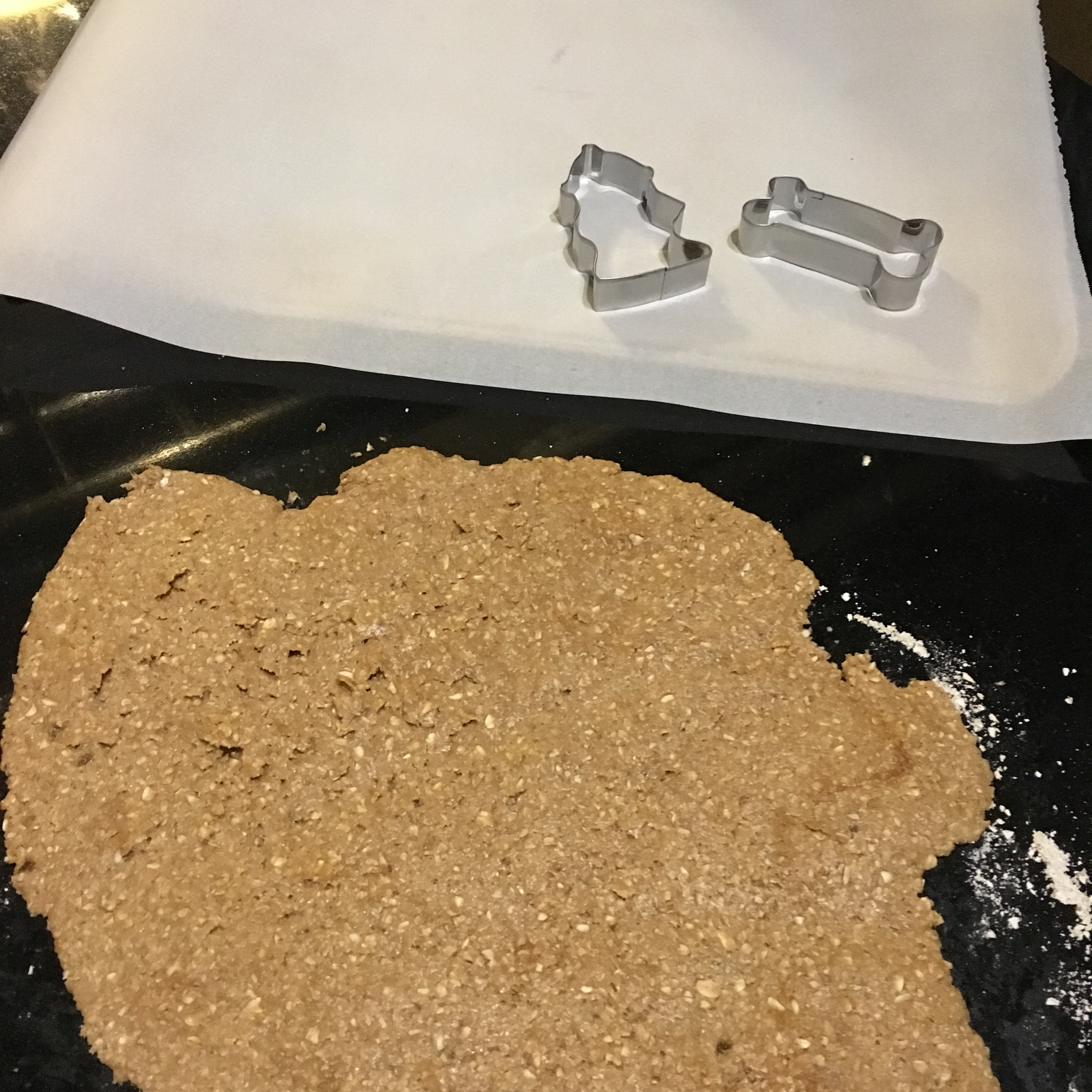 I ended up with 22 total treats and, with the little bit of "dough" that was left, I stuffed an empty Kong for a snack later.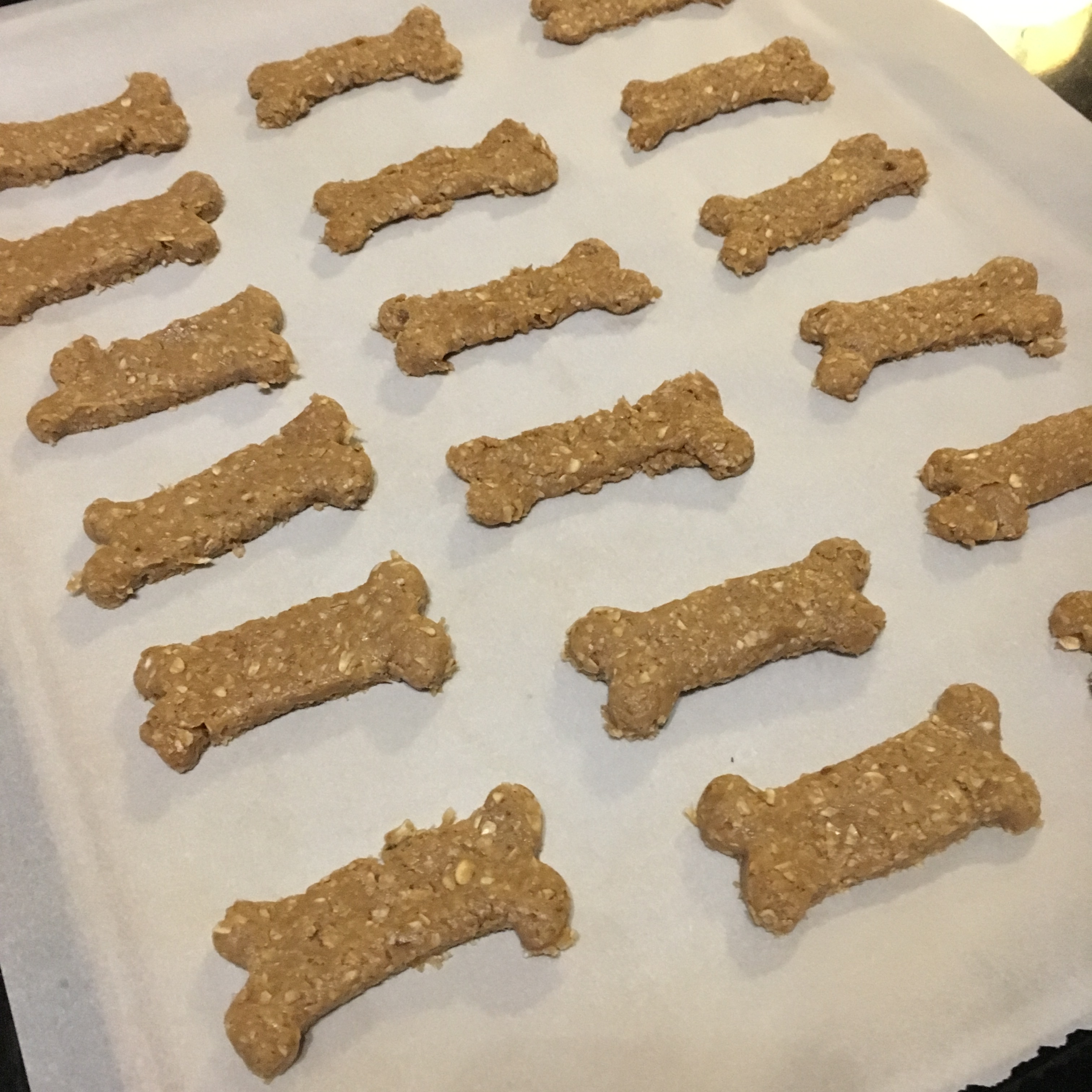 Bake for about 15 minutes, or until the edges start to brown. Mine ended up a little soft, but they end up being less crumbly and messy that way. And, of course, I had to let Beta taste-test right away!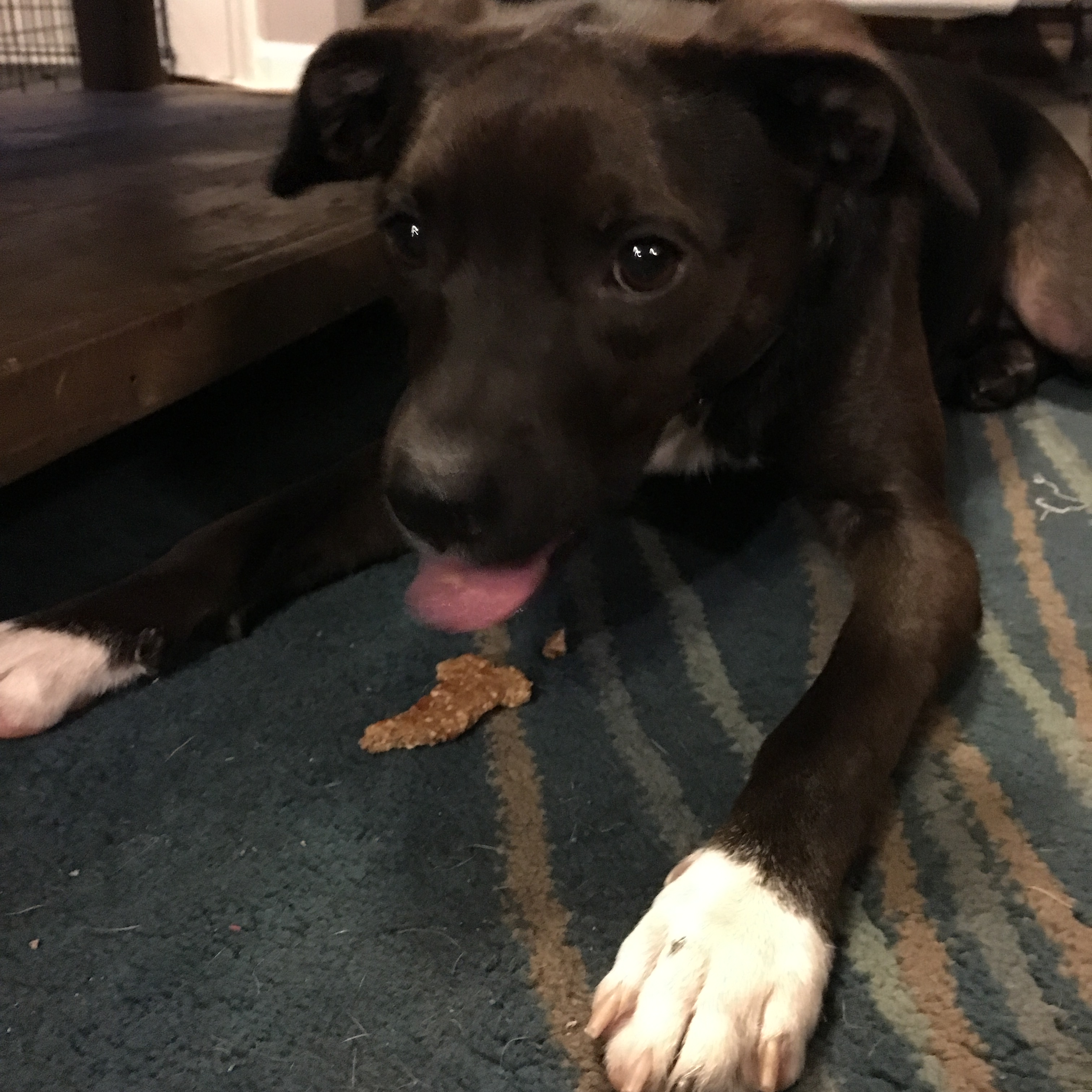 Homemade Peanut Butter Banana Dog Treats
Servings: makes approx. 24 treats

From: Munchkins and the Military Blog

Ingredients
1½ cups uncooked old-fashioned oats
1 large banana
½ cup peanut butter
Directions
Preheat your oven to 350 degrees.
Using a food processor or blender, grind your oats until they're powder.
In a bowl, beat together the banana and peanut butter until smooth. A few small chunks of banana here and there is ok. The dough should stick together, but shouldn't be sticky.
Reserve about a tablespoon of ground oatmeal and pour the rest into the banana peanut butter mixture and mix until combined.
Dust your surface with the reserved ground oatmeal and roll your dough to about a 1/4 inch thickness.
Cut into desired shapes and place on a parchment paper lined cookie sheet.
Bake treats for approximately 15 minutes, or until the edges start to brown.
Cool completely before storing in an airtight container for up to a week.
This post contains affiliate links. Full disclosure here.