Happy Summer, everyone! It's been awhile since I've read a rom-com-type book, and I forgot what a breath of fresh air they can be. I was unable to resist the cover of The Royal We, which is clearly depicting a couple so like William and Kate that it's surprising that it's not them, and the novel ended up being an excellent way to kick off what promises to be a busy summer of reading.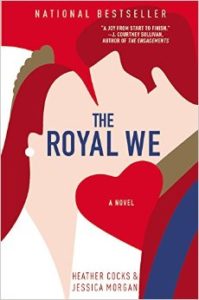 This is totally fan fiction about everyone's favorite British royal couple, with the major exception being that Rebecca Porter isn't British at all - she's American. She also has a twin sister who keeps things much more interesting than Pippa ever did. I wasn't expecting an American girlfriend - expecting William and Kate as I was - but it was a nice surprise. Sort of like The Prince & Me, it gives American girls hope that they too can have a prince one day. There's no denying it, I probably liked this book so much because the hope of a royal meeting was part of the my decision to study abroad in London too. 😛 No such luck, but lots of fun adventures, nonetheless! It brought back memories…
Overall, the book was a tad drawn out, maybe a little bit longer than it needed to be, but the struggles Bex and Nick went through during their long courtship seemed pretty realistic. The story was really dramatic and entertaining, an (almost) endless will-they-or-won't-they propelling it forward. I'm not sure I'd read a sequel (princess movies sequels are never that good…), but I certainly enjoyed this one.
When choosing a recipe for this book, it was a hard decision between Pimm's Cup, which was not only a favorite of Nick and crew but also my favorite British drink while abroad, and tea sandwiches, which of course were ever-present throughout the story. Because England. In the end, I had to go with the tea sandwiches because while cocktails are a pretty big part of American life, high tea is something that comes along less often, and I love high tea.
I decided to make three different kinds - the classic cucumber, an egg salad with watercress (one of my favorite sandwiches while in London), and the tasty combo of ham, brie and apple.
I started by prepping the eggs, and while they were hard-boiling, I whipped up the cream cheese mixture for the cucumber sandwiches. The majority of tea sandwich-making is the actual assembly and, of course, the removing of the bread crusts.
To make the cream cheese mixture, I combined 1 package of cream cheese and ⅓ cup of mayonnaise in my food processor until smooth. To that, I added garlic salt and fresh dill. I don't think you should be shy with the dill - I used around a tablespoon, while the original recipe called for 1 teaspoon.  
When eggs were finished boiling, I let them cool in an ice bath, peeled them, and used my egg slicer tool to chop them into small pieces. I combined the egg with mayonnaise, white wine vinegar, dijon mustard and Lawry's seasoned salt.
With the two main spreads done, I began prepping the rest of my sandwich ingredients. I sliced the cucumbers into thin slices, I rinsed the watercress and removed the leaves from the stems, and I sliced the green apple and brie for the last sandwich. Last but not least, I removed the crusts from my bread. For the cucumber sandwiches, I made the bread into rounds using a large cutter (no need to remove the crusts first if you're doing this).
When it was time for the assembly, I set out the bottoms on a large cutting board and got to work. First, I spread the cream cheese mixture on the rounds and topped them with sliced cucumber.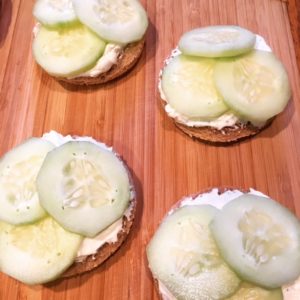 Next, I spread a thin layer of dijon and butter on half of the remaining squares, topping it with ham, sliced brie, and thinly sliced apple halves.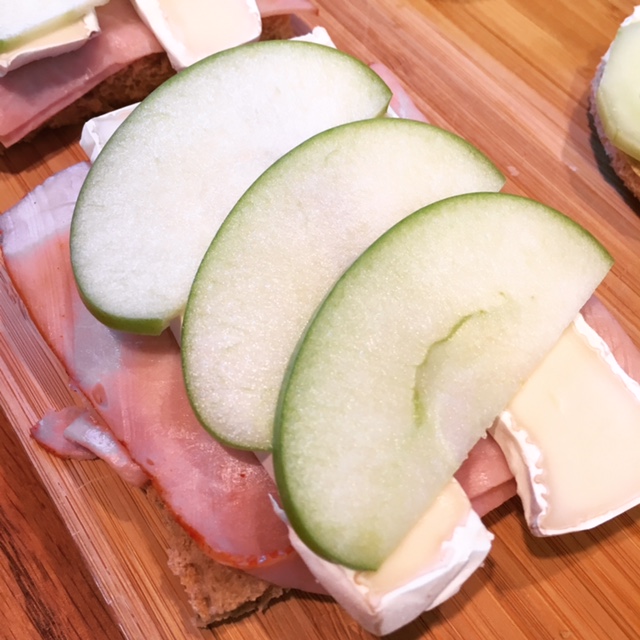 Finally, I carefully put the egg salad atop the rest of the bread and placed some watercress on top.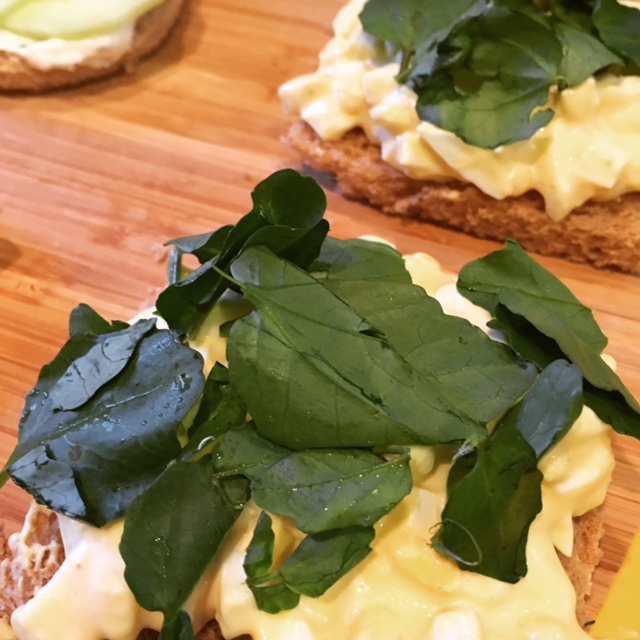 Then, each sandwich got a lid and we were ready to go!
It's really too bad I didn't read this for book club. An afternoon tea theme would've been perfect for the meeting. Instead, Scott and I got to enjoy them ourselves, which wasn't bad either.  
Cucumber Tea Sandwiches
Ingredients
1 (8-ounce) package cream cheese, softened
⅓ cup mayonnaise
1 medium cucumber, peeled and sliced thinly
¼ teaspoon garlic salt
1 Tablespoon chopped fresh dill, or to taste
40 slices of thin sandwich bread
Directions
Process cream cheese and mayonnaise in a blender or food processor until smooth, stopping once to scrape down sides.
Combine cream cheese mixture, garlic salt, and dill.
If creating rounds, use a 2- to 3-inch round cutter to cut bread, discarding the edges. Or, if you prefer triangles or squares (which makes 80 sandwiches), cut the crusts from the bread and discard and cut into quarters.
Spread cream cheese mixture evenly onto half of the bread slices. Place 3-4 cucumber slices per round on top of the mixture. Lightly coat the top slice of bread, just enough to keep the bread in place over the cucumbers and place on top.
Serve immediately, or you may store cucumber sandwiches in an airtight container for up to 1 hour before serving.
Adapted from: Southern Living, by way of
MyRecipes.com
You may use whichever type of bread you prefer. Traditional tea sandwiches are usually made with white bread. I used wheat bread, and the original recipe calls for one slice of each per sandwich.
Egg Salad Tea Sandwiches with Watercress
Ingredients
6 eggs, hard-boiled and peeled
⅛ teaspoon Lawry's seasoned salt, or salt and pepper to taste
⅓ cup mayonnaise
2 teaspoons white wine vinegar
2 teaspoons dijon mustard
12 slices of thin sandwich bread
Small bunch watercress
Directions
Roughly chop your hard-boiled eggs, or use an egg slicer if you have one. First, slice the egg horizontally, carefully flip the egg to the vertical position and slice again. (If you don't have your own preferred method for hard-boiling eggs, please see notes below.)
In a large bowl, combine the eggs, mayonnaise, vinegar, mustard and seasoned salt. Gently fold together.
To construct the sandwich, remove the crusts from the bread and cut in halves, forming triangles (or your preferred shape).
On half of the bread, add the egg salad and top with watercress leaves. Add a slice on top of each to complete the sandwich.
Adapted from:
Serious Eats
To make hard-boiled eggs: Bring a pot of water to a boil, make sure there is enough water to completely cover the eggs. Once boiling rapidly, carefully add each egg using tongs. The eggs should be still cold from the fridge. Allow to boil for 12 minutes. Remove from the boiling water and allow to cool in an ice bath for 5 minutes, or until cool to the touch. Peel.
A note on sandwich size: I specifically used a loaf of "sandwich bread" from my grocery store, which were smaller and more square than a usual loaf of bread. These formed small halves, as you can see from my photos. If your bread is larger, or you want smaller sandwiches, feel free to cut into quarters.
Ham, Brie and Apple Tea Sandwich
Ingredients
½ lb deli ham of your choice (I used Virginia Ham)
6 large slices of brie
1 large Granny Smith apple, thinly sliced
dijon mustard
softened butter
12 slices of thin sandwich bread
Directions
Remove the crust from the bread.
To assemble the sandwiches, spread half of the slices lightly with softened butter and dijon mustard. Place 1-2 pieces of ham on top of each, followed by 2 slices brie side-by-side lengthwise, and finally place 3-4 slices of apple on top. Finish with an additional piece of bread.
Cut each sandwich into halves lengthwise to form rectangles.
Inspired by:
The Food Network
A note on sandwich size: I specifically used a loaf of "sandwich bread" from my grocery store, which were smaller and more square than a usual loaf of bread. These formed small halves, as you can see from my photos. If your bread is larger, or you want smaller sandwiches, feel free to cut into quarters.