When my Book of the Month email came a few weeks ago with the January selections, Lillian Boxfish Takes a Walk immediately caught my eye because the description said it was "the perfect book to start a new year of reading and of living." When I read further and saw that the novel was about the highest paid woman in advertising, my choice was clear. (For those of you who don't know me personally, I work in advertising too.) I made my selection and anxiously awaited my BOTM delivery.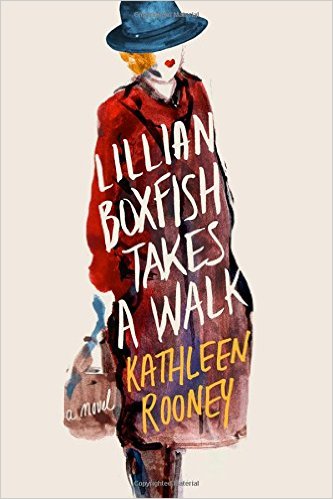 Kathleen Rooney takes us back to New Year's Eve in 1984. Her novel centers around the formidable yet friendly 85-year-old Lillian Boxfish (based on the real-life copywriter Margaret Fishback who became the highest paid female in advertising in the 1930s) as she takes a walk around New York City before ringing in the new year.
An avid walker, Lillian had planned to celebrate the holiday the "same as always," with a visit to her neighborhood Italian restaurant for veal rollatini and green noodles and then "early to bed with a book." Her plans are spoiled, however, by her uncharacteristic and absent-minded consumption of half a package of Oreo cookies.
After only a glass of Chianti at Grimaldi's, Lillian decides to take a walk to the legendary Delmonico's steakhouse downtown to not only work up an appetite but to correct a mistake from many years ago. On her walk, she reminisces about her career in writing - both advertisements and poetry, her relationships and her decades of experiences in Manhattan. She has to confront some of the grittier aspects of the city but remains undeterred throughout her ambling journey.
In honor of the city Lillian so wholeheartedly loves and the package of Oreos she detests, I decided to pair this charming novel with an Oreo cheesecake. This recipe from Southern Bite claims to be the Easiest Oreo Cheesecake, which I think would suit Lillian just fine, and I have to say, it was quite less complicated than other cheesecakes I've made in the past.
First, I made sure my cream cheese was softened by leaving it at room temperature for a while. I find it goes a little faster if unpackaged, so I put all four blocks into my bowl and left on the countertop to soften.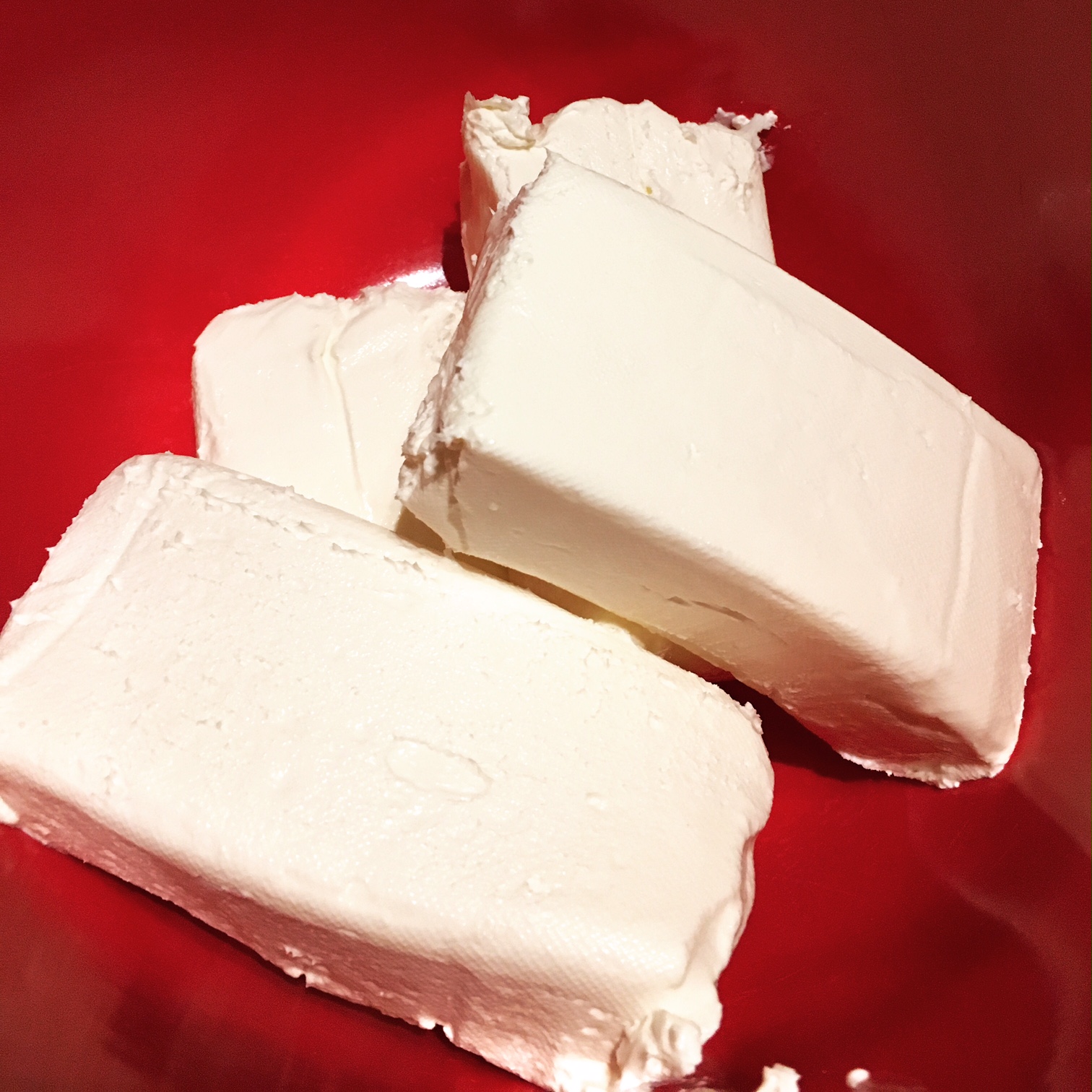 I preheated my oven to 350 degrees F, greased my springform pan, and began crushing Oreos to make my crust.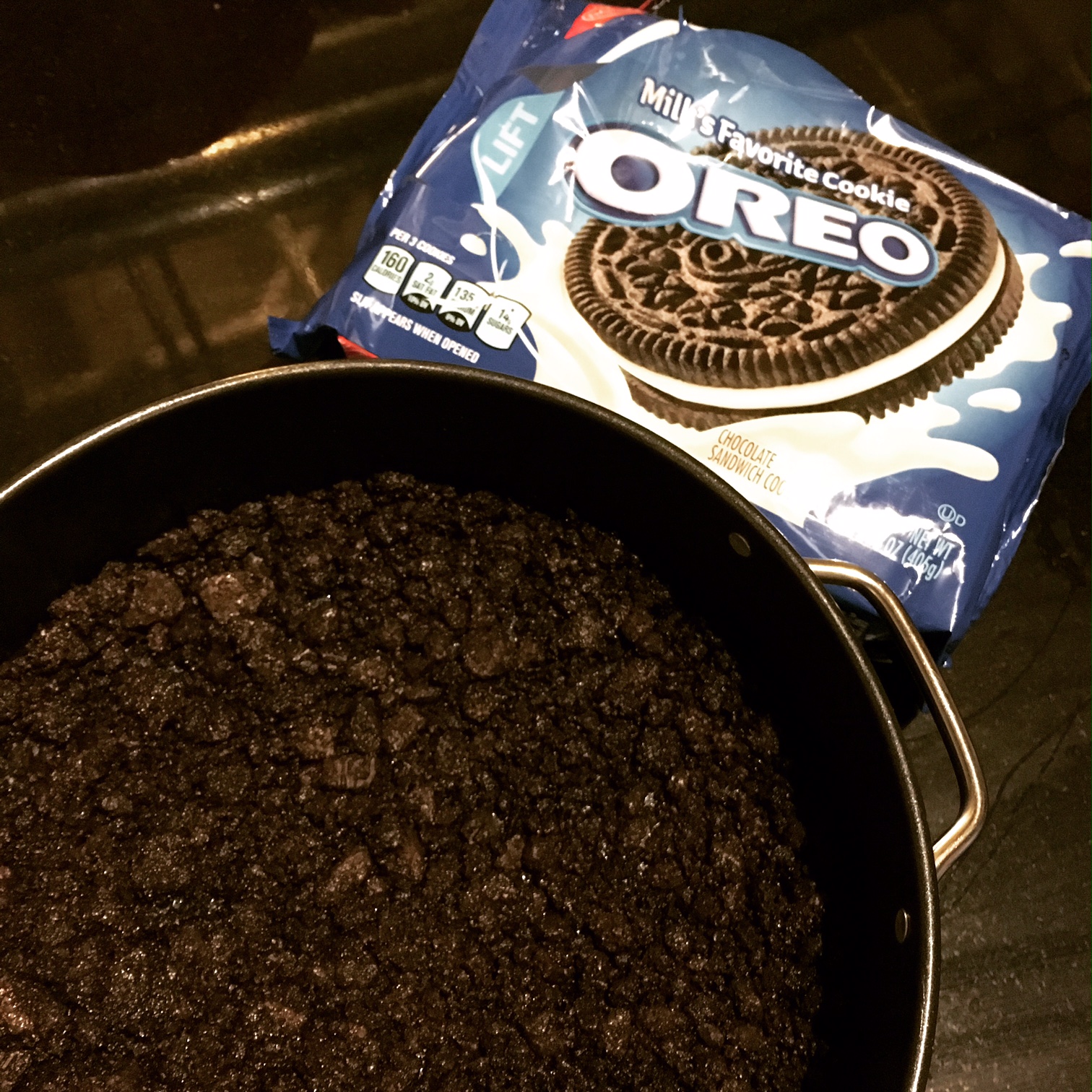 I combined the now-softened cream cheese, vanilla and sugar with my mixer, before adding the eggs. Then I added some slightly less crushed Oreos (about a dozen) to the batter, folding them in with a rubber spatula. I poured the mixture into my pan, tapped it lightly and topped with the remaining chunks of Oreos (about six). Here is what it looked like before baking: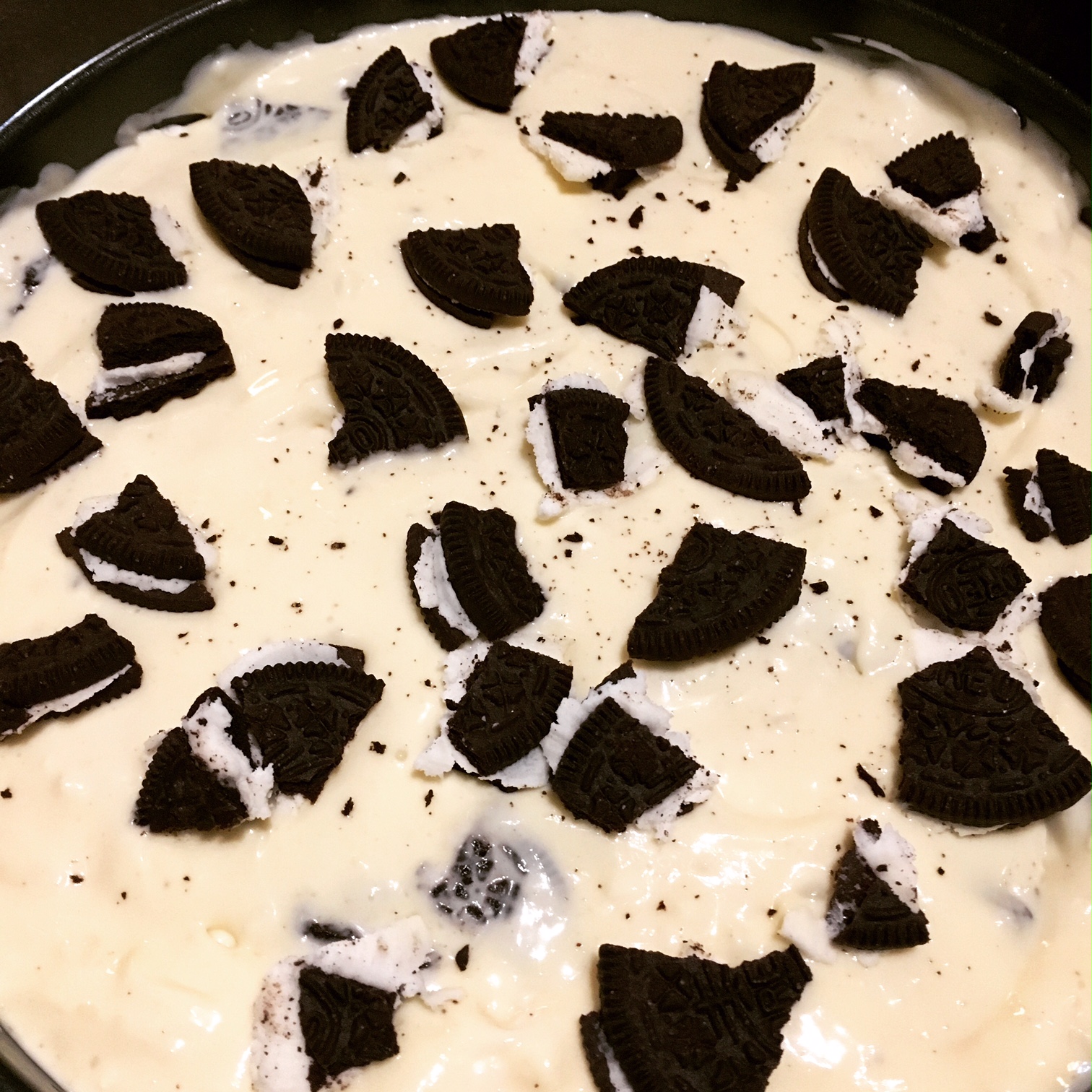 And after 50 minutes and plenty of cooling time, it looked like this:
This cheesecake is meant to be easy, not perfect, as Stacey explains. Yes, it's a little brown on the edges and, yes, you may find a few cracks on top, but it was far less fussy than other cheesecakes, and honestly, it tasted just as delicious. No need to stress, just enjoy! And if you feel like you need to work it off afterwards, just take a walk like Lillian. 🙂
Easiest Oreo Cheesecake
Ingredients
1 (14.3-ounce) package Oreos, divided
3 tablespoons butter, melted
4 (8-ounce) packages cream cheese, softened
1¼ cup sugar
2 teaspoons vanilla extract
4 eggs
whipped cream and chocolate sauce for topping, optional
Directions
Preheat the oven to 350°F. Lightly spray a 9-inch springform pan with nonstick cooking spray.
Place half of the Oreos (about 18) in a gallon size zip-top bag. Crush the cookies using a rolling pin. Pour the crushed Oreos into a small bowl and mix with the melted butter. Pour the mixture evenly into the bottom of the springform pan and press firmly to create a crust.
In the bowl of a stand mixer (or in a bowl using a hand mixer), combine the softened cream cheese, sugar and vanilla until well-combined. Add the eggs and mix well. Roughly break up the remaining cookies and add them to the mixture, reserving some to sprinkle on top. Gently fold the cookies in and pour the batter onto the crust. Lightly tap the pan on the counter to get out any air bubbles. Sprinkle with the remaining Oreos.
Bake for 40 to 50 minutes, or until the center in almost completely set. Cool and then refrigerate overnight to allow the cheesecake to firm up before serving (or at least 3 hours for those impatient folks). Drizzle with chocolate suace and add a dollop of whipped cream, if desired.
This post contains affiliate links. Full disclosure here.