On an Indian reservation in 1988, a woman is attacked but the details are immediately unclear as Geraldine is reluctant to discuss what happened. Both her husband and thirteen-year-old son Joe give her space to recover while still determined to do what they can to bring her justice. Joe strikes out on his own investigation, bringing him and his friends to a sacred meeting place on the reservation, The Round House.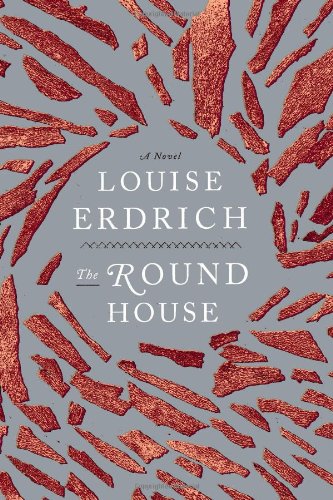 Louise Erdrich's novel has been highly praised and is award-winning, but I didn't like it very much. I thought using the son's perspective to tell the story was an interesting choice, creating more suspense surrounding the attack. Overall, though, while the central plot was gripping, there was so much extra going on in the story that I found it distracting and was ultimately pulled away from Geraldine and her family's plight.
Often on adventures around the reservation, Joe and his friends were fed Indian fry bread - occasionally with jam or honey, occasionally in the form of tacos. In looking up the history of fry bread, I found that it also comes with a story of pain and suffering. (You can read more here.) It seemed like the perfect food to accompany this novel.
Allrecipes had a recipe for fry bread that many commenters hailed as authentic and the most like their grandmothers'. I also poked around and found one from The Pioneer Woman that had a few more ingredients and included details on making Indian tacos. I sort of combined the two when making my bread.
First, I combined my flour, salt and baking powder.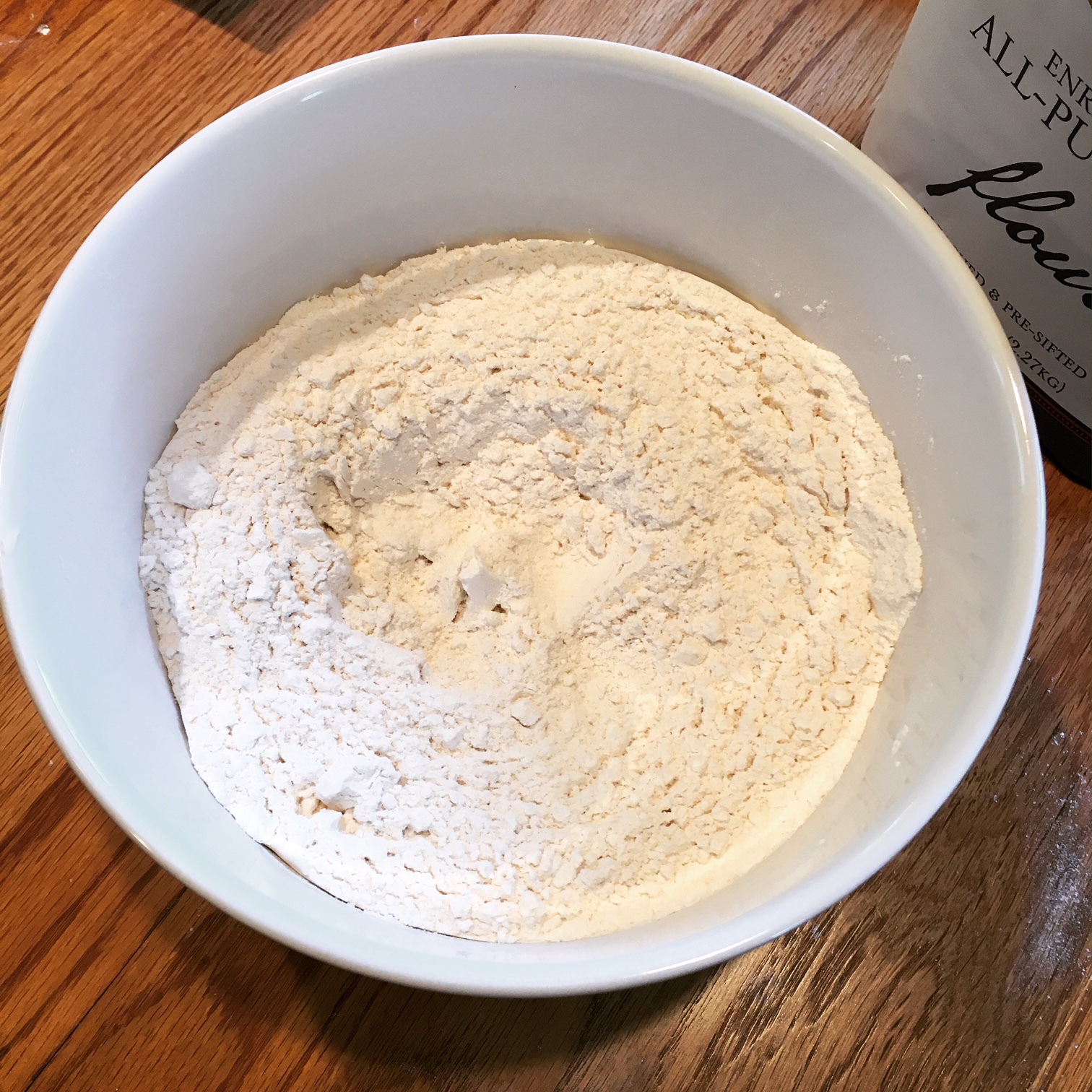 Then, I slowly added my warm water, stirring it with a spoon until it was all added, and then kneading it with my hands. Once the mixture was well combined, I covered the bowl with a dish towel to let it rest for about 45 minutes.
I then separated the dough and rolled it into smaller balls, forming about 12 (which will depend on how large you decide to make your fry bread).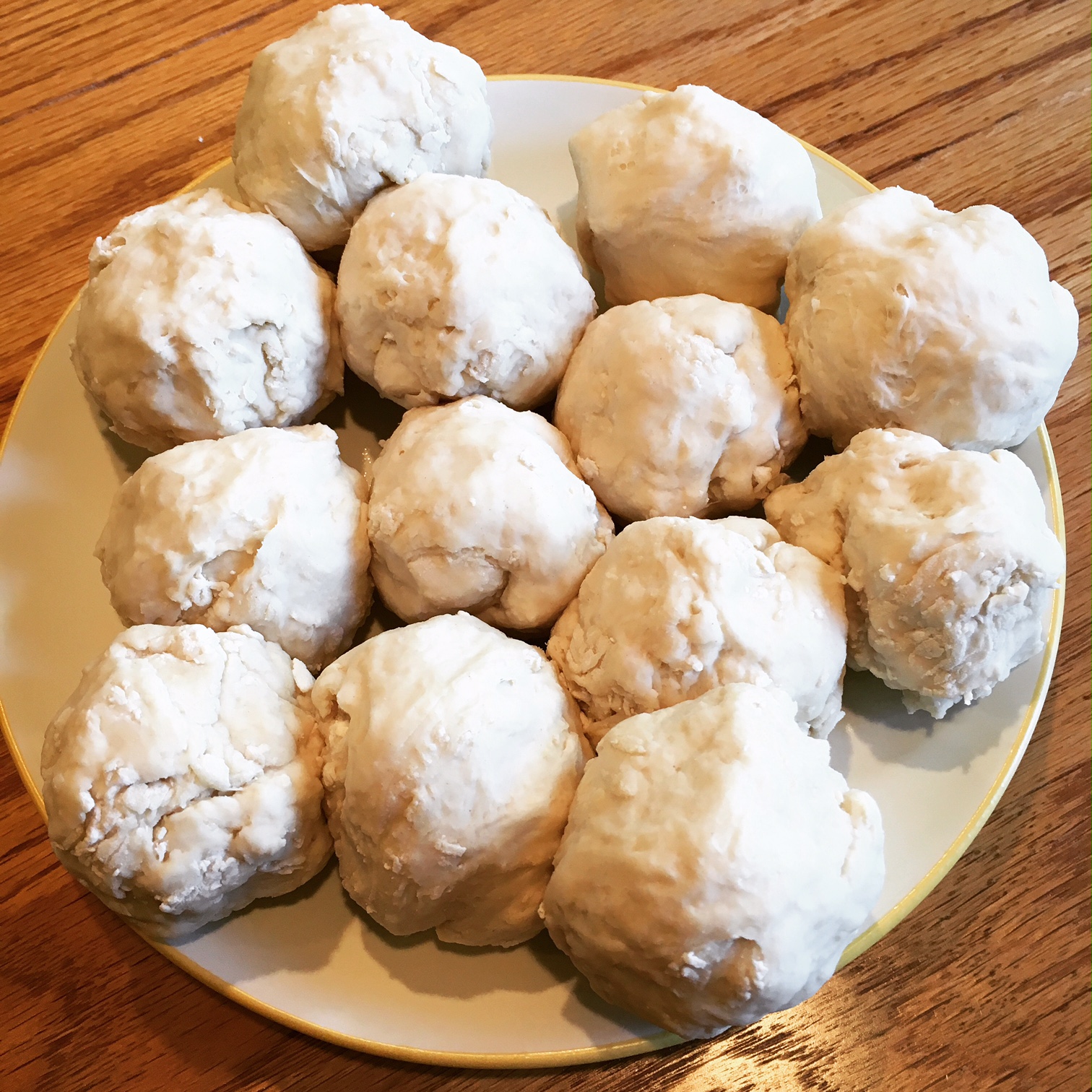 In my cast iron skillet, I heated a little over an inch of shortening until hot. While it came up to temperature, I flattened each ball into a large disk and created a little hole in the middle of each to keep it from forming too much of a "dome" while frying.
I fried each piece of bread for about a minute on each side, until each side was a nice golden brown.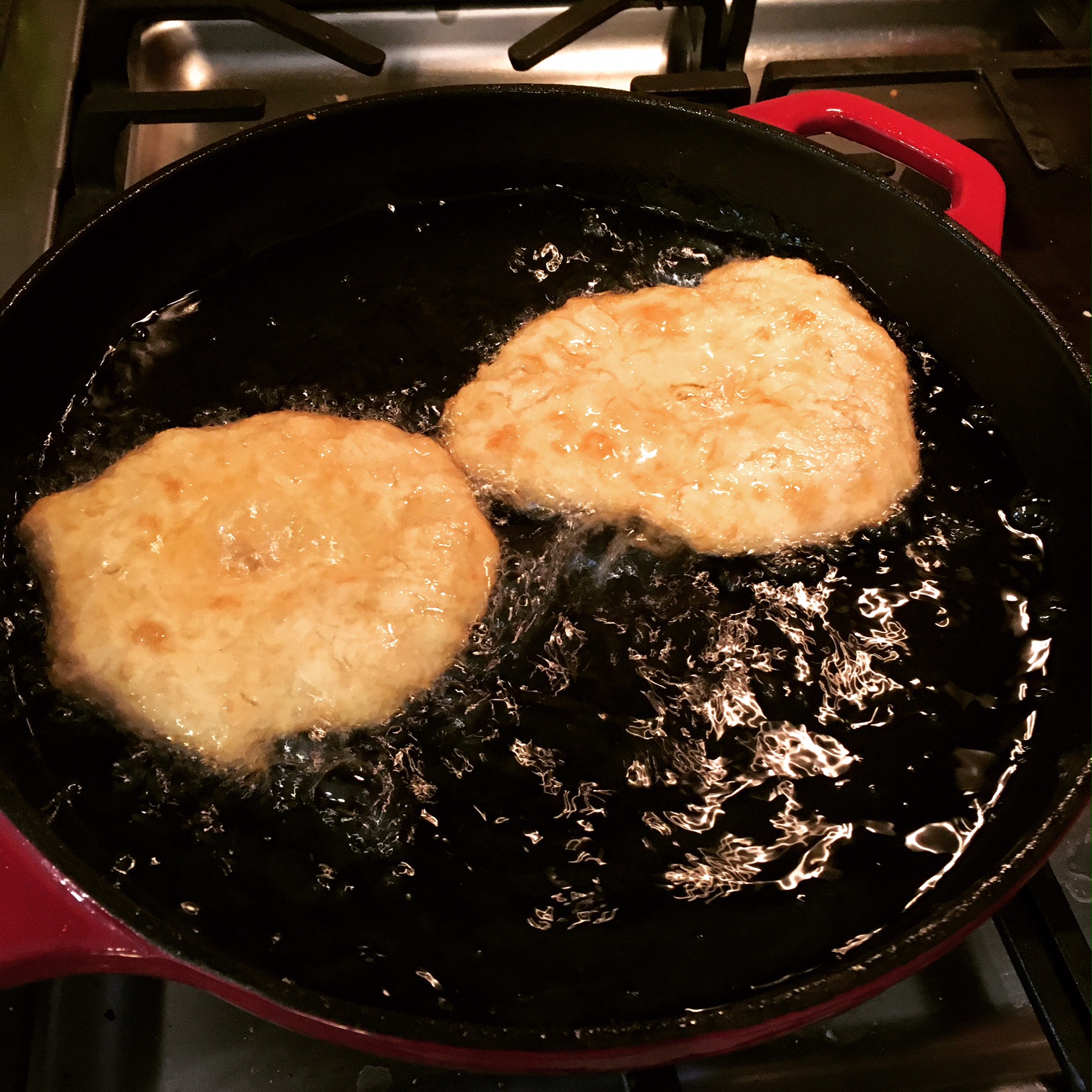 When done, we ate them warm with some jam (and tried some honey too). I didn't make Indian tacos this time but will definitely have to try them out in the future. Check out the finished product, plus a look at my new red kitchen - so happy it's finally a reality!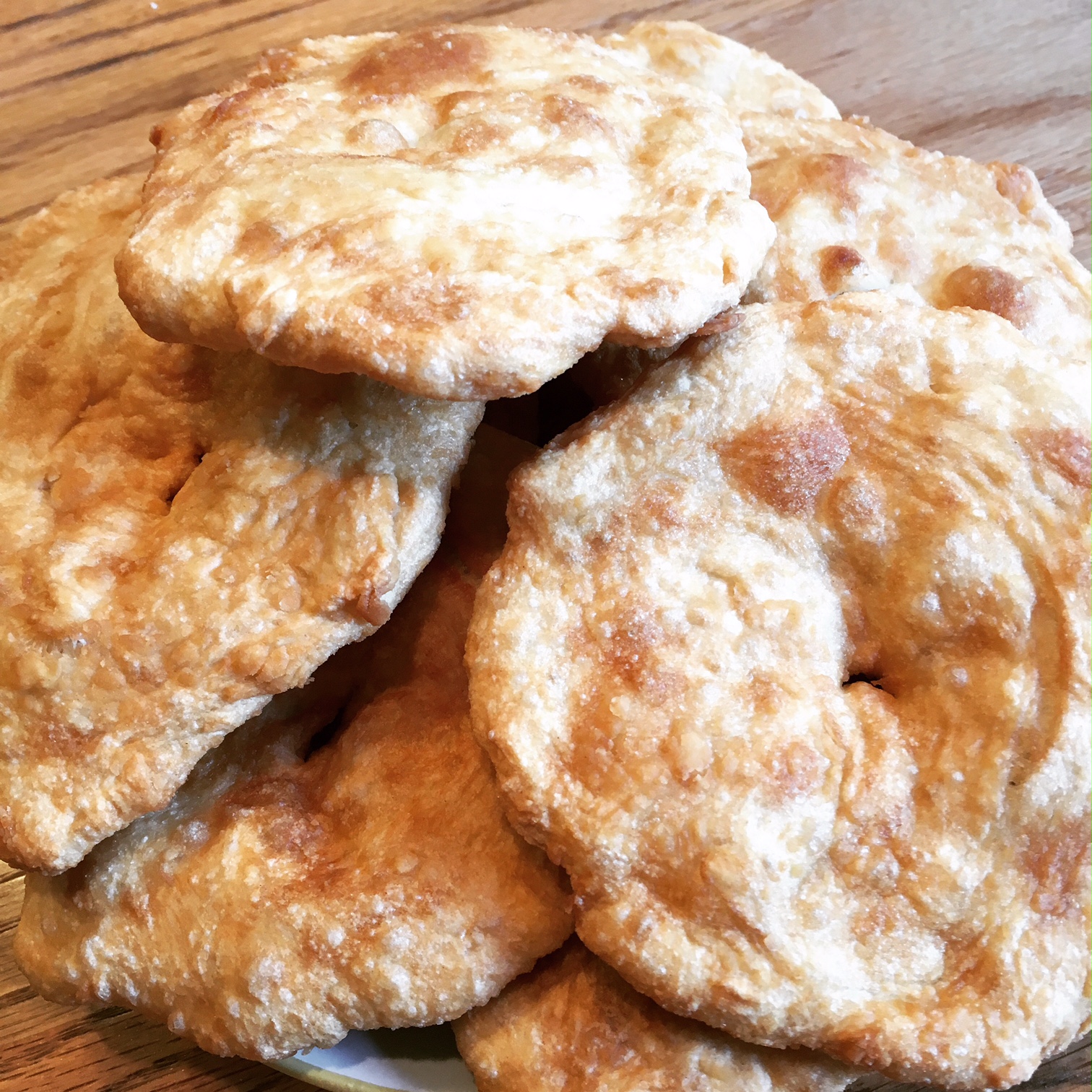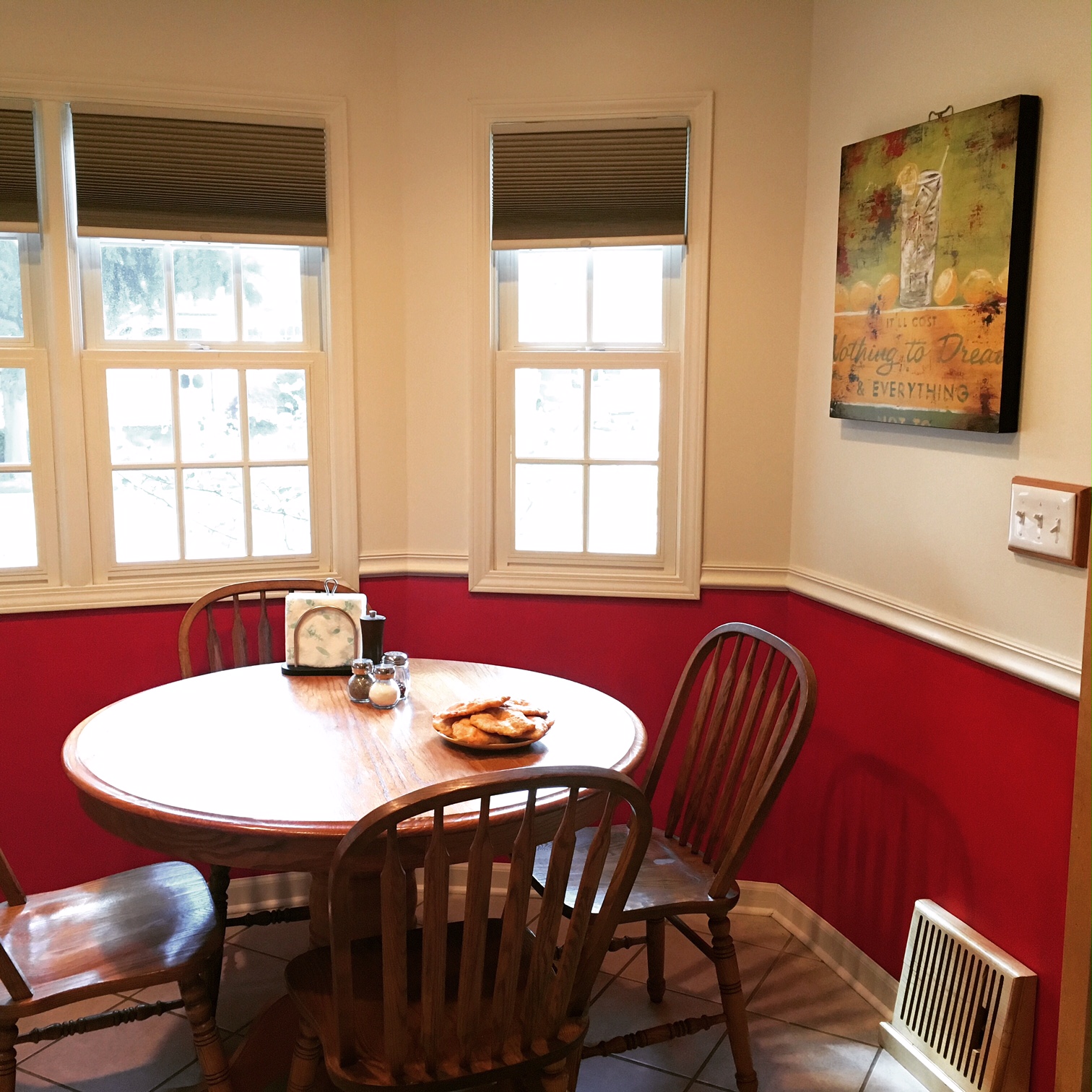 Indian Fry Bread
Ingredients
4 cups all-purpose flour
½ teaspoon salt
1 tablespoon baking powder
1½ cups warm water (110 degrees F/45 degrees C)
4 cups shortening for frying (1-2 inches in the skillet)
Directions
Combine flour, salt, and baking powder. Stir in 1½ cups lukewarm water. Knead until soft but not sticky.
Cover bowl with a dish towel and allow to rest for 35-45 minutes.
Shape dough into balls of about plum-size and then flatten into patties between 4-7 inches in diameter (depending on how large you want them). Make a small hole in the center of each patty.
Fry one (or two) at a time in 1-2 inches of hot shortening, until the bread turns golden brown - about a minute. Flip and fry for another 45 seconds to a minute.
Allow to dry on a paper towel. Serve warm with jam or honey, or use as a base for Indian tacos.