Almost all books can open your eyes to new experiences - whether it be new cultures, new points of view, or just something you didn't know before. The same book can have different meaning from person to person, and it can have a different meaning from reading to reading. I don't love everything I read, but I do appreciate the opportunity I have to come away with a new knowledge of the world, be it big or small.
The House of the Spirits, a selection for one of my book clubs, was one such book. By Isabel Allende, and originally written in Spanish, it is the story of strong Chilean women, spanning three generations. I don't have a strong opinion about it either way, but in the end, I'm glad I read it.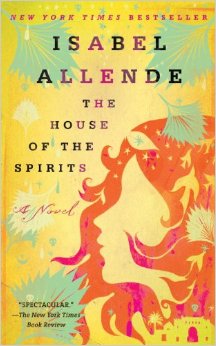 It was not the easiest book for me to get into, and if I hadn't been on vacation with a limited selection of reading material, I might have put it down and called it a day. As captivating as these three women were, the common thread throughout all of their narratives was Esteban, a really rather unlikeable character, who outlived all of them.
With elements of magical realism, like many Latin American stories, we follow Clara the Clairvoyant, her daughter Blanca and her granddaughter Alba as they live in Esteban's orbit. For all of the beautiful writing and the expansive time covered, it feels as though the story slags on, with so little happening in any given chapter. Until the end, when Alba - the joy of Esteban's life and who feels like the most important character - takes revolutionary steps that not only change her family forever but her country too.
It is in this part of the book, while stuck in the house during a curfew, that the maids decide to make empanadas as a way of entertaining themselves. I have always loved empanadas and thought making them on a very snowy day in Detroit would be a great way to entertain myself too!
I found a recipe from The New York Times for beef empanadas and went to work. In an attempt to save time, I used refrigerated dough, as suggested by a different recipe. Looking back, I wish I'd made the dough included in the original recipe (I'll include it below). If you do decide to use refrigerated dough, you will probably need 2 packages, or 4 total pie crusts.
Since my dough was already made, I started with the filling. I used ground beef and ground chorizo, because I already had them on hand - I think they work just as well. I chopped the onion and set the beef to cooking on the stovetop.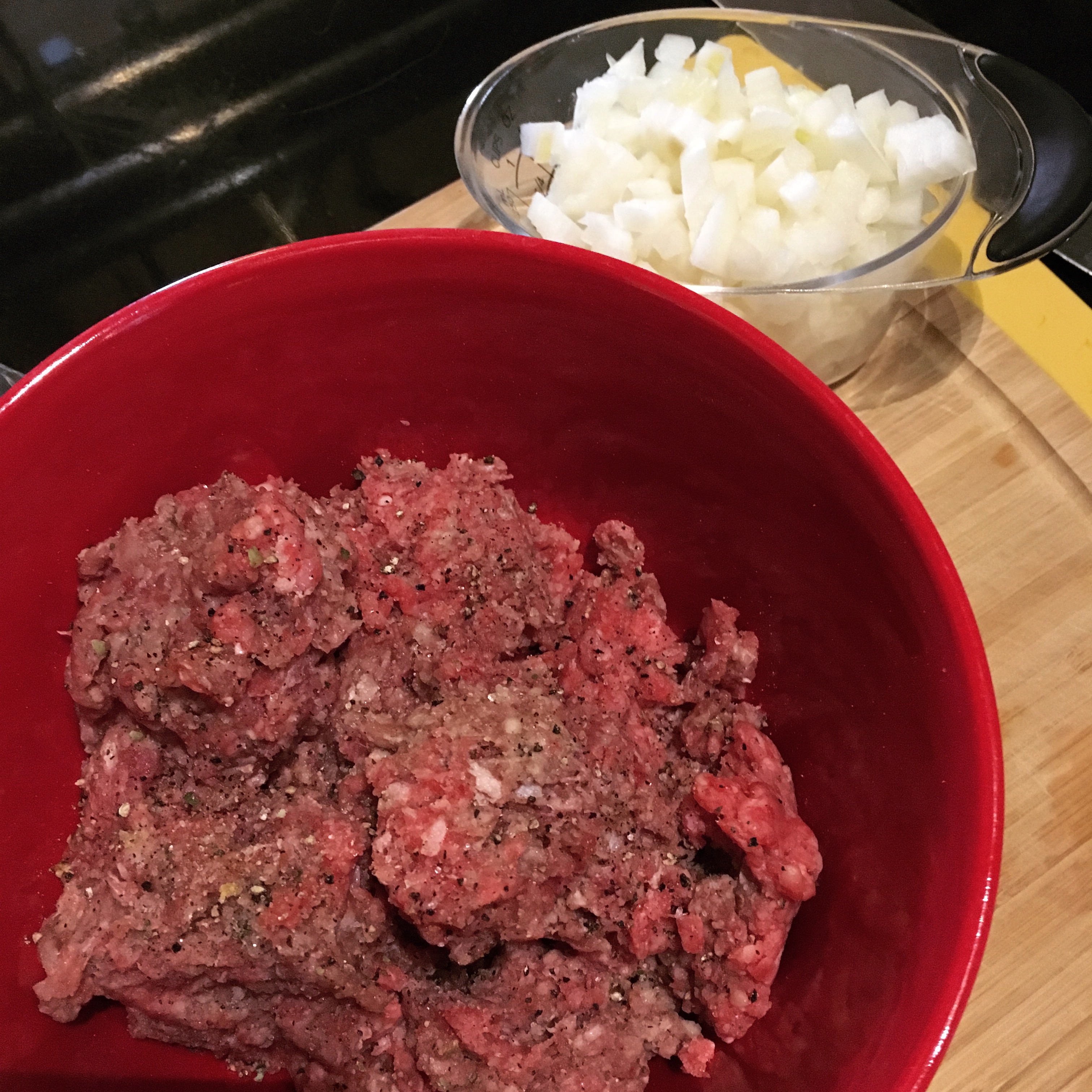 While the beef browned, I peeled and diced my potatoes. Once the beef was nearly cooked through, I added the onion and the chorizo to the pan, allowing them to cook for about 10 minutes. Then I added the potatoes, garlic and spices, seasoning with salt and pepper.
After a few more minutes, I added the tomato paste, paprika, cayenne pepper (about an ⅛ teaspoon) and a cup of water. It began simmering and I let it all cook together for another 10 minutes.
While that cooked, I also chopped my scallions and made two hard-boiled eggs. Once the filling was finished, I put it in a bowl to cool and added the sliced scallions.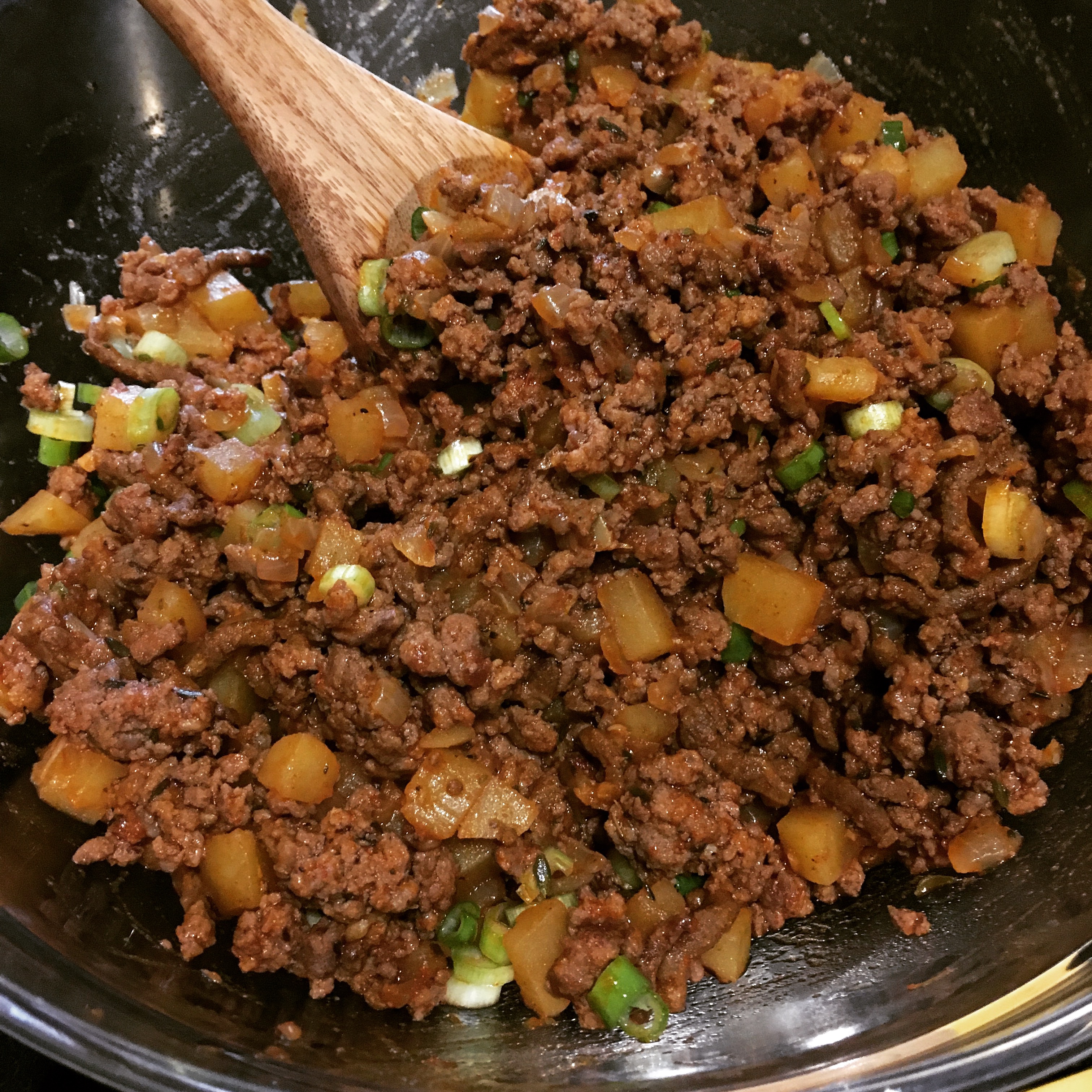 I preheated the oven to 375 degrees and started making the dough rounds. Unrolling the dough was surprisingly difficult, but it did add this bright spot to my cooking.
I got about 15 total rounds out of my two sheets of dough, only enough to use half the filling. (The rest of the meat and potato mixture made a great addition to breakfast burritos as well as a quick dinner of tacos.) On each round, I added about 1 tablespoon of the meat filling, a sprinkle of chopped hard-boiled eggs, and a sprinkle of finely chopped green olives. Using more filling made them difficult to close.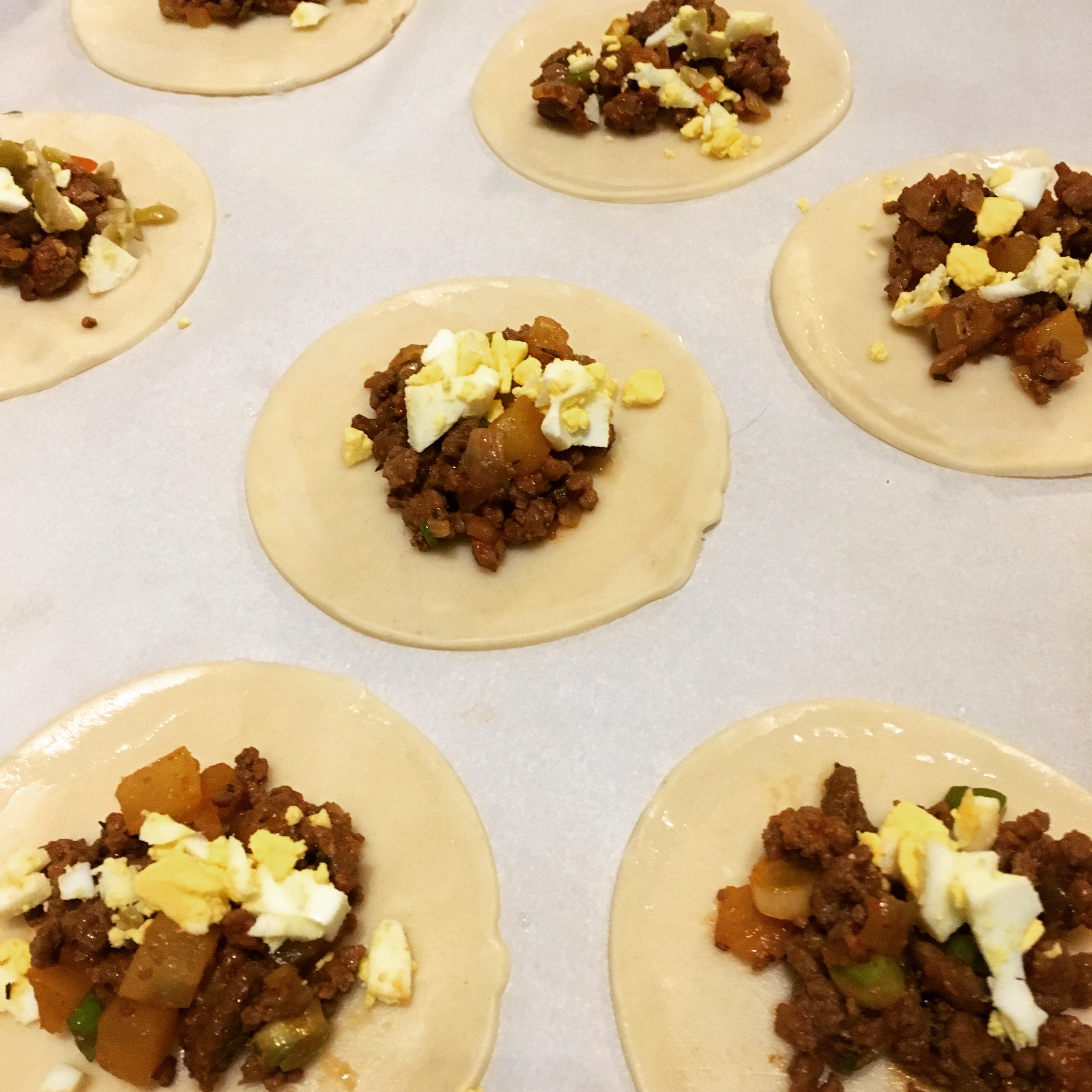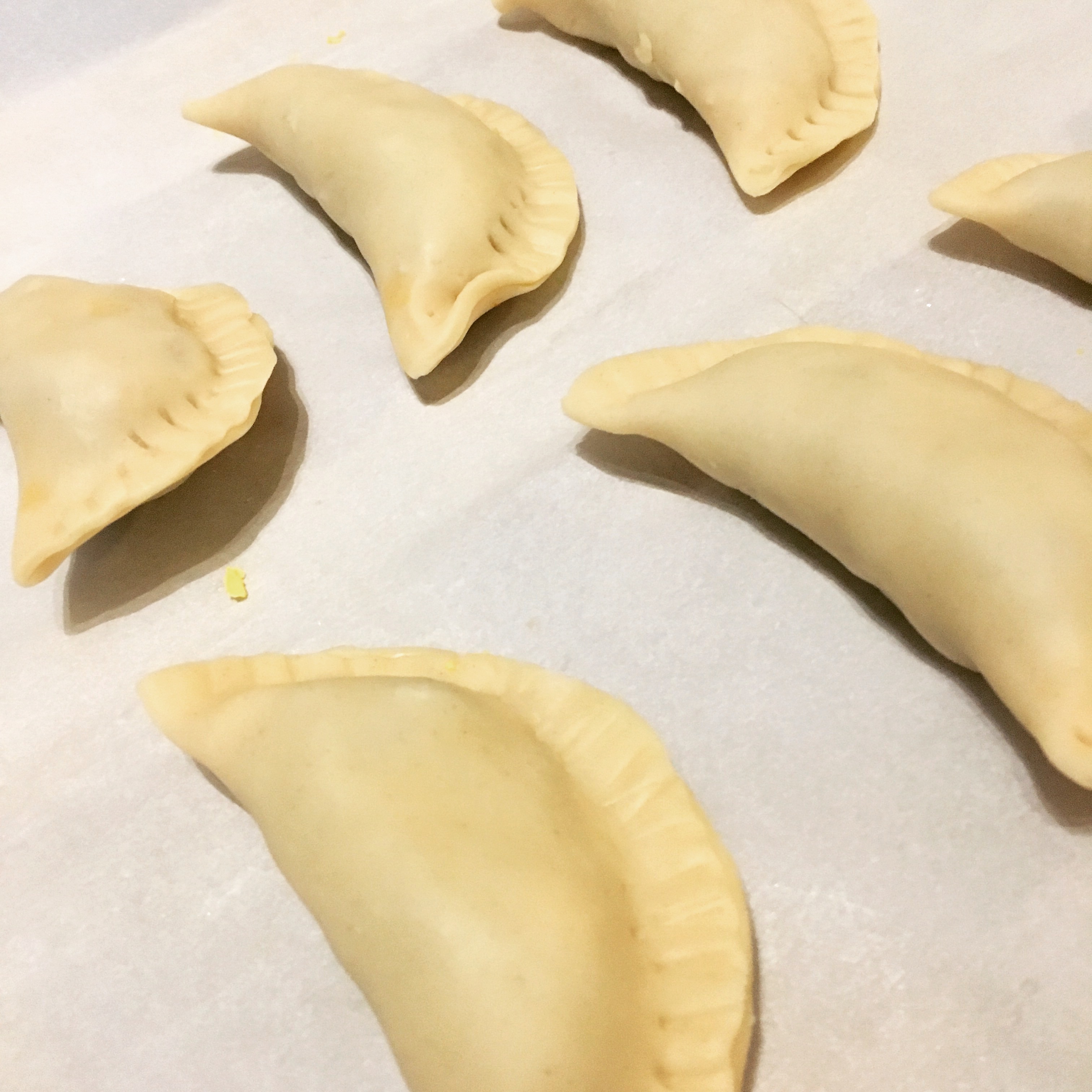 I brushed them with some melted butter and put them in the oven on a parchment lined baking sheet for 15 minutes. They didn't come out quite as golden as they might have if I'd made my own dough, but they still tasted delicious.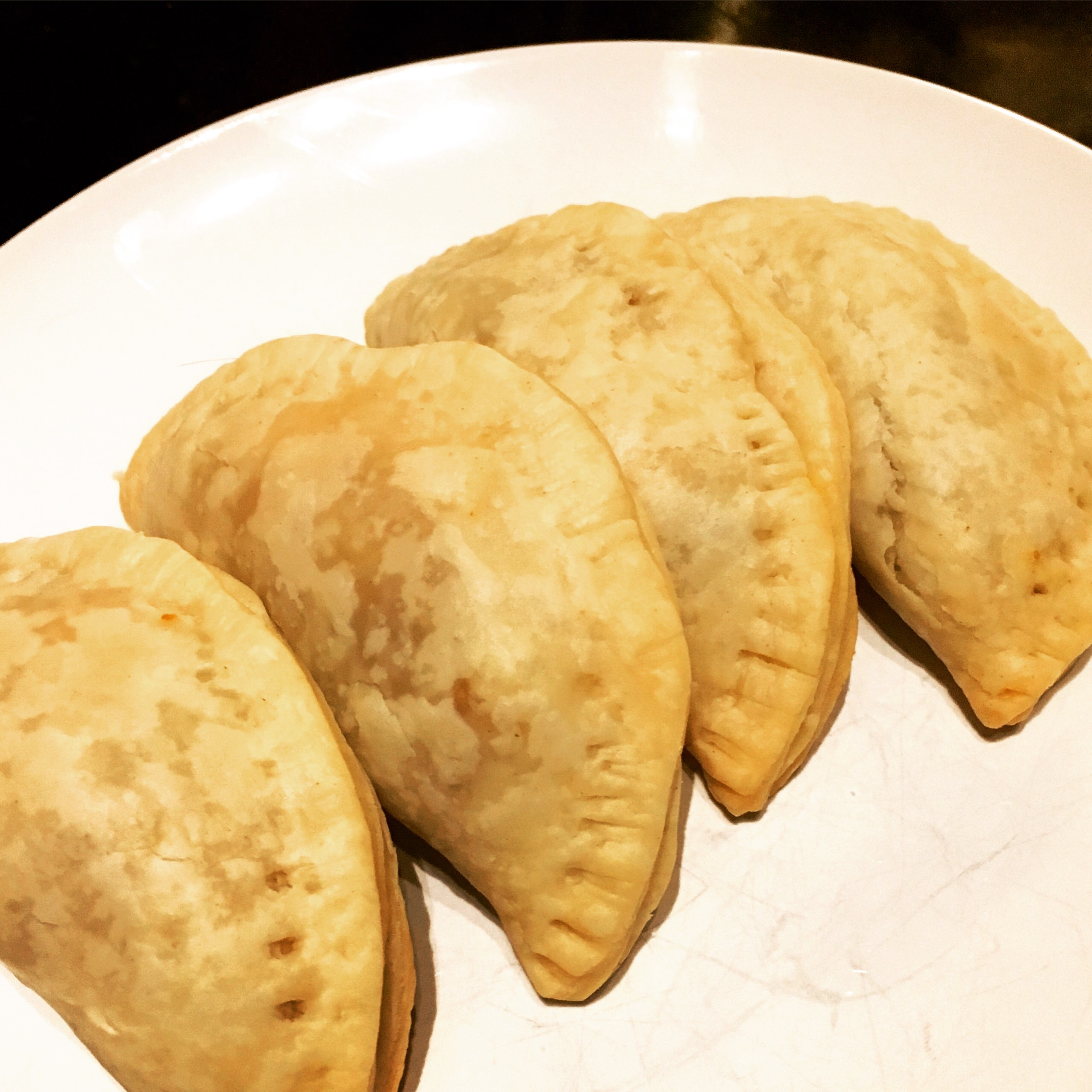 Beef Empanadas

From: The New York Times Cooking Section

Ingredients
Dough Ingredients

4 oz lard or butter, plus more for brushing tops
1½ teaspoons fine sea salt
750 grams all-purpose flour, about 6 cups, more as needed

Filling Ingredients

1 pound beef chuck, in 1/8-inch dice (or very coarsely ground)
Salt and pepper
Lard or olive oil, or a combination, for sautéing
1 cup diced onion
2 ounces diced chorizo (or ground)
½ pound potatoes, peeled and diced
4 garlic cloves, mashed to a paste
2 teaspoons chopped thyme
2 teaspoons chopped marjoram or 1 teaspoon oregano
1 tablespoon tomato paste
1 tablespoon pimentón dulce or paprika
Large pinch cayenne
Beef or chicken broth, as necessary, or use water
½ cup chopped scallions, white and green parts
¼ cup chopped pitted green olives
2 hard-cooked eggs, sliced
Directions
Make the dough: Put 2 cups boiling water, 4 ounces lard and 1 1/2 teaspoons salt in large mixing bowl. Stir to melt lard and dissolve salt. Cool to room temperature.
Gradually stir in flour with a wooden spoon until dough comes together. Knead for a minute or two on a floured board, until firm and smooth. Add more flour if sticky. Wrap and refrigerate for 1 hour.
Make the filling: Season chopped beef generously with salt and pepper and set aside for 10 minutes. Melt 3 tablespoons lard in a wide heavy skillet over medium-high heat. Add beef and fry until nicely browned, stirring throughout to keep pieces separate, about 5 minutes.
Turn heat down to medium and add onion and chorizo. Keep turning mixture with a spatula, as if cooking hash, until onion is softened and browned, about 10 minutes. Add potatoes, garlic, thyme and marjoram and stir well to incorporate. (Add a little more fat to pan if mixture seems dry.) Season again with salt and pepper and let mixture fry for 2 more minutes. Stir in tomato paste, pimentón and cayenne, then a cup of broth or water. Turn heat to simmer, stirring well to incorporate any caramelized bits.
Cook for about 10 more minutes, until both meat and potatoes are tender and the sauce just coats them — juicy but not saucy is what you want. Taste and adjust seasoning for full flavor (intensity will diminish upon cooling). Stir in scallions and cool to room temperature, then cover and refrigerate until ready to use.
Divide chilled dough into 1-ounce pieces and form into 2-inch diameter balls. Roll each piece into a 4 1/2-inch circle. Lay circles on a baking sheet lightly dusted with flour.
Moisten outer edge of each round with water. Put about 2 tablespoons filling in the center of each round, adding a little chopped green olive and some hard-cooked egg to each. Wrap dough around filling to form empanada, pressing edges together. Fold edge back and finish by pinching little pleats or crimping with a fork.
Heat oven to 375 degrees. Place empanadas on parchment-lined or oiled baking sheet, about 1 inch apart. Brush tops lightly with lard or butter and bake on top shelf of oven until golden, 10 to 15 minutes. Serve warm.