One of my book clubs unanimously selected The Underground Railroad for our latest meeting, and I was really excited. I began reading with high expectations - Colson Whitehead's novel was not only recommended by Oprah (a book club selection) and Obama, it had won the National Book Award for Fiction as well.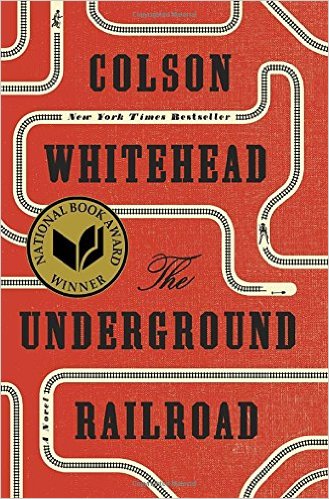 A piece of historical fiction, it re-imagines the Underground Railroad as an actual railroad that exists underground traveling from the south through various branches as it makes its way north. It was the idea that drew me in initially, even though on the surface it does seem like a real train would be a lot more difficult to run and much easier to find. In the end, the Underground Railroad wasn't as much of a "character" in the story as I had expected; instead, our story revolved around Cora, a runaway slave from Georgia.
The structure jumps around quite a bit, and though I got used to it about a quarter of the way into the book, I found it difficult to follow in the beginning. Jumping back and forth also took away from my ability to connect with the characters, particularly Cora with whom we spent the most time. The lack of emotion combined with the mismatched historical events left me feeling a bit confused and mostly just glad it was over.
In a novel that mostly depicted the terror and hardship of American slavery, it still had some victories. And making it to the safety and splendor of Valentine Farm is a victory for Cora. There, on Saturday evenings, they all got together for a family-style meal - with "hogs [as] the first order of business" alongside "smoky collards, turnips, sweet potato pie, and the rest of the kitchen's concoctions."
Since the hogs made up the center of their meal, I decided to make Carolina-style pulled pork. Cora spends a great deal of time in both Carolinas, and her time there changes both her course of action and her outlook on the future.
Pulled pork needs to be cooked slowly over low heat so that it truly tenderizes. It can be made at low temperatures in the oven, in a smoker or in the slow cooker, which is how I chose to make mine.
First, I combined 2 tablespoons of brown sugar, 1 tablespoon of smoked paprika, and 1 teaspoon each of salt, pepper and garlic powder. I rubbed the spice mixture onto my roughly 3-pound pork shoulder.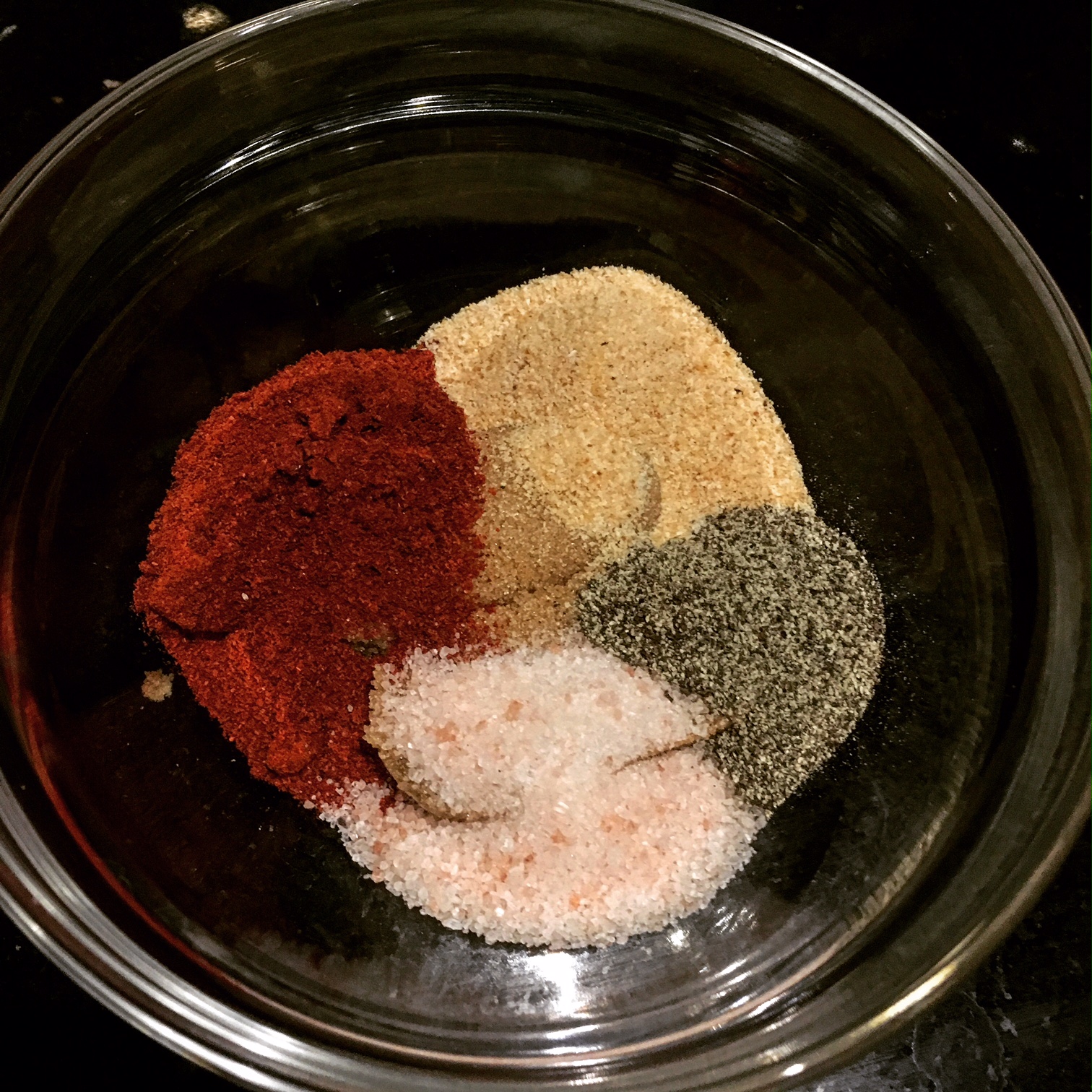 While that soaked in, I sliced a large onion. (I used Spanish, but a sweeter onion would probably work just as well.) Mine probably ended up being a bit on the thicker side, but knowing that these are going to cook down all day as the bed of the pork shoulder, you wouldn't want to slice them too thinly either. We didn't mind the more prominent onions in our sandwiches, but use your best judgement.
I covered the bottom of the slow cooker with sliced onions and set the spice-covered pork on top.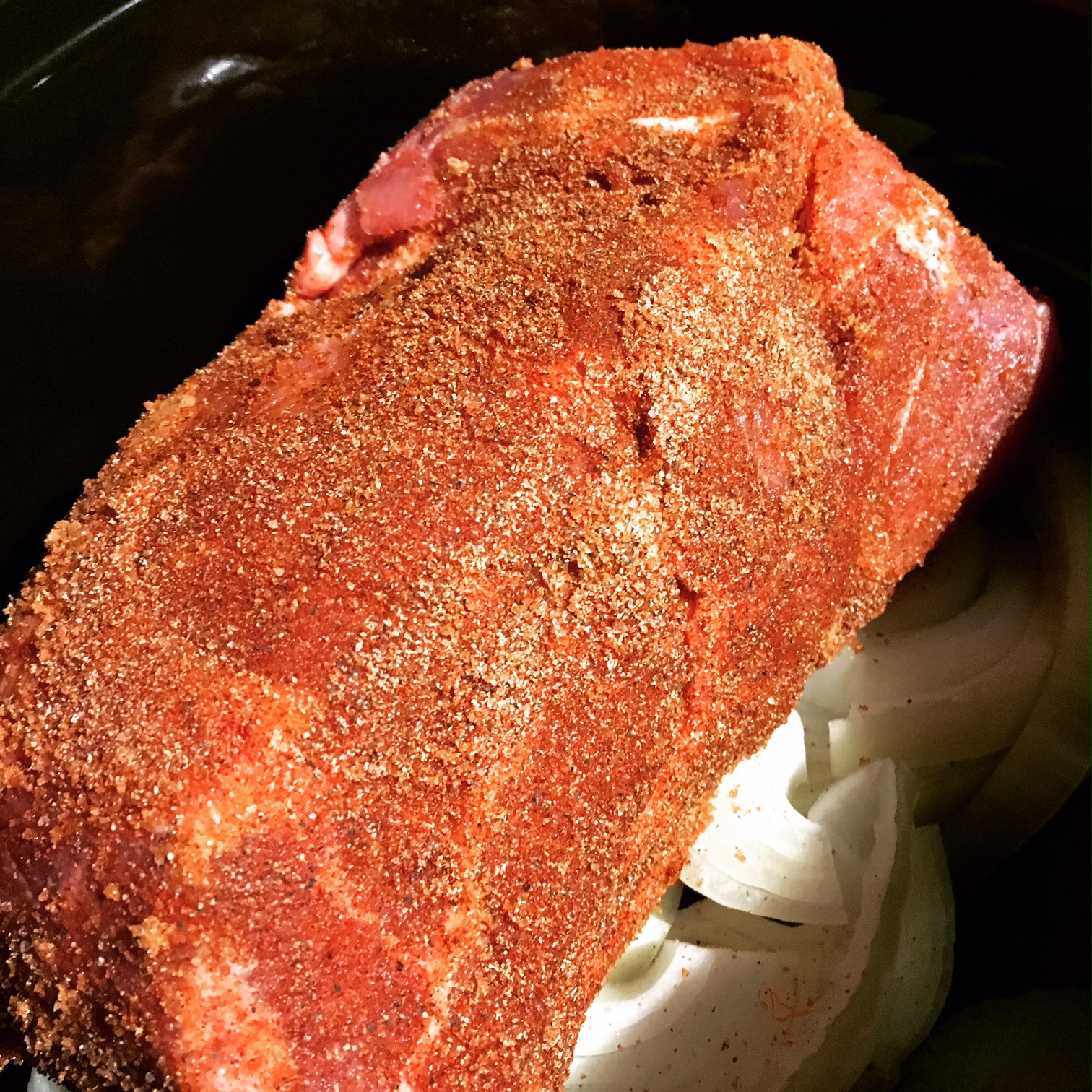 Next, I mixed together the wet ingredients - apple cider vinegar, Worcestershire sauce, ground mustard and brown mustard - with cayenne pepper, crushed chili flakes and the remaining tablespoon of brown sugar. I poured that into the bottom of the slow cooker. I didn't think I had quite enough liquid so I added some water as the recipe suggested.
I set my slow cooker to low and let the pork and onions cook for about 8 hours. Once it was tender, I used two forks to "pull" it into small flakes and stirred the pork and onions together with the cooking liquid.
We ate the pulled pork on sandwiches, but it can also be used to make sliders, pulled pork tacos or even quesadillas. This recipe makes plenty for two, so it helps to get creative!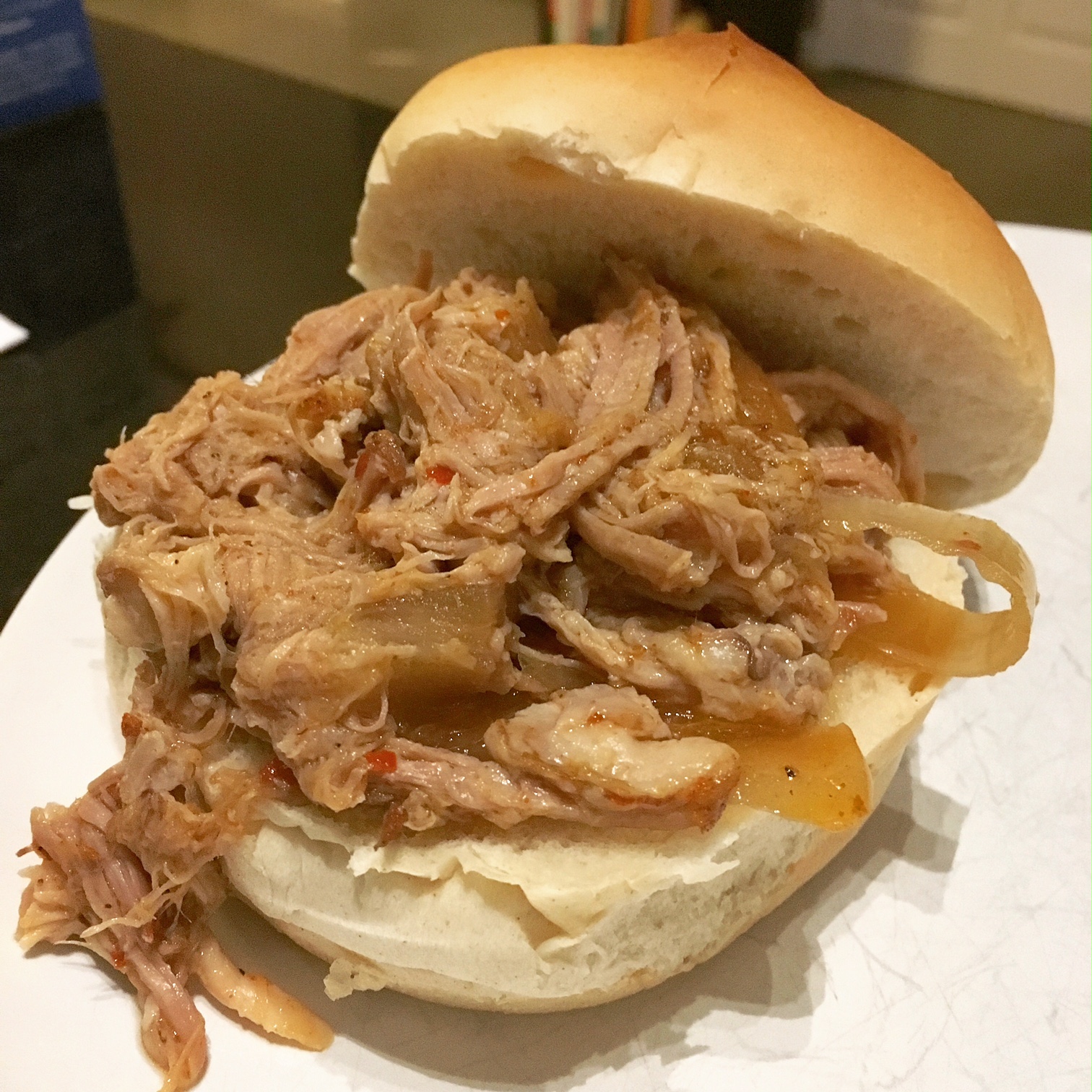 Carolina-Style Slow-Cooked Pulled Pork
Servings: 8-12 sandwiches
Ingredients
2–3 pounds pork shoulder butt roast
3 tablespoons brown sugar, separated
1 tablespoon smoked paprika
1 teaspoon salt
1 teaspoon pepper
1 teaspoon garlic powder
1 large onion, sliced
1 cup apple cider vinegar
¼ cup Worcestershire sauce
¼ teaspoon cayenne pepper
2 teaspoons crushed red pepper
1 tablespoon brown mustard
1 teaspoon ground mustard
Directions
If pork roast is frozen, defrost in fridge. Trim off any large sections of fat.
In a small bowl, combine 2 tablespoons of brown sugar along with all of the smoked paprika, salt, pepper and garlic powder. Rub spice mixture all over the roast until it's soaked in.
Place the sliced onions in a layer on the bottom of slow cooker with the roast on top.
In small bowl, mix together remaining list of ingredients from apple cider vinegar to ground mustard, plus the leftover tablespoon of brown sugar. Gently pour liquid over roast. You should have about 2 inches of liquid on bottom; if not add a bit of water.
Cook covered on low for 7–8 hours, until pulled pork is tender. Shred pork in slow cooker with a fork until flaked. Stir into liquid to incorporate flavor. Let sit for about 30 minutes, drain liquid and serve.