It's well-documented over my years blogging here that short stories aren't for me… usually. In fact, I can count on one hand the number of short story collections I've truly enjoyed. That being said, Deesha Philyaw's The Secret Lives of Church Ladies is one such collection. And I didn't just like it — I loved it. It was my first 5-star read of the year and my first 5-star short story collection ever.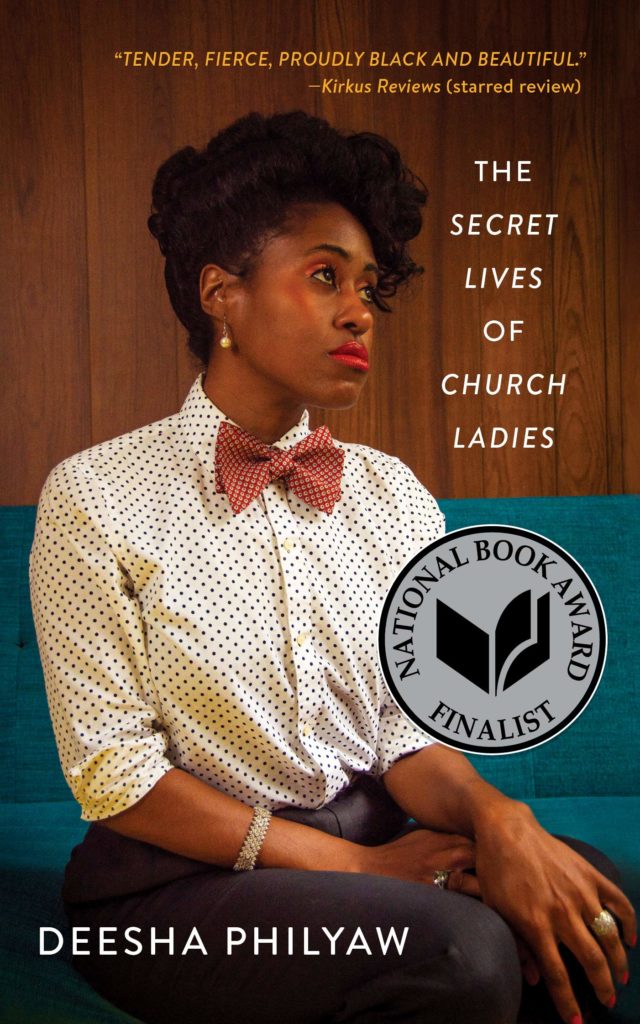 It's a slim volume, so I expected to get through it quickly but it ended up going even faster than I thought — I finished it the same day I started. I couldn't put it down, which is unusual for me with a short story collection since it has several natural "take a break" points. The stories in Church Ladies focus on Black women and their varied relationships. They are told with insight and nuance, each word chosen with precision. Each story quickly drew me in, kept me engaged and then ended without leaving me wanting. 
The best part of this collection is that there was a clear food tie-in, which meant I got to write a review-recipe pairing for it! That food? Peach cobbler. There is, in fact, a story titled for the dessert in which it plays a feature role, and it's mentioned in at least one other story too. It was possibly my favorite story, though I loved so many of them, it's hard to pick a true favorite.
Anyway, "Peach Cobbler" starts as such: 
My mother's peach cobbler was so good it made God himself cheat on his wife. 
The main character watches her mother making the cobbler covertly, longing "to perfect the sweetness and textures" of her mother's recipe. She also describes eating it:
I grabbed a handful of the cobbler and shoved it all in my mouth at once. The sugary juice dribbled over the corner of my mouth down to my chin as I chewed. I savored the peaches and the soft bits of crust soaked through with the syrup. 
Now, if that doesn't make you want to gobble down your own peach cobbler, I don't know what will. But I absolutely had to have some. I googled around to see if Philyaw herself shared a recipe somewhere, since she wrote about the "best cobbler in the world" with some authority, but I couldn't find one. So, I settled for a Southern peach cobbler recipe that the creator says she spent an entire summer perfecting. 
I can't help but agree that it is very delicious, even though I had to use canned peaches because fresh aren't in season right now. (In the story, the mother uses fresh, except when not in season and is described as taking great care to drain the canned peaches, so I felt okay doing the same. But I can't wait to try making it with fresh fruit this summer!)
As I mentioned before, I started with canned peaches. I used 5 cans, or what ended up being just over 6 cups. I drained 3 of the cans and used the juice from the other two, as the recipe creator recommended using about half the juice when using canned peaches. I cut them into bite-size chunks, except when the slices were already small or thin.
I tossed them with lemon juice, white and brown sugars, cinnamon, nutmeg and cornstarch. Then, I poured them into a 9x13 glass baking dish.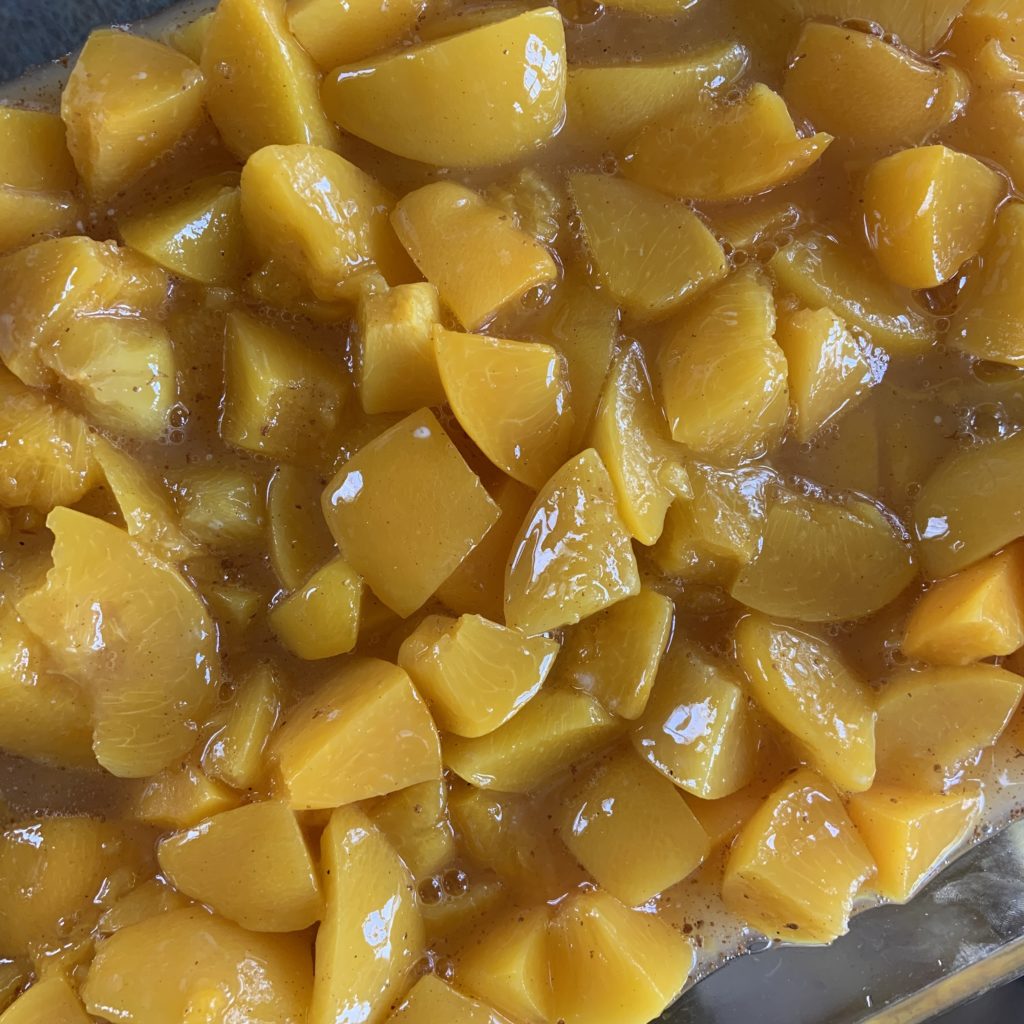 I baked the peaches for 10 minutes in a 425-degree oven. Meanwhile, I made the topping.
I grated cold butter using my food processor.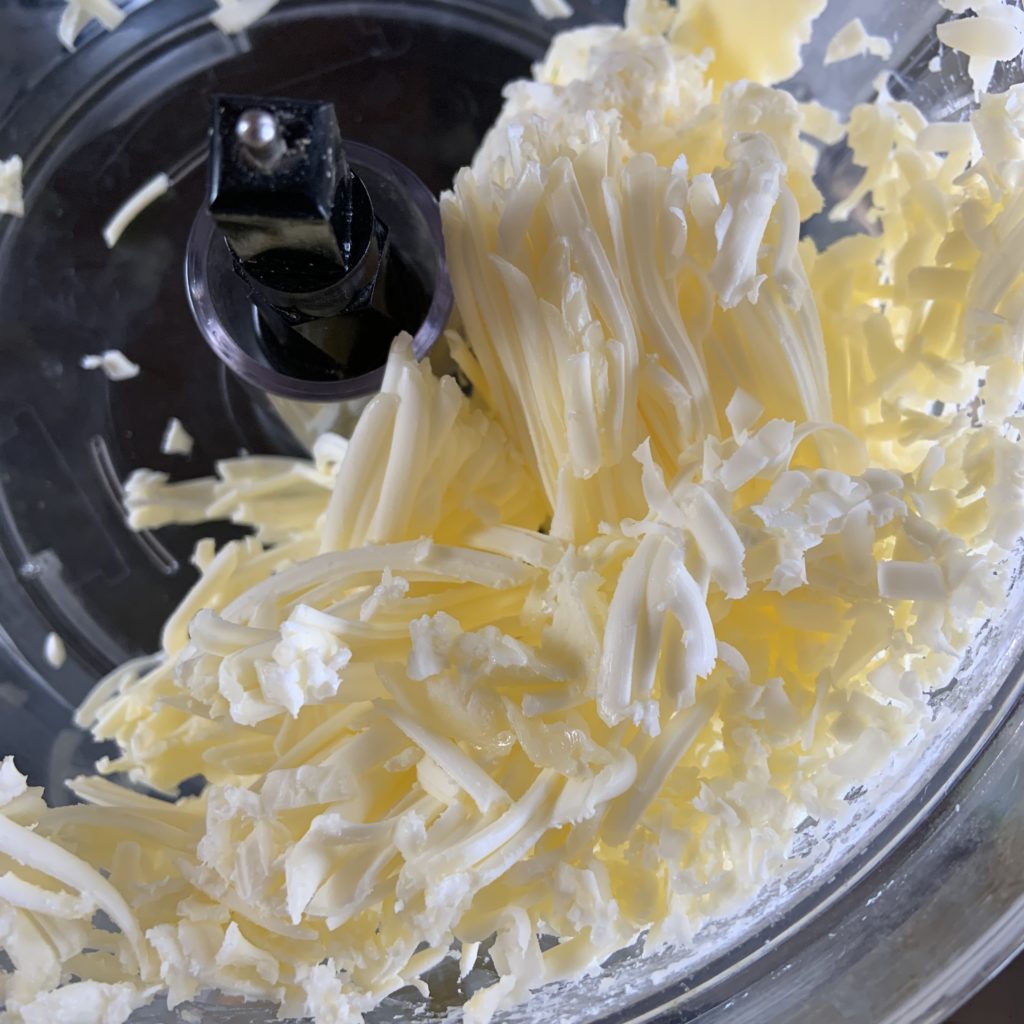 Then I combined the dry ingredients — flour, white and brown sugars again, salt and baking powder. To them, I added the grated butter and then a half cup of boiling water, stirring it all together until just combined.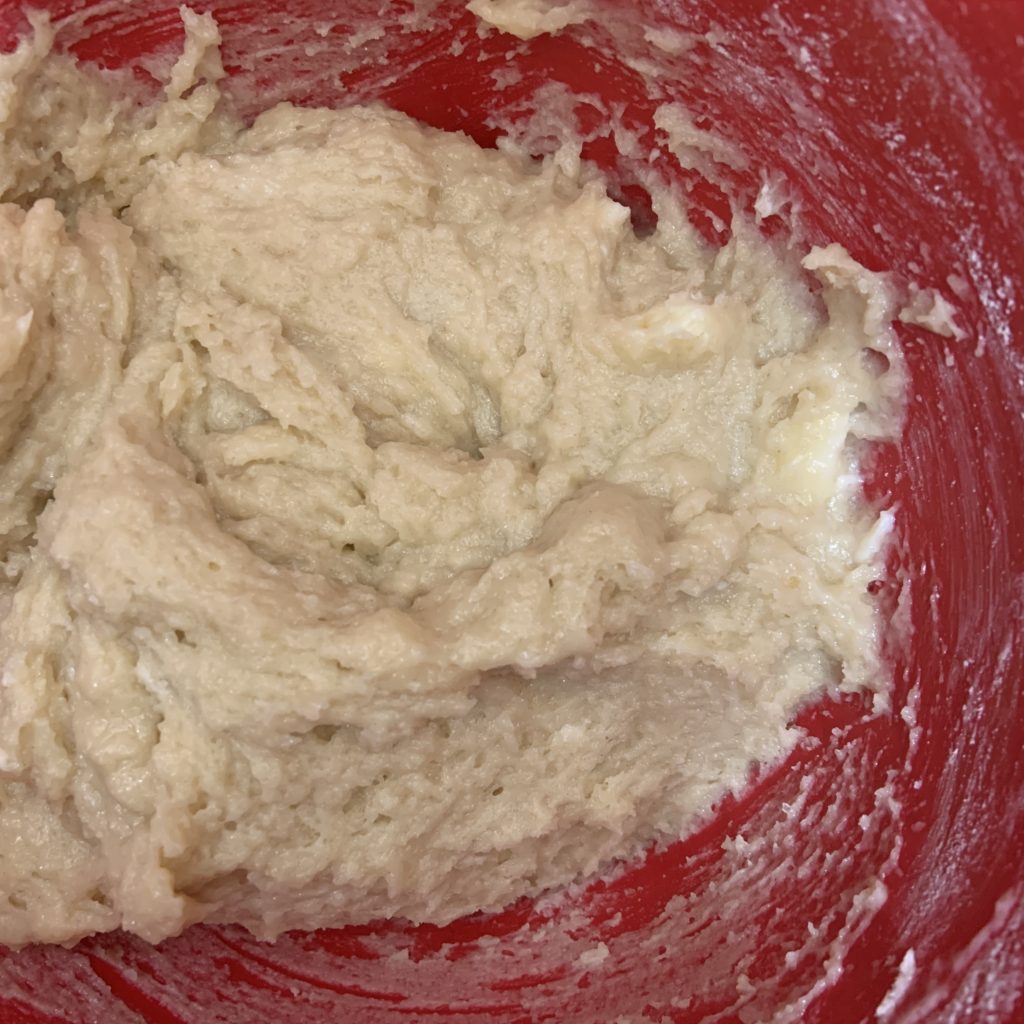 I used a small spoon to drop the crust in dollops onto the peaches.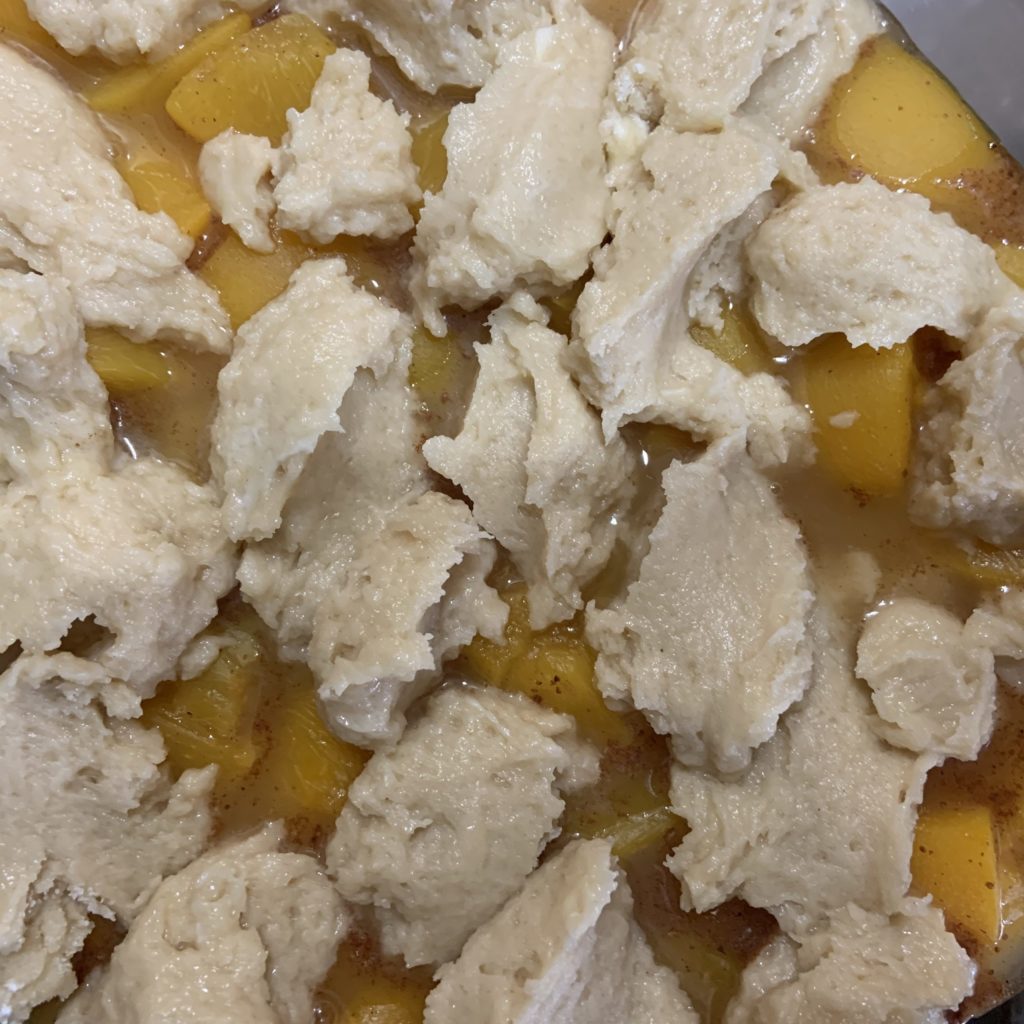 I sprinkled the whole thing with cinnamon sugar and then slipped the dish back into the oven to bake for just under a half hour, until the crust was baked through and golden.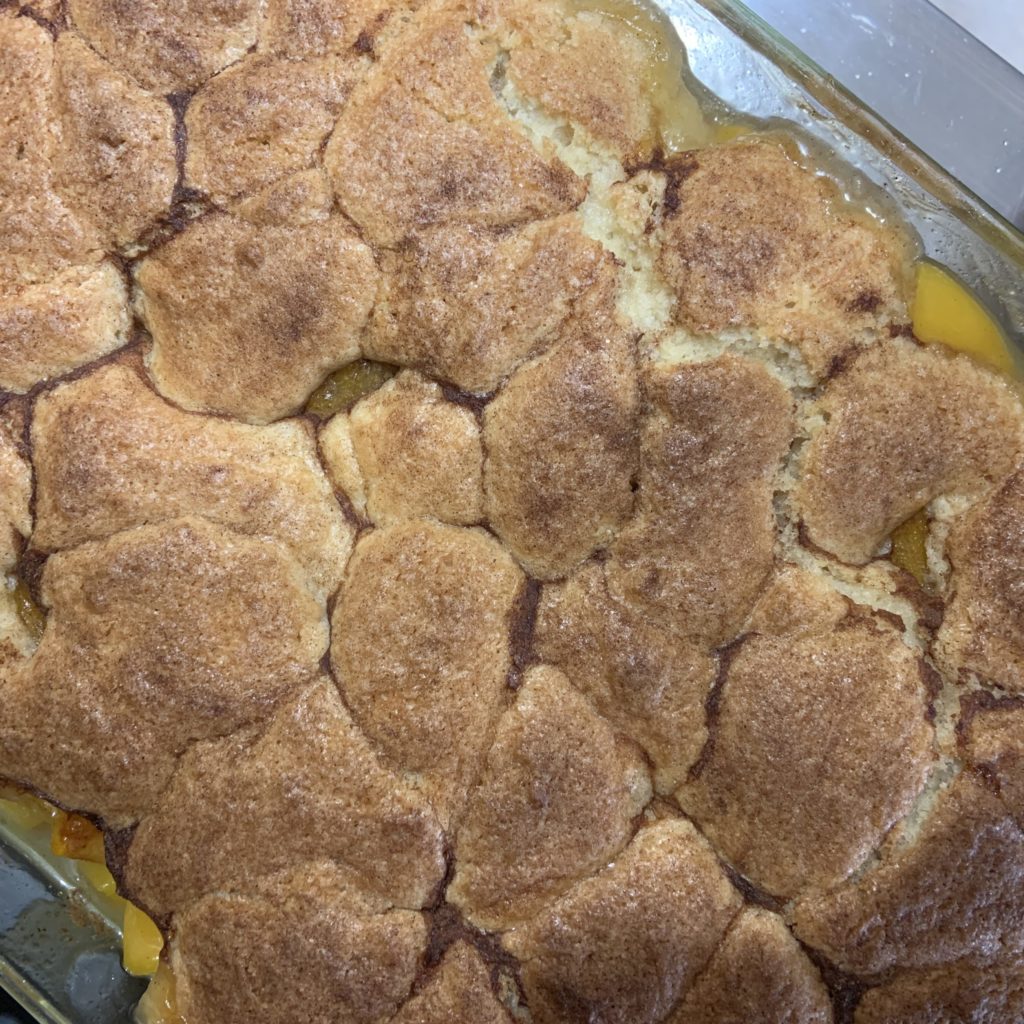 It was a mouthwatering pairing for The Secret Lives of Church Ladies — one that I will absolutely be making again.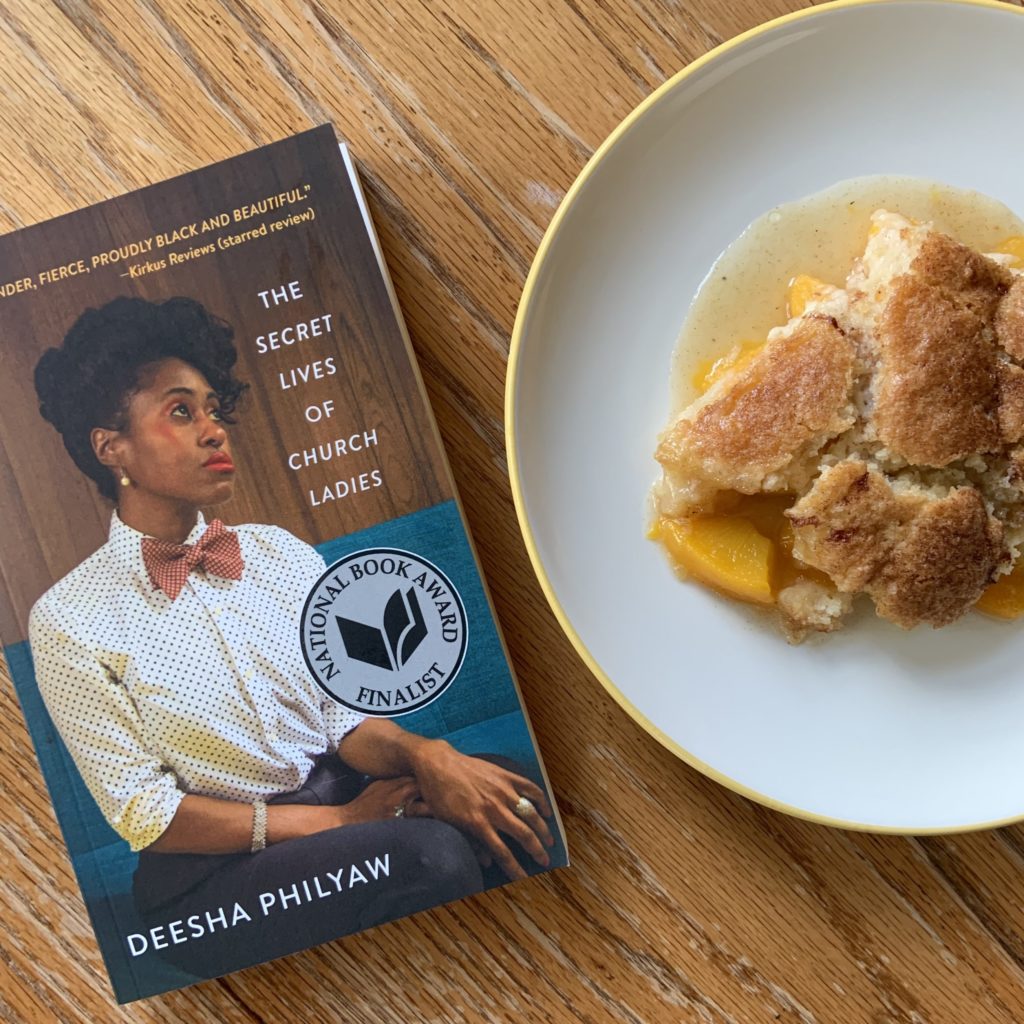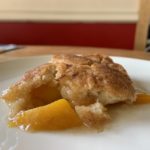 Print Recipe
Peach Cobbler
Ingredients
Peach Filling
8

medium-size fresh peaches* (about 9-10 cups)

sliced into thin wedges or bite size chunks

1

teaspoon

fresh lemon juice

1/4

cup

white sugar

1/4

cup

brown sugar

1/4

teaspoon

cinnamon

1/8

teaspoon

nutmeg

2

teaspoons

arrowroot or cornstarch
Crust Topping
2

cups

all-purpose flour

1/2

cup

white sugar

1/2

cup

brown sugar

2

teaspoon

baking powder

1

teaspoon

kosher salt

12

tablespoons

butter chilled and grated

1/2

cup

boiling water
Cinnamon Sugar Topping
1/3

cup

white sugar

2

teaspoons

cinnamon
Instructions
Preheat oven to 425°F. Place a large baking sheet covered in foil on the lowest rack in the oven, as the cobbler may overflow. The baking pan will catch the drips and prevent a mess in the oven.

In a large bowl, combine the peaches and the lemon juice and then add the rest of the filling ingredients. Stir to coat and then pour into a 9x13 baking dish.

Bake the peach mixture in the preheated oven for 10 minutes. While the peaches are baking, combine the dry topping ingredients and whisk to combine. Toss the grated butter in the flour mixture. Stir in the boiling water, just until combined, leaving plenty of little lumps of butter.

Remove the peaches from the oven and drop the topping over them in spoonfuls. Sprinkle the cobbler topping with the cinnamon sugar topping. Bake until the crust is golden and a toothpick inserted into the crust comes out clean, about 28 minutes. Serve warm or at room temperature. Enjoy!
Notes
From: Barefeet in the Kitchen
*If using canned peaches, use about 5 cans, or 6-7 cups. Drain about half of the juice (or 3 out of 5 cans worth). 
Use a cheese grater or grating attachment in a food processor to cut the butter in quickly.
---
This post contains affiliate links. This does not increase the price you pay, but I may receive a small commission for any products you choose to buy. Purchases made through affiliate links help to cover my blogging costs. Thank you for helping to support The Hungry Bookworm! Full disclosure here.