The Age of Miracles is the first book I've reread in a long while, and I'm really glad that I did. There is only so much time in a day, and with an ever-growing to-read list, I'm normally not much of a re-reader. As time is something this book calls into question, it seems a fitting choice.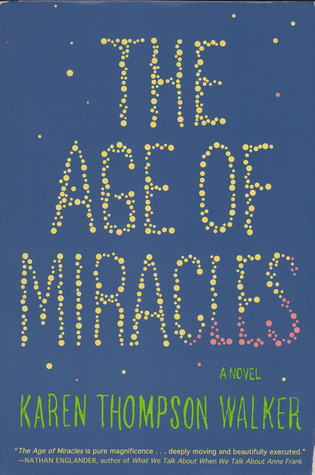 When I originally read Karen Thompson Walker's debut novel three years ago, I truly enjoyed it. I suggested it to friends, and I bought a copy of my very own. (I tend to buy books pretty selectively, preferring instead to borrow from the local library.) Its place on my bookshelf brought it top of mind when my book club was looking for suggestions, and so we chose it as our most recent selection.
In The Age of Miracles, the world changes suddenly and inexplicably - the earth experiences a "slowing" and time as we know it begins to shift. Normal begins to look very different. Narrated by Julia, an insightful preteen living in California with her parents, we experience the smaller struggles of her family and her community and witness the larger struggles of society as everyone tries to adjust to this new concept of time, and ultimately, the impending end of the world.
I first read this novel in the winter, when days were short and nights were long. This time, in the height of summer, the opposite is true - the sun rises early and sets late, days are hot and bright and stretched out. None of this compares to the lengths of the days and nights within Walker's novel, of course. She does an excellent job of taking an overwhelming concept and keeping it simple and human.
For a book with very little plot - something that tends to be a negative for me - I found it a pleasure to read because Walker's prose paints a vivid picture of the characters as they figure out their new world. So many of her lines had me reaching for a pen.
As I was thinking of what to bring to our book club potluck, one such line struck me: "They were the last pineapples we'd ever eat in our lives." If my memory serves, it's the first time Julia mentions a specific food that they never have again.
I ultimately decided to make pineapple salsa because it was something I could prepare the night before, but mostly because it didn't require turning on my oven in the middle of a heat wave. I went with a recipe from Barefeet in the Kitchen for The BEST Pineapple Salsa and didn't alter it at all. I was nervous enough about tackling a pineapple for the first time.
Due to that worry, I almost didn't even buy a real pineapple and went up to the cashier with two cans of them pre-sliced. I had glanced around the produce section, saw none, and thought, "Well, this will be easier than I thought." But, as I stood in line, I noticed a tuft of pineapple leaves sticking out of the bag of the man in front of me. I was stuck - they had real pineapples and I knew I had to suck it up and figure it out.
Here is a picture of us (I'm trying to hide my terror with confidence):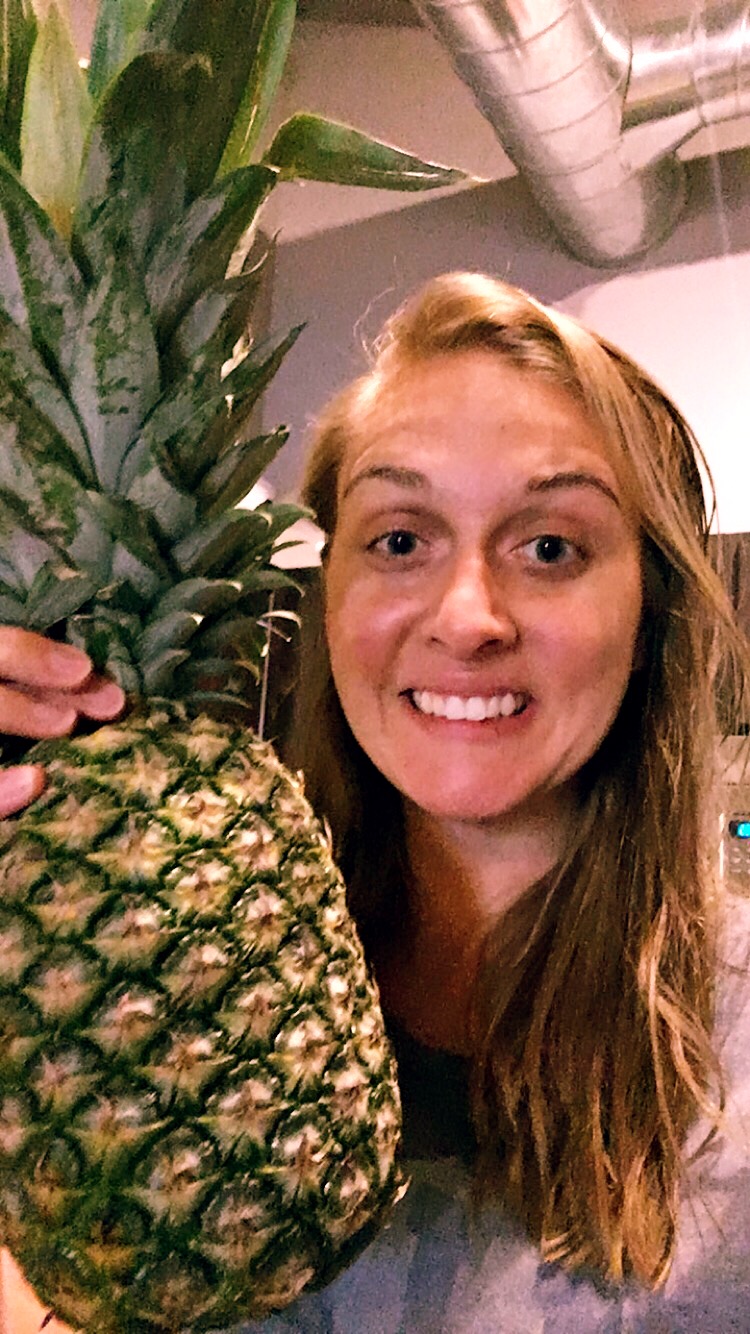 Thankfully, I thought to ask my friend and fellow foodie Scott who texted me some simple directions and encouragement to set me on the right path. It wasn't as hard as it seemed! I ate some to celebrate before dicing the rest (perhaps a little less "finely" than suggested). I followed suit with the jalapeno, cilantro and green onion, making sure those dices were more appropriately sized. (I'm a little obsessed with cilantro, see below.)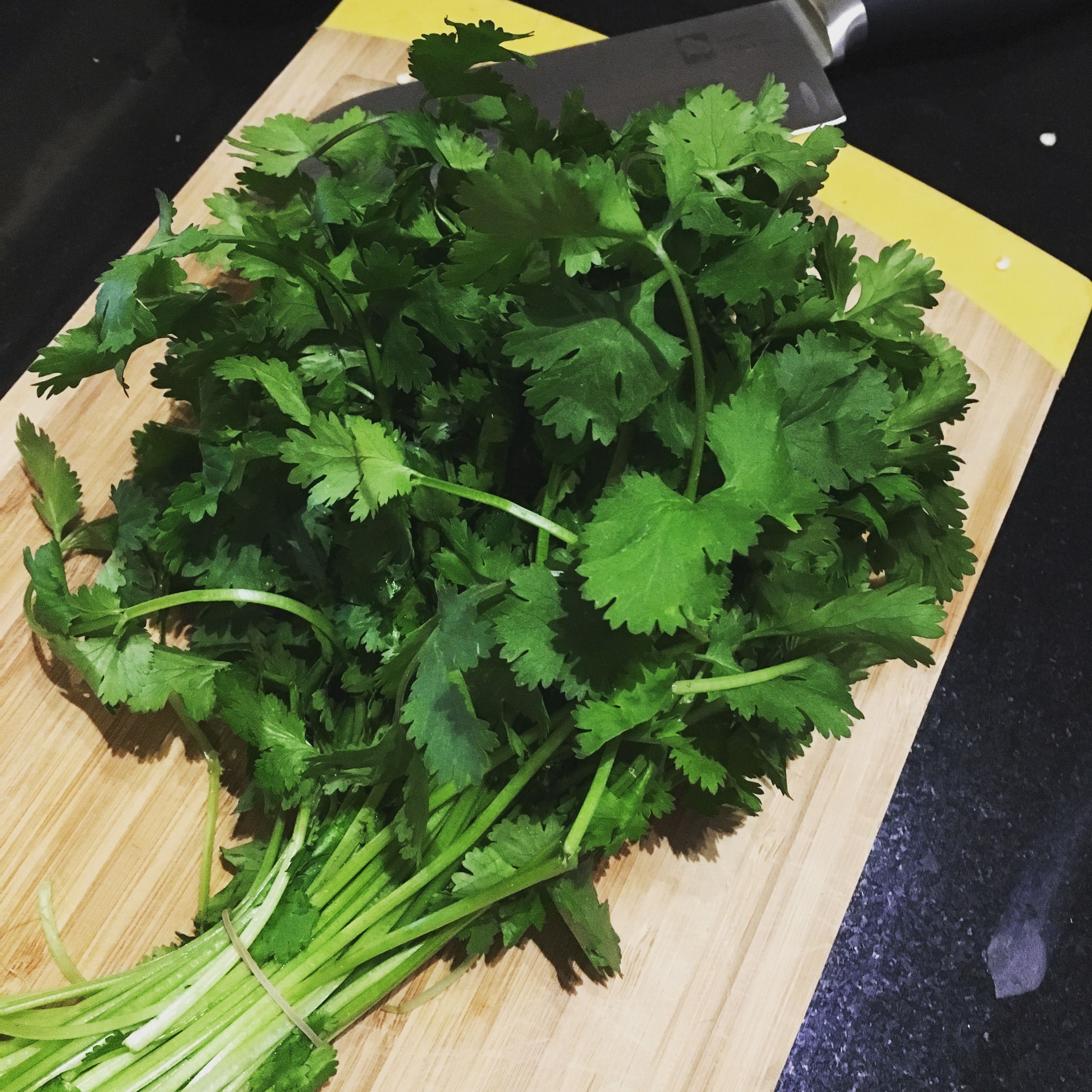 After adding the salt, pepper and lime juice, I tossed it all together and taste-tested. It was delicious! And here it is: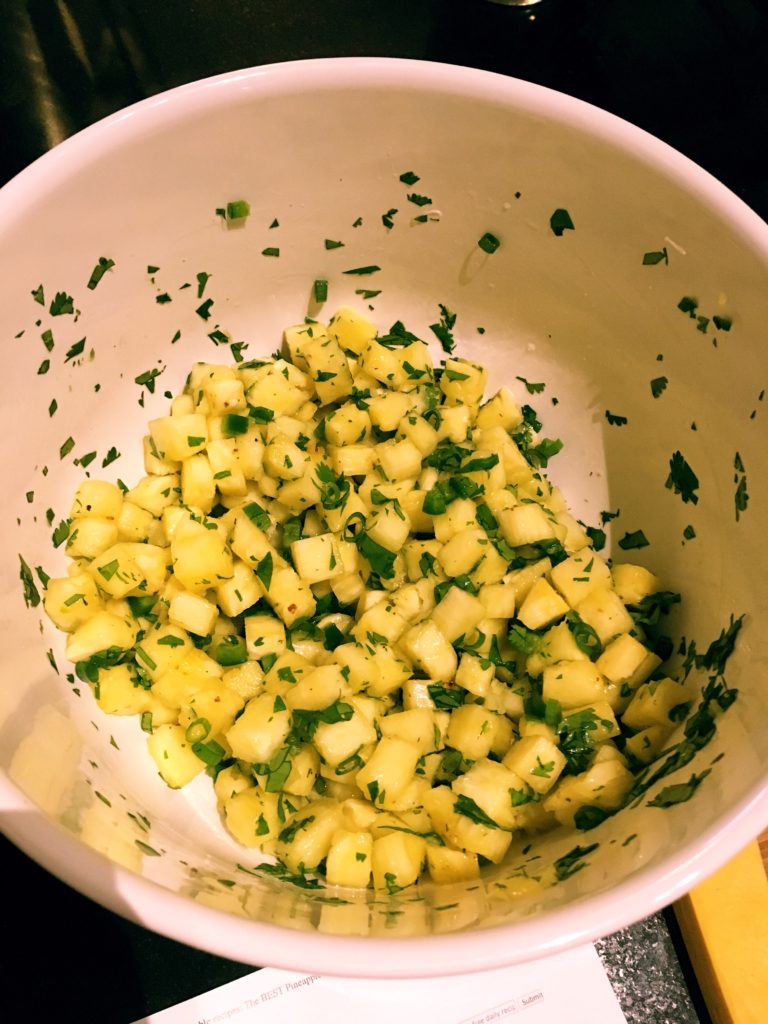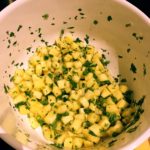 Print Recipe
The BEST Pineapple Jalapeno Salsa
Ingredients
1

small pineapple

peeled cored and very finely diced, about 2 1/2 cups

1 large jalapeno

seeded and finely minced, about 2 tablespoons, add more for a spicier bite

1 small lime

juiced, about 1 tablespoon fresh lime juice

1 handful cilantro

leaves only, finely chopped, about 2 tablespoons

3 green onions

very thinly sliced, about 2 tablespoons

1/4 teaspoon kosher salt

adjust to taste

1/8 teaspoon freshly ground black pepper

adjust to taste
Instructions
Place all ingredients in a bowl and stir to combine. Cover with lid or transfer to an airtight container. Chill until ready to serve. This will keep well in the refrigerator for about a week. Enjoy!
This post contains affiliate links. Full disclosure here.