Even though I read Oona Out of Order almost a month ago, I've thought about it almost every day since. I love time travel novels, because not only are they usually very interesting but they also get me thinking. When I closed the book, I wasn't ready to be done with Oona. I seeked out a podcast interview with the author Margarita Montimore. It also just so happens that last week Netflix announced that it would be adapting the novel into a series (so excited!).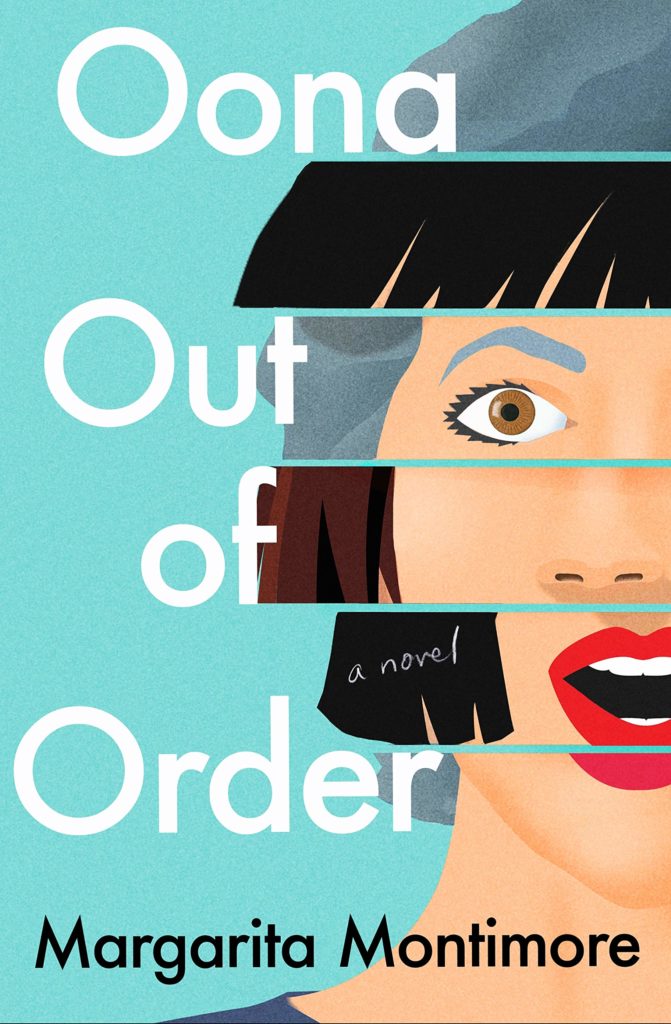 The concept of Oona Out of Order isn't one I've encountered before — in it, the main character Oona experiences her adult life (you guessed it) out of order. Her birthday is on New Year's Day, which is quite symbolic I'd say, new beginnings and all of that. Every year, at the stroke of midnight on New Year's Eve she abruptly leaves the current year and "wakes up" in a completely random one; it could be the future, it could be the past. The first time it happens, she turns 19 but is suddenly living in her 51-year-old body. She's also leaped forward from 1982 to 2015. 
No one knows about this phenomenon except for her mother and her assistant Kenzie (once he arrives on the scene, but thankfully he's there for her first leap in time). It's an incredibly jarring experience, even as Oona continues to get more used to it happening. She has to adjust to a new culture, different technology, get reacquainted with her self's current relationships and on and on.
I wish I had known this novel took place on New Year's when my book club was looking for a January read. Instead we settled on Nick Hornby's A Long Way Down, which was fine, but this was just so much better. Maybe next year — I'd love to revisit Oona! 
Nearly every leap Oona experiences ends or begins with champagne (sometimes both) and often includes birthday cake. Though I can't exactly make champagne, champagne cake crossed my mind as a potential pairing, or even more obviously, birthday cake. I've already made both. I opted instead for chai lattes (or just chai), which Kenzie introduces Oona to on her first leap.
I love chai lattes, but I've never really made my own, preferring instead to order them when I accompany friends for "coffee." I found a recipe and first had to acquire the necessary spices, namely green cardamom pods and whole cloves, neither of which I had in my cupboard. Then I set to work.
First, I toasted the spices.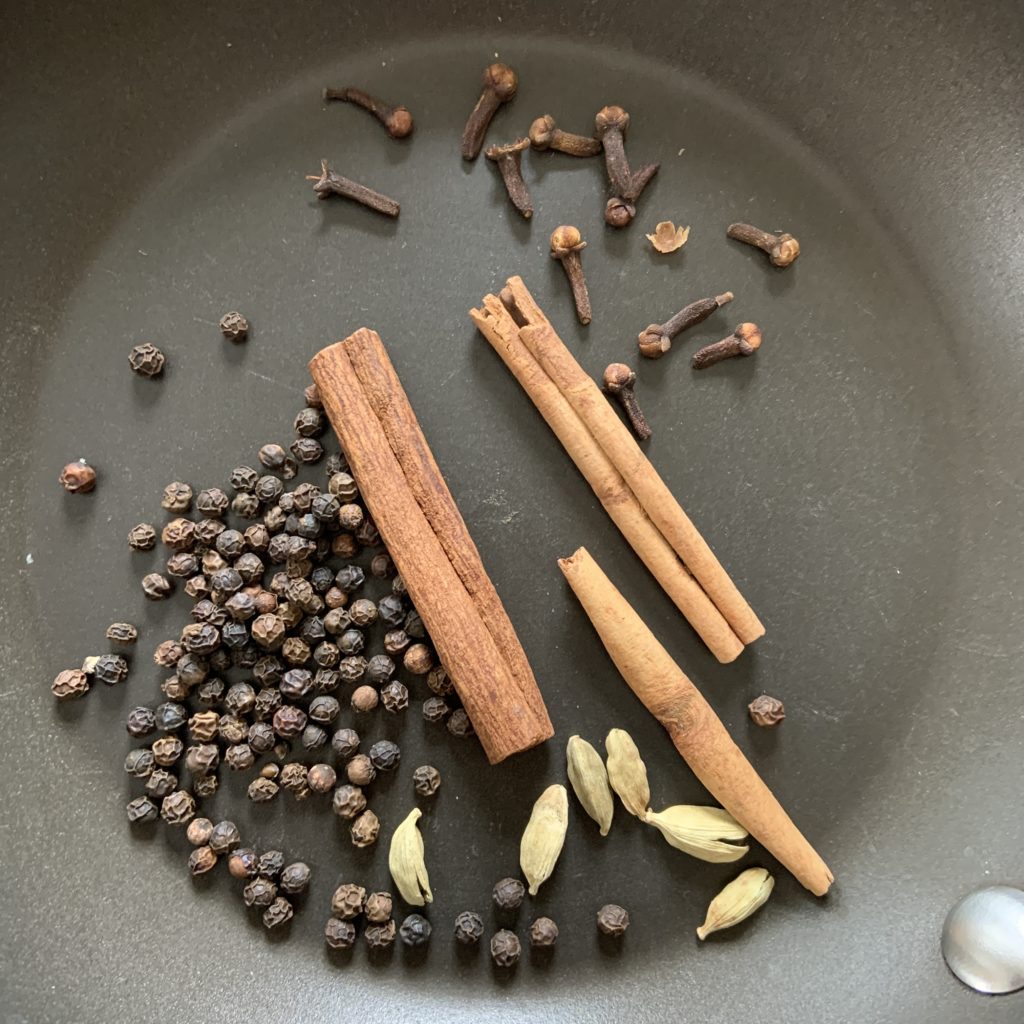 Then, I moved them into a larger saucepan and added water and ginger, bringing it to a simmer. I simmered it for 5 minutes and then removed it from the heat and added the tea — I used half English Breakfast Tea and half Darjeeling. I let it steep for 10 minutes, then added some sweetener (honey, though I'd like to try brown sugar next time) and let it dissolve.
I placed a fine strainer over a pitcher and poured the tea through, catching the spices.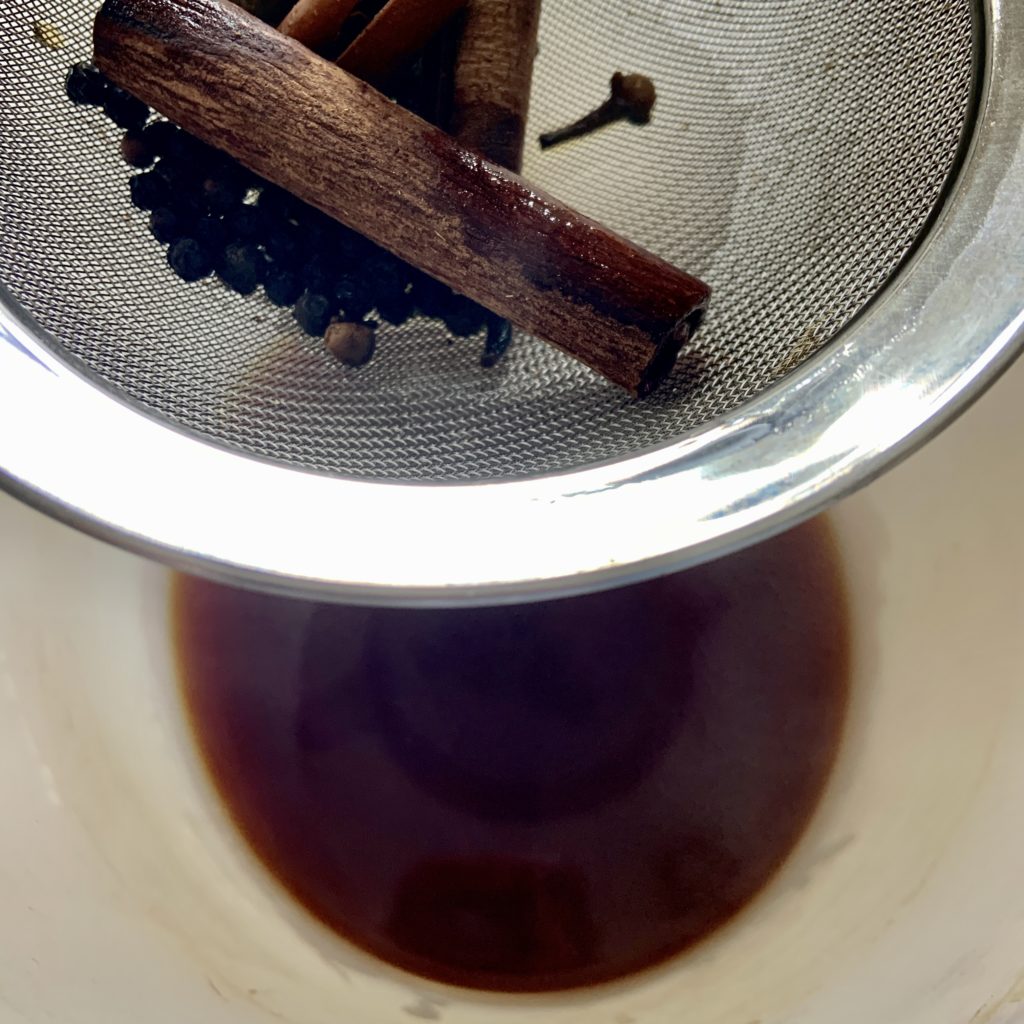 I frothed some warm milk. (You can use a mason jar if you don't have a frother.)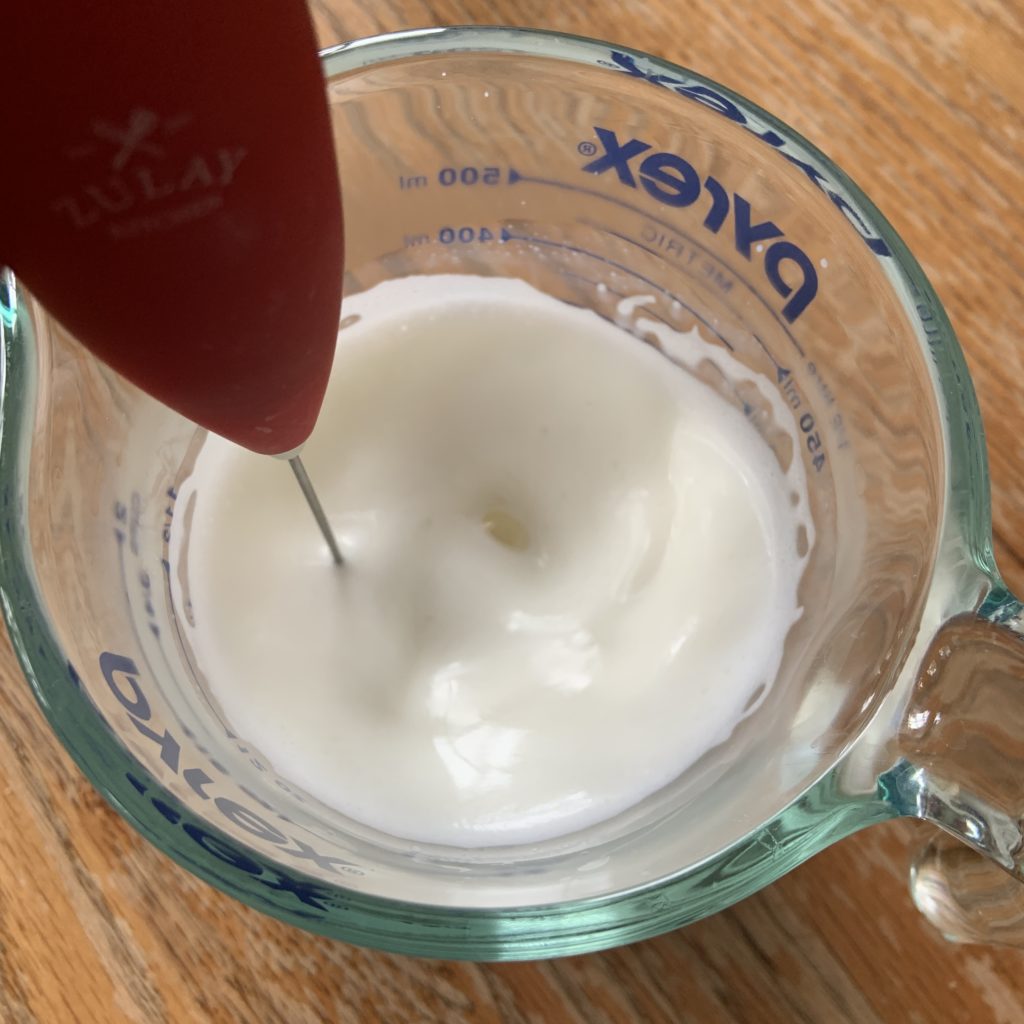 I poured the tea into a mug, added milk and stirred, and then topped it with a final dollop of froth.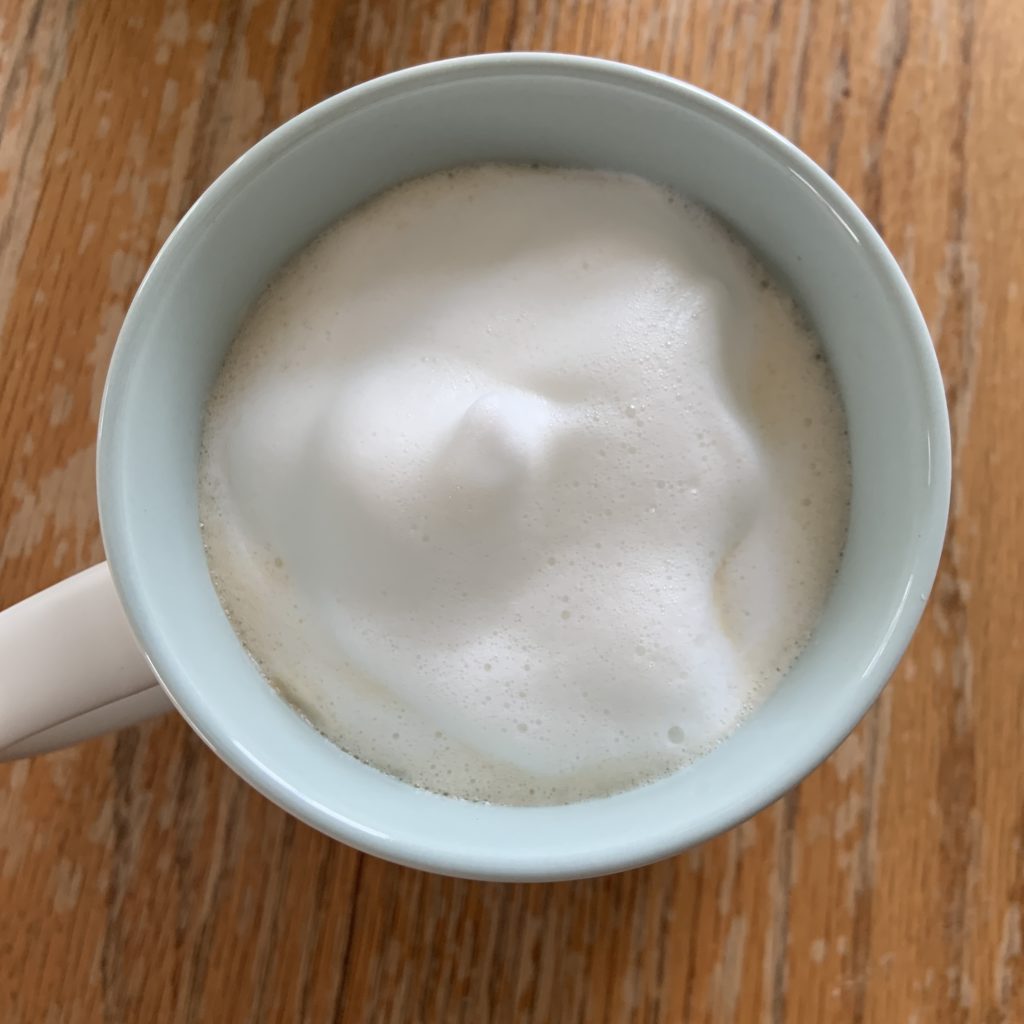 It was much easier than I expected — and now that I have loads of cardamom pods and cloves, I'll have to do it again! It was the perfect compliment to this charming novel about time and family.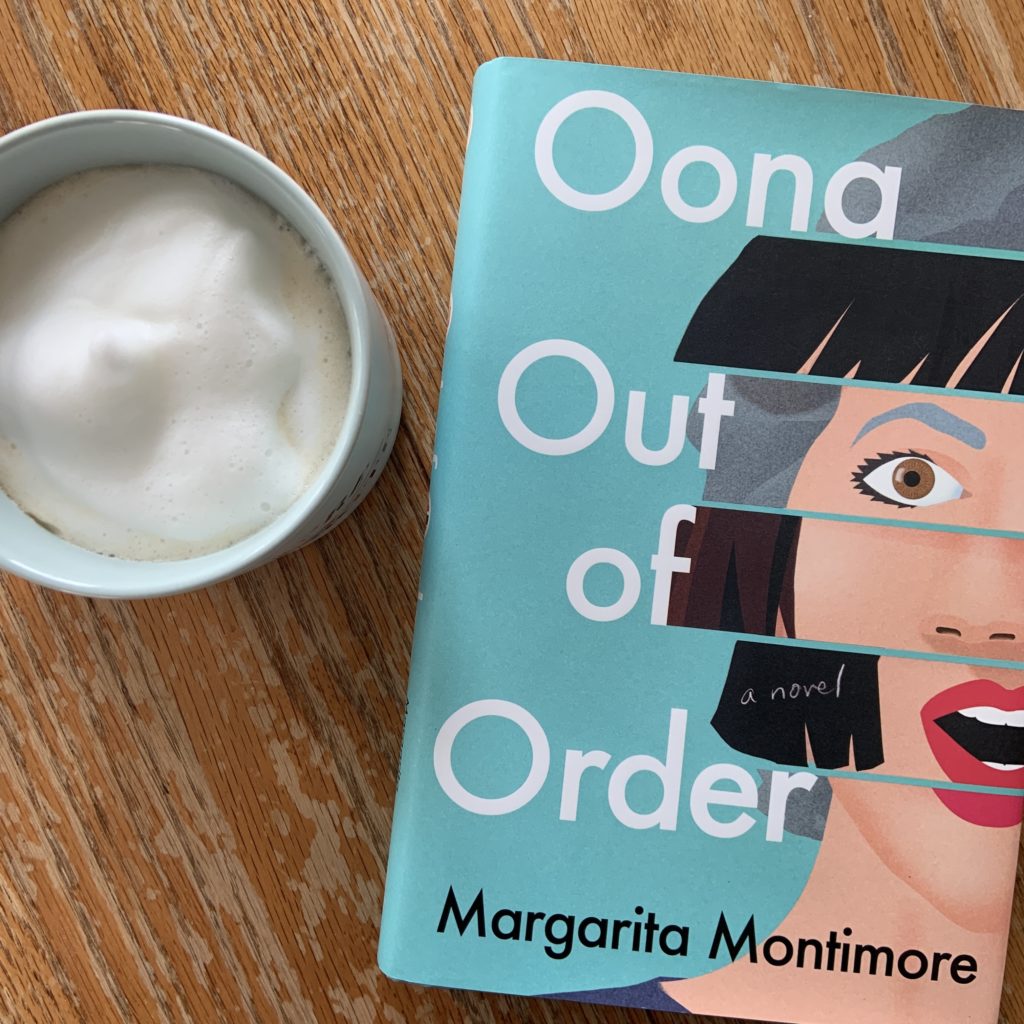 Chai Lattes
Ingredients
2

cinnamon sticks

broken into pieces

2

teaspoons

whole black peppercorns

10

whole cloves

6

green cardamom pods

cracked

4

cups

water

1

2-inch piece fresh ginger, thinly sliced

2

tablespoons

loose-leaf black tea

or 6 black tea bags

1/2

cup

sweetener

such as brown sugar, honey, or maple syrup (optional)

3

cups

cold whole milk

coconut milk, or other non-dairy milk
Instructions
Toast the spices. Place the cinnamon, peppercorns, cloves, and cardamom in a small saucepan over medium heat and toast, shaking the pan occasionally, until fragrant, 3 to 4 minutes.

Brew the tea. Add the water and ginger and bring to a simmer. Simmer for 5 minutes.

Steep the tea. Remove from the heat and add the loose-leaf tea or tea bags. Cover and steep for 10 minutes.

Sweeten the tea. While the tea is still warm, add the sweetener and stir until combined or dissolved.

Strain the tea. Strain the tea through a fine-mesh strainer into a pitcher or teapot. Discard the spices and tea leaves. Store in the refrigerator for future use, or keep it warm while you froth the milk.

Froth the milk. For whole milk, froth the milk by shaking it in a jar or by whisking it vigorously over medium-high heat. For non-dairy milks, use an immersion blender to froth before heating.

Heat the milk. Heat the frothed milk in a small saucepan over low heat until warm.

Serve. Pour 3/4 cup of the warm tea base into each mug. Add 1/2 cup of warmed milk and stir to combine. Top with a heaping spoonful of milk froth.
Do you read books that include time travel? If so, what's one of your favorites? I'm always looking for recommendations — please share in the comments below!
---
This post contains affiliate links. This does not increase the price you pay, but I may receive a small commission for any products you choose to buy. Purchases made through affiliate links help to cover my blogging costs. Thank you for helping to support The Hungry Bookworm! Full disclosure here.