Can we believe it? 2020 is almost over (yay!), which makes it the perfect time to look back at the year behind as well as look forward to the (hopefully better) year ahead. I did this survey in 2018 — skipped last year due to a brand new baby — and loved it. I want to give a shoutout to The Perpetual Page Turner, who has been doing this annual year-end survey for 11 years now! Without further ado, my 2020 in review:
2020 READING STATS
Number Of Books You Read: 70 (as of 12/28 before bed)
Number of Re-Reads: 3 — this is huge for me because I never re-read books. One of these books was an old favorite, one was a book I read and disliked the first time but loved the second time around, and one was a book I read 70% of a couple years ago and DNF'd (I got so far into it the first time that I'm considering it a re-read)
Genre You Read The Most From: I'm going to guess it was Literary Fiction again


*A note: In most cases, the links below will go out to my full length review, if you'd like to read more of my thoughts on the book and/or a fun book-inspired recipe!
1. Best book you read in 2020? Without a doubt my favorite fiction was The House in the Cerulean Sea. It was happy and hopeful, and exactly what everyone needed in 2020. My favorite nonfiction was Hood Feminism, which I'm glad I was able to get from the library after a very long time on the waitlist.
2. Book you were excited about & thought you were going to love more but didn't? The Book of Longings stands out the most, but there were a few: The Future of Another Timeline, A Burning, Afterland and The Book Woman of Troublesome Creek.
3. Most surprising (in a good way or bad way) book you read? Hamnet — I didn't expect to like this book because I'm not a Shakespeare fan and I often find historical fiction that's too-too far back boring. But I really liked it! Definitely deserving of it's many accolades.
4. Book you "pushed" the most people to read (and they did)? Honestly, probably The House in the Cerulean Sea. I even hosted a giveaway to send it out into the world, gave it as a Christmas gift twice, and made my husband read it (he loved it too).
5. Favorite new author you discovered in 2020? It's a tie between Tiffany McDaniel who wrote Betty and Akwaeke Emezi who wrote The Death of Vivek Oji.
6. Best book from a genre you don't typically read/was out of your comfort zone? Mexican Gothic. I don't read many horror novels, and while this one freaked me out, I still made it through — and I liked it!
7. Most action-packed/thrilling/unputdownable book of the year? Magic Lessons — okay, this was not a thrilling or action-packed book, but I couldn't put it down. I adore Alice Hoffman's writing about the Owens family. Give me more!
8. Favorite cover of a book you read in 2020? The Vanishing Half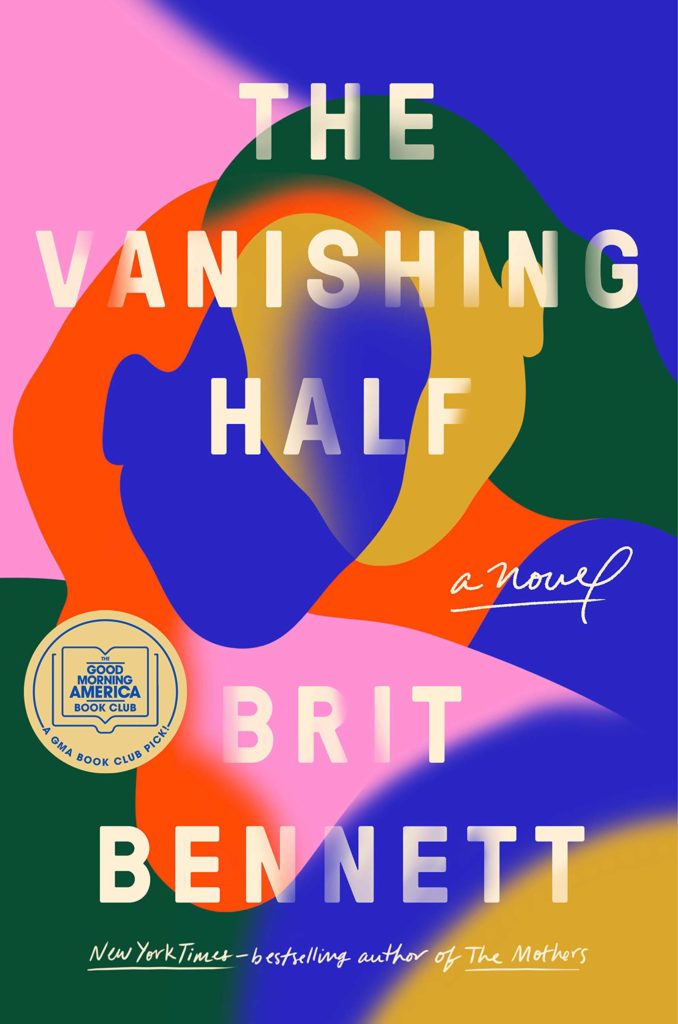 9. Most memorable character of 2020? There were so many! But I guess the one that sticks in my head the most is Chauncey from The House in the Cerulean Sea, mostly because I named my sourdough starter after him.
10. Most beautifully written book read in 2020? It's the exact same tie as number 5 — both vivid, moving stories.
11. Most thought-provoking/life-changing book of 2020? I really loved Hood Feminism and learned a lot from it.
12. Book you can't believe you waited UNTIL 2020 to finally read? A Gentleman in Moscow, though I do think that quarantine was the perfect time to pick it up.
13. Shortest & longest book you read In 2020? The Christmas Bake Off, a Kindle novella, which I literally just read a few days ago, came in as the shortest at 26 pages. The longest was The Most Fun We Ever Had at 532 pages.
14. Book that shocked you the most (because of a plot twist, character death, left you hanging with your mouth wide open, etc.)? This would probably be Mexican Gothic. I definitely did not see those twists coming.
15. Favorite book you read in 2020 from an author you've read previously? Hard to decide! There were a few, so I'm picking all three: Anxious People, Magic Lessons and The Vanishing Half
16. Best book you read in 2020 that you read based SOLELY on a recommendation from somebody else/peer pressure/bookstagram? Beach Read, which I read because of recommendations on a few podcasts + basically everyone on bookstagram.
17. Best 2020 debut you read? The Girl with the Louding Voice by Abi Daré
18. Book that put a smile on your face/was the most FUN to read? No surprise, but once again: The House in the Cerulean Sea
19. Book that made you cry or nearly cry in 2020? Oh my gosh, Red, White and Royal Blue made me sob, I think because I was craving the nostalgia of a different time. It was very happy.
20. Hidden gem of the year? Betty — it has just over 3,000 ratings on Goodreads, and I haven't really heard that much about it but it's amazing.


1. New favorite book blog/bookstagram/Youtube channel you discovered in 2020? I'm so glad that Elizabeth from Dinner and a Novel reached out to me in January! Not only are we both bloggers who love combining reading with food, we're both new moms too. She's been great to chat to — about all sorts of things. And she even wrote a guest post back in February, which is awesome. Be sure to check her out.
2. Favorite post you wrote in 2020? I always think it's fun to take a look back, and so I really enjoyed writing my 4th Anniversary post this past summer.
3. Favorite bookish related photo you took in 2020? I really amped up my bookstagram this year, so it's hard to decide! Though the caption seems like wishful thinking now (with quarantine still in full force…), I'm a big fan of my #stackyourstate pic. It's always great to give Michigan some love.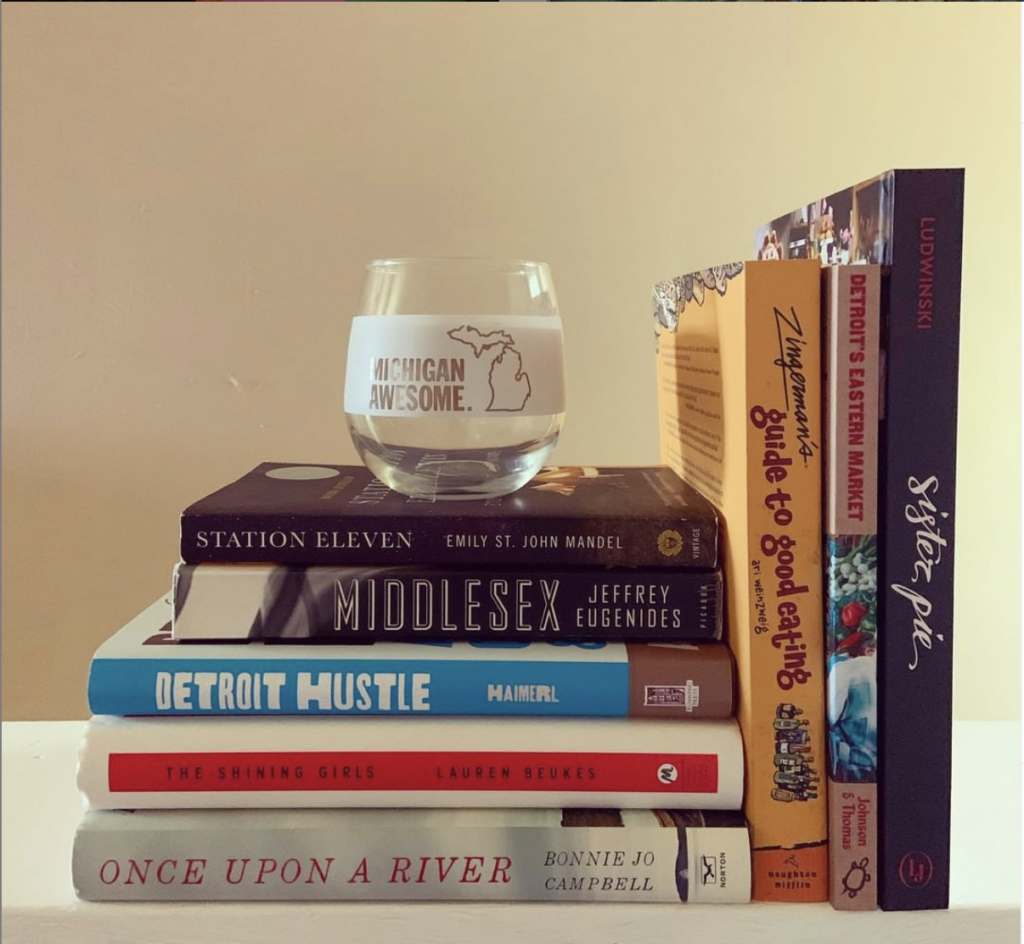 4. Best bookish event that you participated in (author signings, festivals, virtual events, etc.)? None! Ha, 2020. But hopefully something next year!
5. Best moment of bookish/blogging life in 2020? Probably collaborating with Tiffany McDaniel to bring her family's jewel pudding pie to life for my post about Betty. She was so gracious to give me the recipe and help me troubleshoot when I had questions, and then, on top of everything, she told me her mother (who the novel is based on) thought the finished pie was beautiful. It had me absolutely glowing!
6. Most challenging thing about blogging or your reading life this year? Like everyone else, life sometimes stood in the way of my reading. As a new mom, I didn't read almost anything for the first few months of the year. Then, just when I was starting to get in the groove, COVID-19 turned everything upside down. Basically, I had a lot of trouble concentrating on books this year — sometimes for longer periods and sometimes just for a few days, but way more than I've ever experienced in a "normal" year before.
7. Most popular post this year on your blog (whether it be by comments or views)? Measured in views, the most popular 2020 post on my blog was Books for Thought-Provoking Discussions, which is super awesome — I'm glad to see that post resonated with people. However, my most popular post remains my feature of The Guernsey Literary and Potato Peel Pie Society, which had more than 3x the views of any post from this year.
8. Post you wished got a little more love? That's a tough one, because the one I think is probably the most important did end up being the most viewed. But, I did make some awesome recipes this year, and so to draw attention to those: courage tea cookies (from Magic Lessons); bear claws (Beartown); jewel pudding pie (Betty); mac and cheese dog treats (You Lucky Dog); and from one of my new Kids Edition posts, pumpkin pie crisp.
9. Best bookish discovery (book-related sites, book stores, etc.)? I recently discovered the podcast Novel Pairings, and it's lovely. It examines classics and offers up modern pairings.
10. Did you complete any reading challenges or goals that you had set for yourself at the beginning of this year? Yes! I was really happy I met my reading goal this year, because after barely reading for the first three months, I didn't expect to. I hope to keep up the momentum in 2021.


1. One book you didn't get to in 2020 but will be your number one priority in 2021? Rodham for sure! I bought it when it first came out and somehow it's still sitting on my shelf.
2. Book you are most anticipating for 2021 (non-debut)? Taylor Jenkins Reid's Malibu Rising, mostly because I still think about The Seven Husbands of Evelyn Hugo and would love a new novel to erase some of my disappointment in Daisy Jones and the Six
3. 2021 debut you are most anticipating? The Push by Ashley Audrain
4. One thing you hope to accomplish or do in your reading/blogging life in 2021? I want to read my shelves!
Share your answers to some or all of these book survey questions in the comments below! I'd especially love to know your favorite 2020 reads.
See you next year, bookworms!
---
This post contains affiliate links. This does not increase the price you pay, but I may receive a small commission for any products you choose to buy. Purchases made through affiliate links help to cover my blogging costs. Thank you for helping to support The Hungry Bookworm! Full disclosure here.